Kubota tractors and other farm machines are popular on American farmlands. The Kubota is also a reliable brand for farmers worldwide. So, where are Kubota tractors made & manufactured? Are they only manufactured in America?
*This post may have affiliate links, which means I may receive commissions if you choose to purchase through links I provide (at no extra cost to you). As an Amazon Associate I earn from qualifying purchases. Please read my disclaimer for additional details.
Brand Overview Of Kubota Corporation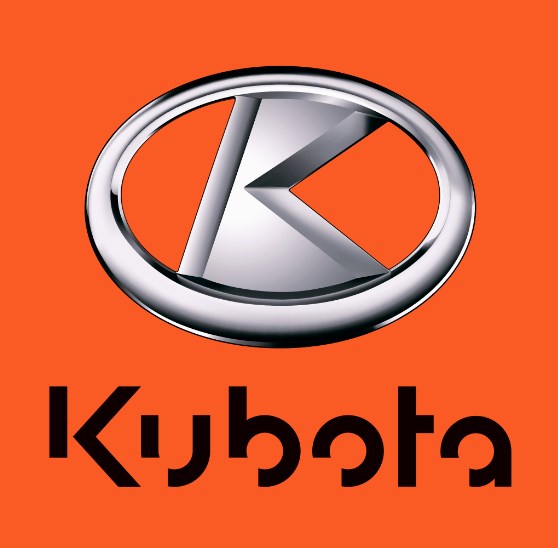 Kubota is one of the worldwide largest agricultural manufacturers, providing a wide range of products like tractors, farming machines, construction tools, etc., for small and large-scale industrial work.
So, who owns Kubota tractor company? First established in 1890 by Gonshiro Kubota, the company was first known as a metal manufactory producing castings.
Nowadays, Kubota has become a multinational corporation. It has locations in over 25 countries, with its headquarter in Osaka, Japan. This Japanese tractor brand has earned a reputation in the worldwide farmer communities for its excellent performance tractors and farming engines.
Kubota is also one of the worldwide's top-rated tractor brands. Its tractor lines include BX Series, B Series, L Series, and M Series.
Besides farming products, Kubota also involves other sectors like vending machines, water purifying solutions, pipes, valves, air conditioning. In the  1990s, Kubota even took part in designing 3D graphics chips.
Where Are Kubota Tractors Made & Manufactured?
When the company started producing farm machines in 1960, all of its products, including the first Kubota tractor, were made in Japan. Till now, Kubota has expanded manufacturing on a global scale.
Kubota started its first tractor factory In America in 1969. In 2011, it began making tractors for the Chinese market in the Kubota Agricultural Machinery Co. Ltd. In Suzhou, China.
In Japan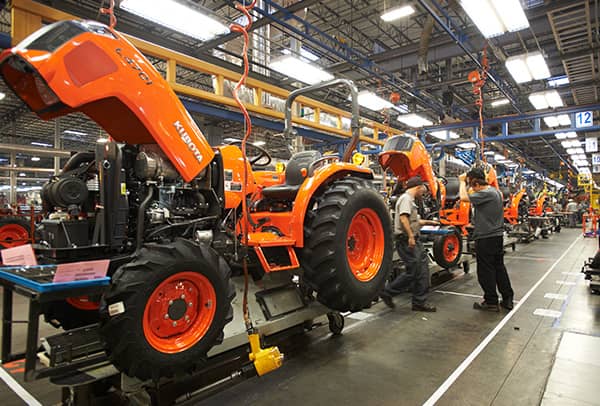 Sakai Plant (Osaka) is the first manufacturing center of Kubota in Japan. This plant has produced kerosene engines for agricultural use since 1937. Besides, it also acts as an R&D center for industrial machinery for the Japanese and international markets.
In 2016, there were two new research buildings in Sakai Plant. These buildings act as a center to upgrade Kubota's core technologies. Besides, they are also the place for developing new products by reproducing weather and other environments of different areas worldwide.
In 2018, at the 6th CASBEE in Sakai City, Kubota Sakai Plant received an Excellent Award for its two research buildings and welfare facilities.
In The US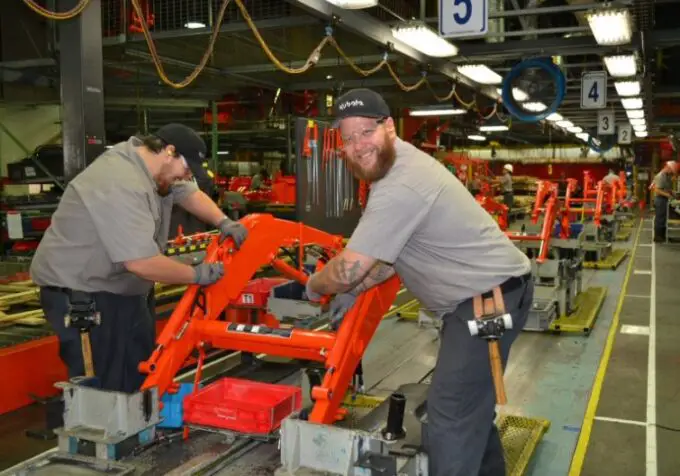 About ½ number of Kubota tractors worldwide originate in Kubota Manufacturing of America Corporation (KMA) in Gainesville, Georgia. First opened in 1988, KMA started producing tractor implements like backhoes and front loaders. Then, it expanded to producing garden tractors, subcompact tractors, lawn tractors, and RTVs.
In 1994, KMA started making the Kubota T-series lawn tractors. In 2019, Kubota made a 300-acre expansion for its factory in Georgia. This expansion reflected Kubota's confidence in making tractors for the American market.
Today, KMA has become the North American main factory of Kubota. Many American-made tractors are also exported to countries like Australia, Canada, Africa, Europe, Asia, and Japan.
In China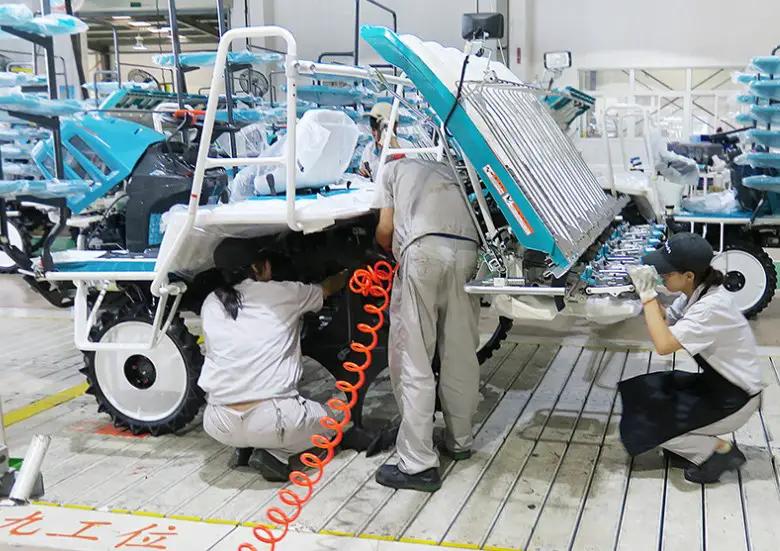 Kubota Agricultural Machinery Co., Ltd. (KAM), located in Suzhou, is the first plant of Kubota in China. Started in 1998, this subsidiary serves most R&D activities for the Chinese market, including verifying the local demands for tractors, harvesters, and transplanters.
According to NIKKEI Asia, this Japanese farm equipment maker aims to open a new 30,000 square-foot factory next to the existing one in China to double output for the Chinese market. This company also plans to boost its sale volume for farm machinery from 70 billion yen to 100 billion yen by 2016.
This continuous investment effort of Kubota in the Chinese market indicates its focus on the increasingly growing demands for high-horsepower tractors and farm machinery in China.
In Thailand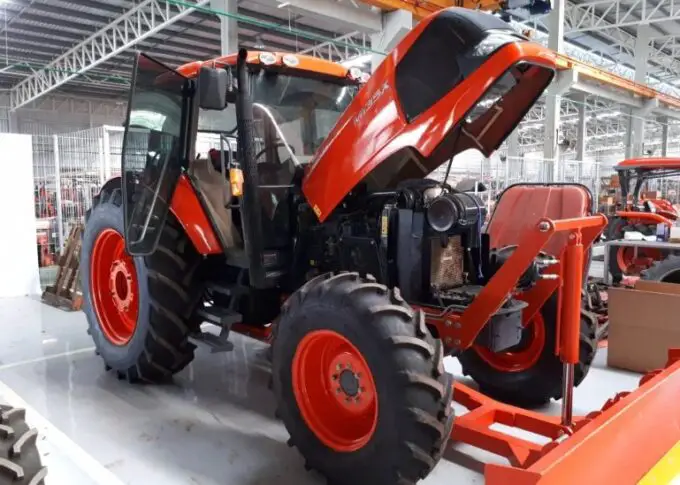 Besides the USA, Japan, and China, Kubota also opens its outreach to the  Thailand market with 4 Kubota plants:
KET (also the center of Thailand's global strategy): This plant produces Kubota's tractors and combine harvesters. KET also acts as the global supply hub for external sales to Kubota's factories in Japan, the US, and emerging countries.
Siam Kubota Metal Technology Co., Ltd (SKMT): First opened in December 2008, SKMT is Kubota's first cast component manufacturing plant. SKMT produces cast components for diesel engines.
SKC Amata Nakorn Plant: Located in Chonburi Province, this plant produces tractors, combine harvesters, and rotaries.
SKC Nava Nakorn Plant: Started in July 2011 in Pathum Thani Province, this plant produces hydraulic equipment.
Where Are Kubota Engines Made?
Kubota Engine of America (KEA) was first opened in 1982 in Elk Grove Village, Illinois. Now its headquarter is in Lincolnshire(Illinois). This is where most Kubota engines in America are made. This US factory of Kubota manufactures industrial engines, general drive engines, and power generators.
However, the Kubota engines you can see in the farmlands of Japan are produced in Kubota Sakai Plant in Osaka, Japan.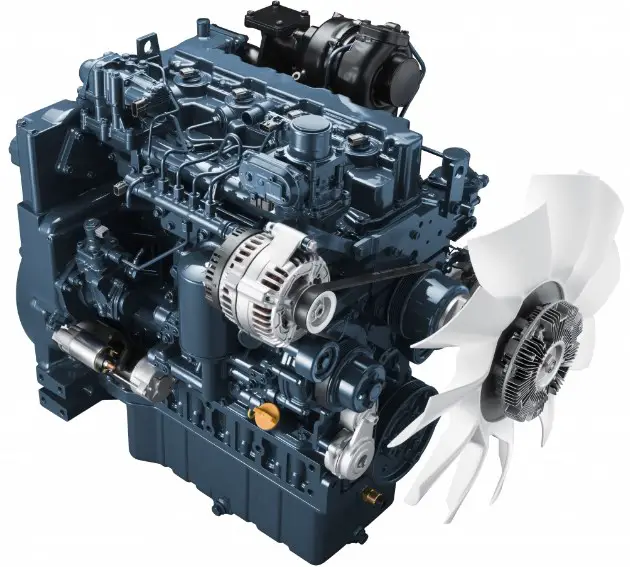 Frequently Asked Questions
1. Where Is Kubota L3901 Made?
The Kubota L3901 tractor is made in Kubota's Northern American factory in Georgia, America.
2. Where Is Kubota L2501 Made?
The Kubota L2501 tractor is assembled in Japan.
3. Where Is Kubota M7060 Made?
Kubota M7060 diesel tractor is made in Kubota Manufacturing of America Corporation (KMA) in Gainesville, Georgia, America.
Final Words 
Kubota is a reliable brand of agricultural and construction machinery. It's known for its continuous improvement in product quality, durability, and design. After taking the time to understand where Kubota tractors are made, you are more confident in using Kubota tractors, combine tractors or its other products on your next farmland or construction site.
If you are new to tractors or farming, you shouldn't buy Kubota tractors from an auction or individual seller. You should ask for professional consultation service from a well-respected company to pick up your appropriate tractor model.