A digging bar is a versatile farm tool. It's a long metal bar used for various purposes, like breaking up or loosening hard materials like soil, rock, concrete, ice, etc. Besides, it can help fix fence posts on your property. By picking up the best digging bar, you will have a multifunctional tool that assists you a lot in your daily farm tasks.
Let's explore these 6 best-rated digging bars to see if any item fits your work demands.
*This post may have affiliate links, which means I may receive commissions if you choose to purchase through links I provide (at no extra cost to you). As an Amazon Associate I earn from qualifying purchases. Please read my disclaimer for additional details.
Top 6 Best Digging Bars on the Market 2022
In-depth 6 Top Rated Digging Bar Reviews
Check Latest Price
One of the reasons that make Truper 30162 bar popular is that it can be used for more purposes aside from digging. For example, you can use it as a post-hole digging bar to install fence posts or planting saplings with its sharp end. Its flat temper head can be used to tamp soil or balance the ground around the fence holes and the plants.
This tool is manufactured from durable materials that can last for decades. The bar is made of steel demolition, while the temper head is made of welded steel with a comfortable long handle for easy control.
This Truper digging bar is designed for home use and industrial work. However, it's pretty heavy with a weight of 15.7 pounds, meaning you need extra strength to hold it.
Pros
Cons

Made of sturdy material
Can be used for various purposes – home and industrial use
Comfortable handle
Check Latest Price
Bully Tools 92448 is made in the USA, a golden guarantee for its durability and performance. Its extra-thick steel construction with a 3/8-inch thick plate is powerful enough to handle heavy digging like removing rocks or breaking up ice chunks on the driveway.
This steel digging bar has a commercial-grade design to perform various farming tasks with excellence.
The 48-inch steel handle with a striking end allows you to hold the tool easily while protecting yourself from hammering. Moreover, it is easy to handle or bring along with you on the go with little effort with a weight of 12 pounds.
Pros
Cons

Made in the USA
All-steel construction
Commercial-grade design

The coating flakes off quickly
Check Latest Price
This tool can be used as a chisel bar or a wrecking bar, thanks to its 2 flexible metalheads.
You can also use its 60mm conical end to break up solid or concrete materials or cut weed roots and crop residues. The remaining 50mm blade end can act as a shovel to dig very tough soil (like soil that hasn't been cultivated for a long time).
When digging hard materials, you should choose a digging bar that is longer and sturdier than an ordinary all-purpose one. This bar from AB Tools ensures to maximize your performance. Its perfect length of 60 inches allows you to achieve your digging tasks with much leverage and no back pain.
Besides, this bar also offers superb usability in every detail. The shaft is in hex shape. Thus, you can rest the bar along the wall or a flat surface with one of its straight edges when finishing your work or take a short break.
However, I think it's pretty heavy. It weighs 13 pounds (approximately 6.2 kg), which might be challenging to control for small people or women.
Pros
Cons

Can be used as a chisel bar or a wrecking bar
60 inches in length for extra power and no back pain
Hex-shaped shaft

Its steel isn't hard as a vintage bar
Check Latest Price
The San Angelo Digging Bar might be one of the longest bars on the market,  with 72 inches. This hand digging bar is suitable for prying or digging large stones or dirt. So why did I include this bar on my top list?
First, it is manufactured of tempered steel for extreme strength and durability. Compared to conventional steel, tempered steel is more resistant to wear and tear and can withstand hard forces without bending or breaking.
Second, this digging bar is designed to work in the harshest conditions. The pointed pencil head penetrates through hard rocks or complex surfaces.
However, this bar is not a typical lightweight option since it weighs 7.5 pounds.
Pros
Cons

One of the longest bars for ease in use and extra power
Made of tempered steel to handle hard digging tasks
Affordable
Check Latest Price
For decades, Bon Tool has been recognized as a global leader in the construction tool industry. This 72-inch Telegraph Digging Bar from Bon isn't an exception, and it deserves to be in my top 6 best digging bar list.
This roughneck digging bar is pretty heavy with a weight of 21.7 pounds for a reason. Its extra weight allows it to break into rugged and closely packed soil with less effort.
Come what may, remember that the effectiveness of a heavy hand tool like this depends on how you can lift and drop it at its digging point. If you can lift it high enough, you should choose a lighter bar. It will be perfect if the weight of this Bon bar is just right for you.
Besides, this digging bar originated in the USA with the utmost perfection. Its hex-shaped bar enables you to grip it with ease or rest it on any flat surface.
Pros
Cons

Made in the USA
Hex-shaped bar
Heavyweight for extra power in digging difficult soil types

More expensive than other competitors
Check Latest Price
This heavy-duty digging bar is similar to the above Bon Tool item but slightly longer (84 inches). This extra length makes it easy to control for tall people. Besides, it also gives you extra power when digging hard materials without hurting your back and arms.
Since this bar has a considerable weight of 19.9 pounds, you can use it as a paperweight to hold down tarps or other items that are tending to blow on a windy day.
Pros
Cons

Suitable for tall people
Can be used as a paperweight
How To Choose The Best Digging Bar For Your Job?
End shape types
Digging bars comes in 5 different types, equal to 5 end shapes, for various purposes:
Pinch point bar (or pry bar): A pinch point bar has a wedge-shaped tip for prying and pinching large-sized objects out of holes on relatively tough soil.
Post-hole digger (or a post-hole clamshell digger): A post-hole digger consists of two shovel-shaped blades. This bar is often used to scoop and lift dirt out of narrow and deep holes with a few inches to a one-foot diameter.
San Angelo bar: A San Angelo bar is heavy and has a sharp point to break hard soil, weed roots, and other stubborn objects.
Tamper bar: A tamper bar is often used in pairs as a post-hole digger to make fence post holes and tamp the ground around them.
Chisel bar: A chisel bar has a sharpened end for cutting weed roots, prying, and digging. A pinch point bar also has a chisel at one end.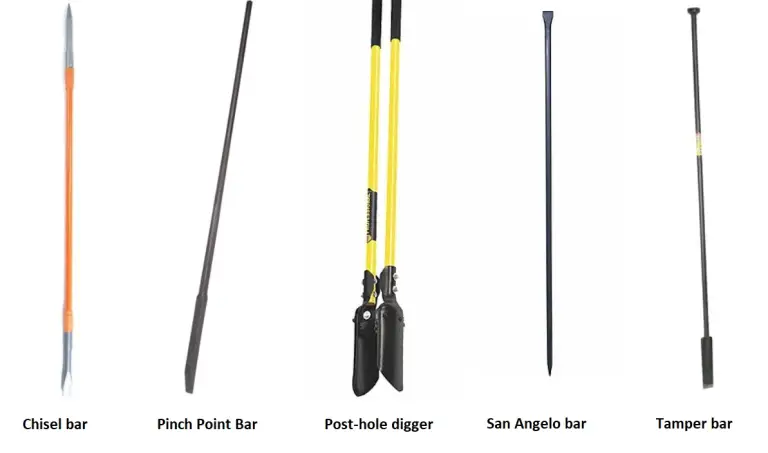 Length and Weight
The length and weight of a digging bar are also two important factors you should consider before making your final decision.
A digging bar often has a length from 5 to 6 feet (around 1.5 to 1.8 meters)  and weight from 15 to 23 pounds (6.8 to 10.4kg). Its width depends on whether it is made from hexagonal or cylindrical-forged steel.
For example, chisel and wedge bars are lightweight and easy to handle for various applications. These bars have a small blade width from 3 to 8 cm.
How To Use A Digging Bar Efficiently?
To use a digging bar correctly, you should consider the 3 most important factors – the hole size, the soil condition, and whether you have to lift heavy objects while clearing the digging area or not.
Hole size
You should use a bar with a medium weight of 15 pounds and a length of 5 to 6 ft when digging small to medium-sized holes. Remember that larger and deeper holes require a longer bar like a telegraph bar or a post-hole digger.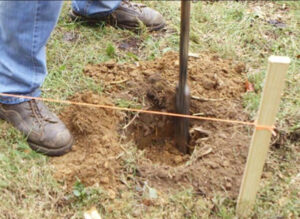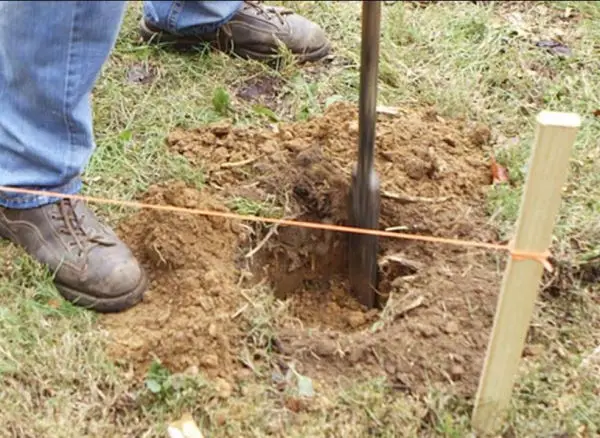 Soil condition
The soil condition also affects how you choose a digging bar. For instance, a sturdy bar with a wide or bent chisel end can handle tough soil with crop roots.
You should choose a long bar with a long handle to give your back and your arms a firm and comfortable feeling. To dig hard, closely-packed soil like clay, you need to use a heavy bar. But don't forget to check if you can lift and drop the tool easily or not, or switch to a lighter bar for easy operation.
Heavy objects
If your soil digging job requires lifting heavy objects, you need to use a long and sturdy bar to get this job done efficiently.
Important tips and notices
Apart from these 3 above factors, there are some essential notices you should consider when working with a digging bar.
Use a bar with a tamper head when you need to tamp the hole's base.
To dig a hole with high precision, use a bar with a non-slip handle.
For most hole-digging operations, you also need other tools along with your digging bar like a spade, a plastic tape, a post-hole digger, a long rope, and a measuring tape.
Unless you are working on soft soil, you should loosen the soil before digging to avoid working too hard or breaking the end of the digging bar. When loosening the soil, use a tile spade to carve all sides of the hole to make the bar more easily penetrate the ground. That is the best way to dig post holes on clay or rocky soil.
Always mark the center of the digging area for precise digging and to lengthen your bar's lifetime usage.
If you have to dislodge hard rocks from the holes, use a shorter bar with more applied pressure.
After digging a hole, you should use the other tamper end of the bar to compact the soil and avoid settling.
Maintenance For Digging Bars
A digging bar can last a lifetime if you properly care for it. Below are some valuable tips for maintaining the appearance and performance of your digging bar.
Avoid bending the bar. Choose a heavier bar for heavy-duty jobs.
Avoid extended exposure to water or high-moisture environments (for instance, under the rain). Keep the bar always dry.
Remove dirt and corrosive elements from the bar with a special liquid, like WD40. Then oil the metal surfaces of the bar (with a product like Japanese camellia oil) to prevent corrosion, wear and tear with time.
FAQs (Frequently Asked Questions)
1. What do you use a digging bar for?
A digging bar is a simple but versatile hand tool that can make new holes, dig something up of the hole like repairing fence posts, or remove hard rocks from the ground.
Besides, the sharp end of the digging bar can be used to break hard materials (like ice or concrete) into smaller chunks. Thanks to its heavyweight, this tool can sometimes be utilized as a paperweight to hold down tarps or materials that can be easily blown away on windy days.
2. How heavy is a digging bar?
A digging bar can weigh from 15 to 23 pounds (6.8 to 10.4 kg).
3. How to make post hole digging easier?
You can make post-hole digging easier by loosening the soil before digging. This preparation step helps lessen the hardness of your digging job, and to protects the end of your digging bar.
4. Why is it called a San Angelo bar?
A San Angelo bar is named after the San Angelo city in Texas, the United States. This name also implies the complex digging conditions of the soil in the Central and West area of Texas. Thus, a San Angelo bar is often used in heavy jobs, like digging holes on hard soils like clay or moving rocks.
My Top Pick 
Digging bars are available in various sizes, lengths, and designs. Unfortunately, this wide variety makes you overwhelmed when picking up the best digging bar that suits your demands.
Among these top 6 best-rated bars, Truper 30162 is the most popular choice for nearly all digging tasks on your property. This digging bar is made of high-quality, durable materials that can last from generation to generation.