Christmas is coming to town but you haven't found any special gifts for your lovers yet? We hope you end up on our list of "Christmas gift ideas for farmers" joyfully as you won't need to spend any more hours in the "excavation" for the gift.
We took lots of research to assure these are the greatest and most meaningful presents for your dear farmers: Dad, Mother, Husband, Wife, Boyfriend or Girlfriend… in this special Christmas season.
Just take your time and enjoy yourself with these Farmer Xmas gifts!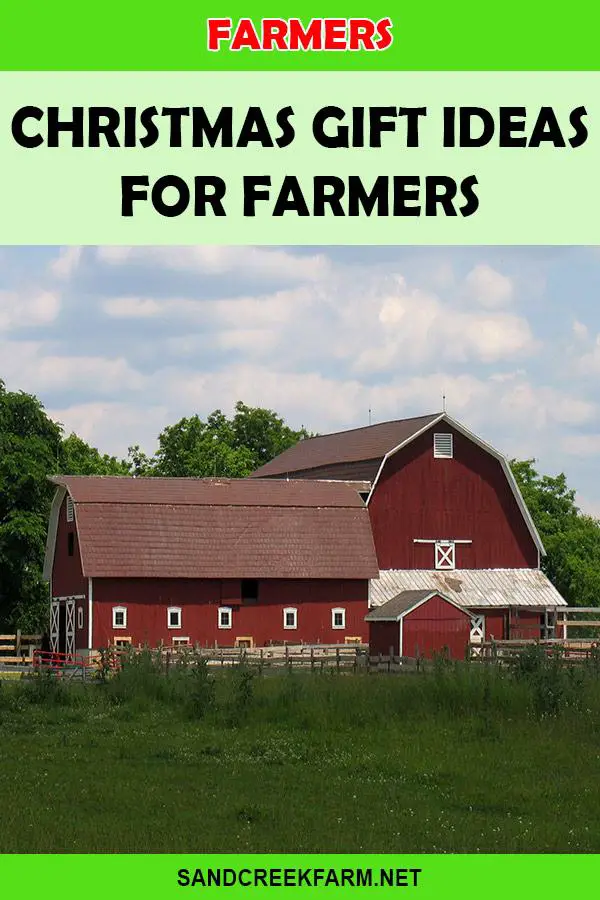 *This post may have affiliate links, which means I may receive commissions if you choose to purchase through links I provide (at no extra cost to you). As an Amazon Associate I earn from qualifying purchases. Please read my disclaimer for additional details.
Best Christmas Gift Ideas for Farmers

This is a wonderful book that has got lots of 5-star reviews from readers.
It was inspired by a famous question on The Farmer's Wife magazine: "If you had a daughter of marriageable age, would you, in light of your own experience, have her marry a farmer?"
The letters in this book are just marvelous! You will find that women working on the farm are remarkable and are everything that a person should be today.
This wall art is a meaningful Christmas gift for your farmers.
The prayers written on this sign are just like the whispers that you pray for your farmers. That is wishing them to be strong, to be protected from all harm, and the farm is to be blessed as always.
This product can help your farmer's home tidier as it can store all the farm tools by setting up against the wall.
It is really stable and transportable thanks to the wheels. So, however heavy it is, your farmers can still move it to where they want.
What is more, it is a solution to help your farmers manage their working tools. Well, I mean the worries of losing or mixing items will no longer be!
Ariat workboot is known to be one of the most comfortable and lightweight boot for farmers.
Everyone does need good shoes. But with farmers, it's a must! Since they have to walk a lot in mud, on rough surfaces, under all kinds of weather, the boots they wear must not be something pulling down their energy but be able to protect their feet.

This dual-purpose hat, anti-sunlight and anti-mosquitoes, is also a very necessary thing for farmers.
Working on the farm, your farmers are likely to be bitten by bugs or insects. To avoid this, something that covers the face is needed.
So, a simple but meaningful gift, right?
These gloves can protect your farmer's hands when they have to work with heavy things.
They are made of synthetic material, which makes them durable and washable. There is an adjustable wrist to prevent them from slippering off. The back of the gloves is breathable, so your farmers won't get sweaty.
This is really a good gift for this Chirstmas!
Your farmers might need an electrical tester to measure various electrical parameters such as current, voltage, resistance, continuity, and so on. A tester can help your farmers a lot in running wire to the shed or somewhere else.
This tester is small, handy, and portable so that can be put in your farmer's pocket.
This is a perfect Christmas gift for farmers.
When walking out at night, or in the fog, your farmers will need this super-bright spotlight to help them view things far away in the dark.
This flashlight model is small, battery-powered and rechargeable, which makes it very handy and portable. Each of the farmers and their family members can have one for themselves as a defense tool.
This cordless hammer drill will bring more joy and convenience for your farmers than a traditional corded one. It comes with a battery charger which can charge one battery at a time. So, no disposal battery.
It is indeed a solution for those who love DIY and those who have to work in places without accessible electrical bulbs.
This is such an ideal thing to help your farmers transport heavy things on their farm. It is, moreover, beneficial for other occasions such as trips to the park, beach, or sporting evens.
It is compactly folded and kept easily in the house, garage, trunk, or closet. Made of polyester fabric, this folding cart is not only durable but also resistant to fading and tearing.
Snap ring pliers can be used to install and remove the snap rings. It is such a great addition for your farmer's toolbox.
Snap ring pliers can stop and return springs and eliminate the overspreading issue. When putting the pliers in the exact location of the ring's lug holes, it can accelerate the installation or removal.
A hay moisture tester can help your farmer a lot simpler when baling hay bales. With this tester, he/she can measure the moisture content of hay scientifically, no longer worrying about getting the wrong result from the guesswork.
With the exact moisture level, your farmer can quickly know whether the hay is dry enough to bale or need more attention.
Check Now: Top 7 Best Hay Moisture Tester on the Market
I guess not many people think this is a gift for Christmas so that it turns out to be a unique and meaningful one for your farmer.
Sometimes, your farmer might need to repair something in-field but can't bring along a bulky welder. This portable Forney welder, weighing only 19 lbs to be easily carried, will be a great choice for him/her.