Having a moisture tester for accurate measurements in the hay is a reliable way to maintain and store your hay in the right conditions.
Though there are a bunch of these tools on the market, you may be wondering: What is the best hay moisture tester?
We compiled a list of the best hay moisture testers below for your information. Take a look and make your decision!
*This post may have affiliate links, which means I may receive commissions if you choose to purchase through links I provide (at no extra cost to you). As an Amazon Associate I earn from qualifying purchases. Please read my disclaimer for additional details.
Best Hay Bale Moisture Tester on the Market 2022
In-depth 7 BEST Hay Moisture Tester Reviews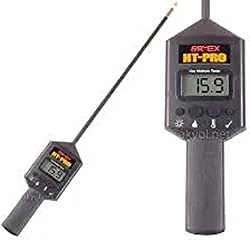 Read More Reviews on Amazon.com
Our top choice for hay moisture tester products is the Agratronix HT-Pro. This unit is the first and only portable product to include a calibration clip of 20 inches.
This Agratronix hay moisture tester is considered the best hay bale tester to run with 9-volt batteries.
Also, it has a backlit and illuminated LCD display meter for night use, which means you can take this tester to go anywhere anywhen even at midnight.
With a moisture detection range from 8% to 45% and a temperature range from 32° to 225°F (0° to 107°C), this meter is suitable for most common hay testing.
According to thousands of customer reviews (including mine), this Agratronix model is such a pricey and valuable addition to your farm.
PROS
CONS

20-inch hay probe length
Has a backlit and illuminated LCD display meter for night use
Wide moisture detection and temperature range
Portable – run with batteries
Best bale tester
Reasonable price for common use

A little slow when sticking multiple spots in a roll of hay
Provided batteries aren't durable and easy to run out
Can't use for windrow hay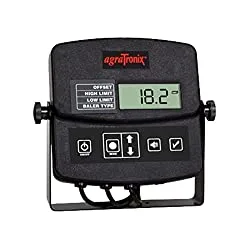 Read More Reviews on Amazon.com
If your farm is in need of the best baler-mounted hay moisture tester for a more productive working process, then go for AgraTronix BHT-2.
This model takes an Agratronix hay bale moisture tester and adds high accuracy and reliability.
It's equipped with 2 sensor pads including 2 – 35′ sensor cables to read on the left and right side, even through the bale.
With the operating range for moisture detection from 8% to 40% plus updating and displaying the result every 3 seconds, BHT-2 tester obviously suits various conditions of hay that may happen on your farm.
Also, this model is adjustable with a high/low limit of moisture reading feature. Its flexibility at a reasonable price helps farmers a lot in checking the conditions of hay throughout the long day.
PROS
CONS

Multi-sensor technology for greater accuracy
Average testing result taken and updated every 3 seconds
Illuminated and LCD display for both day and night use
Adjustable high and low limit of moisture reading
Easy to install and use

Only suitable the most for small square and round bale type
The price is quite expensive
The cab for the monitor is short and a cab extension is not available
#3. Best Hay Moisture Tester for Windrow Hay: Agratronix 07140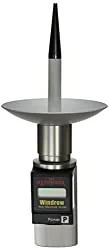 Read More Reviews on Amazon.com
The AgraTronix windrow hay tester is developed to check the moisture content of hay before baling.
It is essential equipment for farmers to find out whether the hay is baled at the correct moisture levels or not. And it just requires a 9V battery for easy operation.
This model is designed to quickly check the windrow or loose hay to the highest accuracy.
It can also give us precise measurements by testing the moisture level within 30 to 60 seconds.
This Agratronix hay moisture tester is best used when the moisture level is between 13% and 70%.
PROS
CONS

Compact design to minimize the process of checking windrow hay moisture
Easy to use
Can measure a large amount of loose hay
High accuracy
Powered by batteries

It is delivered without a case to protect
This unit does not calibrate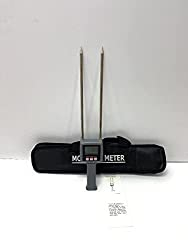 Read More Reviews on Amazon.com
This is the best budget hay moisture meter from my experience. In fact, the ChristianBellet TK100 model is not only used for hay but various materials.
Considering its price and use, this seems to be the most valuable tester to have in your daily life if you don't expect much.
TK100 can easily get the job done with consistent accuracy, even though not as reliable as other advanced options.
However, it still has a bunch of more features available such as an alarm setting to register at pre-recorded levels.
The 18.3'' long hay moisture probe allows measurements to be taken properly in different situations.
The measurement of moisture detection is from 0 to 80%, which is spot on for a unit at this price point.
If you are concerned about buying the best hay moisture tester with a low budget, TK100 could be your top choice on the market.
PROS
CONS

Best-budget hay moisture tester with low price
Wide range of moisture measurement
Can be used for many materials
1-year guarantee
Come with carrying case

Inconsistent accuracy, especially for other materials else than hay
No guideline or direction to use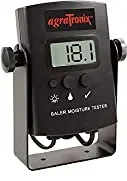 Read More Reviews on Amazon.com
BHT-1 baler mounted hay moisture tester can direct readout for the percentage of moisture while baling hay.
Same as the BHT-2 version of the Agratronix hay moisture tester, this can update and display the average of readings every 3 seconds on a backlit display.
This can guarantee a precise result for testing with the moisture range from 8 to 40% for the normal range of stored hay.
A plus point for this hay tester is that it came with a built-in calibration button.
Also, it has 1 sensor pad and a 10ft long sensor cable that can help track for greater accuracy of moisture.
Depending on your demand, you can decide on the version of 2 sensor pads or 1 sensor pad with a lower price.
PROS
CONS

Could be used for baler-mounted hay
High accuracy and detail display resolution
Sensor pads and cable for precise reading
Wide range of moisture detection
Calibration button

Can only be used best for square bales and round bales
The price is considerably higher than other products on the market
Read More Reviews on Amazon.com
The Delmhorst F2000 is another premium hay moisture tester with an 18" hay probe.
Even though it can't compare the length to the 20" offer from the HT-Pro, there are some features that make this product shine in our opinion.
The F2000 is useful as it can average up to 100 accumulated readings. Plus, the unit is even able to display the averages and highest accumulated.
This Delmhorst model also offers an adjustable, audible alarm to alert you when a preselected % of moisture has been reached.
Since then, F2000 provides a wide range of moisture measurements from  8% to 40%.
Though coming with a quite high price, Delmhorst F2000 gives you a generous 3-year warranty.
PROS
CONS

3-year warranty
Average up to 100 accumulated reading
Can display the averages and highest accumulated readings
Adjustable alarm
Wide range of moisture detection measurement

Quite expensive to purchase
Battery life is shortened during consistent use
The probe is not stiff and easy to bend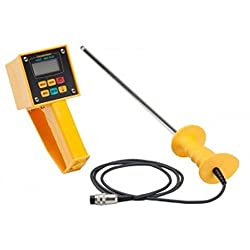 Read More Reviews on Amazon.com
The Draminski tester appears to have kind of the same features as the AgraTronix best-rated model. However, this unit takes a step forward with a 22" probe length.
You can use the sensors of the unit to measure both square bales and round bales.
The moisture detection range of this model is quite impressive from 10 to 80%, one of the widest hay moisture testers on the market.
Furthermore, its function can also keep track and record minimum, maximum, and average results and then display a large LCD screen. Draminski offers a 2-year warranty for you to enjoy.
PROS
CONS

Can be used for both square bales and round bales
Minimum, maximum and average function
Wide moisture testing range
22-inch probe length
Run on batteries

Difficult to test on micro round bales
Can just be run on 9-volt battery
The price is quite high for purchasing
What To Consider When Buying The Best Hay Moisture Tester? 
There are many factors you should take into consideration before making a hay moisture tester.
It is also important to consider what environment you are going to examine moisture, either in loose hay in the windrow, baled hay prepped storage, or upon baling.
It is recommended to find out your top requirements first before spending hours browsing the Internet in a sea of available products.
We hope the guide below can be of some help.
1. Need A Device For Windrow or Baled Hay?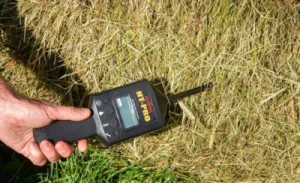 Determine whether you are in need of a device to test moisture in the windrow or of baled hay as there might be differences between them.
If there is loose hay in the windrow, it is best to buy a device that has a meter that employs an electrode with a disc-shaped prod.
Why? Because there are numerous open holes of air in loose hay, and the multiple pin-points of a probe such as the Delmhorst F2000 can fix.
Whereas, hay bales are compatible with a long, reinforced prod as they can reach the interior of the bale to generate a result of moisture conditions deep inside of the bale.
The length of the prod should be at least ½ to 2/3 the thickness of the hay bales.
Read more: What is Hay made of?
2. Construction Of The Meter's Casing
Even the most rugged farming tools and equipment might not last long under the harsh conditions in the field.
Hence, it is advised to be mindful of what equipment you plan to bring out there.
When comparing hay meters, don't forget to check the casing and whether it is heavy and strong or light and poorly made.
As the internal components of the moisture tester are quite sensitive, hence only secure meter cases can be a good shield for them in front of the rigors of farming work and avoid related damages.
3. The Meter's Moisture Range
A hay moisture tester should be able to measure moisture across the recommended range for your particular type of hay bale with a 100% level of accuracy.
The optimum moisture content of a hay bale is affected by the type of forage and bale density, however, you might find the most common ranges below:
Small square bales: 18-20% MC
Large square bales: 12-16% MC
Round bales: 15% MC
No matter what type of tester you would like to purchase, please make sure that its meter can detect moisture over a range of 8% to 30% MC exactly.
Also, check that it gets accurate readings of actual measurements rather than just a result showing that the hay is under or below the % MC range.
4. For Baler-Mounted Testers, Check The Continuous Mode
If you have to check the hay moisture while you are baling, without an appropriate meter, you might have to leave the cab of your tractor a lot.
The meter you need to search for is one with a continuous mode to measure hay in a baler. Then you don't have to go anywhere and just keep your eyes on the moisture conditions of your hay bales.
5. The Meter's Calibration
Even the best moisture tester might not be able to work well after years. To make sure that the results you receive are correct, you should follow the simple and convenient below to check the meter's calibration.
For a hay meter, you can use either a Moisture Content Standard (MSC) or a built-in calibration check.
An MCS is a tool whose function is to provide a specific reading value when linked to a moisture sensor probe. If the reading result is not the same as the value, then it is possible the meter is off-calibration and needs a fix.
Built-in checks have the same functions as an MCS, but there is no need to have an external device which is a moisture sensor probe.
6. The Warranty
You should find the warranty written in a way that is simple and understandable.
They should also state clearly what is and isn't included, covered, and how repairs or replacements will be dealt with.
That means the manufacturer understands its product and knows that its product is of high quality.
In contrast, if you find the warranties doublespeak with a lot of exemptions for daily use, there is a high chance you might not receive the expected service and support as promised.
Another way to help you find the best supplier is to look for other customers' reviews and find out how the manufacturers have handled warranty service.
By this, you can have a bigger picture of the company's service and support and the quality of the product itself.
7. Description Of Usage Or Training Course
It is not difficult to differentiate between a good manufacturer and an excellent manufacturer.
And that is in how they provide customers with instructions.
A good toolmaker might write very detailed and comprehensive online product manuals.
An excellent manufacturer might even produce a tutorial or even a training course on how to use the product to make sure you have no difficulties with it at the beginning.
You can go to their website to find out online manuals, brochures, videos, or training courses offered by moisture meter manufacturers.
Knowing whether it is easy or difficult to use a piece of equipment can also affect your decision.
How To Test Moisture In Hay Bales? 
There are several ways to test hay bale moisture before putting it into the silo and each approach has its own advantages and disadvantages.
1. By Hand
This is considered one of the oldest methods to assess the moisture content and quality of their produce.
Its convenience is that you don't have to use any tool but your own hands.
With this method, farmers take a handful of hay out of the bale, and twist or rub them together in their hands.
When they open their hands, they will see how dry or moist the hay is and whether the hay can hold its shape or not.
However, this is not a perfect option. Why?
You need to accumulate experience in order to be able to feel the hay by hand and give a correct reading of the bale's moisture content.
Even if you are an experienced farmer, the random bundle cannot represent the whole bale. Most farmers often test the surface sample rather than the core hay in the bale and it is always affected by the weather.
However, if what you want is just a general assessment of the bale, it can give you a very quick guess.
2. By Oven Drying Test
There are a number of different oven-dry tests using different kinds of oven/heating elements, including convection ovens, microwave ovens, and even in-field testing apparatuses.
However, it doesn't matter which kind of oven you are testing, the process to find out the moisture content is quite the same:
Weigh the hay sample before drying.
Dry the hay (this task can take 20-40 minutes, subject to the drying method and overall moisture of the hay). Sometimes you might need to keep drying the hay until the weight is fixed.
Weigh the dry hay to have the "dry weight."
Divide the dry weight by the wet weight, and convert it to a percent number. Subtract this number from 100 to have the moisture percentage.
If you prioritize accuracy, this is what you are looking for.
However, the inconvenience is that sometimes it can take you hours or even days to assess the moisture.
For example, if you use the convection oven drying method, it might take you 24 hours to dry out the hale at 165°F.
Yet with an already baked hale, you don't have to worry about the time except when it is rainy. Then your previous assessment will be of no use.
Plus, in case you want to have a reliable result for your hay bales, you might want to take a large enough sample size.
It is recommended to take samples from different bales, which is not practical at all, especially when you have to make a lot of hay bales within a short time.
3. By Moisture Tester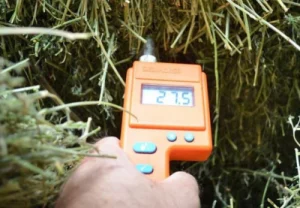 If the two methods mentioned above do have disadvantages related to time and accuracy.
I am confident to say there is another testing method that can solve such problems and can produce exact results quickly: hay moisture probes.
There are many options for you to choose and they can be all rugged and reliable devices.
From baler-mounted units that can check moisture while the hay is being baled to portable units that farmers can bring them along and randomly check moisture content in hay bales before storage.
The process is simple. You put the probe in the hay bale, switch it on and the device will do the assessment for you.
There are many moisture testers like this that can generate results within seconds.
FAQs about Hay Moisture Tester
1. What is the ideal moisture content of hay?
In general, the optimum moisture content of hay should be in the range of 18-20% if you do not use preservatives.
If you use chemicals to preserve the hay, check and follow the manual for the ideal moisture content.
Be aware that the moisture level depends on the bale shape.
For small square bales, the moisture content should be kept from 18 to 20%. Those bales are often light, not dense packing, and inherently highly tolerant to moisture.
For large square or round bales which are packed more densely, the recommended humidity is between 12-16%.
2. How do you test hay for moisture?
You can test the hay moisture content by hand, an oven, or a moisture tester.
Manual testing requires high experience and is often inaccurate. Using an oven gives you a more accurate result, but still, the process is complicated.
The most efficient way is to use a moisture tester which shows the moisture content in a few seconds.
3. How do I know if my hay is dry enough to bale?
After 5-7 days of drying, you can use a moisture tester to check if your hay is dry enough to bale.
You can also use the traditional method to check. To do so, break the stems or twist them to see if they break and crack cleanly.
If yes, it is a sign that your hay is ready to bale. For more accuracy, double-check the hay with a moisture tester.
4. How long should hay sit before baling?
If it is good weather and the sun is at its peak, at around 11 AM., you should let your hay sit about 1-2 hours before baling.
5. How accurate are hay moisture testers?
A good moisture tester, if used properly and stored in good condition, will be one of the most reliable and accurate ways to determine the moisture content of the hay.
6. Does hay moisture increase after baling?
Yes and No.  Depending on the temperature, air humidity, and exposure to weather, the hay moisture can either increase or decrease after baling.
So, to keep the hay bales at the best quality, store them properly.
7. How fast does hay dry?
The drying time depends on your purpose of baling, the weather, and the amount of hay you want to dry.
If you dry hay for making fodder, it takes about 24 hours or less because haylage is stored at higher humidity.
If hay is dried for baling, in good weather, it usually takes about 3 to 5 days.
8. How do you calibrate a hay moisture tester?
First, select a standard level, let's say 18% as the standard for the calibration. Some testers might default to a preset number whenever they are switched on, so you have to change it.
Then, run one or two calibration tests on the tester. To do this, there will be buttons to press, just follow the sequence. Or, you can use the calibration block. Always check the manual before using it.
Switch the tester off if it is showing strange results. Clean the sensor plate or probes. Switch it on again, and make sure that it is at the new set point.
You can do one more calibration test for more accuracy.
In A Nutshell
What purpose and what type of hay you're planning to test? The answer to this question affects you a lot in buying the best hay moisture tester for your farm.
If you are looking for a common tester for hay bales, our top choice for you will be the first pick – Agratronix HT-Pro.
For a windrow hay moisture tester, don't hesitate to buy the third one on our list from the best-rated Agratronix brand.
The best baler-mounted hay moisture tester will go to the Agratronix BHT-2 model. Though the price is sky-rocketed, its function will please you once used.
If you still want something for a low cost, the TK100 tester is waiting for you on the market.
Which one will accompany you in farming life? Let us know your decision below.