Tired of taking so much time and effort troubleshooting your electric fence every time it malfunctions? It's time for you need to find yourself the best electric fence tester.
There is nothing that could help you identify your electric fence problems quicker and more comfortable than a decent electric fence tester. After a long period of researching and testing, we discovered 7 best-rated electric fence testers for you to pick from.
If you are looking for the best, the #1 Gallagher G50900 is a perfect candidate. If it is somehow not available in your region, then the #2 SmartCheck tester is a very quality substitute.
Still need more choices? Check out our top 7s below.
*This post may have affiliate links, which means I may receive commissions if you choose to purchase through links I provide (at no extra cost to you). As an Amazon Associate I earn from qualifying purchases. Please read my disclaimer for additional details.
Top 7 Best Electric Fence Tester on the Market 2022
In-depth 7 Top Rated Electric Fence Testers Reviews
3-in-1 tester
1 CR2 battery (included)
7.4 ounces
Read More Reviews on Amazon.com
Manufactured by the famous New Zealand company, the Gallagher's G50900 is the 3-in-1 tester. It can be used as Voltmeter, current meter and fault finder as well.
There is no button press needed. The Gallagher electric fence tester will turn on automatically when detected pulse and off after 4 seconds of inactivity. The product battery consumption is designed to last up to 3 years. This digital electric fence tester also has a nice, convenient low battery indicator that lets you know when your battery is about to run out.
Pros
Cons

Long battery life
Good quality built
On/off automatically and battery indication features
Fair price
3-in-1 tester

The screen doesn't have backlit
Not so clear when indicating fault and short
Made in Korea
3 AA batteries (Included)
5.6 ounces
Flashing LED and beeper
Read More Reviews on Amazon.com
This device might concern you at first glance by the straightforward design, it looks so simple it seems unsafe, but no. It doesn't require ground lead, unlike other products, this tester has a high sensitivity design.
It has a high-voltage probe that allows shock resistance. You can put this little pen-like tester anywhere, it would sit comfortably in your pocket thanks to the simple and compact design.
The 3-digit auto-brightness LCD gives you peace of mind to use this tester any time of day. It also has a built-in beeper and flashing LED to notify when detects pulse.
Pros
Cons

Simple and compact design
Auto-brightness LCD
Beeper and LED built-in
No need ground lead

Batteries might run out before shipment arrives
Not sure about longevity
High-voltage tester
2 CR2 batteries (Included)
1.62 Ounces
Read More Reviews on Amazon.com
A very light and compact tester that weighs only 1.62 ounces. There is no ground lead needed and it can be used on all fence types. Although having no LCD screen, it comes with a handy voltage meter that can indicate up to 10kv with a 1kv step.
It also has a very bright LED that will flash in sync with the pulse detected. One downside of this product is slightly poor packaging.
Pros
Cons

Very light-weight
No ground probe needed
Easy to use and carry

The packaging is not so good
No LCD display
300V – 9900V range
1 9V battery (Not included)
10.3 Ounces
Read More Reviews on Amazon.com
The tester measures up to 9,900 volts, which is the maximum measurement expected by most electrical fence owners. This feature lets you get the best of your money. It comes with a big LCD that is easy to see while operating.
This tester does require a ground probe and it comes with one. It also has a nice case which is good for carrying around the whole equipment. To use the tester, just put the ground probe into the ground and tap the tester to the fence and see what the actual voltage is.
Pros
Cons

Big LCD
Comes with a case
Fair quality for the price point

Not so durable design
Require ground probe
1000 – 6000 Volt
No batteries required
3.2 Ounces
Read More Reviews on Amazon.com
This device is used to measure the voltage drop between points of the electric fence. It doesn't need batteries to operate since the LEDs are programmed to glow from the range of 1000 to 6000 volt.
Despite the side of a 6-slot socket, it weighs only 3.2 ounces, in addition, the ground probe is 50-inches long which allows the user to easily operate and carry. One thing we don't like about this tester is the LEDs are not so bright and hard to see in the daylight.
Pros
Cons

No need batteries
Light-weight design

The LEDs is not so bright
Budget choice
No batteries needed
0.16 Ounce
Read More Reviews on Amazon.com
Being very cheap and simple built, this fence tester is suitable for people who don't have much skill and just need to test a single electrical fence. It has no batteries, no LCD screen, no beeper.
This tester has a single light that protected by a resistor and will light up when it detects a pulse. The very light-weight and simple built allows it to be easy and convenient to use. If you are not so skeptical, this tester is just right for you.
Pros
Cons

Very affordable
Suitable for beginners
Pretty long cord

Has no LED
Not so durable
Super cheap
No need batteries
0.62 Ounce
Read More Reviews on Amazon.com
The cheapest choice on the list that works as expected. Zareba electric fence tester is molded of ABS plastic, which promises to be very durable through time. This tester has no LCD, instead, it features a light that would blink as the pulse detected.
This product is as easy to use as the previous one. You just plug the probe into the ground and touch the tester to the fence. The cord is 54 inches long would be enough for you to easily operate.
Pros
Cons

The cheapest on the list
Durable build
Easy to use

Has no LCD
The LED is not bright enough to see in daylight.
How to choose the best electric fence tester?
There are many types of electric fence tester, and based on the criteria below, you can choose the best.
1. Types
Depending on what you want, you can choose the appropriate test type between a lot of electric fence testers. If you simply want to know that your fence is working, you can use a little key, or a metal thing, that's enough.
If you want to be more sure about the fence, you can choose digital test machines. Especially, for these huge hedges, I think you should invest a power gauntlet of the fence to make sure it works.
2. Digital testers
There are a lot of electric fence testers right now, but the most popular are proximitesters, probe testers, probe testers, and self earthing units. Each type has a few basic points about showing, the measure, and volts frequency, so consider what kind of fence you're using first.
3. Indicators
Each tester will have different ways to indicate whether your fences are working. Those may be the tone, the flashing signal lights, or volts on the signal system.
If that signal system happens continuously, your electric fence is working properly. Otherwise, if you see the signal light that stops flashing, then your electric fence is not functioning at an effective level.
4. Meters
While choosing an electric fence fault finder, with one meter, you can know exactly how many volts you're at. A meter can measure the electrolytes to 10 thousand volts, so invest in an electric fence tester that might help you feel better about your fence.
5. Weather resistant case
No matter what weather you live in, harsh or mild, a weather-resistant machine will be more durable and keep its accuracy longer.
Keep in mind that, even the case is water-resistant, a bit of water still can be condensed inside. If you don't check it regularly, that condensation will reduce the engine effect and making you hard to read the screen of the tester.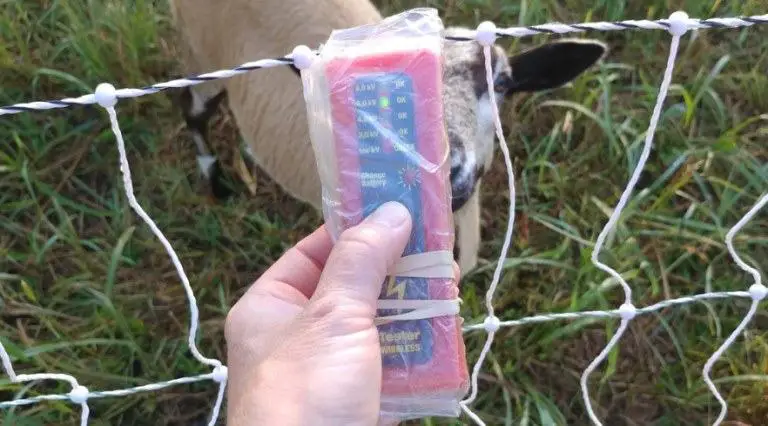 6. Battery life and ease of replacement
Most electric fence testers are available with replaceable batteries. But actually, replacing and changing those batteries is just not easy at all, even with detailed instructions.
So, it is better to select a high-powered battery device as you won't need to do the replacement regularly.
7. Good ergonomics
A good fault finder should be handy and easy to grip. This feature is more important if you have a very long fence to test.
Indeed, let's imagine how inconvenient it is if you bring a bulky and heavy device for a long time. Not comfortable, right?
Also, the device should be designed appropriately that keep your hand at a safe distance from the electric fence when checking.
8. Size and portability
Choosing an appropriate size will depend on the size of the fence, the size of your arm, and the frequency of use.
A compact fault finder which is easily fit inside your pocket will be more convenient if your checking is done often with much movement. But, be careful with a tester that is too small. It might easily fall out your pocket so you might risk losing it before having a chance to use it.
9. Other features
There are also some traits you might need to notice, including an easy-seeing screen, and a long wire.
A clear screen with a backlight will help you easily read the number on really sunny days and low-light conditions. A long wire will allow you to test the unreachable fence line.
Check more: Best Electric Fence Chargers for Cattle
FAQs
1. What voltage should I use for my electric fence?
Any electric fence that is less than 2,000 volts might not be effective for farm animals, while a 10,000-volt is the limit of the international regulation permit. Animals like goats, llamas, and sheep require a voltage output of 5,000 as they have thick coats. Meanwhile, cattle and other larger animals like horses require a voltage output of between only 2,000 – 3,000.
2. How do I use an electric fence tester?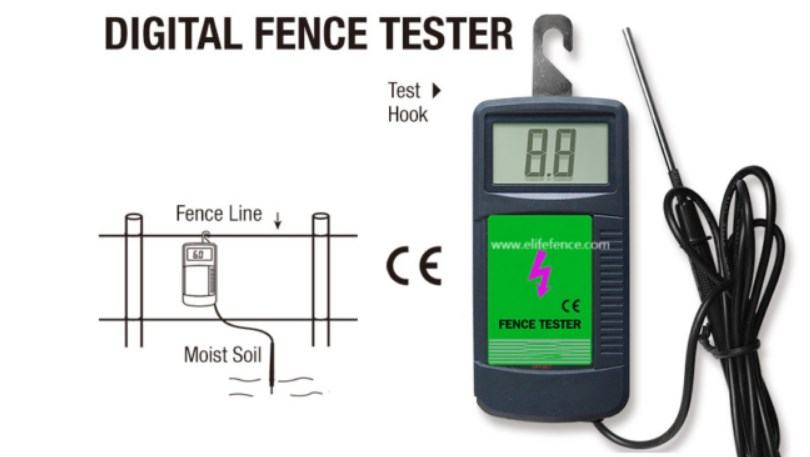 You can find the instruction included in each product, then you can easily understand how it operates.
To use the electric fence tester, firstly you have to drive the probe into the soil. If it is too dry, add water to make it moist and easily penetrate. This step will help you find the voltage of the electric fence more accurately.
Next, it is time to connect the test hook to the fence line. The tester should show a warning on where a pulse is detected. To get more accurate results, it is recommended to read the display after 3 consecutive pulses for more accuracy.
The last reading should remain on the display for several seconds after the test hook is removed from the fence. It might turn off automatically or need manually done depending on its type.
3. How does an electric fence tester work?
An electric fence tester is a device used to detect errors or to locate inconsistencies in the current that passes through the fence lines. Normally, it works like a regular voltage meter, but a meter doesn't work on electric fences.
To operate it, the grounding terminal is required to stick in the ground and the positive terminal is put on the fence lines after you turn on the tester. Keep it for a few seconds then the result will display on the screen.
You will love: Top 7 Best Solar Fence Charger
4. How do you troubleshoot an electric fence?
If the electric fence tester shows a bad reading, you will need to troubleshoot your fence.
First, check the charger. You can start by removing the wires from both negative and positive terminals. Then, use a tester to know the circuit between those terminals. The result will reveal whether the problem is caused by the charger or elsewhere.
If the problem is not in the charger, the problem will be in either your fence or the grounding system. You can create a circuit that goes directly into the ground to test the grounding system.
Read More: How to Check Voltage Regulator On Tractor. This guide shows how to test your regulator with a multimeter, along with an informative video!
Bottom line,
In our opinion, #1 Gallagher G50900 is a no-brainer. It is the best electric fence tester that has the perfect balance between price and quality. The fact that it comes from a very well-known manufacturer brings us a lot of confidence when choosing this tester.
One more thing that I like about this tester is that it doesn't need a cord and ground probe to operate. You will appreciate that very much when winter comes and thick snow covers your yard by the time you need to test your electric fence.