A quail incubator is a useful device that allows you to hatch eggs safe and evenly without a female existence in your flock. The best quail incubator can ensure a large number of healthy chicks if you know how to use them.
As we experienced a few machines beforehand, the #1 Magicfly Digital is our top pick as it meets our criteria for quality and price. If Magicfly Digital is not available, go for the #2 Backyard Farm HatchMate as it's the second-best product.
Not satisfied with those 2 yet? Then take a look at the best-rated quail incubators in our list below.
*This post may have affiliate links, which means I may receive commissions if you choose to purchase through links I provide (at no extra cost to you). As an Amazon Associate I earn from qualifying purchases. Please read my disclaimer for additional details.
7 Best Quail Incubators On The Market 2022
In-depth 7 Top Rated Quail Incubators Reviews With Pros & Cons
Read More Reviews on Amazon.com
Our top choice will be awarded to this Magicfly Mini Egg Incubator. This durable product can provide you with a wide range of features at an extremely affordable price. With Magicfly, everything is adjustable and automatic.
Literally, this quail incubator with egg turner and automatic temperature control allows you to modify the egg incubation and prevent the cold spots for a better result. Getting this valuable eggs incubator, not only quail eggs are suitable but also other types of eggs can be hatched by this machine as the adjustable dividers make it fit for different egg sizes.
It's proven by customers that you can actually incubate up to 20 quail eggs at once, but we highly recommend to operate the egg incubator with 14-18 quail eggs (70-90%). This rate is also said in the user manual said for better hatching efficiency.
Pros
Cons

Best hatching solution at a budget-friendly price.
Automatic egg turner and temperature control
Built-in fan
Made of durable and high-quality PP+ABS material.
Can be used for multiple types of eggs

Not suitable for massive hatching
No humidity sensor
The turner sometimes breaks the fragile shells of quail eggs
Read More Reviews on Amazon.com
Here is another quail incubator with egg turners which could help you with the incubation without opening the machine and turn manually.
Like Magicfly, this also works well with a wide range of eggs – a plus selling point for those who look for a pricey product with a low budget. HatchMate egg incubator can hold around 12 quail eggs and you can place it on the countertop due to its mini dimensions.
As it operates automatically, users can leave the machine without messing with the humidity to turn the quail eggs manually or the chance of contamination. Moreover, the built-in air fan and temperature calibration feature will help distribute the heat evenly so that your chicks can be born safe and sound.
Pros
Cons

Easy to use and place as it's small and portable
Automatic and adjustable temperature control
Work well with many egg types
Great price and well made
Perfect for quail eggs or bantam chicken eggs

No hygrometer
Hard to maintain humidity
Can't be served for large hatching work
Read More Reviews on Amazon.com
Owning a big farm of poultry and want to make the hatching work big? Then this GQF 1502 commercial quail incubator with a total capacity of 1368 quail eggs (set and hatch 250 per week) will be a powerful solution available on the market for you.
This giant quail incubator consists of full digital controlling systems and is one of the best cabinet incubators out there. A built-in computer will monitor the working process and then share data. Also, humidity and temperature will be display on an LCD digital screen for better visual tracking.
Made of high-quality durable plastic and delivered with 3 turnable racks, the GQF 1502 quail incubator is promised to last long with your farm to hatch beautiful chicks!
Pros
Cons

Best suit for massive hatching
A fully digital control system
Precise humidity and temperature control
Controllable thermostat
Made of high-quality durable plastic

No option for auto turning off
Hatching day is not shown
The product does not come with an egg tray
Quite expensive
Read More Reviews on Amazon.com
The famous chick breeders brand Brinsea releases USAG47C Ovation 56 EX as one of the best incubator solutions for beginners. Though its price is quite costly for those who just started, this egg incubator is made to be reliable and durable.
Featured with Induced Dual Airflow, this hatching machine provides stable performance and optimum hatching conditions. Its wide range of features enables users to control temperature and humidity automatically. These condition result will be a digital display for easier tracking.
Design of robust and easy-to-clean plastic cabinet, Brinsea egg incubator can prevent the growth of harmful bacteria to keep your hatching process safe. Holding up to 96 quail eggs at the same time and providing a hatching rate at 80-90%, this is the option for you, newcomers!
Pros
Cons

Fully digital and digital display
Quail incubator with egg turner
Temperature and humidity could be controlled automatically
Induced Dual Airflow technology
Made of anti-microbial materials
Match for a large number of eggs (fit around 96-100 quail eggs)

Difficult cleaning between the top layers
Hot surface so you can't touch the incubator while using
Read More Reviews on Amazon.com
Wanting something that can hold up a large number of eggs but still fit your low budget? Farm Innovators Model 2150 is here to help. Allows you to incubate up to four dozen eggs (48 eggs), this egg incubator works well for both farming and business use.
Model 2150 comes with a lot of features that make the hatching process easier. Providing adjustable humidity, temperature and number of days to hatch for a variety of eggs, this product is made to be flexible for multiple purposes of hatching. Also, the parameter will be displayed on the LED screen and get the flashlight alarm to warn you if the temperature is going wrong track.
The large viewing window allows a 360-degree view inside the incubator to keep the eggs under your control. Especially, quail eggshell is fragile and easy to break then this feature is ideally suited for any user.
Pros
Cons

Hold up to 48 eggs
LCD displays temperature, humidity, and number of days to hatch
Works for a wide range of eggs included quail eggs
Large viewing windows
Budget-friendly

Temperatures and humidity counts are not 100% accurate
Don't have a fan and egg turner so the eggs should be turned manually every 3 hours for better hatching
Read More Reviews on Amazon.com
QGF Thermal Air Hova-Bator is literally the best basic egg incubator model ever. It is made for efficiency and lastingness at a reasonable price.
Doesn't come with many complicated features and functions, this model is profitable as both a commercial quail incubator and personal usage one. This incubator will hold approximately 130 quail eggs – a large number! Besides quail eggs, you can use this GQF model for other types of eggs like chickens, ducks or even guinea fowls.
Though this egg incubator doesn't come with an egg turner or automatic function, the thermal airflow design could help to distribute the heat and dry the baby quails after they hatch. It also includes two windows so that you can "peek a boo" with your chick-being without open the cover.
Pros
Cons

2 see-through windows.
Thermal Air Flow design
Hold large amount of eggs
Provide stable temperatures and humidity
Reasonable price
Durable and productive

No fan or egg turners
Operate manually
Not suitable for beginners
Read More Reviews on Amazon.com
Being reliable for small scale hatching task, HBlife 9-12 model is now one of the best-selling egg incubators on the market.
Even it's quite small in size, the hatching machine is made with high-quality plastic that can ensure durability and efficiency for long-term usage. Its capacity can fit up to 16-20 quail eggs so it's perfect for personal or household use.
The slots inside the egg turner are adjustable so you should be able to adjust them to fit the quail eggs or any other types. The temperature control and humidity alarm work well. Also, the bottom is simple to wash. All of this provides a good hatching condition for your eggs then we never doubt its high hatching rate.
Pros
Cons

Made with durable plastic and easy to clean up
Auto temperature control
Humidity alarm
Automatic and adjustable egg turner
Good for your low budget

Don't have built-in humidity control
Temperature setting is only in Celcius
Don't have daily monitoring
Things you should know about hatching quail eggs
To get the best hatch rate, before placed in the incubator, the quail eggs should be warmed slowly at room temperate. Eggs that have been stored less than a week will have a better hatch rate.
During the hatching, it is of importance to keep your eyes on the humidity and temperature level of the incubator. It can be done manually, or automatically if you buy an automatic machine.
Read More: What is a Flock of Quail Called? Learn the common names for baby quail and groups of adult quails, along with a great video showing the daily life of wild quail!
Commercial or personal incubators?
The choice of a commercial or personal incubator depends on your needs as well as the size of the farming scale.
1. Commercial incubator
Design of cabinet models for large-scale breeding, allowing incubation of up to 250 eggs at a time.
Commercial eggs incubation is usually suitable for all kinds of eggs.
This type of incubator design usually includes a digital thermostat, automatic rotary, humidity control tool, and LED display for temperature monitoring.
2. Personal incubator
They are suitable for small family breeding models, allowing incubation of fewer than 200 eggs per month.
It is usually suitable for small eggs like quail eggs.
In addition to essential components such as temperature and humidity controllers, some of these machines will lack LED screens or advanced environmental monitoring
Read our related article where we review the Best Turkey Egg Incubator on the market today!
What to look for in the best quail incubator?
Choosing a good and affordable quail incubator is not a simple thing.  There are many factors you need to consider before deciding to buy it or not.  Below is some information for your reference.
1. Number of eggs
Usually, the number of eggs that can be incubated in each machine is not the same. Depending on your purpose, you can choose the most suitable model.
If you are just keeping quail for a family breeding, you can choose the most basic type of hatching incubator with a capacity of 12 eggs. If you want to grow chickens or quails for business or commercial purposes, you can choose a machine with a larger capacity, from 30 to 48 eggs.
Read More: How Big is a Duck Egg Compared to a Chicken Egg? In this ultimate guide, we compare duck and chicken eggs in size, weight, use, and more!
2. Egg turner
To ensure a fast and successful hatching process, eggs must be rotated 2 to 3 times per day.  This should be continued until 3 days before the date of birth.
Choosing an incubator with an automatic turner will save you a lot of time, as the machine will rotate automatically according to a preset cycle.
Besides, the automatic rotation of eggs by a machine also helps you to reduce many risks because turning eggs by hand brings some disadvantages.  If your hands are dirty, greasy, or not clean, the hatching process will badly suffer.
3. Temperature control
Let's select an incubator with temperature control via the LED display. This will make it easy to monitor and control the temperature in the machine.
In addition, an incubator with an alarm function when the temperature exceeds the limit is also highly appreciated. The machine makes it easy to recognize the changes in temperature during the egg-making process so that ensuring everything is set at the best standard for eggs.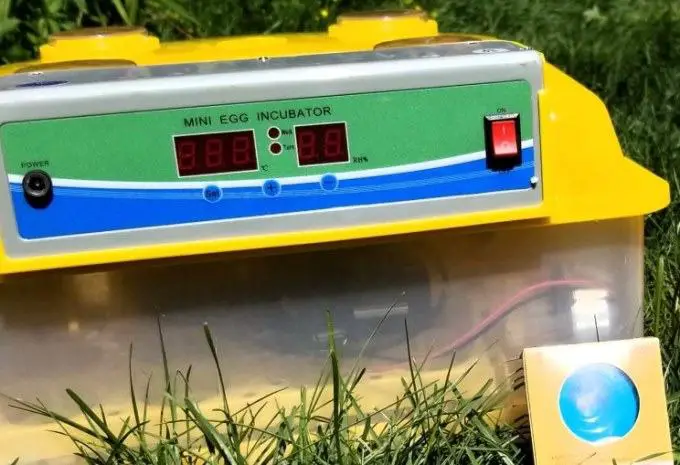 4. Hygrometer
Humidity is not as important as the temperature factor.  But, this is also a factor you should be cautious about in the hatching process.  Choosing an eggs incubator with a hygrometer will help you monitor, check, and easily adjust the humidity for your small eggs.
Read More: Chicken Egg vs Quail Egg – Which is Better? See how chicken and quail eggs compare in nutrition, taste, cooking, and more in this guide!
5. Ventilation
The factors of temperature and humidity are very important when the eggs are in the incubator.  And ventilation plays a role in regulating these two factors.
A well-ventilated incubator keeps the temperature stable at all times. At the same time, it prevents the risk of some areas in the machine becoming cooler than others.
To ensure your incubator has good ventilation, choose a type with a built-in fan. It keeps the space inside the incubator always clear and dry.
Read our related article on How to Hatch a Chick Without an Incubator. Hatching eggs without an incubator can be daunting, but we simplify the process in this guide!
6. Material
Currently, most incubators are made from heavy-duty plastic. These machines are designed for simplicity, compactness, and longevity.
Some other materials also used to make quail incubators are PP (Polypropylen) or ABS ( Acrylonitrile Butadiene Styrene), which are safe, friendly, and have a longer lifespan than plastic.
7. Dimensions
The size of the incubator is directly related to the number of eggs that can be stored per incubation. Visibly, the size of the incubator will be proportional to the number of contained eggs.
Besides, a large incubator requires you to manage space to arrange it.  While a small incubator with a simple design is more convenient because you can keep it anywhere.
Read More: How to Incubate Turkey Eggs. Here's how to hatch with and without an incubator!
8. Warranty
Look for a quail incubator that has a long warranty. That way, you will be assured and supported by unexpected problems happening.
9. Other features
In addition to the key features mentioned above, you should also consider the following elements of a quail incubator:
– Removable egg tray: makes it easy to remove and clean the machine.
– Built-in water channel: provides water to the incubator to ensure the ideal humidity inside.
– Adjustable egg tray: you can adjust it to suit the size of the egg. You can incubate chicken, duck, or pigeon eggs with this kind of incubator.
Read our related article, When Will Quail Start Laying Eggs? Here's when quails start to lay eggs, along with tips for regular egg laying and healthy birds!
Optimal temperatures and humidity for incubating quail eggs 
Temperatures and humidity are two important variants that need to be strictly controlled in quail egg incubation. During the hatching, the eggs must be maintained in a suitable level of moisture and warmth in order to get the most productive hatch rate.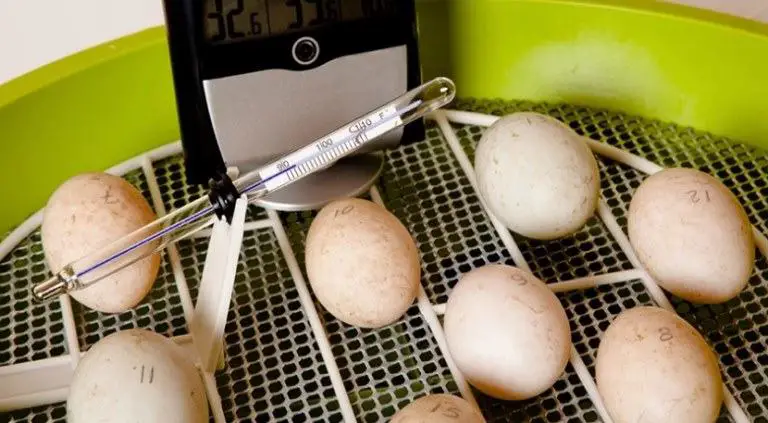 Still-air incubators:
Temperature:
First Week 38.3°C (101°F).
After that – 38.8°C (102°F).
Humidity:
First 14 days- 70% [wet bulb 29.4°–30.5°C (85°–87°F)[
From 15th days – 70% [wet bulb 32.2-32.5°C (90- 90.5°F)]
Fan-ventilated incubators:
Temperature:
First & Second Week – 37.5°C (99.5°F),
After 15 days – 37°C (99°F)
Humidity:
First two weeks- 60% [wet-bulb 30° ± 0.5°C (86° ± 1.0°F)]
From 15th days – 70% [wet bulb 32.2-32.5°C (90- 90.5°F)]
FAQs about Quail Egg Incubator
1. What to do if the temperature inside the incubator suddenly increases or decreases?
If the temperature inside the egg incubator is not stable, it can result in poor hatch rates. In that case, you need to address the problem as soon as possible. What you need to do first is to get the temperature back to the level you set before. Remember to do it gradually, don't set it back right away.
You should know that if the temperature of the incubator is too low, the hatching will take longer or even no hatching at all.
2. How often should I water to keep the humidity level?
Generally, the humidity level is recommended to maintain from 25% to 60% since the first day you put the eggs into the incubator and 3 days before the expected hatching day. Three days prior to hatching, the moisture level can be allowed to 70-80%.
Many egg incubators already have the instruction for adding water, so you just follow those instructions.
In a nutshell,
Purchasing the best quail incubator is never simple work as you must make the decision based on your needs and the product's values. If you don't know where to start, the above reviews and buying guide could help you to define.
For us, our top priority for best-rated products is the #1 one, Magicfly Digital, as it offers users a wide range of functions and features at an extremely cheap price. It's you're looking for a perfect egg incubator for your household usage, the Magicfly machine hot to go!