Trimming your hedges and trees requires great effort; otherwise, you'll be wasting your time and calories needlessly. In that case, you need to make the right investment in getting the best gas hedge trimmer.
If you are in a hurry of getting one for yourself, here are the top 3 products that get the most positive feedback from customers.
#1. Husqvarna 122HD45 – best gas hedge trimmer for thick branches
#2. Makita EN5550SH – best gas pole hedge trimmer
#3. Poulan Pro PR2322 – best budget gas hedge trimmer
Or, if you're not in a rush and can spend about 7 more minutes for this post, scroll down for our in-depth reviews (with pros and cons) on 7 best-rated gas hedge trimmers available on the market and how to choose the right tool for your dream garden.
*This post may have affiliate links, which means I may receive commissions if you choose to purchase through links I provide (at no extra cost to you). As an Amazon Associate I earn from qualifying purchases. Please read my disclaimer for additional details.
Top 7 Best Gas Hedge Trimmers 2022
In-depth 7 Top Rated Gas Hedge Trimmers Reviews
#1. Husqvarna 122HD45 – Best Gas Hedge Trimmer for Thick Branches
Read More Reviews on Amazon.com
The lightweight Husqvarna 122HD45 fits everyone, even the first time user, with its 10.36 lbs weight. The 2-stroke engine only provides low noise allowing outdoor activities without disturbing the neighbors, while the LowVib system protects your hands and arms.
Husqvarna's innovative Smart Start technology makes it easy and straightforward to start your machine. Not only is it an easy trimmer to use and handle, but this engine is also good enough for every trimming task that your garden requires.
With an 18-inch stainless steel blade, the Husqvarna hedge trimmer will cut twigs and branches up to 4/5-inch thick in both directions. The impressive 4,050-minute rate of cuts makes for slices that traverse through all vegetation thicknesses.
Pros
Cons

Trustworthy brand
Strong and sturdy construction
Smart Start & LowVib system
Compact and lightweight design
Easy to start and stop

Shorter blade length compared to other models.
Read More Reviews on Amazon.com
The Makita trimmer gives you more than enough power with 4,600 SPM and a 22″ double-sided blade that can tackle taller hedges, shrubs, and trees. The Mechanical Automatic Engine Decompression makes quick and easy start-up.
This gas pole hedge trimmer is equipped with a commercial-duty air filter, oil port, and drain plugs. It has a steel drive shaft for less vibration and longer equipment life, combined with the captured control wires to reduce snagging and optimize the product durability.
Pros
Cons

Trustworthy brand
Long-lasting product
Easy to maintain
Blade cover included
Translucent fuel tank
No fuel mix is needed

Only suitable for tall or large hedges and shrubbery

Read More Reviews on Amazon.com
The Poulan trimmer is the most powerful option featuring a 22-inch dual-action steel blade backed by a powerful 23cc two-stroke engine for maximum cutting performance.
This is one of the best budget trimmers, good enough for all sorts of thick twigs and shrubs up to one-inch in diameter. The adjustable 3-position handle offers a comfort-grip and allows you to operate the trimmer for all tricky places from a safe distance with excellent control.
The lightweight trimmer is only at 11.1 lbs, and the advanced anti-vibration system keeps the jitters as low as possible.
Pros
Cons

Dual-Action Blade
Reliable brand
Highly-rated product at a good price
Versatile cutting ability
Powerful engine with the dual-action blade
Extra-long handle with three-point adjustable handles
Reasonable price

Some issues with starting
Heavy for the first-time user
Need a better exhaust location
Read More Reviews on Amazon.com
This is the best Tanaka hedge trimmer which offers an impressive 24-inch double-sided blade with a 21cc two-stroke engine for the best trimming results. Its weight is only 10.3 lbs. The trimmer has the Forward Facing Exhaust to prevent burnt foliage, while the 0.3-liter fuel tank allows you to trim for a longer time.
The rear handle pivots to 5 different preset that allow a comfortable and safe grip at the right angle. The S-start technology and purge bulb on this Tanaka hedge trimmer make a smooth and easy pull start mechanism.
Pros
Cons

Highly rated for lightweight and well-designed machine
Adjustable 5 Position Handle for different reaches and easy usage
Powerful 21.1 cc engine with long blades for excellent coverage. Other blade lengths available
Forward Facing Exhaust with less noise
Purge Bulb for an easy start

Higher price tag
The pull-cord mechanism only for starting
Hard-to-find repair parts
#5. Echo 20" 21.2 cc – Best 2-stroke Gas Hedge Trimmer
Read More Reviews on Amazon.com
The 21.2 cc Echo trimmer is equipped with a 20-inch blade with dual-edge for excellent cutting efficiency and superior performance. Being a very lightweight trimmer at just 10 lbs., the Echo also has zero-type grease fitting and tool-less air filter cover to ease maintenance difficulty.
The product's grip and control are great, thanks to the large and user-friendly handles. Besides, the rigid support bar helps to straighten the cuts.
Pros
Cons

Well-built construction.
Excellent cut quality.
Commercial-grade.
Tip-guard.
Tool-less access cover.
#6. RBAYSALE 26CC – Best Gas Hedge Trimmer for Home Use
Read More Reviews on Amazon.com
This single-bladed Rbaysale trimmer is a machine that gives you 43.3-inches of cutting swath. This 26cc engine gas-powered trimmer is suitable for the toughest hedges, bushes, and shrubs.
The trimmer has a shock-absorber system to reduce the vibration while working, combined with a well-balanced handle to provide comfortable and precise cuts.
Pros
Cons

Super-sharp honed blades
Aluminum blade guide
Well-balanced handles
Easy-to-start
High-density gear-box

Handle configuration might be tricky for some
Not as efficient as dual-edged blades
#7. SENIX HT4QL-L – Best 4-stroke Gas Hedge Trimmer
Read More Reviews on Amazon.com
Senix offers a powerful 26.5cc four-stroke trimmer with 22-inch laser-cut blades for precise trimming. This machine can dice branches up to 1.1-inches thick or more.
As a budget-friendly and heavy-duty trimmer, this Senix trimmer with its rear handle can swivel to cut in different directions. It can run without a mix of gas and oil.
Pros
Cons

Good tank capacity
Ideal for sculpting
Blade cover included
Quieter than two-stroke versions
Blade tip guard

Not as powerful as a two-stroke engine
What Should You Look For When Buying A Gas Hedge Trimmer?
Due to the diverse needs of users, there are many different types of gas hedge trimmer on the market.  In order to get a good trimmer that matches your needs, you have to consider many aspects.  Let's find out what those aspects are.
1. Engine Size and Type
The engines used in hedge trimmers are 2-stroke or 4-stroke.  Each type will have its own advantages. The 2-stroke engine is powerful while the 4-stroke engine runs quietly and does not need fuel to oil mix.
Most gas hedge trimmers use 2-stroke engines. This machine is suitable for normal household gardening purposes.
Normally, the larger the engine, the stronger the hedge trimmer will be.  However, you must pay attention to the size of the machine. If the machine is too big, it will be difficult for you to use and lift it.
Gas hedge trimmer machines usually have a 26cc capacity. This capacity is considered suitable and ideal for household-scale hedge cutting.
2. Hedge Size and Type
A suitable gas hedge trimmer will give you the maximum result. To do this, you should pay close attention to the size and type of your fence. Gas hedge trimmers will work well on a medium or large area of the hedge, and plants with medium or large stems.
Typically, for branches less than 1.5 inches thick, you can use an electric trimmer. But for branches over 1.5 inches thick, using a gas hedge trimmer is more suitable because the machine runs more strongly, ensuring the trimming is always effective.
People can cut the hedge by hand if there's only a small area of branches that are not too thick, tall, and large.  However, if the hedge is over 5 feet high, the help of a trimmer will make things easier.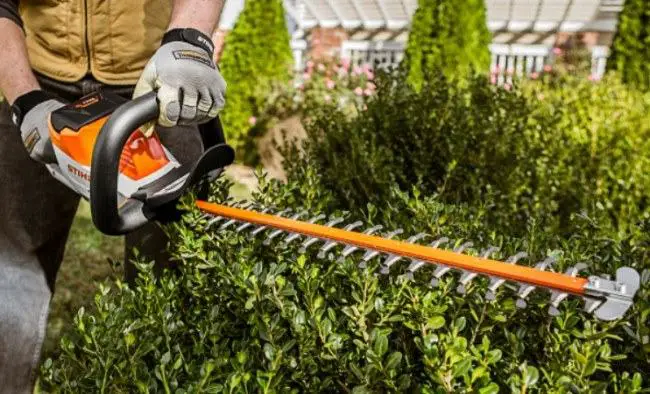 3. Blade Length
The length of the blade also somewhat affects your choice of trimmer. A long blade will save you time as you will take fewer passes to cover the hedge.
However, long blades can be a bit cumbersome and make it more difficult to move the machine in the trimming process. Also, the long blade will not be able to meet the needs if you want to sculpt a hedge or create sophisticated and complex shapes.
4. Blade Sharpening
Well, the sharper the blades of the trimmer is, the more precise they will cut. Undoubtedly! Sharp blades make the trimming gentle, easy, and do not cause too much vibration.
Currently, some gas hedge trimmers have the feature of diamond ground or laser cutting. These properties keep the blade sharp and bring high efficiency to your work.
5. Teeth Spacing
In a gas hedge trimmer, the wider the distance between the teeth, the larger the material the blade can cut.
With a small hedge, this distance from 15 mm to 20 mm is quite reasonable.
For a large and mature hedge, let's look for one with a space between the teeth of 30 mm or more.  The larger the gap to the teeth, the easier it will be for you to cut through thick and large trunks and branches.
6. Blade tip protector
The blade tip protector is designed to prevent the blade from accidental collisions and brushing against surfaces such as walls or paving blocks.
This protection keeps the trimmer in good condition and keeps the blade always sharp.
7. Sawing Function
The saw function is suitable for a hedge with thick and mature branches.
In this type of trimmer,  a part of the blade is optimized for sawing.  When you need to cut a stem, you tilt this part towards the stem to take advantage of the strength and then cut off that part of the hedge.
8. Fuel Capacity
Compared with an electric hedge trimmer, a gas hedge trimmer can run a lot longer, as long as you keep adding fuel.
A note for a trimmer with 2-stroke engines, the fuel used for the engine must be a mixture of oil and gas.  If you use gasoline directly, it will damage the engine.
9. Handle Design
The trimmer handle design will make your use more comfortable and safe.  Indeed, the handle is too long or short will make your hands tired to use.
A well-designed and wrapped handle gives you the best control over the trimming, especially as you change the direction of movement of the trimmer from vertical to horizontal.
Try a rotating hedge trimmer if possible.  This trimmer allows the rear handle to be moved 180 degrees, which increases control and angle during your cutting.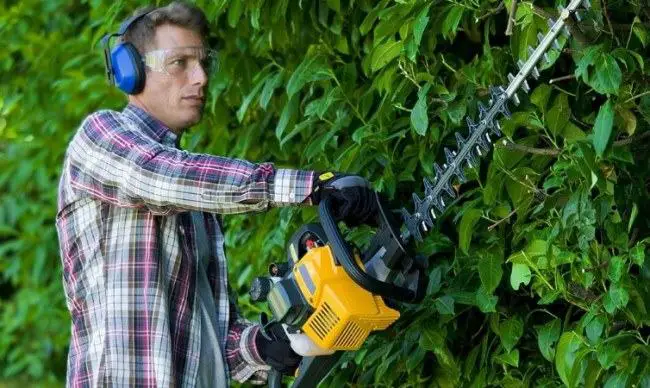 10. Safety Switches
To prevent danger in hedge trimming, safety switches are often designed. Currently, most gas hedge trimmers have the form of dual and triple safety switches.
To ensure safety, you should also pay attention to where to place the device when not in use to avoid accidents and danger to everyone around.
11. Weight
The gas-powered trimmer is usually heavier than the electric ones. Most machines weigh over 10 pounds. The hedge trimmer can also get heavier over time.
If a hedge trimmer is too heavy, it will be very inconvenient to use.  It sometimes even injures the user.  So, consider carefully about your weight before deciding to buy a gas trimmer for your hedge.
12. Cost
A gas hedge trimmer is usually more expensive than the electric one, even many times more. Smart investment is to choose a machine whose price suits your needs.
If you only have a small hedge and do not have any special requirements, an average price range trimmer might be the smart choice.
If your hedge is big with thick trunks, let's invest in the best machine you can buy. It will cost more money, but it will ascertain effectiveness in the long run.
Faqs About Gas Hedge Trimmers
1. Are gas hedge trimmers better than electric ones?
It is hard to say which one is better. Actually, each type has its own pros and cons that you should put into consideration before picking one. In short, gas hedge trimmers are more powerful, more durable, not inhibited by an electric wire yet more expensive and need more regular maintenance.
2. What Is a Gas-Powered Hedge Trimmer?
Basically, a gas hedge trimmer is a tool used to trim hedgerows, shrubs, small trees and bushes. It uses gasoline to operate, making it more powerful than an electric trimmer. With that advantage, it is more ideal for large areas or tough and dense plants.
3. How Much Does a Gas-Powered Hedge Trimmer Cost?
A gas hedge trimmer is often more pricey than an electric one. Generally, its price ranges between $130 to $600 on average.
4. How Loud Are Gas-Powered Hedge Trimmers?
This type of machine often creates a loud noise when operating. However, this noise varies a bit according to whether it is a 2-stroke or 4-stoke energy. Well, a 4-stroke machine typically runs more smoothly.
5. How Do You Maintain a Gas-Powered Hedge Trimmer?
Here is a short guide on regular maintenance for your gas hedge trimmer. After each use, you should:
Inspect the trimmer for any damage.
Check the fuel lines and gas tank to ensure there is no leaking or cracking.
Check the filter to ascertain that it is clean and unbroken.
Check whether there is anything stuck in the blades.
Replace the spark plug after every 100 hours of use.
Dry off the tank if you want to store the machine long-term.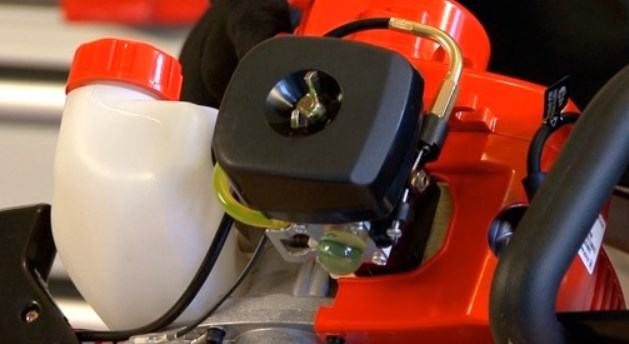 6. What safety equipment do I need for a gas hedge trimmer?
Gas hedge trimmers are more powerful and pose more potential danger, hence, wearing safety equipment in every use is a must. Along with ear protection, eye goggles are of importance, too. Besides, working gloves, a highly visible jacket with long pants, closed-toed shoes and a hard hat are other necessary things to wear.
Bottom lines
When it comes to the tough and longer jobs, no trimmer cuts like a gas-powered one. If you have a great gas hedge trimmer in your inventory, all the extensive sprucing up you often dread will become a breeze. We hope the recommendations from this list of best gas hedge trimmers help you get one and sort out your sprucing up your routine once and for all, so you make sure you are getting the RIGHT tools for your property.
In our opinion, the Husqvarna 122HD45 Gas Hedge Trimmer is the best-rated choice, balancing between price and function from a reputable brand. The lightweight is a plus, makes it even a better solution for your hedge-surrounded garden.