A weed eater is an essential piece of equipment to keep your yard always in tip-top shape.
The best weed eater will not only clean your weeds but also help you trim grass where your lawnmower cannot reach and use it to sharpen the edges of your flower beds.
Whether you have a small or big yard, you should choose an appropriate weed eater depending on your yard size and power source preferences.
In this article, I will show the top 7 top-rated choices you should consider while shopping for the best weed wacker for the money.
*This post may have affiliate links, which means I may receive commissions if you choose to purchase through links I provide (at no extra cost to you). As an Amazon Associate I earn from qualifying purchases. Please read my disclaimer for additional details.
7 Best Cheap Weed Eater Brands
In-depth Top 7 Best Cheap Weed Eater Reviews
We review affordable weed eaters from Black+Decker, Remington, Worx, Greenworks, Earthwise, and an affordable Husqvarna model to help keep your landscape beautiful.
Check Latest Price
BLACK+DECKER LSTE523 is the best cordless weed eater for the money.
Being part of the BLACK&DECKER Power Command tool family, this weed eater can handle thick weeds and tall grass in medium-sized yards.
Thanks to its flip-to-edge collar, you can convert this weed trimmer to a wheeled edger by twisting the adjustable shaft.
You can also manually advance your line using its single-line manual feed system. This machine can provide a line diameter of 0.065 inches and a cutting diameter of 12 inches.
Furthermore, this farm machine features 2-speed controls, allowing you to cut grass in 2 different modes. You can use the 5500RPM mode for newly-grown grass with a longer runtime and the powerful 7200RPM mode for cutting thick grass.
Despite its greatness, this BLACK+DECKER has two notable drawbacks.
First, the 1.5Ah battery runs out too quickly, lasting around 20 minutes on the high-speed settings and 40 minutes on the lower settings.
Second, the charger that comes in the package takes up to 4 hours to fully charge a 1.5Ah Lithium battery, meaning you will have to plan your grass-wrecking session.
Pros
Cons

Dual speed option – 5500 & 7200RPM
Flip-to-edge collar, switch between a trimmer and an edger
Low noise

The 1.5Ah battery runs out too quickly
Poor charger quality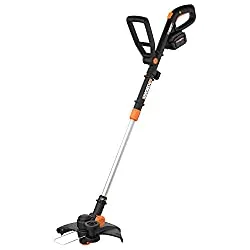 Check Latest Price
WORX WG170.3 offers two battery power options – 2.0Ah and 4.0Ah – and a cutting diameter of 12 inches like the BLACK+DECKER LSTE523.
If you have a large lawn, this is the best cheap cordless weed eater for you.
This weed eater can clean 10,000 feet of grass in a single charge with no stopping. By owning this machine, you will save a lot of time on one battery charge.
Since grass trimming is a challenging job, you should choose a lightweight, portable weed eater to get the job done quickly.
The WORX GT Revolution weighs only 6 pounds with a 20V battery onboard.
It is also easy to carry around with a dimension of 55.25×5.47×7.48 inches. Therefore, you can take it anywhere for trimming, edging, or mowing with ease.
Besides, its high flexibility is another principal reason that persuaded me to purchase this WORX mini grass eater.
It features an adjustable handle with 7 positions and 6 rotating head settings.
Even if you are older or have physical weakness, you can use this versatile tool for hours with no discomfort or injuries and reach those hard-to-reach areas.
Pros
Cons

2 battery power options – 2.0Ah and 4.0Ah
Lightweight, easy to hold or carry around
PowerShare technology, batteries can be shared with other WORX appliances

Not suitable for commercial landscapers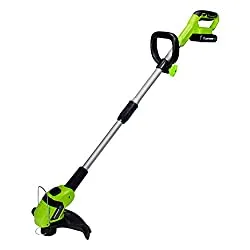 Check Latest Price
Heavy-duty weed wackers can injure you seriously or remove small plants that you need to keep.
Earthwise LST02010 is the safer choice for small to medium lawns.
It is a 10-inch cordless weed eater but cheaper than the BLACK+DECKER LSTE523.
Besides saving money, this compact weed eater also helps keep your garden clean of weeds.
There are 2 similarities between this Earthwise model and the BLACK+DECKER LSTE523.
First, they feature an adjustable handle for easy control. Second, they both work on a 20V Lithium-ion battery, providing the same performance when working in the same yard.
However, the Earthwise LST02010 has a higher cutting speed of 8800RM, while the powerful mode of BLACK+DECKER LSTE523 only provides 7200RPM.
Its upper rubber handle can rotate 180 degrees to reach small, weird-shaped corners. Additionally, you can adjust the telescoping shaft to fit your height.
Many farmers love this flexible weed eater because it can avoid cutting mistakes thanks to its flip-down edge guard.
And this battery-powered item requires lower maintenance effort than gas-powered machines.
Pros
Cons

High cutting speed (8800RPM)
Reasonable price
Rubber handle for effortless control

Fingers begin to cramp up when holding this machine for a while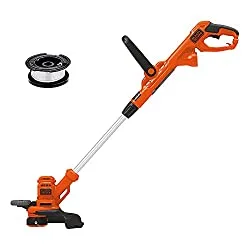 Check Latest Price
BLACK+DECKER BESTA510 is the best electric weed wacker for the money for your home gardens.
This 2-in-1 equipment can perform as a grass trimmer or a wheeled edger with a cutting swath of 14 inches.
This budget-priced weed eater features a heavy-duty 6.5-amp motor with a maximum cutting speed of 8000RPM.
The PowerDrive allows this equipment to cut through the grassiest, weediest areas of your yard.
However, it is not powerful enough to cut overgrowth or thick grass.
What sets this weed eater apart from other conventional electric items on the market is that it features a 38-foot cord with a retention system.
This super-long cord helps extend your radius of movement to a hundred feet. In plainer words, you don't have to worry about being unplugged while working.
Although this weed eater features an adjustable shaft, it is still too short even at the most extended setting if you are 5 feet or above, and only fits people between 5.0 and 5.8 feet.
Pros
Cons

Can perform as a grass trimmer and a wheeled edger
Powerful 6.5-amp motor
Long cord with cord retention system

Too short for people of 6 feet or taller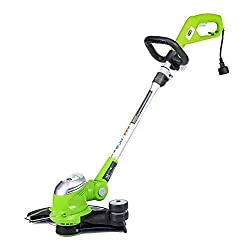 Check Latest Price
Electric-powered trimmers like Greenworks 21272 are more budget-friendly than gas-powered ones when working on a small garden.
You also do not need to mix oil and fuel. Just plug it in and start your work instantly!
With a cutting path of 15 inches, this string trimmer ensures it clears away all unwanted weeds while being safe and comfortable to use.
Especially for people who want to maintain their properties without hiring someone else to do it.
This machine weighs only 7.05 pounds, making it suitable for older people or those with physical limitations.
Anyone can use this cord string trimmer with ease, thanks to its simple design. Press the start button, and it will cut the grass for you.
This grass eater also requires less maintenance effort than gas-powered models. So, it would be the perfect equipment for those who are starting their gardening hobby.
However, this equipment as well as other corded weed eaters are not recommended for large lots since the wiring work is too complicated.
For large lawns, opt for a gas-powered weed eater.
Pros
Cons

Easy start with a button
Quiet operation
No fuel and oil mix needed

Not practical for big yards due to its complicated wiring work
The auto-feed liner feature sometimes doesn't work
#6 Best Gas Weed Eater For The Money: Remington RM25C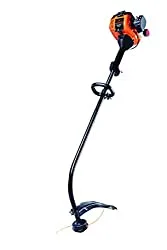 Check Latest Price
The Remington RM25C is not a lightweight item in the weed eater market. But when it comes to maneuverability, it is at the top.
This weed eater has a 25cc 2-cycle gas engine. Thus, it is powerful enough for trimming or edging through big obstacles like cutting tall grass or weeds.
This gas weed eater weighs 13.27 pounds, which is heavier than any corded and cordless weed eaters in this article.
What sets it apart is how it functions in challenging tasks. The powerful 25cc engine with QuickStart Technology minimizes your effort to pull-start the engine.
As for cutting quality, the Remington RM25C has a cutting swath of 16 inches with a line width of 0.95 inches.
Consequently, you can perfectly trim a wider area of grass in a short time.
Its curved shaft also makes edging and cutting more relaxing while providing a balanced cut.
Pros
Cons

25cc 2-cycle gas engine and QuickStart Technology; powerful yet easy to use
Great cutting quality

Too heavy
Vibrate too much
Relatively small for people above 5.8 feet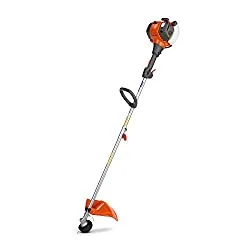 Check Latest Price
Husqvarna 128LD is a sweet balance between performance and comfort for professional gardeners.
It is the most expensive item on this list but still the most affordable one among commercial weed eaters of Husqvarna.
If you have tough weeds and want to cut them fast, the 128LD is your best budget gas weed eater.
This Husqvarna weed eater has a 28cc gas engine with a cutting width of 17 inches.
The 28cc engine and dual titanium strings mean it can slide through the stiffest and most stubborn vegetation.
Its Smart Start system allows you to start the machine on the first pull while reducing fuel waste.
At 10.8 pounds, the Husqvarna 128LD is easy to control and also includes a detachable shaft for easy transportation and storage.
Besides cleaning weeds, you can utilize this commercial Husqvarna weed eater in various gardening jobs.
Just remove the head and fit new attachments to unlock its potential, transforming it into a brush cutter, leaf blower, sweeper, chainsaw, and so on.
It can work with any MTD brands like Troy-Bilt, Poulan, Sears, and Ryobi, and buying attachments is much cheaper than purchasing a new machine.
Undoubtedly, this versatile machine from Husqvarna is the best weed eater in value that you should own in your collection!
Pros
Cons

Capable of cutting through big obstacles
Detachable shaft for easy storage/transportation
Utilize for many other gardening jobs

Require fuel and oil mix
Expensive
---
Best Weed Eater For The Money: Things To Look For
Power Source
Depending on your needs and your budget, you have three major types of string trimmers to choose from: battery-powered, gas, or electric weed-eaters.
Each type has different performance levels, features, as well as prices.
Battery-powered
If you only need to trim up the yard around the house, a battery-powered string trimmer will be enough. As its name suggests, this weed eater is powered by an internal rechargeable battery.
With recent advancements in battery technology, this type of weed eater can offer enough runtime and cutting performance to handle all residential-level trimming jobs.
Look out for models that come with Lithium-ion batteries. It's widely considered to be the best battery technology available right now.
We highly recommend buying an extra battery cell if you decide to get yourself one of these machines. When one cell runs out of charge, you can quickly place the spare cell in so that your job doesn't get interrupted.
Battery-powered string trimmers are considered the "mid-range" option between electric and gas models.
On average, they cost between $70 on the lower end to $200 on the higher end. Extra battery cells will run you between $40 to $125.
Gas
For professionals and people with large yards to tend to, a gas-powered weed eater is the best choice.
The gasoline engine offers more power and runtime overall. With this type, you can cut through dense, heavy bushes with ease.
In return, gas weed eaters are very fussy when it comes to maintenance. You also have to use the right fuel mix for the engine, or it will refuse to work altogether.
These are some of the most expensive string trimmers that you can possibly get on the market. The average models are priced at around $125 to well over $200.
Electric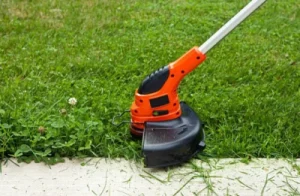 Electric (or corded) string trimmers have a fairly simple design: the motor is tied to a long power cord.
Plug the cord into an electrical outlet and voilà, you can begin to work immediately!
They have enough power to tend to average-size yards. However, their range is limited to the length of their power cord.
If your yard is too big, you may have to use extension cords to gain full coverage of the area.
Corded weed eaters are the cheapest out of the three. You can easily find models that cost less than $50.
Shaft Length
The shaft is the long metal cane that connects the motor with the trimmer head.
Inside this shaft is a drive mechanism that takes power from the motor and transfers it to the blades inside of the trimmer head.
There are two kinds of shaft designs on the market: straight shaft and curved shaft.
A straight shaft has more power, a better reach, and has a straight, metal rod for the shaft, and is quite similar to a stick vacuum cleaner.
A curved shaft has a bent section at the end and right above the trimmer head. While the power and reach of curved shaft models are not as good, they are a lot more stable and easier to control.
Take your pick depending on what you prefer: greater performance and reach, or better control and stability.
But there's one other thing that you have to take into account, too.
If you are a tall person, a straight model will be a better suit. Conversely, shorter people will fit curved shaft weed eaters better, as they provide a lot more control.
Many recent models come with adjustable shaft lengths. We highly recommend them if you are not the only user in the house.
While it may sound simple, an adjustable shaft will allow everyone to use it. There is a comfortable length that can be tuned to for a man, for a woman, for a healthy back, or for a bad back.
Rotating Head
There are many weed eaters that can be rotated and used as edgers.
You can use the tool to cut perpendicular to the ground, cleaning up certain areas like the driveway without requiring you to buy extra tools.
Level Of Noise
Noise will vary depending on the power source. As expected, gas weed eaters are always the loudest.
Although the electric motors in battery and electric models are considerably quieter, their whirring can still be ear-deafening after some time.
So, no matter what model you got, we recommend wearing ear protection while you're working with the machine.
Manufacturers usually will tell you what sort of ear protection you are going to need to wear in the user manual.
Additionally, make sure to let your neighbors know whenever you work the yard or, at the very least, only do so in the morning.
Vibration
Gas weed eaters are notorious for their high vibration.
Using these machines for only a few minutes at a time can leave your hands tingly and numb. If you do not like having numb hands, check out models with anti-vibration technology.
Fortunately, new models introduced by all reputable manufacturers these days – even the cheapest ones – come with this tech.
Feeding And Loading String
A weed eater works by whirling around a string at high speed.
Because of the violent work that it does, the string can wear out very quickly.
Check the model that you are eyeing carefully to ensure that it is designed in such a way that allows quick feeding and loading of replacement strings.
There are a lot of models that give you free, pre-wound string refills throughout the machine's lifespan. Others will give you a direct say in what kind of string to use.
For example, if you need to cut thicker weed, you can opt for heavy gauge strings.
Just make sure that you follow all of the manufacturer's instructions on what type of string is compatible with that particular model.
If the string is too heavy, the motor of the weed eater could burn itself out.
Check more: Top 7 Best Weed Barrier
FAQs about Weed Eater for the Money
1. Which is better 2-stroke or 4-stroke weed eater?
In short, a four-stroke weed eater outperforms the two-stroke one due to its low emissions created with virtually no noise. However, while the latter is louder, it tends to be more lightweight and easier to maintain.
2. Which is better: straight or curved shaft weed eater?
A straight weed eater is much more flexible compared with a curved shaft one. For instance, you can maneuver it around any tight area without difficulty.
By contrast, the shaft often has a lighter weight. Plus, it might give you more control because of the curved shape.
3. Are there any weed eaters that don't use string?
Yes, there are many kinds of grass trimmers without strings (known as stringless trimmers).
These include the Sun Joe SB601E Sharper Blade Trimmer, the MLG Tools ET1101 Grass Trimmer, or the Sun Joe SB602E Stringless Lawn Trimmer.
Although they own sharper blades, they tend to be harder to use.
4. Is Husqvarna a good weed eater?
According to customers' reviews, most Husqvarna weed eaters are incredible machines due to their considerable powers, high-end motors, and lightweight designs.
However, for some, they are slightly expensive, and a few models require gas fillings.
My Top Pick
When picking the best cheap weed eater, you should consider your farm size, the types of obstacles, and the areas that need edging.
An appropriate weed eater keeps your yard neat and tidy while retaining safety and comfort for your body.
In the end, the BLACK+DECKER LSTE523 is the one that brings the most incredible value to your farming work.
This best affordable weed eater offers a great line feed system and two powerful speed options.