With light-duty tasks like limbing or pruning small tree branches, a small chainsaw with a chain bar of 10"–16" length can handle them better than a professional one. Provided you have picked up the best small chainsaw that fits your work demands, you can get all jobs done with safety, efficiency, and comfort in mind.
If you haven't found your favorite chainsaw, let's take a look at the 7 best-rated models that many DIY garden addicts and I love using for daily chores.
*This post may have affiliate links, which means I may receive commissions if you choose to purchase through links I provide (at no extra cost to you). As an Amazon Associate I earn from qualifying purchases. Please read my disclaimer for additional details.
Top 7 Best Small Chainsaws 2022
In-depth 7 Top Rated Small Chainsaw Reviews
Check Latest Price
Blade length: 10 inches
Power source: Battery
Voltage: 20V
Weight: 7.2 pounds
Dimension (LxWxH): 16.7 x 8.81 x 9.63 inches
Whether you need a portable cutting tool to remove small tree branches in your backyard or for your DIY projects, this small cordless chainsaw with a 10-inch chain bar can handle well with top-notch safety and efficiency. It can safely cut a branch or piece of firewood 12 inches in diameter or less.
BLACK+DECKER LCS1020 weighs only 7.2 pounds, enabling you to maneuver the device's movements easily or carry it with you without wasting too much physical strength. Its lightweight design, along with the wrap-around handle, allows you to make smooth and clean cuts horizontally or vertically.
Since this cordless chainsaw runs on a 20-Volt Lithium battery, you will have more freedom in maneuvering the device with no tangled cords, cord extensions, or cold starting issues in winter.
Suppose you own any additional devices or machines of BLACK+DECKER with 20-Volt battery power. In that case, you can utilize those Power Connect batteries as a secondary power source for long working days or when cutting many branches at a time.
Another reason this chainsaw is the #1 best small chainsaw is that it offers a user-friendly design for homeowners with little or no experience, of course, it's also a good farm chainsaw. First, you can switch the chain tensioning to adjust the chain bar anytime with no tools required. Second, you can keep the bar and chain well-lubricated thanks to the improved oiling system.
Pros
Cons

Lightweight
Tool-free chain tensioning
Convenient oiling system

The battery connection is tricky to maneuver in some cases
Check Latest Price
Blade length: 10 inches
Dimension (LxWxH): 8.47 x 15.16 x 8.98 inches
Power source: Battery
Voltage: 18V
Weight: 7.2 pounds
While women with proper training can cut trees with no critical issues, most of them lack the upper body strength to handle a heavy commercial chainsaw.
Thus, if you want to give your daughter or wife a chainsaw for home use as a gift, this 10-inch Makita Cordless Chainsaw is an ideal choice that can be used as their "first chainsaw."
Weighing and dimension are two crucial criteria when picking up the best small chainsaw for a woman. A chainsaw that is too heavy and too bulky may result in discomfort to her arms and hands and make it harder to maneuver the device or even cause some severe injuries.
This small chainsaw weighs 7.2 pounds and has a portable sizing of 8.47 x 15.16 x 8.98 inches, which is alright to manage for all women with little experience in using chainsaws before. The solid top handle helps them get all light trimming, pruning, or limbing jobs done with ease.
This chainsaw runs on a Roto BL brushless, direct-drive motor with a maximum chain speed of 4,720FPM, making it as powerful as a 22-cc gas-powered one.
Equipped with a 5.0Ah battery, it can make up to 175 cuts of 2×2 cedarwood in a single charge. If you have to deal with thick and dense branches, you can switch to torque-boost mode to avoid kickbacks.
Pros
Cons

Roto BL brushless motor for a cutting-edge performance
Lightweight and compact for female sawyers
Torque-boost mode to cut dense materials
Check Latest Price
Blade length: 12 inches
Weight: 8.8 pounds
Dimension (LxWxH): 25 x 9 x 9 inches
Power source: Battery
Voltage: 20V
DEWALT MAX XR Compact chainsaw is one of the best battery-operated small chainsaws with maximum user control capability. Running on a 20V, 5Ah battery and a high-performance brushless motor, this chainsaw can deliver up to 90 cuts on 4×4 wood in a single charge.
Apart from its robustness, this DEWALT chainsaw also comes with safety features for all construction work and outdoor cutting jobs. It has a low-kickback 12-inch chain and bar to enhance your productivity while lessening the risk of kickback.
There are over 28,000 accidents related to chainsaw operations annually in the United States. Thus, owning a small chainsaw with a low-kickback design like this is an excellent way to keep you always safe and reduces possible injuries to your arms, hands, head, and neck.
This 12-inch chainsaw is a member of the 20-Volt MAX tool system. So, if you have another DEWALT device that runs on a 20-Volt battery, you can make use of it on this chainsaw instead of purchasing the chainsaw with a battery and charger.
Pros
Cons

High-performance brushless motor
Low-kickback design for enhanced safety
Compatible with all DEWALT tools that use 20-Volt batteries

No battery and charger included
Blade length: 16 inches
Power source: Gas
Dimension (LxWxH): 16.4 x 9 x 11.4 inches
Weight: 5.67 Pounds
If most of your DIY projects require heavy-duty cutting, this small gas chainsaw from Husqvarna is the best of both worlds.
It features an efficient X-Torq 38.2cc engine with a 16-inch bar to deliver maximum cutting power for firewood, thick branches, pieces of firewood, limbing, or light felling.
But the most notable point of this latest 2-cycle engine technology of Husqvarna is that it can reduce 20% fuel consumption and 60% gas emissions. Some of my friends use this beast for wood carving, and they are delighted with its performance.
Besides, this Husqvarna chainsaw is manufactured with the user's safety in mind. The 2-cycle engine comes with the inertia chain brake to lock the chain instantly when there is a rapid kickback in the inertia. Besides, there are anti-vibration dampeners on the handle to lessen extreme shaking when using this device for an extended period.
The biggest drawback of this gas-powered tool versus a cordless item is that it requires more maintenance effort from you. You will need to keep the air filter clean, use a proper mixture of gasoline and oil, and buy spark plug replacement regularly.
On cold winter mornings, you will also have to deal with engine starting problems.
But overall, Husqvarna 130 is a valuable choice for garden hobbyists or experienced DIY lovers who often have to do demanding cutting jobs.
Pros
Cons

Productive Husqvarna X-Torq 32cc engine
Extended 16-inch cutting chain
Save up to 20% fuel consumption and 60% gas emissions
Various safety features

No safety cover for the chain bar
Need more maintenance effort than cordless models
Blade length: 4 inches
Power source: Battery
Dimension (LxWxH): 13.39 x 4.72 x 7.48 inches
Weight: 2.4 pounds (include the batteries)
Cutting capacity: logs of 3.93~5.91 inch
A portable chainsaw like this 4-inch Seesi item is affordable yet appropriate for the most entry-level home and DIY projects. This device features a pure copper motor for better thermal cycling endurance, higher efficiency, and a longer lifetime than a traditional aluminum motor.
Even during its peak operation period, it has only a maximum noise level of 75dB. Thus, you can perform your cutting jobs in the early mornings or late evenings without affecting your family members and neighbors.
A common question of many sawyers is how long a battery-powered chainsaw can last. This chainsaw comes with two 2,000mAh Lithium-ion batteries that can work continuously for 50 to 60 minutes, sufficient for all your cutting purposes.
Besides, this battery pack also comes with various safety features, protecting from overload, over-discharge, high temperature, over-current, or short-circuit.
This cordless chainsaw weighs only 2.4 pounds and uses no gasoline for operation. Thus, you can carry it around your home and use it outdoors and indoors with no worries of harmful emissions like gas chainsaws.
Although this chainsaw has no protection cover, it comes with a portable suitcase with a charger, batteries, chains, and some hand tools. You can keep the chainsaw safe in this suitcase and carry your tools on your worksites or weekend camping trips.
Pros
Cons

Low-noise operation
High-quality alloy chain for extra durability and cutting performance
Pure copper motor
Portable suitcase with tools

Not heavy enough for heavy-duty cutting jobs
Unstable bar adjustment
Check Latest Price
Blade length: 8 inches
Power source: electric
Dimension (LxWxH): 76 x 5.7 x 10.3 inches
Cutting capacity: logs of up to 7.5-inches
Weight: 8.4 pounds
This 2-in1 Sun Joe tool can act as an electric pole saw or a chain saw and can be swapped between these two tools in a blink. Besides, it only weighs 8.4 pounds for easy maneuver or holds overhead for an extended period. Thus, you can use this small electric chainsaw to safely trim overgrown trees and thin logs without using a ladder.
This handy cutting tool boasts a robust 8-amp motor and an 8-inch cutting blade that can cut logs and branches with a diameter of 7.5 inches. Furthermore, it has an Automatic Oiler to lubricate the chain and bar. Thus, you don't have to maintain these two parts manually.
Who can use this 2-in-1 chainsaw? This chainsaw best fits an average person of 5 to 6 feet in height. The telescoping pole can extend up to 8.7 feet with a maximum reach of 15 feet. However, shorter people might find difficulties reaching tree branches.
Pros
Cons

Can act as a chainsaw or a pole saw
Robust 8-amp electric motor
2-year warranty

Might be challenging to use for people under 5 feet in height
Check Latest Price
While other small chainsaws on this top list have limitations in chain length, this Sportsman chainsaw features a 36-inch chain to tear soft to hard types of wood effortlessly in two directions.
This chain is made of 65mm high-carbon heat-treated steel, making it sharp longer than other counterparts with stainless steel chains. After months of use, you can resharpen it with a regular 5/32 round chainsaw file.
Two other reasons that make this Sportsman item the best budget choice for outdoor use.
First, it comes with a solid carrying case to keep the razor-sharp chain safe inside. This case has a belt loop and a front snap clip, allowing you to keep it by your side and be available whenever you need it.
Second, there is a free 8mm magnesium fire starter in the product package so that you can use it to make a campfire.
Besides basic cutting jobs around your property, you can use this pocket chainsaw as your firewood cutting tool on your weekend trips or as your survival gear when you are far from home. However, this item requires more physical workload than gas-powered cordless chainsaws, which is not recommended for older adults or those with rheumatoid arthritis.
Pros
Cons

High-carbon 65mm chain with an extended length of 36 inches
Bi-directional cutting capability
Heavy-duty nylon storage case
Free fire starter included

Hard to use for elderly people or those with rheumatoid arthritis
3 Types Of Chainsaw
The "type" of chainsaw is usually determined by how they are powered. In that case, there are two sorts of chainsaws: gas-powered and electric-powered. The latter (electric chainsaws) is further segmented into two subtypes, battery-run and corded chainsaws.
To be as comprehensive as possible, we'll be discussing all three kinds of chainsaws: gas, battery, and corded chainsaws.
Gas-Powered Chainsaw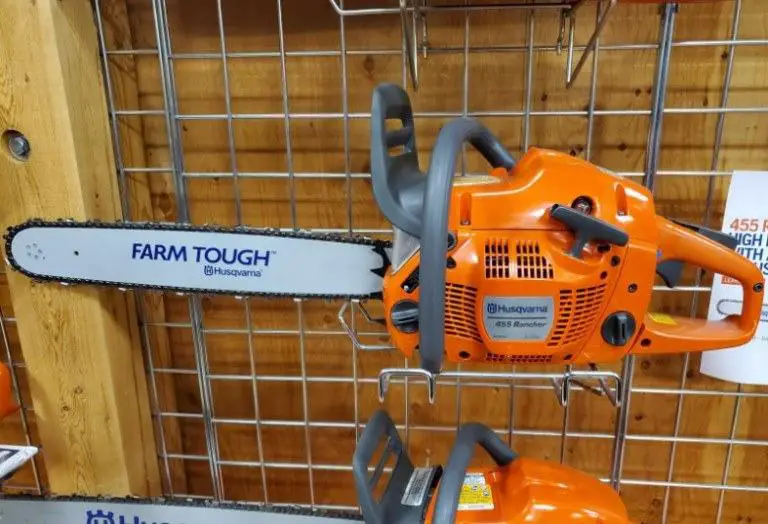 This is what most people probably think of when it comes to chainsaws. Gas-powered chainsaws are big, loud, and their motor often shoots out plumes of smoke as they work. If they're maintained properly, these powerful chainsaws can tear through a large tree in mere minutes.
As its name suggests, the motor runs on a mixture of gasoline and oil. The gasoline is usually unleaded and has an octane rating of mid-grade to premium (89 and above). The mixing ratio between the gasoline and the oil can be different from manufacturer to manufacturer, but it's often 50:1 or 40:1.
As an example, if your chainsaw runs on a 50:1 mixture, for every gallon of gas, you need to add around 2.5 ounces of motor oil. On the other hand, if you use a 40:1 mixture, it will be 3 ounces of oil per gallon of gas. Do note that if the mixture isn't done correctly, the chainsaw may refuse to work at all.
Aside from that, gas chainsaws also require you to keep the air filter clean. The spark plug and the carburetor also have to be replaced and re-adjusted from time to time.
But while the maintenance is complicated, gas-powered chainsaws are favored just for one reason: their cutting power. Compared to other types of chainsaws, this one offers the most cutting power.
Pick this type if you need to use it in commercial, professional applications or have a large property to take care of.
Battery-Powered Chainsaw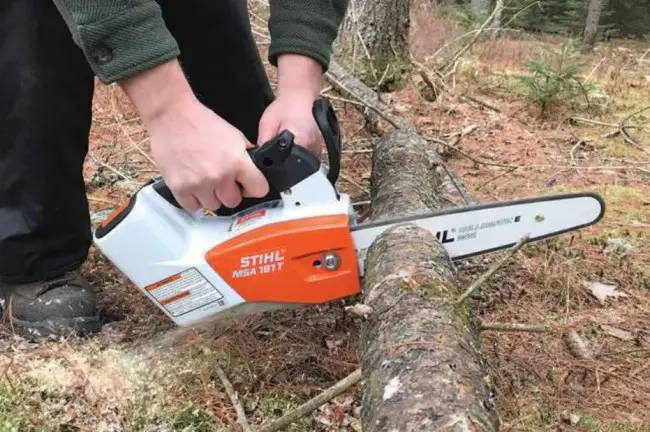 A chainsaw powered by a battery is generally more flexible and less fussy. They don't require a lot of maintenance and, like a gas-powered one, you can bring it with you and work anywhere. Just make sure that the battery is fully charged when you begin.
Modern cordless chainsaws have become more powerful than ever and can fall trees. Don't expect cutting power to be on par with a gas-powered one, though.
It is the type of chainsaw for DIY-ers and people who don't need to use a chainsaw regularly.
There are a few disadvantages that you have to be aware of.
First, cordless chainsaws are more expensive on average compared to other kinds.
Secondly, the chainsaw is limited by its battery. Even the best, largest power cell will run out in an hour. After that, you either have to recharge it (which can take hours) or replace the cell with a fresh one.
Corded Electric Chainsaw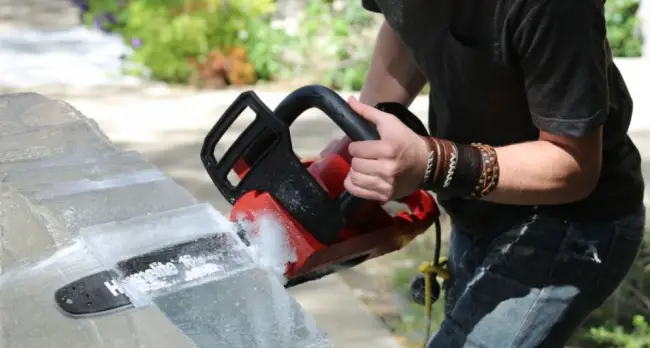 A corded chainsaw is basically the same as a battery-powered one. The only difference is that instead of relying on an in-built battery, it is powered through a standard power cord.
The greatest advantage of a corded electric chainsaw over a battery-powered chainsaw is … the cord!
A power cord plugged straight into the grid supplies more stable power. It also doesn't "run out of juice" like a battery. Because of this, a corded offers more cutting power. A few models on the market offer cutting performance rivaling that of gas-powered chainsaws!
Ironically, the drawback also lies in its power cord. The chainsaw is quite literally confined to the length of its cord. Due to this, a corded chainsaw is best for people who have small yards and don't stray too far from a ready electric outlet. If you have a larger yard, an extension cord is going to be needed.
How to Choose the Best Small Chainsaw?
Motor Size/Amperage
This is probably a no-brainer: the larger the motor, the stronger the chainsaw. This applies to both electrically-powered and gas-powered models.
The size of the motor also lets you know whether the chainsaw is suited for heavy-duty work or not. You can also glean whether you can upgrade the bar to a longer length.
Mini gas-powered chainsaws will have an engine block around 30 or 40cc (cubic centimeters). With this engine size, the tool can support a bar ranging from 10 inches all the way to 16 inches long. Depending on the model, you could possibly even mount an 18-inch bar.
For electric chainsaws, the motor's size isn't as important as the amperage that it can produce. The higher the rating, the more cutting power it has. For a small electric chainsaw, a 14-amp rating is considered decent.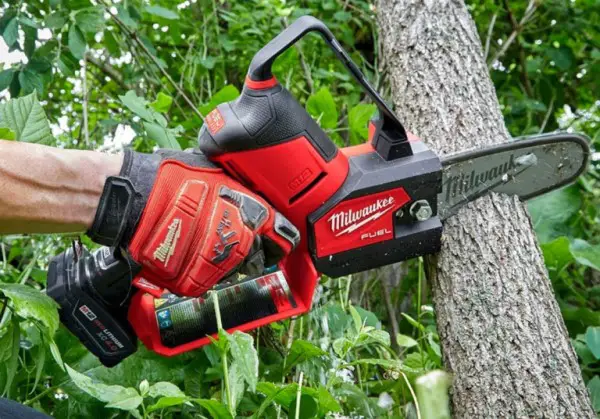 Kickback
For people who are new to using a chainsaw or have forgotten the basics: be wary of kickback. It can cause serious injuries and kickback has been responsible for a big percentage of chainsaw-related deaths.
Kickback happens when the top half of the chainsaw bar's tip touches a piece of material. If the user doesn't have good control of the tool, the bar can shoot back at the user.
Because it is such a serious problem, some manufacturers offer an anti-kickback pawl (or "kickback guard"). By attaching the guard to the end of the saw, the chance of a kickback occurring is reduced.
Sticking the tip of the chainsaw directly into the material is a legitimate chainsaw technique, so a lot of expert users forgo the guard. However, note that you should only do this if you're an expert. If you don't have years of experience using it, it's best to keep the kickback guard on.
The guard slows down the cutting speed, but it's absolutely worth trading a couple of minutes in return for greater safety.
Weight
The weight of the chainsaw will decide how long a user can work with it before they're too fatigued to continue. Even if it's the strongest tool in the world, if it's too heavy, all that power would be for naught.
Electric chainsaws of any type – battery or corded – are the lightest. These chainsaws have smaller motors and don't carry fuel, so they are the most portable of all. Conversely, gas-powered chainsaws are known for being quite heavy and unwieldy.
Being lightweight isn't completely good, though. Too-light chainsaws that have too much power and too short bars can experience more vigorous kickbacks. With that in mind, if possible, pick a model with a weighty motor to balance out the kickback force.
Bar Length
The bar length decides the kind of work that the chainsaw can do. Mini chainsaws usually have bar lengths around 10 inches. On the other hand, the bar of full-size chainsaws can go up to 24 inches.
Paradoxically, chainsaws with longer bars are a lot easier to control than those with shorter bars. So, if you're just starting out, it's better to begin using the larger sizes.
For people who aren't professionals, a bar length between 14 and 18 inches is good. They can cut down small trees, trim a few branches, and help you in a few DIY projects.
Noise Pollution
Chainsaws are loud, including the electric variants. A gas-powered chainsaw can be as loud as 100 decibels – rivaling a helicopter passing overhead. Even the whine of the electric motors inside of an electrically-powered chainsaw can go up to 90 decibels (sound of a subway).
Make sure to wear earmuffs while you are working with your chainsaw. Plus, if you're working in close proximity to neighbors, give them a heads up.
Safety Features
Everyone knows that chainsaws are dangerous. Even battery-powered chainsaws are no joke. Because of this, manufacturers have been adding a lot of safety features to protect the users.
The most important safety mechanism on a chainsaw is the inertia chain brake. It senses the sudden change in inertia when the saw suffers from kickback and immediately kicks in to stop the chain from spinning. While simple, it can absolutely protect the user against a sudden kickback.
Most mini chainsaws now also have low-kickback chains. They further protect the user against kickback.
Although chainsaws are loaded with safety features, it's important to wear safety gears and clothing. Work boots, safety gloves, eye, and ear protection are absolutely essential.
Chain Oiler
The chain has to be lubricated often. If not, the metal is going to heat up, expand, and eventually slip off of the guide bar.
A lot of models on the market have automatic oil injection. All you have to do is to pour chain oil into the tank and the saw will do everything on its own.
However, a lot of models out there don't have this feature, so you will have to apply lubrication manually.
Safety Tips When Using a Small Chainsaw
The most important thing to remember is that because it's small, doesn't mean it's safe or easy to use. Always take a chainsaw seriously. If you don't, you risk getting seriously injured.
Spend some time reading the instruction manual. Follow every instruction from the manufacturer.
Always wear protective gears and clothing before you pick up your chainsaw.
Do not attempt to use the tool when you're intoxicated or in any state of mind short of being 100% awake and alert.
Last but not least, never touch the bar with your hand still on the handle. Set it down and make sure that it's off before working on it.
FAQs
1. Are mini chain saws any good?
Smaller chainsaws tend to be cheaper, so it's a good choice if you don't have the budget to spare on a full-size or professional-grade chainsaw. Since they're also lighter, the user can use them for longer before feeling tired.
They're also easier and quicker to maintain when all of the parts are small and cheap. If the model you selected is electrically-powered, maintenance is all about making sure that the chain bar is sharp and lubricated.
2. What can you cut with a mini chainsaw?
Mini chainsaws are perfect for light-duty works like pruning shrubberies and small trees, landscaping, and yard work.
3. Do you need to oil a mini chainsaw?
Every chainsaw, no matter the size or the kind of fuel that it uses, requires lubrication to work well. You still have to oil the chain of a mini chainsaw regularly or else it will break down.
4. What oil is best for chainsaws?
There are two kinds of chain oils, separated into different seasons: winter and summer.
Winter oil is thin, which allows it to run better in cold temperatures. Meanwhile, summer oil is more viscous, giving it the ability to work in blistering temperatures without failing.
The standard formulation of chain-and-bar oil is petroleum-based.
Read more: Husqvarna 120 Mark II Review: Great Chainsaw For Small Projects
My Top Pick 
If you are looking for the best small chainsaw for your upcoming DIY projects or to remove small branches in your backyard, the first 20-Volt BLACK+DECKER is the ideal option. This chainsaw has a lightweight and compact construction and comes with essential features to deal with all your landscaping and gardening work.