Electric pole saw is essential farming equipment to get the tough cutting job done quickly and efficiently. Apart from gas-powered saws, electric saws are quieter, more affordable, and require little maintenance.
From WORX to Craftsman to Greenworks Pro, I will provide a detailed review of the best electric pole saw on the market today. These pole saws can be used for various jobs like trimming tree vines or branches.
*This post may have affiliate links, which means I may receive commissions if you choose to purchase through links I provide (at no extra cost to you). As an Amazon Associate I earn from qualifying purchases. Please read my disclaimer for additional details.
Top 7 Best Electric Pole Saw on the Market 2022
In-depth 7 Top Rated Electric Pole Saw Reviews
#1 WORX WG323 – Best Cordless Electric Pole Saw
Check Latest Price
WORX WG323 is the best electric pole saw for all home yard cutting jobs. This 2-in-1 machine can serve as a traditional chainsaw or attached to a pole for a 12-feet reach. It works best for light home use and jobs that don't require a long bar.
This WORX cordless electric pole saw can tackle light-duty trimming, pruning, and bucking jobs easily with little effort.
First, it weighs just 10.4 pounds, with the extension pole included. You can put it overhead for trimming tree branches without back or arm pains.
Second, this machine offers a 10-inch cutting bar, cutting a branch with a maximum diameter of 8 inches. You can extend it to 12 inches instantly with no tool required.
Thanks to its compact design, you can take care of branches when standing firmly on the ground without a ladder or heavy-duty machine.
Along with this 12-foot electric pole saw, you will get a 20V rechargeable battery. However, this default battery only lasts 30 minutes and takes 5 hours for full charging. If you have another WORX battery-powered item, you can take the 40V battery for extended runtime.
Pros
Cons

Lightweight & compact, easy to use for light jobs
Can use 40V battery with PowerShare
Tool-free chain tensioning

Slow at making cuts
Need charge after 30 minutes of continuous use
Oil leak and trouble tensioning
#2 CRAFTSMAN V20 – The Longest Electric Pole Saw
Check Latest Price
Not a 2-in-1 as the above WORX WG32, CRAFTSMAN V20 is a simple yet powerful pole saw for your every cutting job. This V20 cordless saw allows you to cut through higher tree branches on your property with 14 feet max reach.
The superpower of this longest electric pole saw lies in its exclusive Craftsman V20 system.
First, this engine is best in class for the power-to-weight ratio. This 20-cylinder piston engine can save up to 2% more fuel energy than a 12-cylinder engine due to its lower friction and smaller movement. Besides, it offers you maximum cutting efficiency.
This electric pole saw offers a simple design for precise and clean cuts. You can rotate the saw in different directions with ease thanks to its angled head and a weight of only 5.97 pounds.
The sturdy 6-inch blade is made of hardened steel, allowing you to handle limbs with a diameter of 4 to 6 inches.
Some buyers reported that the pole extension is not as solid as other parts. If you are not a master at saws, you might find it too shaky. Others might also grapple with balance with the first few uses.
Pros
Cons

Maximum reach up to 14 inches
Comfortable and firm handle grip

The pole extension is not solid
A few problems with balance at first uses
Check Latest Price
When looking for a high-quality pole saw to use at home, you might want to get a quiet yet sturdy and robust item. Greenworks Pro is one of these.
This cordless saw has a high battery Voltage of 80V, allowing it to cut up to 83 cuts per charge on 4×4 inch pieces of treated wood.
This Greenworks electric pole saw features a brushless motor, often seen in the modern DIY power tool market. A brushless motor has an outstanding 85 to 90% efficiency, while an old-schooled brushed motor is 75 to 80%.
A pole saw using a brushless motor helps deliver more precise motion control with lower noise and a longer lifespan.
Besides, its 80V Lithium battery provides a cutting performance equivalent to a gas-powered saw. Therefore, you will get clean cuts, yet don't waste your effort to maintain the saw.
This power pole saw is equipped with a 10-inch bar and a telescopic pole that can reach 9 feet. That gives you around 13 to 15 feet of working height to prune trees. You can work an extra mile with no back or arm tiredness since it has a handy weight of 12.8 pounds.
Pros
Cons

Brushless motor for extra efficiency
Quiet operation
80V Lithium battery for gas-equivalent runtime
Check Latest Price
Ryobi ONE+ is an excellent pole saw that offers stunning features at a reasonable price. This machine is an ideal solution for light-duty jobs in your backyard. This saw is powered by an 18-Volt rechargeable battery.
This Ryobi electric pole saw can extend to 9.5 feet to trim tree branches of up to 6 inches with the help of an extended 8-inch blade and chain. This standard bar length can maximize your comfort while on duty without shoulder or neck pains.
The manufacturer includes a textured cut guide on the saw body between the bar and chain. You should rest this section against the limb to accelerate the stability and adjustability of the saw.
Pros
Cons

Texture cut guide for added stability and control
Reasonable price
#5 Sun Joe SWJ807E – Best Corded Electric Pole Saw
Check Latest Price
Sun Joe SWJ807E can work both as a pole saw and a chainsaw when needed. This 2-in-1 cutting machine has an 8-amp, which is sufficient to handle light jobs relatively well. It is also pretty light for a chainsaw (just 8.4 pounds), making it easy to use.
This corded electric pole saw has received many positive reviews on its cutting performance. With the pole extending to 8.8 feet, this electric saw can trim down trees up to 9.6 inches in thickness with the help of a 10-inch bar and chain.
You can switch this pole saw into a compact chainsaw in a few seconds. Just detach the telescoping pole and then connect the cutting head with the handle. Now, you don't have to spend an extra budget to purchase two separate cutting machines.
A notable drawback of the SWJ807E is that its housing is made of plastic, which is fragile. You should handle it with care to lengthen its lifespan. Otherwise, you will have to look for a replacement (which is time and money-consuming!).
Pros
Cons

Can work as a pole saw or chainsaw
Automatic oiling

Fragile plastic construction
Small oil container (60ml)
See more: Top 7 Best Farm Chainsaw on the Market
Check Latest Price
Remington RM1035P is another corded pole saw that is highly advisable as a home gardening machine. Like the above Sun Joe item, this machine can act both as a pole saw and a chainsaw using an 8-Amp engine. In other words, you can use this 2-in-1 machine for almost all cutting jobs on your property.
The main difference between these two cutting machines is that this Remington electric pole saw can be extended up to 10 feet, while the Sun Joe is only 8.8 feet. It means that you can reach further to trim and prune tree branches that are 15 to 18 feet above you.
However, the Remington RM1035P weighs more than the Sun Joe (12.5 pounds vs. 8.4 pounds). Older people or people with physical problems might experience a little difficulty while using this pole saw.
A small but notable detail of this saw is that it has a blade cover to safely store the machine after use.
Pros
Cons

Convert to a chainsaw with a simple push-button
Blade cover for extra safety
Tool-free chain tensioning
Check Latest Price
If you have a super small garden, you don't need to purchase the above Remington 2-in-1 item. Save your budget by getting this best electric pole saw for the money. This chain saw provides a similar cutting performance with a more budget-friendly price.
Armed with a robust 8-amp motor, the SWJ803E can cut down all thin logs of 9.5-inch thick without a ladder. Its telescoping pole can extend from 5.8 to 8.8 feet, providing plenty of overhead reach.
Sun Joe claims that it can reach up to 14 feet, but you can only control this maximum length only if you are relatively tall. The average reach range for most users would be around 9 to 12 feet.
You can adjust the cutting head from 0 to 30 degrees to better maneuver between limbs. If you are cutting trees overhead, this flexible head helps put more pressure on the logs, boosting your cutting performance.
This saw weighs 7.9 pounds, so it is easy to control in all directions and heights.
Pros
Cons

Various color choices
Cut branches up to 9.5 inches
Adjustable multi-angle head

A little heavy when fully extended
How to Choose the Best Electric Pole Saw?
Corded electric or Electric-battery
When you buy a new electric pole saw, you will have to decide between either a corded electric or an electric-battery model. Each one has its own set of advantages and disadvantages that you have to be aware of.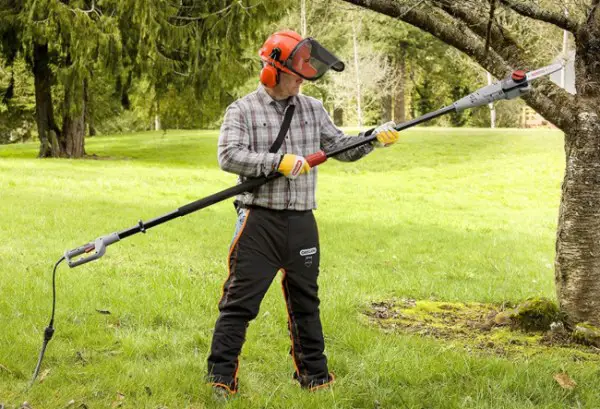 These saws are powered via a standard power cord. Plug it into the house's outlet or a generator and it will work until the power goes out.
These models are favored by people with a small yard who don't have to go far to find an outlet. It further helps that corded models – thanks to their simpler design – are a lot more affordable than their electric-battery counterparts.
But the power cord is also a drawback all in itself. You have to be in the range of an accessible electric outlet at all times. Yes, you may be able to get a few extra feet with an extension cord, but the range isn't unlimited.
Most corded pole saws on the market are rated at around 6 to 10 amps. This is enough power to cut branches between 2 to 5 inches in diameter.
Battery-powered pole saws (cordless pole saws)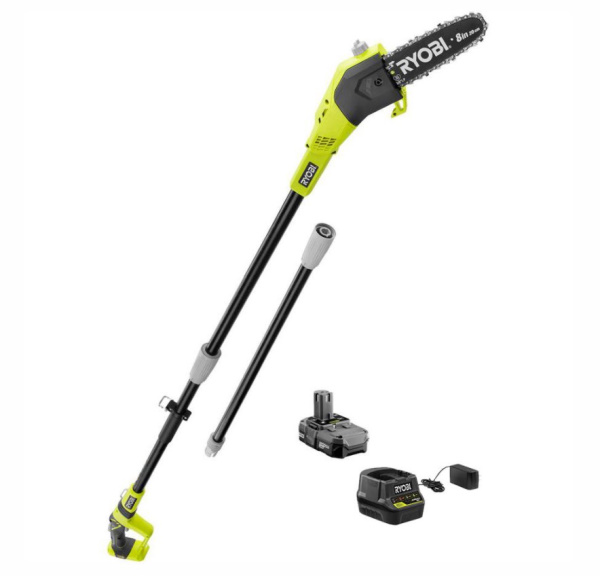 On the other hand, a cordless pole saw comes with an in-built battery. They can cost a fair bit more than the corded variant, but what you get in return is basically unlimited working range. So long as there's still a charge in the battery, you can work with it anywhere. They will be a good choice for people with larger yards who need the extra range.
Power is decided by the voltage of the battery, which is between 60 to 80 volts. Pole saws with higher voltage ratings are more powerful. The top models can cut branches up to 8 inches in diameter.
Length of cutting bar
The length of the cutting bar decides how big of a branch you can cut with the pole saw. Longer bars will allow you to cut thicker branches with less effort and time. Typically in only a single pass, too.
Note that this doesn't necessarily mean that you can't cut branches that are larger than the cutting bar. You can, but it would take multiple passes. By ensuring that the branch is shorter than the cutting bar's length, you can cut through it with just one single pass.
You can find models with bar lengths between 6 to 20 inches on the market. Most models will fall into the mid-range of 8 to 10 inches. Pole saws with longer cutting bars tend to be more expensive and difficult to use.
The rule of thumb for choosing the bar's length is to measure the diameter of the thicker branch you expect to cut, then add two inches. So, if you plan to cut an 8 inches branch, you will need a pole saw with a 10-inch cutting bar.
Length of the pole
The reason you're buying a pole saw in the first place is to reach tall tree branches without needing to use a stepladder. Therefore, take the pole's length into careful consideration. It can either make or break your purchase.
Poles can be different in length. Most residential-grade pole saws can extend to a maximum of 7 to 15 feet long. Commercial pole saws can have very long reaches of up to 20 feet.
Many pole saws these days have a telescopic pole. There are different sections that you can adjust at will to change the pole's length. While simple, this feature will allow you to work on trees of various heights.
However, you should be aware that the "pole length" that manufacturers advertise isn't always as they appear. Many companies will tell you the "maximum reach", which isn't the maximum length of the pole. Instead, the number combines your arm's length as well as the pole's maximum length.
So, if the manual tells you the "maximum reach", minus about 2 or 3 feet to the number to know the pole's real length.
Runtime
Runtime applies to electric-battery pole saws. Basically, this is the battery life of the machine. Depending on the model, you will usually get around 30 to 60 minutes of runtime per full charge. Once the battery runs out, you'll typically have to charge it for an hour or two before you can use it again.
Some models will allow you to quickly swap the battery. In that case, we recommend that you purchase one or two extra batteries. When one runs out, just take it out and put the other in. You won't have to stop your working session to wait for the battery to recharge!
Weight
It's worth remembering that a pole saw's weight isn't supported by anything but your arms. As a result, you'll want to find a pole saw that's as light as possible.
Between a corded and a cordless pole saw, the former will always be lighter. It saves weight by not having to carry a heavy battery.
Weight can also be saved by the material. Most pole saws are either made from steel or fiberglass. Steel is obviously a lot heavier than fiberglass, but it's usually cheaper.
If you need the best weight-saving ratio possible, recently, there are models made from carbon fiber. They cost a few pretty pennies, but they're very much worth it if you're looking for a lightweight pole saw.
Safety features
When you work with something as powerful as a pole saw, safety is the number one concern. It doesn't matter whether you're an amateur or an experienced professional, you should always read the user's manual and know the pole saw inside and out. Check the manufacturer's recommendations on how to use and adhere to it.
For first-time users, it's important to practice using the pole saw without powering it on. While it may seem very easy to use when it's not fully extended and on the ground, it won't be so when the saw is powered on and the pole becomes fully extended. Get used to balancing the pole and using the saw before you get to work.
There usually aren't many safety features in a pole saw. However, you should look out for models with rubberized grip on the pole. It will give you better control over the saw. A saw guard can also protect you from injuries when the saw is not being used.
Additional features
While pole saws are inherently a pretty simple device, manufacturers have loaded it with more and more advanced features over the years. The point is to make it more comfortable and easier for the operator to use.
Some models are equipped with non-slip grips and anti-vibration features to enhance control and safety. More than a few now come with self-oiling chains, which reduces maintenance.
These days, you can even find models with detachable saw heads. In other words, when you're done cutting branches up high, you can take off the saw at the end of the pole and use it like a normal handheld chainsaw. Perfect for people cutting up tree branches to use as firewood!
Read more: Top 7 Best Lawn Mower Blade Sharpener
Why Do We Need a Pole Saw?
Not everyone will ever need a pole saw. Wondering if you're part of the fews that need one? Here's what a pole saw can help you do.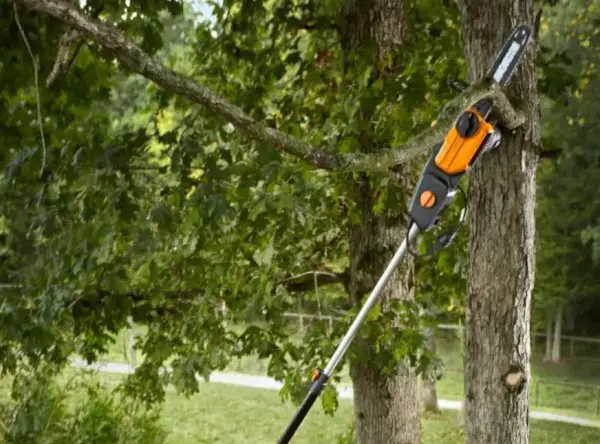 Cutting and trimming high areas that ladders can't reach
The long pole is a huge advantage. While these can be extended all the way up to the top of very tall trees like palm trees, not every ladder is long enough to get you there. It's not safe, anyway, to use a chainsaw while you're tethering on top of a wobbly ladder.
A pole saw will make the job a whole lot more convenient as well as safer.
Clearing undergrowths
Contrary to popular's belief, a pole saw's work isn't all high up. You can do work on the ground with it, too. Just retract the pole!
If you have a yard that's recently been invaded by undergrowth and wild bushes, a pole saw can help you clear them up in no time. By clearing them up, you reduce the risk of starting a fire.
Pruning
For gardeners, pruning is one of the most common jobs that you'll be doing. Not only does it require a lot of planning, it also requires a lot of accuracy. A good pole saw can help you accurately trim up tall trees. By using the extendable pole, you can reach the longest branches without ever lifting your feet off the ground.
Taking care of dead tree branches
Dead tree branches look bad in your yard and garden. It's also not very safe. They can fall any time and possibly injure someone, or they can be a fire hazard during dry seasons. By doing regular tree trimming sessions to cut off these dead tree limbs, you can save yourself a great many headaches in the future.
FAQs about Electric Pole Saw
1. Are electric pole saws dangerous?
Electric pole saws are not dangerous if they are used properly following safety guidelines. Most risks of pole saw injuries come from their kickback.
The chain of a pole saw moves in a certain direction. So if you let the wrong side of a moving chain touch the branch, kickback will happen. The speed of a typical pole saw can reach 50 miles per hour. Under this speed, the chain's sharp teeth can leave you with serious injuries in case of accidents.
Kickback, however, can be avoided with precautions and practices. Always do some research or watch videos about safety instructions before use. Besides, if you don't want to deal with these issues, buying a pole saw with anti-kickback features is a risk-free option.
2. Can you cut a tree with a pole saw?
Any manual pole saw can cut branches 1.5-2 inches thick with no problem.
For a typical engined pole saw, there can be a few sizes of a saw head that determine how thick of a branch it can cut through. A 12-inch saw head can cut 8 inches branches. Meaning they can chop down small trees with the same diameter.
However, it is not recommended to use a pole saw to cut trees on the ground. The pole will make this process hard to handle and even dangerous. If you cut trees more than usual, consider getting an ax, a chainsaw, or a hacksaw.
3. How do you store an electric pole saw?
A pole saw should be stored in dry, breezy places. The oil from the chain can drip out a bit when the saw is not used, so you may want to put it far away from other objects if you don't want them to get greasy.
4. Can you use a pole saw underwater?
You can run your pole saw on wetlands or in the rain. But for underwater usage, the answer is no.
If your pole saw engine is running on gas, the water can get into the engine and ruin it. The same goes for an electric pole saw. We haven't even mentioned electrocution. So both gas-powered and electric pole saws can't be submerged under the water.
The only type of pole saw and chainsaw that can be used underwater are those that are designed specifically to. They are hydraulic or pneumatic pole saws.
5. Can a pole saw be used as a chainsaw?
To cut down big logs of wood, it is advised to use a chainsaw because it is more powerful and is designed to handle such work. But for trimming small branches only, a chainsaw and a pole saw can be used pretty much interchangeably. Just bear in mind that the chainsaw is quite heavier.
Good news for those who are looking for a multi-purpose tree pruning tool, there are 2-in-1 pole saw & chainsaw models like this Remington Rm1035P Ranger. It can be turned into a chainsaw by simply removing the pole.
6. Which pole saw has the longest reach?
A manual pole saw can reach higher since there is no engine attached to it. You can cut branches at 20 feet high with a manual pole saw.
For the engined pole saw, the model that has the longest reach in this list is the Craftsman V20 pole saw. Together with the extension pole, its reach can be extended up to 14 feet from the ground.
Check more: Top 7 Best Electric Dethatchers
My Top Pick
When seeking an electric pole saw, think about the jobs that you need it for. You should also follow the instructions to minimize injuries and inconvenience when using the machine.
If I had to pick one best electric pole saw, it would be the WORX WG323. This saw can serve both as a pole saw and a chainsaw, so you don't have to spend extra money on other equipment. This machine has all the necessary features to handle all cutting jobs for a small or medium-sized home yard.