A wood chipper is helpful for any farm as it turns large fallen tree limbs or branches into small pieces of wood, which can then be used as organic mulch. Now, which is the best wood chipper for small farm?
I've handpicked the seven best models for small landowners by spending time for thorough research, looking into previous users' feedback. In each model, I'll take you through its pros and cons along with reviewing its performance.
Let's take a look!
*This post may have affiliate links, which means I may receive commissions if you choose to purchase through links I provide (at no extra cost to you). As an Amazon Associate I earn from qualifying purchases. Please read my disclaimer for additional details.
Top 7 Best Wood Chipper For Small Farm 2022
In-depth 7 Top Rated Wood Chipper For Small Garden Reviews
Specs: 
Power: Electric
Ideal for: leaves, brush, twigs, and branches up to 1. 73-inches thick
Hopper safety: Locking knob
Check Latest Price
Powered by a 15-amp motor, this chipper makes short work of pruning. The device can quickly turn small trees and bushes in your backyard into uniform chips.
Struggling with massive piles of residential yard waste is probably the thing of the past, as you can use this machine as your garden cleaning assistant. It draws every branch of 1.73-inches thick though with little fuss.
Unlike other electric chippers, this Sun Joe garden device can grab hold of large branches and munch on them while you're grabbing others, which significantly saves time.
What is more important, it doesn't put a huge dent in your wallet while performing admirably. An excellent gardeners' companion!
Pros
Cons

Easy to assemble
It doesn't produce toxic fumes
Can cut large trees and branches into small & consistent wood chips
It comes with a very helpful user manual
Generous warranty program

Can't handle soft leaves or greenwood
Can work with light yard debris only
For tractors up to 40HP
Can work with: branches up to 4-inches in diameter (an entire tree)
Exit chute: Adjustable
Weight: 431 pounds
Check Latest Price
This self-feeding chipper is ideal for tractors of up to 40HP. Thanks to a powerful oversized motor, it effectively cuts various sizes and shapes of yard clippings, brushes, and other garden debris like acorns or pine cones.
With a precisely-angled blade and an angled hopper, the machine works well in pulling in limbs, twigs, and leaves to produce evenly-cut chips.
Besides, its well-constructed twig-breaking paddles help to make fast work of small trees. The unit can take pieces of wood of up to 4'' without any issue so that you can work worry-free with a handful of small and medium-sized dry branches.
Pros
Cons

Solid and sturdy build
The steel crate is easy to open
It self-feeds well
The feed chute is detachable

The discharge chute gets clogged quite often with small twigs
Green leaves take time to be chipped
Must use with a tractor
Reduction ratio: 15:1
Work for: branches up to 3 inches in diameter
Ideal for: tree branches/limbs, mulch leaves, shred brush, and corn stocks
Power: Gasoline (No Ethanol)
Check Latest Price
This machine chips like a champ! It absolutely chews through any limbs of 2 to 3 inches, even the curved branches. The unit is solidly built with a 7HP 212cc recoil engine, allowing farmers to clean up their garden in no time.
Its 3-in-1 design provides optimal users' convenience. So you can chip, shred and mulch yard waste, all in one with a compact machine.
More importantly, thanks to an integrated cooling system, the machine doesn't overheat even when running at its full speed.
This gas-powered chipper is compact and easy to use, but it has one drawback: the oil cap is tucked under the other side of the square shoot. That being said, checking or refilling oil can be somewhat stressful.
However, this minor design flaw shouldn't be a big concern as this device is worth your attention for its unsurpassed performance.
Pros
Cons

Powerful engine
Instructions on the user manual are all well-explained
3-in-1 functions work well
Both hopper and chute chipping performs excellently
Good value for money

Refilling oil is a pain due to the long neck tunnel
The collection bag is small
Power: Gasoline (No Ethanol)
Reduction ratio: 15:1
Work for: branches, limbs, and debris up to 3 inches
Check Latest Price
This heavy-duty wood chipper also features a 7HP 212 cc gas-powered engine, delivering unwavering performance, even when handling massive piles of limbs.
The machine comes with a large gas tank that lasts for hours, so it can chip up thicker and greener wood without getting clogged, as usually seen in other electricity-powered models.
Thanks to an extra-large hopper, it can tackle sticks, twigs, and small tree limbs of up to 3 inches.
Besides, with a reduction ratio of 15:1, this mini chipper can efficiently reduce the amount of debris, which means it is a high-performing chipper/shredder for composting.
Users are recommended not to use this tool on palm branches, fresh greens, petrified woods, vines, and pine cones. So please take note of this warning for your safety as well as the lifespan of this chipper.
Pros
Cons

3-in-1 design
Sturdy build with on/off switch
Reliable and powerful engine
The assembly is straightforward
Reasonably lightweight and not difficult to move around

The assembly instructions were poorly written.
A bit loud for its size
The wheels are not very well-built.
Specs:
Power: Gasoline
Handle: up to 3 inches wood branches
Foldable hopper and chute
Check Latest Price
Designed to last, this chipper's twin reversible blades ensure extended lifespan as they're built from high-standard alloy steel. The added alloying elements in this type of steel provide extra strength and wear resistance so that you can enjoy the device's optimal chipping power.
As a best self-feeding wood chipper, it makes backyard cleaning a manageable job.
Powered by a Max 6.5HP 208cc engine, this garden device can quickly and efficiently shred almost any kind of twigs and branches 3 inches in diameter.
Besides, usability makes it stand out from others: the unit doesn't take much storage space thanks to its hinged feed receptacle and the foldable hopper and chute.
Last but not least, the chipper offers a smooth cleaning operation as it features an alert sensor that measures oil levels and automatically cuts the ignition if there is not enough oil for proper functioning.
Pros
Cons

Self-feeding chipper
Lightweight, easy to use, and maintain
Engine starts instantly
Large solid tires
Blades are made from premium material for enhanced durability.

It is loud
Occasional oil leakage
The paint coating is not durable
Handle up to 1.5 inches of branches' thick
Hopper safety: locking knob
Power: electric
Check Latest Price
The Sun Joe CJ602E is a light-duty chipper. It's the best farm wood chipper to turn branches and twigs of 1.5-inches thick into organic mulch for your backyard garden.
With an electric motor that runs up to 4100 revolutions per minute (RPM), coupled with steel blades, the machine effectively reduces waste with a reduction ratio of 17:1.
Besides, it is outfitted with 6-inch wheels in a lightweight design, ensuring ultimate mobility.
Unlike gasoline-powered chippers, this Sun Joe machine runs on electricity, so it makes light work of brushes and leaves cleanup while leaving you with no smoke or fumes.
Pros
Cons

Small & compact design
Powerful yet quiet operation
Low maintenance
Blades are reversible and replaceable
Features a paddle to shove in even small limbs and branches

Green materials can quickly get jammed.
The hopper opening is narrow.
Specs:
Handle up to: 1 5/8″ inch thick
Ideal for: lawn clippings, foliage, twigs
Power: electric
Check Latest Price
The PS10 from PowerSmart is an indispensable garden care partner. It chews through branches, twigs, and lawn clippings of 1 5/8″ inch thick impressively.
Armed with a 6-inch pair of wheels, the machine lets you move through uneven terrain or rocky surfaces without draining your arms and back.
I also noticed that the PS10 is equipped with a helpful safety locking knob, which prevents the motor from operating when it's not in use.
As this chipper is designed for small garden use, it comes in a small size – thus – can't take in oddly shaped branches. That being said, it's best to trim these irregularly-shaped branches up so that they can be fed in easier.
Pros
Cons

Reasonably-priced
Simple and well-thought-out design
6-inch wheels for easy transportation
2-year warranty

It is loud for its size.
Does not handle leaves or wet debris
Can't tackle irregularly-shaped materials
Buying Guides for the Best Wood Chipper
Before picking a wood chipper to clean up your yard, there are a few crucial shopping considerations that you should keep in mind. Follow these factors and you can choose the most suitable wood chipper for your yard and garden.
Storage capacity
Not all of the wood chippers on the market come with bins or bags to collect the chipper discharge. If you want to buy one that has a bin or bag, you will need to consider its storage capacity.
Bags with large storage space are recommended if you need to clean up a huge area. Nevertheless, the larger the bag, the harder it is to empty.
If you don't want to hurt yourself by lifting a heavy bin, consider wood chippers with smaller bins or bags. That said, lighter bags means more regular emptying.
Blade's cutting ability
The blade's cutting ability to smash the branches you put into the machine is a critical factor. Consider how you intend to utilize your wood chipper.
An electric wood chipper can smash branches and twigs that have a maximum diameter of 2 inches efficiently. If you only need to chip small branches, then an electric one will be fine.
But if you want to cut bigger materials, consider purchasing the PTO or gas wood chippers. They can easily handle materials with a diameter of up to 7 inches. However, they are much more expensive than ordinary home wood chippers.
Motor power
The blades are powered by a rotational force known as torque, which the chipper's motor uses to impact an object. In plainer words, this torque forces the chipper's blades to cut through all the material placed in the hopper.
Base on the foot-pounds (ft-lbs) indicated on the chipper, you can choose one with the motor power needed. Normally, a typical household wood chipper has a torque rating ranging from 7-15 ft-lbs.
Shredding ability
If you are cleaning up soft trash such as weeds or leaves, a shredding chute will be a great addition. This feature is a secondary chute that you may use to shred softer materials such as small twigs, leaves, grass, weeds, and so on.
Separate leaf shredders are available on the market, but wood chippers including a built-in shredding chute are more space-saving and cost-effective. However, they will cost more than regular wood chippers.
Reduction ratio
The reduction ratio of a wood chipper indicates how tiny the material will be after passing through the machine. For instance, if the reduction ratio is 8:1, the materials will be reduced to one-eighth of their original size.
The typical reduction ratio of wood chippers varies from 8:1 to 20:1. However, the higher it is, the bigger the engine is. And, the more expensive the chipper is!
If chopping the material into too small pieces isn't of importance, a wood chipper with a lower reduction ratio will be an economical choice.
Types Of Wood Chipper
Wood chippers are distinguished by their power source. There are 3 main kinds: power take-off (PTO), gas, and electric with their unique strengths and drawbacks.
Power take-off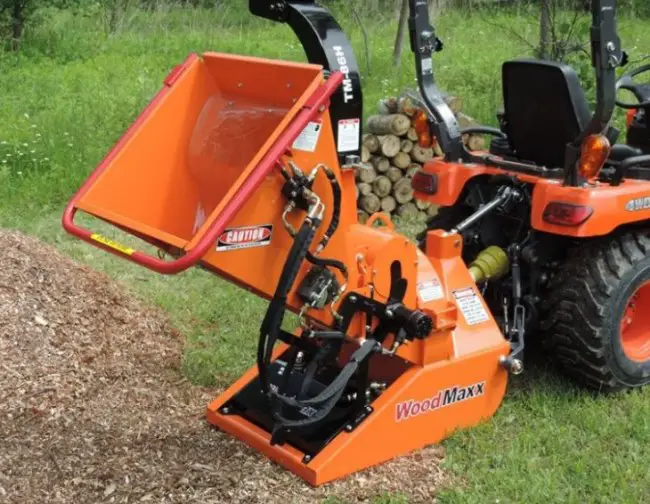 Power take-off (PTO) refers to the drive shafts of wood chippers that connect them to the splined output shafts on trucks, tractors, or mowers. This connection allows the chippers to take power from the vehicle's engine.
PTO wood chippers are more effective compared to gas and electric ones as their method of powering can provide them with a large quantity of energy.
These chippers can chop through a greater amount of material at a faster rate, making them a perfect choice for those who need to clean large yards and gardens.
However, because of the great power, they are far more expensive than gas or electric ones. They also require a suitable vehicle to connect to, otherwise, they cannot function.
Gas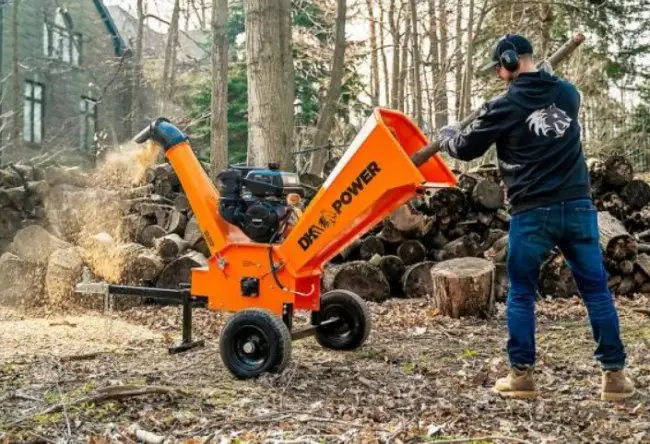 Gas wood chippers are the most widely used among households that need to handle branches with a diameter of greater than 3 inches.
They don't need an extension cord or to be near power outlets. But, they are bigger and noisier than electric chippers, and also release a chemical smell from burned gasoline.
Their price is in the middle range, cheaper than PTO chippers and more expensive than electric ones.
Electric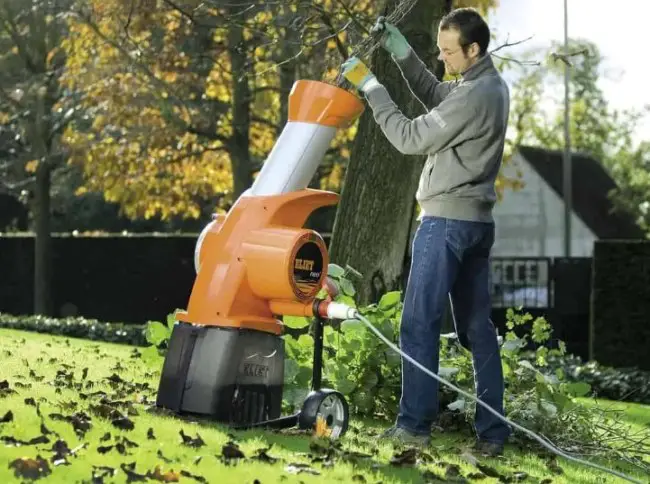 Electric wood chippers can be spotted easily as they resemble a golf bag. They are smaller and quieter compared to PTO or gas ones.
They are more suitable for cleaning up tiny branches and yard clippings as they often lack the capacity and power to handle debris of more than 2-inch diameter.
Also, they are lighter, less costly, and simpler to operate. Just simply plug the chippers into a standard household outlet and get your cleaning work started.
FAQs about Wood Chipper for Small Farm
1. Are Small Wood Chippers Any Good?
To handle light workload, small wood chippers are actually handy. They can cut 2-inch diameter branches with no problem. For that, they are sufficient to be used in small gardens and yards to help clean and repurpose debris from trees.
2. What's The Difference Between A Chipper And A Shredder?
Wood chippers have sharp and powerful blades to break down wood into smaller chips. They can handle large pieces of branches and logs, both fresh and dried, and turn them into wood chips around 1-3 inches in length.
Shredders, on the other hand, cannot work with big and solid objects. They are designed to shred smaller and softer materials like branches or leaves. They use blunt edges (flails) to crush and pull the objects apart. Their output, thus, is finer and can be composed right away or used as rich mulch.
3. How Long Do Wood Chipper Blades Last?
A single-sided blade of a typical wood chipper should be sharpened after 25 to 50 hours of use. You can re-sharpen it another 2 times then change it to a new blade.
A double-sided blade can last longer than a single-sided one. Its lifespan can be up to 150 to 300 hours whereas a single-sided blade lasts around 75-150 hours.
4. How Often Should You Sharpen Chipper Blades?
The blade sharpening frequency should depend on how much you use it. It is always more accurate to count the actual hour of use rather than months. For example, you can say you have operated the machine for 3 months, but the hours accumulated aren't even equal to those of the busiest month of the year.
It is highly recommended to check the blade condition after every 10 hours of running and give it a good sharpening if needed. Usually, 20 hours is the maximum period a chipper blade can function between maintenance.
5. Can You Run Bamboo Through A Chipper?
Bamboo is known to be one of the sturdiest and most durable natural materials out there. It has a dense structure of fibers running through the stem, making up its strength.
It's understandable that many gardeners want their chipper to chew up bamboo, considering its fast-growing nature. But, a normal wood chipper isn't made to handle this tough material. Only a few special models, like the Patriot 2515, can tackle this hectic.
6. Can You Put Lumber In A Wood Chipper?
Most pressure lumber is quite hard so it will likely damage your chipper. Even if your machine can chip it, commercial lumber has CCA (chromated copper arsenate) that will be released when the wood is broken down. Inhaling this chemical is harmful to your health in the long run.
7. Will A Wood Chipper Shred Leaves?
It may seem leaves are nowhere near a hard log of wood and will cause no trouble if put in a chipper. Well, to your surprise, it may clog up the inside, because the chipper can only chop, not shred.
The problem will be solved if your chipper has a shredding feature with it. This will help it run smoothly with leaves or other shreddable material. Not all wood chippers have this add-in, so you may have to pay attention to your purchase.
Last words, 
I hope you've got some useful recommendations to make a well-informed purchase decision. If you haven't decided on which model to buy yet, the best wood chipper for small farm, in my opinion, is the Sun Joe CJ603E 15-Amp.
This user-friendly device was made to withstand the test of time, so you can be assured that it will stay with you for years to come to handle the most challenging garden cleanup tasks.