Tiller is a long-term solution for new and established gardens. Apart from shovels, trowels, and post hole diggers, these gardening machines are more powerful, time-saving, and can handle a bigger area.
Picking the best tiller for breaking new ground can save you a lot of time and effort for cultivating your outdoor space. Ensure that your tiller can handle the workload. Otherwise, it can make you and your machine more stressed.
Below are some of the most powerful tillers on the market that might suit your needs.
*This post may have affiliate links, which means I may receive commissions if you choose to purchase through links I provide (at no extra cost to you). As an Amazon Associate I earn from qualifying purchases. Please read my disclaimer for additional details.
Top 7 Best Tiller for Breaking New Ground 2022
In-depth 7 Top Rated Tillers For Breaking New Ground Reviews
Type: front-tine
Tilling Depth: 8 inches
Tilling Width: 12.5-18 inches
Weight: 28.3 pounds
Power: electric
TACKLIFE Advanced is a beast for breaking new ground. This versatile gardening machine is essential to landscaping your outdoor space or loosening the soil. It is a long-term investment for those who love gardening work for the following reasons.
First and foremost, this front-tine tiller offers you full customization power for various soil preparation purposes. It can handle all area sizes, from small flower beds to big vegetable plots with an adjustable working width from 18 to 12.5 inches.
Another strong plus point of this TACKLIFE cultivator lies in its 13.5-amp copper motor. This electric-powered motor can speed up to 380 RPM, which is suitable for preparing the soil for vegetable plots with a maximum depth of 8 inches.
When not in use, you can fold this cultivator to save your space and maintain the cleanliness of your living space. This machine only takes a small corner in your home garage or your garden with the dimensions of 25.2 x 21.7 x 17.7 inches.
Pros
Cons

Suitable for various gardening/farming purposes
Anti-vibration system
Safety button and brake switches
Foldable design for saving space
Affordable
Low maintenance effort

Less powerful than rear-tine ones
Low-quality plastic clamps in the handle
No plow to put the tines into the ground
---
#2. Sun Joe TJ604E – Best Electric Tiller for Breaking New Ground
Type: front-tine
Tilling Depth: 8 inches
Tilling Width: 16 inches
Weight: 27.1 pounds
Power: electric
While the best tiller for breaking hard soil is usually gas-powered, not everyone can afford this unit. Sun Joe TJ604E is a low-cost, electric-powered option and the best electric option for breaking new ground. You can assemble this heavy-duty machine in a few minutes without tools or professional help.
This popular Sun Joe offering is very highly rated, with a powerful 13.5-amp motor. This engine can cultivate a lawn with hard rocks and soils up to 16 inches in width and 8 inches depth and 6 stainless steel angled tines.
Furthermore, this tiller can move in 3 positions, allowing you to operate this machine as easily as a lawnmower without retiling an area of soil twice.
Unlike gas-powered ones, this Sun Joe tiller offers you a robust performance all year long without dealing up with annoying noise, emission, and regular maintenance.
Featuring an ergonomic foldable handle, this is a perfect garden cultivator for initiating your groundbreaking work with less overwhelming than a gas motor.
Pros
Cons

Can cover a garden of 16 x 8 inches
No gas emission, noise, and regular maintenance due to gas power
Wheel adjustment in 3 positions
---
Type: front-tine
Tilling Depth: 10 inches
Tilling Width: 9 inches
Weight: 24 pounds
Power: gas
Starting a garden from scratch might be challenging for newbies with no experience in this field. Let the best gas tiller for breaking new ground like Mantis 7940 help you prepare a healthy foundation for your backyard!
This tiller can dig to a maximum depth of 10 inches. Remarkably, it goes with a powerful Honda 4-cycle engine that turns hard rocks, clay, clump, and dirt into soft soil for easier cultivation.
The 25cc engine spins the tines 2 times faster, saving you a great deal of time. Furthermore, it requires no fuel mixing and runs much quieter than other gas-power models.
Besides initial groundbreaking, this cultivator can go with various attachments for specific gardening tasks like loosening tight clay or adding nutrients to your garden.
This ultimate solution is much more economical and space-saving for home farmers and DIY hobbyists than purchasing separated tools.
Pros
Cons

Heavy-duty for breaking all hard grounds
Can go with various attachment for specific tasks
Lightweight (24 pounds)
Quiet operation
2-year warranty

Might vibrate when tilling the soil with grass
Tines are hard to clean
---
Type: front-tine
Tilling Depth: 11 inches
Tilling Width: adjustable; 11, 16, or 21 inches
Weight: 85 pounds
Power: gas
Earthquake 20015 is still a gas-powered machine but for serious gardeners and professional farmers.
What differs this front-tine tiller from others on the market is that it is a compact machine with the dimensions of 51.2 x 35.5 x 24 inches. This rototiller can get into tiny corners and rows to avoid any missing area.
At 99cc, this Viper 4-cycle engine offers an intensive performance with less noise and more efficient power usage than a 2-cycle one.
This best tiller for hard soil ensures to give you the appropriate power for each type of soil. Since the Earthquake 20015 uses gas only, it will cost you less than engines that require oil mix or electric power.
Pros
Cons

Compact design
Powerful Viper 4-cycle engine
Using gas only, power-saving
5-year limited warranty

Expensive
Need more storage space
---
#5. EARTHQUAKE 31285 Pioneer – Best Rear-Tine Tiller for Breaking New Ground
Type: rear-tine
Tilling Depth: 10 inches
Tilling Width: 16 inches
Weight: 160 pounds
Power: gas
Earthquake 32185 is the upgraded version of the above 20015 model. Whether you are breaking hard soil, plowing through clay, or tilling soft soil, this machine will make your work less daunting with a lighter, quieter engine.
Thanks to its customer-centric design, this Earthquake tiller for rocky soil is an ideal choice for both professional farmers and amateurs. You can run the machine with one hand with dual grip handlebars without leaving footprints on your flowerbeds.
Besides, you can enter small spaces by pulling the instant reverse on this handle. Many counterparts in this price range don't have this feature.
The 32185 power tines can rotate in dual-direction using the same 99cc Viper engine as Earthquake 20015, meaning that you can optimize tilling performance in almost all soil conditions.
Pros
Cons

Usable for both professional and home farmers
Effortless operation, even for hard ground
Compact, user-friendly design
Dual-direction tines

Heavier and pricier than the front-tine version
---
Type: front-tine
Tilling Depth: 11 inches
Tilling Width: multiple, 11, 16, 21 inches
Weight: 83.8 pounds
Power: gas
Many gas-power tillers are complained about for their high fuel consumption. The Tazz 35310 is one of these exceptions. Features an impressive 79cc Viper engine, this tiller ensures to perform all your heavy-duty garden tasks without wasting too much energy fuel.
Please don't be scared of its heavyweight! At the weight of 83.8 pounds, this tiller is well-balanced in all terrains. You can control it effortlessly with no worry of kicking it off the ground. However, transportation might be challenging due to its heavy weight.
Finally, its maximum tilling width of 21 inches makes it a great deal for busy farmers. In other words, you can shorten your soil prep time compared to other high-priced models.
Pros
Cons

Well-balanced, easy operation
Steel handle with 4 adjustable heights
Energy-saving
Affordable

Hard to carry around due to its heavyweight (83.8 pounds)
Complex assembly
---
Type: tow-behind
Tilling Depth: 1.5 – 5.5 inches
Tilling Width: 56 inches
Weight: 207 pounds
Power: oil
A tow-behind mower like Agri-Fab 45-0308 is a more affordable, budget-saving attachment than a separated machine if you already have a tractor and need to till a large or very large area.
Some people say this tool is better for stirring than breaking new ground, but many buyers praise it for its simple operation – especially for mid-age and old users. You can easily attach this gardening tool to your tractor or other vehicles with an adjustable hitch pin.
Features a sturdy Briggs & Straton engine, this universal tow-behind tool can handle various soil conditions. You can re-landscape your backyard with its flexible rotating depth from 1.5 to 5.5 inches.
Pros
Cons

Made in the USA
Great durability
Adjustable hitch pin for vehicles with no additional support
You don't have to walk all the area like with the front tine ones.
Most suitable for very dry soil

Heavy (207 pounds)
Not a great fit for hard soil
Hard to reach to corners
The working depth is not as deep as of other models on this list
---
How To Choose The Best Tiller For Breaking New Ground?
Rear tines or Front tines?
Tillers come in two types: rear tines and front tines. For new shoppers, trying to distinguish between the two and deciding which one to buy can be a confusing experience.
"Front" and "rear" simply refer to the positioning of the tiller tines.
A front-tine tiller has a design that's quite similar to a cultivator. The tines are set in the front, while the wheels (non-powered) are behind it. These tillers can either be gas or electrically powered and typically have a working width between 14 and 18 inches.
A rear-tine tiller has the engine and wheels at the front, while the tines are placed at the back. Rear-tine tillers are larger than their front-tine counterparts and are usually more powerful, too. Most models have a working width between 16 and 18 inches.
For breaking new ground, we highly recommend picking a rear-tine tiller. While this task is entirely doable with a front-tine tiller, it might take more work on your part.
Front-tine tiller uses the tines to move forward. As a result, if you were to work on hard ground, it could be very problematic to work with. When the tines don't dig into the ground properly, it's going to pull you around and becomes extremely difficult to control.
This is in contrast to rear-tine tillers, which can be smoothly controlled even on rough terrains and difficult soil conditions.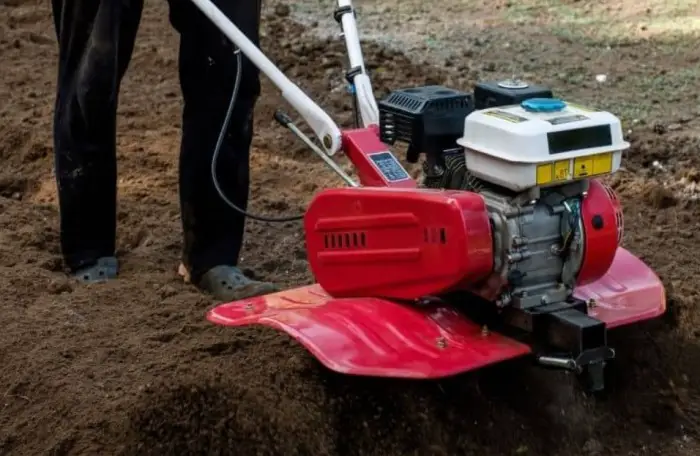 Gas tillers or Electric tillers?
A tiller can either run on gas or on electricity. Of course, both power sources have their own upsides and downsides.
These tillers are extremely powerful due to their energy density of gasoline. Since gas engines are often built very tough, they can last for a lot longer than electric tillers. And last but not least, they are heavy, which translates to better control as the weighty frame reduces jolting and bouncing.
For all of these reasons, gas tillers are favored for breaking up ground in poor conditions or for large, commercial-size jobs.
There are many downsides, though.
Right out of the bat, you would notice how loud and smoky it is. Like anything that's gas-operated, these tillers release noxious exhaust fumes as they work.
Gas tillers are expensive. A starter unit can cost a fair bit more than an electric model.
They're also difficult to refuel and difficult to maintain.
Electric tillers are more affordable and are a lot quieter. They're lightweight, easy to use, and easy to maintain. As they don't release exhaust fumes, they're healthier for the user and friendlier to the environment.
These tillers are preferred for small-scale jobs and for breaking up ground in small gardens or properties. Bonus point if the soil condition is good.
Besides the more obvious downsides like a lower performance than gas tillers, the disadvantages of using an electric tiller mostly boil down to its power cord. You're confined to its length: the tiller must always be in proximity of an electric outlet. Beyond that, you won't be able to work at all.
This can be rectified with an extension cord in the right gauge, but the cord can't extend forever.
Although an electric tiller is indeed very light, this could also be a problem. Because it's too light, the tiller could bounce on rough terrains, making control difficult.
Size of your area
The size of your yard determines the type of tiller that you should buy. For those with a small garden or land parcel, an electric tiller will suffice. If you have a large place or a lot of ground to cover, a gas tiller will be a better choice.
Your type of soil
The better the soil condition is, the less money you'd have to spend on a tiller. If you're lucky enough to have supple, loamy soil that's dense in humus and mostly free from weed, a low-power electric tiller will be enough.
On the other hand, for tough ground that's highly compacted, filled with rocks, gravel, and clay, then a powerful tiller that's needed. Gas tillers are ideal.
Extra features
A tiller can come with many special features in the box.
Many have a lever at the back that you can use to adjust the depth of the tines. This function is extremely useful when you have to break new ground.
Not just the depth, you can find tillers with adjustable tine width, too. With these machines, you can either separate or bring the tines closer together to create rows in various widths.
A common feature that all tillers on the market these days have is a collapsible handle. It makes storing the tiller a lot simpler. You can even store some compact models in the back of your car with the handle collapsed!
Your budget
Price is the deciding factor for a lot of people. On the market these days, a tiller can cost anywhere between $100 in the lower-end to as high as $3,000 for a professional-grade tiller.
If you're budget-minded, it's even more important to size your tiller properly. Take into account the size of your place as well as your needs, the spring money on a tiller that's best suited for your demands.
Don't go too cheap. You don't want economics to compromise with performance. But don't take anything that's too expensive or powerful, either. You would end up paying more than you actually need and waste your budget.
Warranty
Warranty is important for any kind of power tool. Anything could happen while you're working in a rocky large garden. Large rocks, big branches, and other objects could wreak havoc on your tiller's engine, blades, and other parts. A good warranty program will give you peace of mind as you work as well as protect your investment.
Most manufacturers offer 1-2 years of warranty. Nevertheless, there are many brands on the market that are confident enough about the ruggedness of their products that they offer a lifetime warranty. These are the brands to go for while you shop.
Still, don't take the manufacturer's words at face value. Read the warranty information that comes with the tiller carefully and see which case is covered and which isn't. That information can be extremely valuable later on when you need to invoke the warranty.
FAQs about Tiller for Breaking New Ground
1. Is it worth buying a tiller?
The answer depends on how often you need to till every year and whether or not you need this tool in the future.
Comparing the cost of renting a tiller vs buying it, it is much cost efficient owning one, especially when you are going to use it every year. To be specific, the price of a brand new tiller is equal to the cost of renting it twice a year, continuously for 4,5 years.
This calculation also varies on the type of rent you go for. We are calculating using the average of $86 a day or $344 a week. But this cost can be much higher if you rent for a specific amount of hours or half a day and exceed the limit.
As you can see, we are giving the advice based on the long-run usage, which surely buying a tiller will be better in that extent. But if you only need the tool less than once or twice a year, and are not sure to garden frequently in the future, renting is a better idea.
2. Will a tiller break up clay soil?
In gardening, clay soil is generally harder to work with compared to others, due to its density. That's why you will need a tiller that is powerful and vigorous enough to handle the task. And there are, in fact, many tillers out there that can match the requirements.
The best tiller for clay soil needs to be in good size, usually a wide width. Secondly, its engine should be powerful enough to drive the tines through the soil and cultivate it. A strong engine won't likely die in the middle of its performance. Finally, it is better to have good grips on the wheels that can move the whole machine through the sticky, heavy clay soil.
3. When should I till my yard?
The best time for tilling your garden is when the soil is dry and warm enough. This is why for many people, spring is the ideal time for tilling, but of course, this varies from region and climate.
Tilling the soil while it is still wet will damage the desired structure for your plants to grow. You can check its readiness with a trowel: if it's hard to get in and the soil is fairly dry to touch on the surface, then it's time to give it a good tilling.
Another tip is by squeezing a handful of soil, if the soil doesn't fall apart but forms into a ball, this is an indication that it is still too wet to be tilled.
4. Which is better: front or rear tiller?
Front tine tillers are usually smaller and lighter compared to rear tillers. They are also more affordable. They are strong enough to handle light or moderate work and with rocky or compacted soil.
Many people love to use this type because it is easy to maneuver. That makes the front tine tiller perfect for gardens of small-to-medium size or those with tight corners.
On the other hand, rear tine tillers are more expensive and are heavier in weight. But they are sufficient to perform heavy tasks on large areas and are able to create long, straight lines. The tine tillers are best-suit for a rocky garden, especially to break virgin soil.
If you are a professional gardener, a landscaper, or need to tackle huge pieces of land, a rear tine tiller will be your perfect wingman.
So, in fact, each type of tiller has its own pros and cons based on different needs of your own.
5. How deep can a rear tine tiller dig?
Many models of rear tillers can dig excellently into the soil, but generally, they can offer a minimum depth of 8 inches.
My top pick
Creating a new flower bed or vegetable plot in your garden is an exciting project that all family members can join. The best tiller for breaking new ground will help you prepare healthy, soft soil in a short time with little effort. Don't forget to check your garden sizes and shapes to pick up the most appropriate one.
If you need a heavy-duty machine for first-time tilling, I would recommend the TACKLIFE Advanced Tiller. This machine is a great option for all common garden sizes and shapes without breaking your budget. Happy tilling!