If you have a small garden or a narrow space for tilling your soil, an affordable mini tiller works best for regularly maintaining soil without taking up much storage space.
While looking for the best tiller for small garden, fortunately, there are several cultivators and tillers available to prepare your small residential space.
In this article, I have identified some top-rated tillers on the market and explain which models work best for different land types.
*This post may have affiliate links, which means I may receive commissions if you choose to purchase through links I provide (at no extra cost to you). As an Amazon Associate I earn from qualifying purchases. Please read my disclaimer for additional details.
Top 7 Best Tiller for Small Garden on the Market 2022
In-depth 7 Top Rated Tiller For Small Garden Reviews
Please notice that these tillers for small gardens can only cultivate soil that is not too rocky or too hard. If you want tillers for breaking new soil, or for clay soil, these products are not suitable.
Check Latest Price
Our first pick for the best small gas tillers is Mantis 7940. Weighing only 24 pounds and the dimension of 29.25 x 13.5 x 9.5 inches, this ultra-compact tiller is easy to carry or maneuver. You can also store this tiller in any corner in your use with the folding handle.
The compact design and motor of this Mantis cultivator allow you to till any small spaces. You don't have to worry about hurting small ornamental plants while tilling. Thanks to its sharp and sturdy reversible tines, you can use it to till down a maximum depth of 10 inches or cultivate down to 2 to 3 inches of soil.
This Mantis tiller can go with various attachments for all gardening tasks like adding nutrients to your garden or loosening tight clay. This solution is more economical for home farmers than purchasing separated professional tools.
Pros
Cons

Lightweight, easy to handle
Powerful 4-cycle engine
2-year warranty
Quiet operation

Buck when tilling the soil with grass or root, rock
Check Latest Price
This Black & Decker tiller is the best cordless cultivator with a reasonable price tag. Its lithium-ion battery can cultivate 325 square feet of land per charge.
Weighing only 11.73 pounds, this cultivator is ideal for aerating the soil for hobbyists and pros. Its lightweights and ergonomic adjustable handles make it easy to maneuver, even for elderly users.
When looking into this best tiller for home garden, you might have known that the LCG120 seems to have a maximum voltage of 20V, while a standard cultivator is 40V-max, 4Ah battery. When tested, this tiller can perform up to 20 minutes. This performance may not be applicable for a 50 x 50 inches garden, but it will do its best on a small one of 18 x 10 inches.
Talking about battery power, the LGC120 uses lithium-ion batteries. This battery type is much better than NiCad ones and can be charged at any time without having the so-called "memory effect". In other words, you can just recharge it even when it is not fully drained.
Although it takes 5 hours to a full charge, you might find that it can take up to 8 hours. Of course, you can plug it in to use instantly before it gets fully charged.
Pros
Cons

Lithium-ion batteries; less waiting time, eco-friendly
20V, best for small garden up to 18 x 18 inches
Removable tines, easy to clean

Fits for small to medium-sized hands
Short warranty (12 months)
Check Latest Price
Although this small garden tiller is not heavy-duty enough for landscaping a prominent residential area, it has its own impressive benefits. So, what are the reasons behind this top-rated Sun Joe tiller?
Compatibility is a killer feature of a small garden tiller. The Sun Joe Aardvark has a slim and lightweight frame, allowing you to carry or move it around your work site. If your neighbor wants to borrow it, he can take it with one hand with ease.
A quick start is another strong plus of this equipment, especially for people who hate pulling start cords. Just plug it in and start cultivating your garden.
This tiller also comes with an ergonomic handle and an adjustable telescoping shaft. Thus, it is comfortable to use for people of all heights in your family. You will avoid back pain due to long-hour work.
This Sun Joe tiller uses a 2.5-amp electric motor that cultivates an area of up to 6.3 x 6 inches. Thus, you don't have to waste time mixing gas and oil. Cordless electric engines like Aardvark require less cleaning effort and avoid gas emission, which is the leading cause of air pollution, according to NRDC.
Pros
Cons

Ergonomic design
Lightweight, easy to control
Electric powered; environment-friendly

Hard to get through tall grass without getting all twined up
Check Latest Price
Whether you are breaking hard soil, tilling the soft ground, the Earthquake 31285 rear-tine tiller will make tilling effortless. Some rear tine tillers can be heavy and difficult to control, but not this one.
Its well-balanced design with big treaded airless wheels makes it easy to handle even on uneven or wet ground with decent traction.
These airless wheels will never go flat, so you won't have to maintain them often. You can ride this machine around fences or along curves smoothly and stably.
Since the Earthquake 31285 is a dual-direction model, it has an instant reverse feature that makes it move forward and backward with a single pull on the handle.
This feature helps you quickly solve small spaces instead of driving your tiller around the garden. Furthermore, this feature also avoids annoying footsteps in your flower beds.
The 99cc Viper engine powers the rotational tines to a maximum tilling depth of 10 inches.
Pros
Cons

Works well on rough or wet terrains
Move forward/backward with a single pull
Wide airless wheels
Easy operation with one hand
Check Latest Price
The Greenworks 27072 is the best electric-powered tiller in terms of performance. This mini-rototiller works effortlessly in various types of soil to prepare the ground in the best possible way in small gardens and lawns.
You can adjust its range to fit with the environment and the plants/vegetables that will be grown in it. This mini-tiller has an adjustable tilling width from 8 to 10 inches and an adjustable tilling depth of up to 5 inches.
The tines can rotate at a maximum speed of 150 RPM, which can straightly dig up to 5 inches into the ground for weeding or seedling.
Besides, this Greenworks tiller has got a powerful 8-amp Viper engine, allowing it to tackle various difficult soils like clay. Some farmers said that it has been their perfect companion for gardening, weed cleaning, and preparing the soil for spring planting season.
Pros
Cons

Adjustable tilling depth (up to 5 inches) and width (8-10 inches)
Powerful 8-amp engine
Quick assembly no tools required
Check Latest Price
Yard Butler is the best hand tiller that should be in your gardening tool collection. Since it is a hand tool, there is no gas or electricity wasted and no regular maintenance.
The first reason that convinced me to purchase this tiller is its solid, sturdy construction. It is made of 100% stainless steel, from claw to grip. There are no wooden handles or chances of break or weak points. The stainless tines are spaced perfectly for soil cultivation or tilling.
This tiller has a super long height of 38 inches, which fits with almost all people of all heights. The wide T-shaped grips are padded with textures to reduce the twisting effort. You can use your body weight to rotate the sharp claw tines into any hard compacted soil with the support of a wide footplate.
Pros
Cons

No gas or electric power required
Heavy-duty stainless steel construction
T-shaped handle with an extra width of 12 inches
Reasonable price

Might not fit with extremely tall people
Handles should be improved to a more natural hand position
Check Latest Price
If you have small lawns and flowerbeds, you don't need to purchase a cultivation machine. A manual tiller like Yard Butler Terra Tiller is more budget-friendly and compact. This mini-tiller has all the essential features to keep your plants well-drained and aerated.
While pricing is a vital criterion for home gardeners, the Yard Butler tiller wins our top choice for the cheapest tool with wholesome productivity. This tool requires no gas, oil, battery, or electricity for operation. So, you can use it to work on small lawns and flowerbeds with no maintenance needed.
This multifunctional tiller features a dual-action head for nearly all gardening tasks related to the soil, from cultivating, breaking, loosening, deep tilling to chopping and cutting roots. I ensure that it will soon be your best companion in the garden.
However, this tiller has a couple of flaws related to the metal quality. First, the tines easily bend if you stress them too much. The space between tines is so close that bark chips and small pebbles can get stuck between them.
The blade is quite dull. When sharpened, it can break your PVC pipes if you don't notice.
Pros
Cons

Dual-action head for various purposes
Space-saving
Affordable

The metal quality is not good
---
How to Choose the Best Tiller for Small Gardens?
Types of Tillers
When you set out to shop for a new tiller, the first thing that you need to consider is what type of tiller it's going to be. It's mostly defined by the power source of the tiller.
A mere shovel is going to wreak hell on your lower back if you have a lot of heavy soil to till. Fortunately, you don't necessarily have to just bear it. A mechanized tiller can help you till a large area quickly and – most importantly – without too much effort.
Electric tillers (corded vs cordless)
An electric tiller runs on an electric motor. It's not very powerful, but it is compact and lightweight. Compared to gas tillers, the electric variant is often a lot more affordable, too.
We recommend this type to residential users who don't need to till often or for long periods. If you only use it to carve out small garden beds and dig through compacted soil, it will be sufficient.
If you decide to go for an electric garden tiller, you also need to decide whether a corded or a cordless model is better.
A corded tiller is fed power through a long power cord. You have to plug it into an electrical outlet for it to function. This type will be a good option if you have a small garden and are in the range of the house's electrical outlets. The power cord is a hindrance, though, and can limit your mobility and working range. You can remedy it by using extension cords.
If you require maximum mobility, a cordless tiller may be a better fit for you. Instead of a power cord, it runs on an in-built battery. Depending on the model, it can offer a battery life of around 30 minutes to 2 hours. It is excellent if you have a large property or for when you don't have convenient access to outlets.
Of course, in return, you'll have to be more careful of the battery charge level.
A gas tiller usually runs on either a two-cycle or a four-cycle gas engine. Feed it with gas and it will offer you nearly unlimited tilling power.
This type has significantly better performance than electric tillers, so it's the kind that's favored by professional farmers.
Do note that there are differences between a gas tiller that runs on a two-cycle engine and one that runs on a four-cycle. A two-cycle one is cheaper, but it requires you to feed it with a mixture of gas and oil to operate. Meanwhile, a four-cycle one runs on just gas.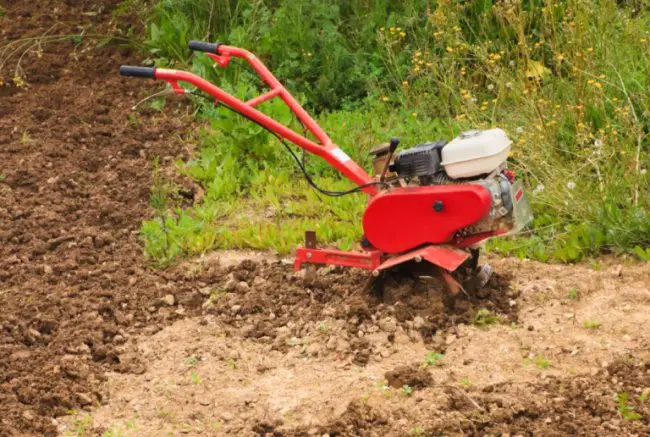 Types of Blades
Similar to the power source, the type of blade that your tiller is equipped with can decide its overall efficiency and performance. There are 3 kinds of blades that you should know about.
This is the standard blade type for tillers. They are designed to dig straight into the soil and break it up. If you pick a random tiller for gardens on the market, there's a good chance that it has bolo blades.
These are ideal for farms since they are designed to dig into blades while also cutting through dense vegetation. The blades are designed so that they won't just dig into the ground, but they will also cut through roots, weeds, and stray plants. Once you're done, the ground will be nicely tiled and clear.
If the ground is tough and filled with rocks, tillers with pick and chisel blades can help you out. These blades are extremely sharp to cut through dense soil. They also cut into the ground at a much higher speed and stronger force than either bolo or slasher blades.
Rocks or tough chunks of soil will be reduced into smaller bits that are easier to displace.
Tines Position
Tines are the rotating metal blades that dig into the soil and break them up. They are the key component of any tiller. The way that they're positioned can greatly affect the tiller's overall performance.
Front-tine tillers have their tines located in the front. Small wheels are installed behind the tines. This type of tiller can't dig very deep into the soil and is best for light work (to set the stage for a weeding operation or amending the soil, for example).
Rear-tine tillers are the direct opposite of front-tine tillers. Wheels are located in front of the tines. This type is best for creating new garden beds or for digging into highly compacted or rocky soils. They can lift a lot of clay and heavy rocks per pass.
Imagine a vertical-tine tiller to be like an egg beater. When you push it forward, the tines can cut through the soil like butter and, more importantly, stir it up. With a rear-tine tiller, you need to perform multiple passes to stir the soil. A vertical-tine model can do both things for you in just one single pass.
This is the best type that combines the best from front-tine and rear-tine tillers.
Rotating Tines
Forward rotating tines are a good feature to have on any tiller. Basically, you can rotate the tines to the forward position and clean up any debris (leaves, grass, rocks) that got stuck in the tines. It makes maintaining the tiller a lot less headache-inducing.
Tilling Width
Even if you have a small garden, a tiller with a large tilling width will still be desirable. The tilling width refers to the area that it can till per pass. The greater the width, the more ground it can cover (and the less you would have to work).
Larger machines are heavier, so do keep that in mind. If you have a small garden, you probably don't need to splurge on a machine that's too big or too heavy.
Tilling Depth
The blades of a modern tiller can dig as deep as 10 inches into the ground. However, there are loads of models that have a shallower cut.
Deeper isn't always better in this case. A tiller with a deep tilling depth can dig deeper into the ground and affect the soil more.
Meanwhile, a tiller with a shallower tilling depth can slash through vegetation and roots better. It all depends on what you plan to do with your tiller.
Easy Start Engine
Unfortunately, not all tillers are easy to start. This is especially the case for gas tillers. Many models require you to check the fuel and oil tanks, prime the carburetor, pull the starter cord, and so on. If you want to avoid all that song-and-dance, many models on the market offer an easy-start feature.
Often, these are electric tillers. They merely have an ON/OFF button that you need to press to start them up.
Some gas tillers are designed for an easy start, too. But because gas engines are naturally complicated, even these quick-start models may still be more difficult to start than an electric tiller.
Portability
Portability is extremely important for a tiller since you'll be pushing it around. The more portable it is, the better your productivity and tilling efficiency will become.
For example, many models come with adjustable handles for this purpose. You can adjust the handle's height or position until you're totally comfortable. This will reduce fatigue and increase the amount of time that you can work until you need to take a break.
The larger the tiller is, the more important portability becomes. As such, take this part into careful consideration if you're buying a large tiller with more power.
While we're on the topic, this is the exact reason why you should "size" the tiller before you buy. Only pick up a model that's suitable for the task that you want to do. Don't overspend or go overboard for features that you don't need since they add more unnecessary weight.
Read More: Best Rubber Mulch Options. We tried the top rubber mulches for gardens and after hours of research and testing, here's what we discovered!
FAQs about Tiller for Small Garden
1. Which is better: front or rear tine tiller?
Both front and rear tine tillers have their strengths and weaknesses, so you should consider how often you will use the tiller and the situation of your working area to choose the most suitable option.
If your plot is compacted and has rocky soil, then the front tine tiller will be more suitable. The rotating tines will cut through the hard soil and drive the machine ahead, which will assist you in building your garden. These tillers are an excellent choice for home gardeners whose work needs just a little tilling.
On the other hand, serious gardeners and professional landscapers will benefit the most from a rear tine tiller. They will be capable of tilling a large area of land to make the soil loose and workable. Furthermore, while generating straight lines, these tillers will be easier to handle, making them ideal for gardening.
2. What is the difference between a garden tiller and a cultivator?
The main difference between a garden tiller and a cultivator is that a cultivator is used to mix soil that is already loose, whilst a garden tiller is used to break up hard ground.
As a result, if you want to build a fresh garden plot, it will be unlikely for a cultivator to function since its tines are not strong enough to remove hard soil.
However, it does not mean that you can use a tiller to accomplish the task of a cultivator as it will break more soil than you expected.
3. Will a tiller break up clay soil?
A rear tine tiller can break up clay soil. Rear tine tillers are equipped with large wheels in the front, making them excellent for severely compacted earth as the tines can reach deep under and lift the clay and rock soil.
On the other hand, front tine tillers cannot dig too deeply into the ground to reach the clay soil. Therefore, they are not recommended if you want to break up the clay in your garden.
Check 7 best Tiller for clay soil here if you want to know more!
4. Should I till my garden every year?
Yes, you should till your garden on a yearly basis. Generally, tilling is required in the spring, sometimes it is also necessary to till in the fall. You could skip a year when your garden is mature enough, just keep an eye on the soil.
5. How deep should a garden be tilled?
The depth of your tilling should be based on the kinds of vegetables and fruits that you want to plant in your garden.
It is generally advised that you dig and lose the soil from 6 to 10 inches. By the time it is amended and tilled carefully, the soil will be workable for shallow-rooted plants such as lettuce from the 8 to 12-inch depth.
For deep-rooted plants like potatoes, consider tilling the soil to an 18-inch depth or plant the potato on your garden's raised beds or small hills. This is to ensure that the roots and the potatoes have enough space to grow.
6. Should I kill grass before tilling?
Eliminating grass before tilling is advised. You could use a spade to cut the existing grass from your garden bed. To separate the grass from the earth, cut beneath it with a shovel.
Herbicides may be used to destroy the existing weeds before tilling the soil, but removing the turf totally will prevent the possibility of new plants sprouting from the remaining seeds.
You should also remove as many weed roots from the soil as possible, or else the weeds will grow back on your tilled pile.
Read More: Best Garden Hose Repair Kits. Leaky hose? No problem! We put the top garden hose repair kits to the test and here's what we recommend.
My Top Pick
When looking for the best tiller for small garden, you should notice the four top criteria – pricing, size, design, and material. A perfect tiller for your gardening work should be within an affordable price range, easy to use, and is made of durable material.
Mantis 7940 4-Cycle Gas Powered Cultivator is my all-time favorite choice. This tiller has a robust performance and solid construction built to last. It can go with various attachments (which are sold separately) to perform almost all gardening tasks.