A disc harrow is a productive tool in commercial gardening and farming. It helps to till the soil for better air ventilation and nutrition absorption. Besides, it also removes unwanted vegetation and crop residue.
Picking up the best tractor disc harrow means you have the golden key to successful cultivation. These quad-bikes help you prepare your soil in a shorter time with less effort than hand tilling.
In this article, I will introduce the top 3 disc harrow attachments that are recommended by thousands of professional farmers & gardeners worldwide.
*This post may have affiliate links, which means I may receive commissions if you choose to purchase through links I provide (at no extra cost to you). As an Amazon Associate I earn from qualifying purchases. Please read my disclaimer for additional details.
Top 3 Best Tractor Disc Harrow 2022
In-depth 3 Top Rated Tractor Disc Harrows Reviews
Check Latest Price
Titan Attachment 4-Ft is the best sub-compact & compact tractor disc harrow. This disc harrow can be instantly attached to the 3-point hitch of Category 1 tractors (like Kubota New Holland tractors or John Deere 1025R) with ease. With the help of this powerful tractor attachment, you can prepare the soil for successful crops.
This 16" disc harrow is constructed from sturdy materials that can last for years under continuous usage. The notched discs are made from hardened steel to break through wet and heavy soil or completely remove heavy weed and crop roots on lands forgotten for a long time.
Every 4 notched discs are connected with a powder-coated axle and support frame to reduce corrosion and rusting. The harrow discs are sealed with cast iron spools and caps for smooth rotation.
In sum, I think this 4-Ft disc harrow from Titan Attachments is an affordable choice for small to medium lawns since it has a 48-inch working width with horsepower from 20HP to 50 HP.
Pros
Cons

Hardened steel notched discs with powder coating
Can be assembled to Category 1 tractors with ease
48-inch working width
Affordable for small to medium lawns

The product guideline is hard to follow
Too wide nuts
Check Latest Price
If you are looking for a multifunctional tool to enhance soil penetration, this disc harrow for tractors from MotoAlliance Impact is another top pick.
This farm tool has an adjustable cutting width from 48 to 52 inches, and it can be mounted to Category-0 tractors, ATVs/UTVs, or any vehicle with a Cat-0 hitch. Please notice that you need to purchase the hitch adaptors separately.
Similar to the Titan Attachment 4-Ft, this small tractor disc harrow is equipped with 8 notched blades with a diameter of 14 inches. Although notched disk blades are more expensive than smooth blades, they are powerful enough to shred through tough soil.
Pros
Cons

Suitable for Category-0 tractors
Powerful notched discs made of hardened steel

Hitch adaptors are not included
Can't be used for rocky soil
Check Latest Price
If you are a professional farmer, an industrial disc harrow like Streamline Industrial harrow would be an invaluable choice for your tow-behind garden tractor, compact tractor, or ATV/UTV. This mighty beast allows you to loosen the soil and clean unwanted vegetation on large plots with less manual labor and time.
Soil penetration on large-scaled farms has become less arduous since this commercial disc harrow offers you many supporting features. First, this pull-behind disc harrow boasts 10 notched disc blades to handle any sizable tilling tasks. Second, each 14-inch disc blade has a diameter of 33 inches, allowing you to dig down to a depth of 4 inches.
This tractor attachment is made of high-quality materials, allowing it to tackle soil preparation for your commercial landscaping projects. Moreover, this sturdy construction can enable you to smoothly switch it from off-road riding to a cutting area on your farm.
Pros
Cons

33-inch cutting width
Made in the USA
High-carbon steel axle and 10 notched disc blades
What Should You Look For In A Disc Harrow?
Cutting option
A tractor disc harrow comes in 3 cutting options: single, double, or offset.
Single Action Disc Harrows: these harrows can cut the soil in a single direction.
Double Action Disc Harrows/Tandem Harrows: These harrows can cut the soil in two opposite directions, thanks to the front and rear blades.
Offset Disc Harrows: This is the most common cutting option because it provides a smooth cut in the soil. You can adjust the hitch to the right or left, so the harrow is placed in an offset position behind the tractor.
Attachment Options
There are two attachment options – 3-point hitch mounted and pulled behind. You can pick up an option that is best suitable for your farm work.
Harrows with a 3-pointed hitch allow you to hang the attachment on your tractor's hitch for easy transportation and storage. Since you can adjust harrow and disc gangs up and down with the hitch, you will save a lot of time for assembling and ground variations. This harrow type is flexible and can be used in small spaces.
On the other hand, the discs of pull-behind harrows are mounted on disc gangs (or frames) connected with a draw-bar and pulled behind your tractors with wheels. Some latest pull-behind harrows come with hydraulic controls.
Blade type
There are two disc harrow blade types – the notched blades and smooth blades.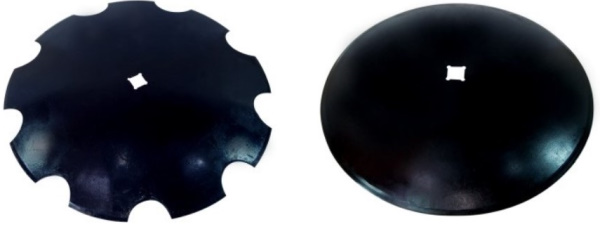 Notched blades are powerful and can penetrate the soil easily. Thus, this blade type is often used to cut high vegetation soil like hayfields, cornfields, pasture, cover crops, or hard, clay ground conditions. However, notched blades are expensive and quickly get damaged when cutting through rocky soil.
Smooth blades can cut through rocky soil or sand with no damages. However, you should attach a weight box to the disc gang when cutting through the hard ground to give more penetration power to these blades. Otherwise, they will ride over instead of cutting through the soil.
You should use both these blade types – the notched ones on the front gangs for powerful cuts and the smooth ones on the rear gangs for a smooth finish.
Blade design
Besides blade type, you should also consider the blade design when purchasing a tractor disc harrow. There are two blade designs – flat blades and concave blades. You can pick up a design or utilize these two designs to get the most of your farm work.
Flat blades: can only penetrate the soil.
Concave blades: can penetrate the soil and lift and separate the soil to one side.
Diameter
The disc's diameter plays a vital part in the performance of a disc harrow. The larger the diameter, the faster your job can get done and the lower your turnaround time. Disc harrows with a diameter of 350mm or higher are a perfect combination of pricing and efficiency.
Cutting width
Similar to the diameter, the disc's cutting width also determines the efficiency and the speed when cutting through the soil.
A cutting width of 50 inches or higher is standard for many gardeners. If you want to shorten your time, you can choose a tractor disc harrow with a higher cutting width with a higher price tag.
Corrosion & Rust protection
Since your tractor disc harrow often works under harsh conditions, you should also prioritize the corrosion and rust protection treatment.
Make sure the harrow is made of galvanized metal and has powder-coating to prevent damage of corrosion and rust. And even if your harrow features this treatment, don't use it right after rain.
Tow bar
Make sure you choose a disc harrow with an adjustable tow bar because of the following reasons.
An adjustable tow bar ensures that your disc harrow is compatible with your ATV and affects the linkage between the harrow and the ATV. It also helps prevent possible breakages while boosting the versatility of the disc harrow.
Besides the tow bar, you should also check its one-pin mounting. This mounting makes it easy to assemble or disassemble the harrow from your ATV.
How To Use A Tractor Disc Harrow?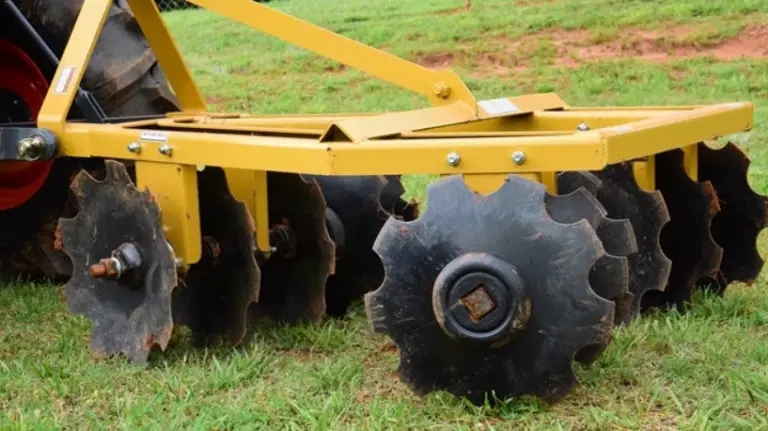 Step 1. Prepare the tractor
Choose a tractor that has had sufficient horsepower to pull the disc harrow. The X-shaped harrow can quickly remove all clods or cut vegetation fields that haven't been cultivated for a long time. However, this harrow type requires tractors with higher horsepower to pull.
Step 2. Set the cutting depth
Make some adjustments to get the appropriate cutting depth of your harrow as follows:
First, raise or lower the disc harrow from front to back by adjusting the center link attachment between the tractor and the harrow.
Second, adjust the lift pins from side to side until the harrow is well-balanced.
Step 3. Start driving the tractor
Start operating the disc harrow by lowering it into the ground with the tractor's speed as the recommendation by the manufacturer.
If you drive too fast, the harrow will leave a groove at the center of the cutting path. If you move too slowly, there will be a valley.
Raise the harrow at the end of the cutting path to make it easier to turn.
Read More: How to Drive a Tractor Video and Guide. Get to know your machine, discover safety rules and statistics, and watch a helpful video in this post!
Step 4. Cutting again for remaining clods
Continue the remaining cutting paths until you have finished cutting the entire field. If there are still clods on the field, do the cutting job again in another direction.
Step 5. Finish & clean the disc harrow
When you have finished your work, don't forget to lubricate your disc harrow to prevent it from rust and corrosion. Clean all debris on the harrow first, then use a grease gun to insert grease into the grease zerks.
Frequently Asked Questions
1. Is a disc harrow better than a tiller?
The choice between a disc harrow and a tiller depends on your garden size and soil condition.
A disc harrow can perform better through hard soil. It can dig several feet into the ground. On the other hand, a tiller is more suitable for small gardens, and it can only turn from 6 to 10 inches of the topsoil layer.
2. What is the difference between a disc harrow and a cultivator?
There are some differences between a disc harrow and a cultivator.
First, a disc harrow uses discs for soil penetration and is often used for large-sized farming or large acreages of cultivation crops, while a cultivator is a better fit for small gardens or lawns and uses sharp tines for tilling the soil.
Second, a disc harrow is more powerful and can dig deeply several feet into hard soil, while a cultivator can go down from 6 to 10 inches off the ground.
Third, you must have a tractor and have an attachment (or a connector) to pull a disc harrow. On the other hand, a cultivator can work independently by using a rechargeable battery or gasoline.
3, What is the difference between a disc harrow and a chain harrow?
A disc harrow differs from a chain harrow in its appearance, function, and ways of use:
A chain harrow looks like a fishing net with extensive holes, while a disc harrow looks like a long stick with many round blades.
A chain harrow can only dig 3-4 inches off the ground. Thus, it is often used to aerate the soil, lift unwanted materials and weeds off the ground, or break large pieces of soil on landscaping projects. Sometimes farmers also use this harrow to spread fertilizer evenly in the cultivation fields.
Conversely, a disc harrow is more powerful and can dig several feet off the ground to remove crop residue or weed roots. Thus, it is often used for soil preparation and cultivation purposes.
My Top Pick
Finding the best tractor disc harrow is a daunting task, especially if you have no prior experience in this field. I hope that this article has given you some clues to narrow down your options.
Titan Attachments 4-Ft is the first and also the best candidate on this recommendation list. This disc harrow is easy to use and affordable. Most importantly, it includes all essential features for amending tough soil types.