Towing heavy things around can be quite risky if you don't have the best gooseneck hitch with you. Sure, they can't offer a smooth ride like it is with a fifth-wheel hitch, but considering the cost and versatility, they really come in handy when you need to haul fully-stuffed trailers through rugged areas.
Without further ado, here's a list of the 7 best gooseneck hitches available on the market. Check them out!
*This post may have affiliate links, which means I may receive commissions if you choose to purchase through links I provide (at no extra cost to you). As an Amazon Associate I earn from qualifying purchases. Please read my disclaimer for additional details.
The Best Gooseneck Hitch – Top 7 of 2022
In-depth 7 Gooseneck Hitches Reviews
Some of you must be familiar with the brand CURT – a renowned company of towing products and truck accessories.
See Latest Price on Amazon.com
The CURT 60607 Double Lock Gooseneck is a fantastic product that can work with a variety of gooseneck couplers thanks to the standard 2-5/16-inch ball. When not in use, you can turn the ball over and store it in the ball hole, leaving space over the truck bed to haul other cargos. The double-lock feature enables 60607 to engage twice as much security when carrying heavy trailers, making it a selling point of this product.
Pros
Cons

Built for handling heavy trailers
Easy to operate
Corrosion-resistant
Simple assembly

Hard-to-understand instructions
The CURT 16055 Rail Mounted Gooseneck Hitch is just what you need if you're looking for something more versatile.
See Latest Price on Amazon.com
To be more specific, the ball is fixed to be secure in one place, ensuring that this gooseneck hitch is not the weak point of your towing train. Thus, the ball is made of high-quality and durable material to endure the constant heavy force put on it, provided that you always haul with your truck.
Another highlight of this gooseneck hitch is the quick removal and easy installation. It can be mounted to a variety of standard industry rails with a gross trailer weight capacity of 25,000 lbs.
Pros
Cons

Solid construction
Easy to install
Built-in safety slots
Decent 10-year warranty

Costly
Takes up much space
If you often have to deal with heavy trailers, the Reese Elite 30137 Under-Bed Gooseneck Kit is undoubtedly your go-to, especially when you own a Ford truck.
See Latest Price on Amazon.com
In fact, 30137 looks the same as the gooseneck kit that Ford sells at half the price, with the same build quality. It is simple to assemble, and it can also handle hefty hauling without a fuss.
Pros
Cons

Affordable
Ease of using the ball
Easy to install
Can pull off up to 30,000 lbs

Only suitable for Ford vehicles
No warranty specified
The Draw-Tite 9465-56 Hide-A-Goose Complete Kit for GM packs with some handy features to make it stand out from other models of this class. It gives you easy access to your bed truck when not in need, and can be put back on at ease to deal with any heavy hauling you need to be done.
See Latest Price on Amazon.com
Even though the assembly might be time-consuming, you'll gain a ton of towing capability without having to drop the exhaust. Also, the lock pin on the handle end will go all the way through the ball shank to ensure the hitch is tightly placed.
Pros
Cons

Strong and durable ball
Rated up to 30,000 lbs gross trailer weight
Extra towing capacity
Sturdy and corrosion-resistant finish
Limited lifetime warranty
Husky 31368 Gooseneck Hitch looks somewhat alike to the Curt 16055 regarding the plate design and montage onto an already-existing fifth-wheel hitch attachment. Yet, 31368 is more lightweight than that of Curt 14055, being around 10 lbs.
See Latest Price on Amazon.com
What is more, Husky 31368 allows the fifth-wheel hitch to be used simultaneously while the adapter is installed; Curt 16055 doesn't. The lightweight feature makes installing this adapter a breeze, not to mention this thing works like a charm when it comes to hauling heavy, up to 25,000 gross trailer weight.
Pros
Cons

Budget-friendly
Lightweight
Secure four pin-and-clips installation
Integrated attachment slots for extra safety

Requires fifth-wheel rails
As we're coming to the end of today's list, introducing one more product from the brand Reese – 58079 "The Goose" Gooseneck Hitch. This is yet another gooseneck hitch specially-designed for the rail system of a fifth-wheel assembly.
See Latest Price on Amazon.com
This thing was built to last, which is why it comes to the market at such a price. 58079 "The Goose" might be the bird you need if you're looking for a more permanent solution that uses fifth-wheel rails. The above-bed system can be installed on a rail or brackets, whichever more convenient for you. Thus, you'll have full access to the truck bed as removal can be done quickly and easily.
Pros
Cons

Decent build quality
Can be removed at ease
Scratch-resistant zinced-coated ball hitch
High load towing capacity

Not very affordable
Quite heavy
Last but not least, it is the B&W 1111 Turnoverball Gooseneck Hitch. This product is an under-bed gooseneck hitch that comes with a fixed turnover hitch ball.
See Latest Price on Amazon.com
The turnover ball has got to be the best thing about this unit; it offers a universal fit for most trailers, meaning that it can be used with several trucks, especially Ford's.
Besides, the fact that the ball is placed beneath the bed will reduce the chance of it being stolen; it's like having a hidden gooseneck hitch – a hitch when needed, a level bed when not.
Pros
Cons

Sturdy steel construction
Lifetime warranty
No welding required when installing
Easy to assemble
What to consider when buying a gooseneck hitch?
1. Towing capacity
The gooseneck hitch must be strong enough to pull the horse trailer as well as the travel trailer may be the most important thing you want.
If your horse trailer weighs 3000lbs but the gooseneck hitch can accommodate up to 2000lbs, accidents or break might easily happen. That's why you need to check the capacity of towing really carefully before buying.
2. Easy installation
Not all gooseneck hitches are easy to install. If you are not a professional, check the description for installation thoroughly before buying. Otherwise, you may have to pay extra money for a professional to get it installed.
Moreover, if a gooseneck hitch needs other tools to connect, it may cost you more and its installation might be slightly complicated.
3. Convenience
It is better to have a light-weight but still a superior-quality hitch. If you can, choose a material that is resistant to rust as well as does not get wear and tear easily.
A hitch that is able to be hidden when not in use will be a plus although it can cost you more. This is especially convenient when you want to switch back and forth.
Although being able to adapt to different vehicles sounds interesting, it is not really essential. Normally, we choose a gooseneck hitch based on the truck or car we already had.
4. Compatible with rails
This is the most popular hitches on the market as it helps the installation and removal easier thanks to the base of the rails. But before buying, you have to ensure that the hitch is compatible with the rails currently existing on your vehicle. Most of the hitches are manufactured compatible with the rails, but you can double-check for sure.
Types of Gooseneck Trailer Hitches
There are 3 main types of gooseneck hitches: above the bed, under the bed, and the fold-down.
1. Above the bed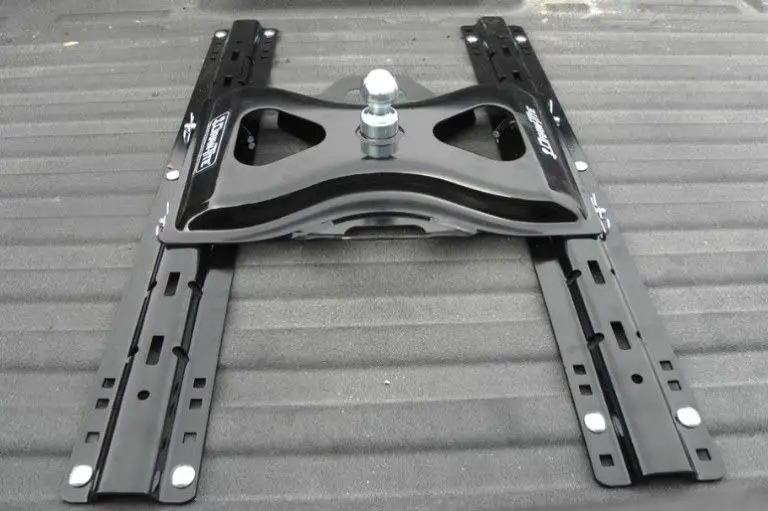 This is by far the most popular type of gooseneck hitch. It is mounted onto the rails which are often the same with the one used for a 5th wheel hitch.
As mentioned above, rails mounted hitches are usually easy to install and remove, making it the most widely-used type.
2. Under the bed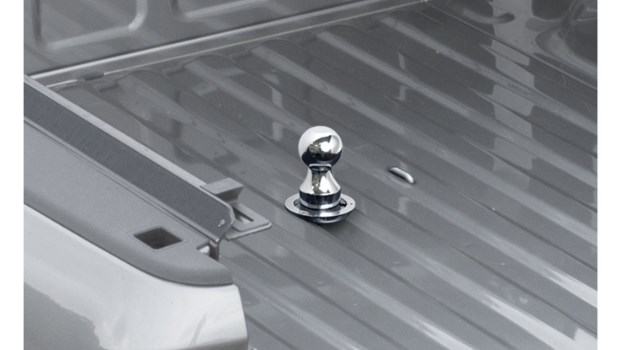 This type is not as popular as the previous as it is usually vehicle specific. Some products will vary a bit to suit vehicle specifications.
It requires more skill in installation as the rails will be under your truck. Also, you have to make a small hole to get the coupler passed through the truck bed.
Although this type often costs more, it can haul much heavier trailers.
3. Fold Down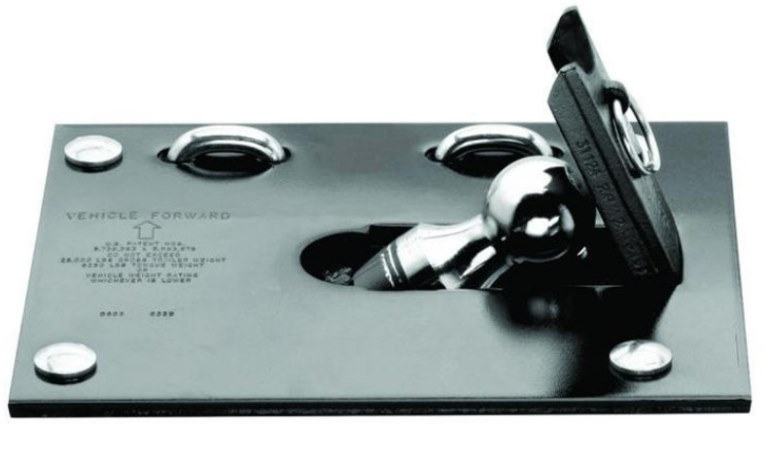 This type is somehow similar to the second type, but it is attached to rails under the truck bed.
The difference is in the hole which lets the ball pass through. The hole of the Fold Down hitch is much larger as the hitch ball is mounted onto a plate. It is this point to let the ball be hidden when not in use.
How to install a gooseneck hitch?
Step 1: Remove the spare tire to give you more space to work. Trim pieces (the heat shield, the wheel well liners) may also need cutting to provide room for the gooseneck hitch.
Step 2: Measure where the ball hole will need to be cut in the truck bed (should be above the rear truck axle, and centered between the wheel wells). Then, drill a pilot hole, and a full-size hole. Remember to apply to touch up paint on any exposed metal edges to prevent corrosion.
Step 3: Carefully insert the rear cross-arm brackets, then use a wrench to rotate it to the proper orientation. Next, insert the front cross-arm bracket.
Step 4: Install the gooseneck center section, and secure it to the cross-arm brackets.
Step 5: Attach the side plate brackets to the cross-arms. Be sure that the gooseneck hitch is squared up with the frame of the truck. Then, install side plate brackets on the driver and passenger side.
Step 6: According to the instructions, torque the hardware of the hitch to the values given (including nuts, bolts on the center section, brackets, side plates).
Step 7:  Install the safety chain anchors by drilling up the holes into the truck bed. After applying touch up paint, drop in the safety chain loops.
Step 8: Final step is to install the operating handle. First, install the locking pin mechanism into the ball hole side. Then, slide the handle through the wheel access point, pass the center section of the hitch, and to the locking pin.
Finally, put back the spare tire and reinstall the trim.
FAQs about Gooseneck Hitch
1. What is a gooseneck hitch?
A gooseneck hitch is a truck bed hitch which usually connects to a horse trailer by a hitch ball.
Most of the hitch body mount under the truck bed and bolts to the truck frame thanks to the brackets.
Typically, they can accommodate up to 30,000lbs or maybe more. Besides horse trailers, they can be used to pull livestock trailers and flatbed equipment, haulers.
2. Are all gooseneck balls the same size?
In the USA, the standard diameter for a gooseneck hitch ball is 2-5/16 inches but 3 inches in Australia.
Choosing the right ball size for your trailer is important. If the ball is smaller than the coupler, risks of disconnect may happen. In contrast, if the ball fits the coupler well, it is secured.
3. Can a short bed pull a gooseneck?
Yes, it can. But there is one minus point that it can leave a hole saw drilling in a short bed truck. A fifth wheel hitch will be a sliding option for short bed trucks.
4. Should you grease a gooseneck ball?
Yes, greasing a gooseneck hitch ball is recommended to help it distribute evenly. Whenever you feel that there is no grease on the ball, you can wipe or clean it, and apply grease on it. A good time to do it is when your hitch ball is not in use for a long time.
In Closing
We hope you have made up your mind on the best gooseneck hitch to meet your needs and budget.
If you haven't, we personally recommend Husky 31368. Although it is very lightweight, the product does an incredible job on towing heavy trailers, if not better than some other heavy-duty claimed gooseneck hitches of its class.