Are you in the market for a sprayer for your pastures, crop rows, surrounding woods or any large areas? Or maybe you need an agricultural sprayer that provides the dependability needed season after season. Scroll down for our helpful Fimco 3 point sprayer reviews for the product's in-depth look.
*This post may have affiliate links, which means I may receive commissions if you choose to purchase through links I provide (at no extra cost to you). As an Amazon Associate I earn from qualifying purchases. Please read my disclaimer for additional details.
Product specs:
Tank material: Polyethylene
Opening size: 5"
Pump: 12V
Drain: No
Item: Three-Point Hitch Sprayer Tank
Flow Rate: 2.1 GPM
PSI: 60
Spray Distance Vertical: 25 ft
Spray Distance Horizontal: 35 ft
Nozzle Type: Adjustable
Hose Length: 25 ft
Fimco 40-gallon 3 point sprayer Reviews with Pros & Cons
Pros:
 It assembled quickly and easily with no leaks or broken parts
The lightweight and flexible nozzles allow you to do various types of tasks
The pump is quite powerful. It sprays well with the capacity for a 3-acre property. The sprays grant you a sizeable vertical as well as horizontal spray distance
The sprayer has an extended boom that covers more area for a quick application
Spray wand has good pressure for long reach and has the ability to hit those unreachable spots.
The sprayer is reasonably priced
Cons:
The tanks might not have robust construction, primarily leaking tank due to a rough terrain causing bolt on the bottom to crack the tank
The sprayer has a narrow wheel spread that allows it to tip on uneven terrain easily
If the sprayer is tilted back during storage, the nozzles can be easily damaged
Gauges in the rear make it harder to monitor the pressure while spraying
The sprayer needs to swivel on the handheld when connecting the hose.
Read More Reviews on Amazon.com
About Fimco brand
FIMCO, based in South Dakota, is the most significant lawn and garden sprayers manufacturer in the United States. Over the last 60 years, the company has delivered sprayers for every application from the 5-gallon homeowner to the 300-gallon sprayer for agriculture.

FIMCO puts great effort into innovation and technology. They recently introduced the Volt Edge line of lithium-ion powered ATV and UTV sprayers for the first time in the lawn and garden industry. The company's product lines vary from trailer carts, de-thatchers, lawn rollers to dry material spreaders. FIMCO has also been a partner of some of the biggest spraying names like TeeJet, Hypro, Banjo, and Norwesco for parts distributors.
In-depth reviews on Fimco 40-gallon 3 point sprayer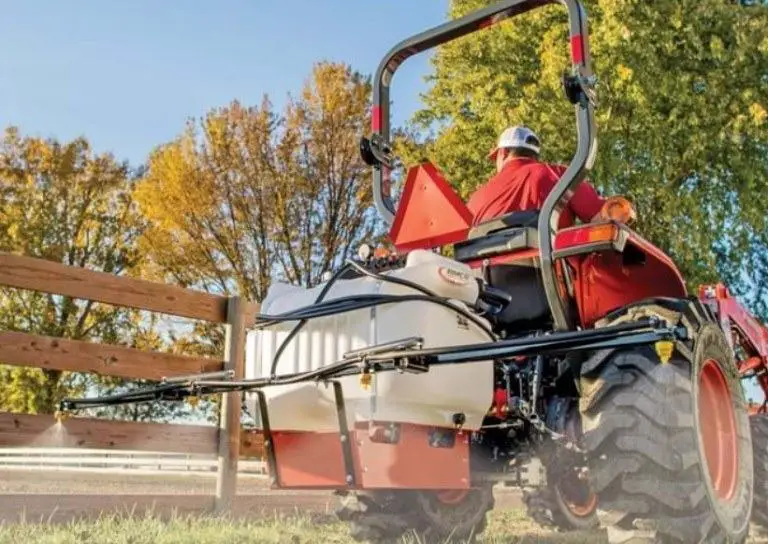 The Tank
Normally, sprayers are attached to the back of a truck or tractor, making weight distribution a compulsory feature worth bearing in mind. The 40-gallon polyethylene tank is good enough not to lean more towards the back and lessen the difficulty while spraying up hills. It is equipped with a 40-gallon tank, which should let you spray a big field in a single go.
Also, the sprayer has a rustproof, algae proof and robust construction. Therefore, the sprayer ensures the long-term durability lasts for many years without any issue.
Installation
The last thing you want when getting a new sprayer is a tricky and complicated installation process. You do not want to waste time and effort trying to fit the item in your vehicle, not to mention wasting time learning how to use it. Luckily, the Fimco 3 point sprayer can be assembled quickly and easily with no hassle. This is a big notice whenever you are planning to buy a sprayer.
Pressure Regulation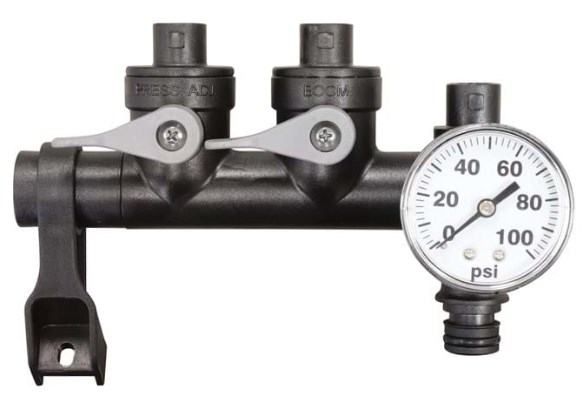 This is a crucial feature that you must ensure that a sprayer has. Finding a sweet spot of pressure from the sprayer is imperative. It has to be enough to reach all the plantations and not too much to damage yourself.
The Fimco Sprayer has a 2.1 GPM flow rate with a 60 PSI pressure, making sure that all the crops get a generous amount of liquid you are spraying. The robust flow rate has a vertical 25 feet range and a horizontal 35 feet range, assuring you can quite swiftly spray a decent area. Moreover, the adjustable nozzles allow you to do all types of work without any issue.
Uncomplicated Usage
Who does not love a sprayer that offers ease of usage! This should be considered an important feature. Because if it creates hassle when being used, you will eventually get tired of it. The Fimco Sprayer is easy to use for the expert or even the first time user.
Lastly, the spray's light and compact dimensions allow you to easily position it in your workplace, home, or garage.
Read More Reviews on Amazon.com
In a nutshell,
The Fimco 40-gallon 3 point Sprayer is an important tool for food plots and habitat management projects. If you are searching for an amazing spraying experience, then this is the mounted sprayer you need in your life. We would recommend this product with cautions and modified expectations. Hopefully, the Fimco 3 point hitch sprayer reviews save you a lot of research time and get you the right sprayer for your application.