Interested in gardening but consider it's too time-consuming? Find it's hard to take care of the garden, especially if it's large and you have to water it daily? Won't it be great if your sprinkler system can move around your lawn and water it without you around? That's what the best traveling sprinkler system is able to do.
A traveling sprinkler made with wheels to automatically move around your lawn following the path of your hose and water it. Not many people have heard of or use a traveling sprinkler before but it's truly a lifesaver for those who are too busy to do traditional gardening. We tested them and now review the 7 best traveling sprinklers that are best rated and available to you on the market.
*This post may have affiliate links, which means I may receive commissions if you choose to purchase through links I provide (at no extra cost to you). As an Amazon Associate I earn from qualifying purchases. Please read my disclaimer for additional details.
Top 7 Best Traveling Sprinkler on the Market 2022
In-depth 7 Top Rated Traveling Sprinklers Reviews
Read More Reviews on Amazon.com
The 58322 is the best Orbit traveling sprinkler ever that gives you the ability to choose just the right watering solution for your lawn.
Made from durable and heavy materials like cast iron, the traveling sprinkler can last for years and perform consistently. During operating, it uses water pressure to move around, follow the hose route that you customize. However, unlike other models on the market, it has a three-speed control that allows you to adjust how fast your sprinkler travels. The higher the speed is, the more water it sprays.
58322 Orbit traveling sprinkler also gives you the chance to control the water coverage. The whirling arms can reach spray coverage from 15 to 55-feet diameter, cover both large areas or small. For large spray, it can cover up to 13,500 square feet along 200 feet of hose – an impressive coverage that rarely other models can catch up with.
Plus, the auto-shutoff function could stop the water automatically by using the ramp along the hose length.
Pros:
Cons:

Made with durable and heavy materials
Self-propelling
Three-speed setting
Large and adjustable water coverage
Personalize water route with hose
Automatic shutoff function to prevent water waste
Easy to set up
Plastic parts hold up well

Weight a lot because of its cast-iron body and could be bogged down if the garden is overwatered
Some parts still are made of plastic
Slower speed options
Limit the number of bends in the hose so that the sprinkler doesn't tip
Read More Reviews on Amazon.com
Nelson raintrain traveling sprinkler is one of the first sprinklers to be available on the market. So far, it's still considered one of the best-rated sprinkler systems that popular with gardeners.
For the design, it also comes up with a waterproof cast iron body like other sprinklers. The three-speed control method, adjustable spray arms and auto-shutoff function work as well as the Orbit one providing you numerous options to deal with your lawn. Since everything is flexible to control, you can set up your sprinkler however you want to suit your soil type and water solution.
To be particularly, the Nelson water coverage distance varies from 15ft to 55ft depending on the area that you need to be covered. This traveling sprinkler is capable to cover about 13,500 square feet and works fine in fairly steep gardens.
However, the component part of the sprinkler that made of plastic seems to hold up not as good as the orbit one. It's still a point to consider.
Pros:
Cons:

Solid cast iron body to make the sprinkler last
Automatic shutoff to cut off water waste
Three-speed control
Large and adjustable water coverage
Won't get stuck on uneven surfaces
Can customize water path and pattern.
Spray arms are adjustable

Some parts such as the gears are made of plastic and can't hold up well
Wheels often auto-lock
Seems to be overpowered by high water pressure
Difficult to configure according to some customers
Read More Reviews on Amazon.com
The Melnor comes to the market with a rare feature: high traction wheels in order to help prevent slipping, even on slopes or across boggy terrain. This ensures the sprinkler to keep on moving around your lawn no matter how lumpy it could be along with the hose.
Other features of the Melnor design also make your gardening life far more enjoyable and easier than moving a traditional sprinkler around day by day. With the adjustable speed control for precise watering, adjustable spray arms covering the diameter from 15 feet up to 50 feet and a large coverage area – up to 13,500 sq. Ft, the water solution is easy to decide with the Melnor. The fact that you can set up this sprinkler to your personal expectations and need is a big selling point.
Besides, Melnor one is a self-propelled sprinkler that follows a path you personalize to fit your garden and automatically shuts off when finished. It means you can set it up in the morning and leave the house for your other tasks knowing that it will turn itself off once the job is done.
Pros:
Cons:

Heavy-duty cast iron construction that waterproof and lasts for years
Adjustable and rotary water spray
Variable speed settings
Automatic shutoff feature
High traction wheels make sure the Melnor keeps on moving

Internal parts made of plastic that limits the lifespan of the sprinkler
Can't attach too much hose or the sprinkler could be stuck and stop working
The wheelbase might be small and tend to fall over
Read More Reviews on Amazon.com
The John Deere Traveling Sprinklers are perfectly suited for odd-shaped yards as it has vast water coverage of up to 13,500 square feet and can travel on its own using water pressure along the pattern laid out by the hose. You can customize its route based on your need for personalized watering of round or oblong yards.
Plus, the cast iron back wheels that are durable let this 2-speed sprinkler follow hose for up to 200 feet before the shut-off ramp automatically stops the tractor and shuts off the water when it's done with the job.
The body is made of die cast zinc which provides optimal durability and reliable irrigation.
Pros:
Cons:

Heavy cast-zinc body lasts for years
Two-speed control
Auto-shutoff function
Suitable for odd-shaped yards
Adjustable water coverage distance

The gear might be easy to strip out
Rough terrain or soft ground can make it stuck
Can't go around too tight of a corner
Slower than most sprinklers even in high mode
Only 2 options for speed
Read More Reviews on Amazon.com
The Raincoach traveling sprinkler is one of the most durable sprinklers that you can find on the market. The whole sprinkler is made of brass, stainless steel, corrosion-resistant cast metal, and rubber tires – not even any plastic parts. This ensures your machine will last as long as your garden exists.
Along with the well-constructed body, it also provides various options for watering your ground. With a large coverage range from 110 – 145 feet (wide) by 450 feet long and rotating sweep arms, it can evenly distribute the water to your lawn without making it soggy. And it also includes 6 nozzles for varying water pressure and coverage situations (11.5 to 22.4 gpm., 55 to 75 psi). When it's done, automatically it will shut-off to prevent excess water.
It's best to use at schools, parks, or other large space, where in-ground sprinkler heads are not permitted or desired.
Pros:
Cons:

Heavy construction that makes the sprinkler lasts
Self-propelled, adjustable water coverage and nozzles
High water pressure
Suitable for super large space
Auto shutoff function

The heavy body can easily be stuck on soft dirt
Only suitable for super large space, not too popular for home-purchasing
Read More Reviews on Amazon.com
The Watex model is the best-rated product in the range of low water pressure operations. It can operate on as little PSI as 20 or even the lowest water pressure to travel across your lawn ensuring that the lawn gets much-needed water.
There are only two-speed control settings on the Watex. However, it can travel up to 13,500 square feet and the fact that you can adjust the path as well as the coverage diameter of the Watex results in a product that will cover most of your lawn with ease. And if you live in a high water pressure zone, it can run as fast as you can imagine.
Besides, the all-terrain wheels give the sprinkler the ability to pull itself up a gentle slope or rough surface. The chances of it becoming stalled are limited.
Pros:
Cons:

Suitable for low water pressure areas
All-terrain wheels prevent it from becoming bogged down
Large and adjustable coverage
Easy to set up to your requirements
Heavy-duty and built to last

Only work best with a medium hose
The plastic internals can be worn down quickly
Not really to carry as it is quite heavy and has no handle
Read More Reviews on Amazon.com
This Rain Train traveling sprinkler from Gardening supplies is watering equipment that made of a durable cast-iron body to last for years – as its name Rain Train.
Unlike other models on the market, the most effective range of this sprinkler is 11,900 feet, which is not a big deal for those whose garden is small. However, it still can reach up to 13,500 square feet.
You have the choice of two speeds to ensure your sprinkler will still travel well even with low pressure. But the lack of all-terrain wheels makes it difficult to travel on rough terrain with stones.
Pros:
Cons:

Durable cast-iron body
Two-speed control setting
Adjustable water coverage range
Has the auto-shut-off system
Low water pressure is acceptable

Small effective water coverage range – 11900 feet
Can't travel through the lumpy garden
In a low water pressure area, it will struggle to pull 200ft
Might get stuck in the dirt a lot
Benefits of a traveling sprinkler
1. A smart design to save your time
A traveling sprinkler will help you to water your lawns or garden without your moving. With smart design and auto-moving, a traveling sprinkler will go around by itself and water your lawns and garden. After setting up, the machine will work in the outlined direction automatically. You can not only set the machine to go straight but also set it to turn right or left based on the terrain.
Doing gardening is time-consuming work. But it no longer remains with a traveling sprinkler. A traditional sprinkler needs you to move it every ten minutes, but a traveling sprinkler does not. So, you can save your time to do other works or relax.
For the lazy gardeners, this is a very useful machine because what you only need is to set up the moving direction for the traveling sprinkler and then sit or lie on the bench while it watering your lawns or flowers.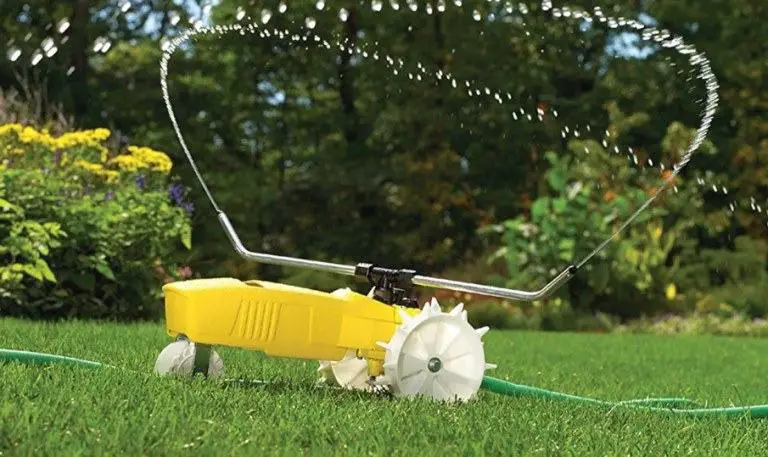 2. Equally distribute water across your garden
Apart from this, a good traveling sprinkler can ensure the distribution of water across your garden. The way of watering manually can not ensure every part of the garden is given the same amount of water. Traveling sprinklers use waterpower and gear to push water into lots of rays. So, it will cover all the garden, neither party gets too much or too little water.
3. Save cost for large gardens or yards
Moreover, a traveling sprinkler may help you to save labor costs. If you have a large garden or you are the owner of a farm, a traveling sprinkler is the best choice for you. Instead of renting some employees and paying their wages for doing some tasks for your garden, a traveling sprinkler can be a really good replacement.
Read More: Best Garden Hose Repair Kits. If your hose has sprung a leak, this guide is for you! We tested the top repair kits and here are our favorites.
How does a traveling sprinkler work?
The basic rule
The basic principle of the traveling sprinkler is using the force of water to push the water into the hose. Besides, the waterpower makes the gear spin, then the wheels will move.
Once you open the traveling sprinkler, the pressure is generated to push water into a hose. Inside the hose,  water flows through a pipe and then gets out through sprinkler arms. The force from waterpower is assembled in the arms.
There is a specially designed part to bend this pressure, as a result, the water that gushes out of the arm curves at a certain angle. Usually, a traveling sprinkler has two opposite arms, force is acting in the opposite direction so water will flow evenly into both arms.
The transmission and speed setting
The sprinkler arms are joined to a warmer gear, which is located inside the machine body and made of plastic. The movement of the arms makes the gear spin, this leads to the transmission.
The transmission of the gear is something like the gear train in a car, but everything happens much more slowly. Due to this transmission, the wheel can move forward in the setting direction.
There are 3  main speed settings: high, low, and neutral speed. The high-speed setting is for light watering, the low-speed setting for thorough watering, and the neutral speed setting is only for stationary watering. Some branches of traveling sprinklers may have more than three types of speed settings.
Automatic shut-off system
When a traveling sprinkler goes to its final road, an automatic shut-off system is activated. The mechanism of this system as follows:
There is a small ramp that acts like the shut-off trigger in the traveling sprinkler. When reaching this ramp, 2 back wheels will rotate it while the front wheel goes over it.
A plunger on the bottom of the sprinkler hit the ramp, this prevents the water from flowing into the sprinkler arms. Then the traveling sprinkler will go off automatically.
How to use a traveling sprinkler?
First, put the arms into the spray and tighten them into place. To ensure the arms cannot touch the base, note to slope the arms up.
After that, attach the water hose to your source of water. Remember to direct it to the water path you want.
Then, select the suitable transmission speed setting based on your requirement of watering the garden.
Finally, turn off the traveling sprinkle when it finishes watering your garden.
How to choose the best traveling sprinkler?
Choosing the best traveling sprinkler for yourself is not very easy. There are several elements that you need to consider seriously.
1. The number of transmission settings
Three settings of a standard model, which are high, neutral, and low, may meet the need for almost all watering requirements. However, if you have a really large farm or you need some additional settings, you can consider a traveling sprinkler with more than 3 transmission settings.
2. The size of your garden
Even though this type of machine can help you to water all your gardens, the coverage area is not unlimited. If your garden is too large or the terrain is too difficult to move, you need to find an alternative solution.
3. The price
The best traveling sprinkler is the one creating commensurate values with your budget. Based on your requirements, let's think carefully about the best-appropriated traveling sprinkler for yourself. The most expensive traveling sprinkler is not always the best one.
4. The duration
The duration of a traveling sprinkler is also notable. A machine with a short lifespan requires regular repair, maintenance, or new purchases if it is impossible to fix. A durable one can help you to save all your time and money.
5. Water conservation
This is also another consideration when you want to purchase a good traveling sprinkler.  There is no flexible irrigation water regulator in the traveling sprinkler. So, your water bill may rise after a certain time of using a traveling sprinkler. The resolution is to choose a traveling sprinkler with suitable sprinkler arms, which not only can limit the amount of water, but also ensure every part of the garden gets the water.
Conclusion
Traveling sprinklers is a lifesaver to those who are too busy to take care of their garden. To purchase the best traveling sprinklers that suit your need the most, you should consider what type of lawn you have. Most models are constructed with cast iron bodies to stay stable on the hose to move around without stalling. Other features may come in terms of speed adjustment and spray. However, it's down to your personal preference to pick the right product.
In most situations, home gardeners are highly recommended the first one – Orbit 58322 Travelling sprinklers that work wells for many types of the yard because of its great design that provides lots of watering solutions. You can take our recommendations as input to your next purchase!