A lawnmower blade should be sharpened every 25 hours of use or twice per season to maintain its quality.
Cutting grass with a sharp blade helps maintain a lush green lawn and reduces fuel consumption by up to 25%. Therefore, you should get the BEST lawn mower blade sharpener in your garage.
Having this home tool makes blade sharpening more convenient and budget-friendly than sending your blades to a professional blade sharpener, using a manual sharpener stone, or replacing them with new ones.
Below, you will find our in-depth review of the best lawn mower blade sharpeners to help you make the best purchasing decision.
Speaking of blades, check out our review of the Best Machetes for Clearing Brush.
*This post may have affiliate links, which means I may receive commissions if you choose to purchase through links I provide (at no extra cost to you). As an Amazon Associate I earn from qualifying purchases. Please read my disclaimer for additional details.
7 BEST Lawn Mower Blade Sharpener 2022
In-depth 7 BEST Lawn Mower Blade Sharpeners Reviews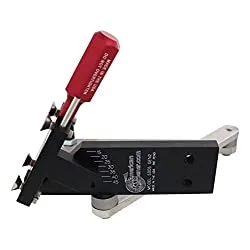 Check Latest Price
If you are searching for a blade sharpener compatible with standard, mulching, and high-lift blades, All American 5005 is the right choice for you.
Although it is pretty expensive, it's heavy-duty and versatile enough to grind many blades at multiple angles in commercial lawn work.
The first advantage of this American blade sharpener is that it has a clever design to make bulk blade sharpening jobs more time-saving and efficient.
It also has a vice head to keep the grinder firmly to ensure a proper sharpening result.
Besides, you can attach a standard 4 1/2-inch angle grinder to this sharpening machine with 4 adapter pins.
If possible, you can also mount this sharpener to any flat surface with bolts or clamps as a permanent sharpener.
You can even adjust and lock the sharpening blade's angle between 15 and 45 degrees to get a precision sharpening result. In other words, you can use it for various blade types – both left and right-handed ones.
The 15-degree setting can be used to sharpen the mulching area of a bi-level mulching blade, while the highest 45-degree setting is appropriate for some lawn mower blades that tilt downward.
This automatic sharpening machine is compact and includes a cordless grinder.
It is also lightweight with a weight of 5.33 pounds. So, you can carry the product between your lawn and your storage place with ease.
Pros
Cons

Compatible with all standard, mulching, and hi-lift blades
Adjustable angles of 15-45 degrees
Cordless, compact and lightweight
2. Best Rotary Blade Sharpener: RBG 712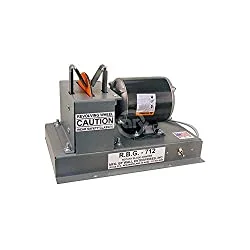 Check Latest Price
Instead of buying new blades every season or hiring a professional knife sharpener, you can utilize the RGB 712 to get the job done in a few seconds.
This beast is stable, powerful, and heavy-duty enough to get your lawn mower blades back to a factory-flat edge.
This rotary blade sharpener features a sturdy 11-gauge formed steel stand that can hold up to 5,000 pounds/m2. Hence, you don't have to attach it to a table or a flat surface to work. It weighs only 5 pounds, so you can transport it to your working area or store it permanently in your office.
This blade-sharpening machine boasts a robust electric motor with a horsepower of ½ HP and a spinning speed of 1750RPM.
These specs are capable of handling heavy-duty applications like sharpening multiple blades at the same time.
Its unique design with a 7-inch grinding wheel allows you to grind blades at any length for both standard (right-handed) blades and reverse (left-handed) blades.
Another great point of this machine is that it helps you eliminate most grinding wheel dust since all dust will fly far from you.
However, you still need to wear eye protection glasses and gloves when working with this machine.
Pros
Cons

Powerful ½ HP motor with a spinning speed of 1750 RPM for a stunning performance
Unrestricted maximum sharpening depth
The grinding wheel is replaceable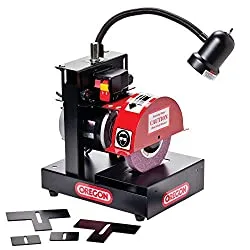 Check Latest Price
Oregon 88-023 is one of the most powerful electric sharpening options on the market.
This machine provides the same electric power as the RBG 712, including a ½ HP motor and a maximum spinning speed of 1750RPM. But it slightly differs from the RBG 712 in its design.
This Oregon blade sharpener offers a user-friendly design, making it a valuable choice for non-professional knife sharpeners.
You can use this machine to sharpen various types of lawn mower blades up to 6 inches.
It offers a rotary to adjust the handle and knobs for precise control and height adjustments. Additionally, you can use this machine to enhance the sharpness of both standard blades and reverse blades with a reversing switch.
Another point that sets this Oregon sharpener apart from the RBG 712 is that it's manufactured with customer safety in mind.
The built-in light allows you to see the tool clearly in foggy weather or dark. Additionally, the on/off safety switch prevents accidental start, which might be helpful if kids are around you.
A drawback of this sharpening machine is that it has a grit collector to store the metal dust, but you have to purchase it separately.
Pros
Cons

Powerful engine
Can sharpen large blades up to 6 inches
Built-in light for easy and safe working in low-light conditions

Hard to get the right angle
The grit collector is not included
4. Best Commercial Lawn Mower Blade Sharpener: Magna-Matic MAG-9000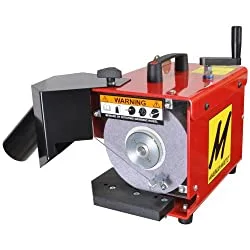 Check Latest Price
Proudly made in the United States, Magna-Matic MAG-9000 is a reliable choice for professional lawn care.
This sharpening machine comes fully assembled to let you start sharpening your blades right away. You can use it to sharpen conventional lawn mower blades to a 30-degree angle with a single-direction motor.
How fast can you sharpen a conventional mower blade? According to the manufacturer, it takes only 1-2 minutes to give a blade a second life thanks to the industrial ½ HP, 3450 RPM electric motor.
Another amazing thing about this commercial-grade sharpener from Magna-Matic is that it can sharpen both left and right-handed lawnmower blades.
Thanks to the specialized spinning wheel and the worktable, other surfaces of the blades won't be affected. The wheel also will not burn the blades or need extra wheel dressing.
You can use this sharpener as a portable tool on the go as it has a top handle for easy transportation. Or, you can leave it in one place without bolting it down.
This machine comes with an ultra 7-gauge steel body with a powder-coated finish to maintain its appearance for quite a long time.
Pros
Cons

Made in the USA
All safety guards and tools included
Powerful ½ HP motor
An industrial-grade spinning speed of 3450RPM

More suitable for professional lawn mowers
Consistent angles (30 degrees)
5. Best Professional Lawn Mower Blade Sharpener: Magna-Matic MAG-8000
Check Latest Price
MAG-8000 is the upgraded version of MAG-9000. This industrial-grade blade sharpener can maintain a consistent 30-degree angle like the MAG-9000.
But the sweetest thing is that you can adjust its angle from 25 to 45 degrees. Therefore, you can use this machine to sharpen curved mulching blades or conventional flat mower blades.
Sharpening a mulching blade is much more challenging than a flat one since it has curved or long cutting edges.
This blade sharpener comes with a rounded worktable specializing in mulching blades, along with the standard flat worktable for flat blades.
First appearing on the market in 1999, this top-rated sharpener was awarded 3 US patents for its excellent design in sharpening curved blades like mulching blades.
Pros
Cons

Adjustable angle (25 to 45 degrees)
Two worktable options – a flat worktable for flat blades and a rounded worktable for mulching blades
1 HP Baldor motor
2 grinding wheels

One-direction motor, have to stand on the opposite side to sharpen left-handed blades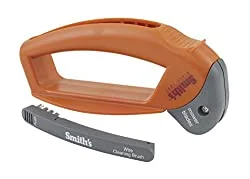 Check Latest Price
This hand-held Smith's sharpener is a notable affordable option for refreshing your blunt blades without breaking your bank account.
You can carry this compact machine on your worksite for quick blade sharpening in areas with no electrical power.
This machine from the Smiths is simple but efficient. Its grinding wheel is made of carbide, a combination of carbon and metal.
This construction material is more durable than expensive stone grinding wheels. You can give your old blades a smooth and sharp edge in a few minutes.
Because this blade sharpener is designed for emergency usage, it isn't recommended for blades that are too old or too blunt.
Pros
Cons

Carbide spinning wheel for extra durability
Affordable
Compact design for easy transportation
Large finger guard

Can't be used for blades that are too blunt

Check Latest Price
Work Sharp MK is another portable blade sharpener that you should consider getting for your property.
This sharpening tool gives you the freedom to sharpen a wide diversity of blades with speed, ease, and consistency.
This sharpener uses electric power for operation, so it spins faster than Smith's handheld sharpener above.
Depending on the work's requirement, you can adjust the operating speed, thanks to its two-speed motor.
The low-speed option is for precisely sharpening a knife, while the high-speed one is for heavy-duty tasks, like sharpening lawnmower blades, axes, and other lawns and garden tools with a blade.
The sharpening guide is another strong plus of this handy tool that I bet all garden owners will like.
Even if you haven't used a blade sharpener before, you can follow this guide to get the proper edge angle for your knives and blades.
For example, you can instantly switch from a 25-degree outdoor knife to a 20-degree kitchen knife in one guide.
Pros
Cons

Two-speed motor
Sharpening guide

For light-duty purposes only
Buying Guide: How To Choose The Best Lawn Mower Blade Sharpener?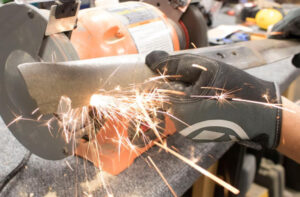 Your Usage
The first criterion to acknowledge when considering a lawnmower blade sharpener is your usage. To make the most use of the product, you should define your purpose before making your final decision.
If you only need a sharpener to sharpen some blades occasionally, you can choose an affordable compact sharpener for a better price.
On the other hand, if you are a professional farmer or landscaper, you would be more interested in an industrial-grade sharpener that can sharpen many blades at a time.
Power Type
Blade sharpeners on the market are divided into two power groups – manual and electric-powered.
Manual sharpeners are more affordable, but they require more time and effort for grinding.
Electric-powered sharpeners use an electric motor for their operation. These sharpeners can efficiently and quickly sharpen a lot of blades at a time. However, they are much more expensive than manual ones.
Grinding speed/Motor Power
The grinding speed of a sharpener decides how fast you can finish grinding your lawnmower blades.
Manual Sharpeners
The manual type has a lower grinding speed than electric-powered ones. Depending on the number of blades you need to grind, they can take 30 minutes to a few hours to finish sharpening.
Electric-Powered Sharpeners
Electric sharpeners have a higher grinding speed, depending on their motor power. Their grinding speed is indicated in RPM (round per minute, or the spinning speed of the grinding wheel) and horsepower (HP).
Sharpeners for heavy-duty applications have a high horsepower of ¼ to ½ HP.
If you go for an electric-powered sharpener, choose an item with a spinning speed of 1500-1750 RPM.
In most cases, high speed doesn't mean great. Excessive speed can result in overheating, damaging the blades, or injuries to you.
As for advice from professionals, you should use the sharpener at moderate speeds to balance your grinding performance and your safety.
Compatibility
Unless you use grinding stones for blade sharpening, you should check if the sharpener is compatible with your lawn mower or not. This compatibility is displayed in two specifications:
The supported blade size: 5 inches or 6 inches
The sharpening angle: 20 degrees or 40 degrees
Material/Durability
A blade sharpener made from low-quality materials will wear out quickly, leading to an extra budget for grinding wheel replacement.
Thus, you should pick up one that is made from high-quality materials for extended durability.
First, the sharpener should have a sturdy grinding wheel. Carbide is the best material for grinding wheels with excellent durability and strength, while stone wheels are more fragile.
Second, you should check the plastic guide or the indicator of the correct angle while sharpening the blades.
Ensure that the guide is made of high-quality plastic to stay in shape and avoid overheating and melting while performing heavy-duty tasks.
Ease Of Use
Make sure that you pick up a lawn mower blade sharpener that is easy to use.
Not only does it make you more comfortable and maintain your high performance, but it also protects you from possible injuries while doing a risky job like sharpening blades.
And remember to check whether the sharpener is designed for right-hand or left-handed users or both.
Versability
If you have a lot of blade types (like standard blades, high-lift, or mulch), you should choose a versatile sharpener that can grind various blade types instead of getting a sharpener for each blade.
Besides, you should carefully check the product information since some sharpeners can do great on large blades but can destroy smaller, thinner ones.
Safety Features
Blade sharpening is a dangerous job and not for all people. Ensure that your sharpener comes with safety features to protect you from friction, cuts, and metal sparks.
For example:
For manual sharpeners: you should choose one with oversized finger guards to avoid cuts and bruises.
For electric-powered sharpeners: a high-powered sharpener with a high spinning speed can generate metal sparks.
You should wear ALWAYS proper eye protection to avoid these tiny particles getting into your eyes.
Price
You should predefine your budget before shortlisting blade sharpener items.
A heavy-duty sharpener can be much more expensive than a compact, handheld one. However, if you have a limited budget, you can get a cheaper item and then upgrade later.
Warranty
Each blade sharpener has a different warranty policy, depending on the manufacturer. You should carefully check this information before making your purchase.
Also, you should check the return policy. This policy will be helpful if the product is not as good as advertised or has some operation errors.
Read More: Best Trimmer Lines. We put the top trimmer lines to the test and here are our favorites for commercial and home weed eating!
How To Use A Lawn Mower Blade Sharpener?
Step 1. Disconnect from the power source
Before removing your lawn mower blade, disconnect the device from its power source to avoid accidental start as follows:
For corded models: detach the wire from the power drill's spark plug.
For cordless models: disconnect the battery.
Then, flush all water in the tank to prevent spillage.
Step 2. Place the lawnmower correctly
Place the lawnmower on a firm surface. Its carburetor and air filter should be side up to prevent oil and gas from entering the air filter or smoke from the leaking oil in the next operation time.
Step 3. Mark the blade
Use a pen to mark the upside of the blade before removing it.
Step 4. Remove the blade
Insert a short 2 x 4 between the blade and the mowing deck to keep the blade from rotating, then remove the blade. After that, loosen the bolt or nut with a wrench and socket.
Don't forget to clean all residues from the deck. You should also clean both sides of the blade with penetrating oil and a soft brush.
Step 5. Secure the blade
Secure the blade at an angle, with a cutting edge of it facing up
Step 6. Start sharpening
Wear safety glasses, then install a grinding stone/wheel into the blade sharpener.
Start the sharpener, and ensure that the flat edge of the guide faces the back of the blade, and the blunt edge faces the beveled side of the wheel/stone.
Start sliding along the plastic guide with moderate pressure. After a few first strokes, check the blade's sharpness, then repeat the strokes.
Stop when its sharpness is as desired, then continue with the remaining side of the blade.
Step 7. Balance the blade
After sharpening the blade, you should balance it to avoid excess wobbling and damage to the motor. Then, continue sharpening its heavier side until the two sides are well-balanced.
Step 8. Reinstall the blade
Reinstall the sharpened blade back to the lawn mower, then tighten the nuts or bolts.
Finally, reconnect the device to its power supply, then continue using it.
Tips To Maintain Lawn Mower Blades
Ensure that you have unplugged the mower before removing the blade of the tool. 
Remove the blade from the lawn mower before handling it.
Always check the current blade with a replacement one to know that it needs a replacement or sharpening.Some clues to indicate that a blade needs replacement include a thin trailing edge, uneven cutting edge, dents/bad chips.
Start grinding the blade's edges with moderate and steady movements. Do not over-sharpen it!
Check the current blade with the replacement one to check whether the blade has been properly sharpened or not.
Always balance the blade after sharpening to avoid vibration and strain to the shaft.
FAQs
1. What angle should lawn mower blades be sharpened at?
A general lawn mower blade should be sharpened at an angle of 40 to 45 degrees.
2. Can a mower blade be too sharp?
A mower blade should be sharp but not as sharp as the edge of a razor, so you can still touch its edge without getting hurt.
A razor-sharp blade can get chipped and nicked easily. It can also need to be sharpened more frequently and has lower durability.
3. Which side of mower blade to sharpen?
You should sharpen the two sides of a mower blade, starting from the top side of it. This sharpening method will keep the blade's edge sharp for a long time.
4. Does wet grass dull mower blades?
Using mower blades to cut wet grass can dull the blades more quickly. You should clean the blade before and after cutting a wet lawn to keep it sharp for a longer time.
5. Can I sharpen my lawn mower blades without taking them off?
Yes, you can sharpen your lawn mower blades without taking them off. While it is not a popular method, it is still doable.
6. Can you use a bench grinder to sharpen mower blades?
Yes, you can use a bench grinder to sharpen mower blades. The recommended bench grinder size is 8 inches and preferably an angle grinder.
7. What happens if you put lawn mower blades on upside down?
If you put your lawn mower blades on upside down, you could damage your mower and your lawn.
When blades are upside down, it will cut the grass with the dull side and rip the grass out rather than cut it.
My Top Pick
A sharp, well-maintained lawnmower blade is vital to keep your lawn or garden in good appearance and health.
A high-quality blade sharpener can help you sharpen your blades and knives without wasting money and time on professional services.
Among the 7 above items, All American 5005 is the best lawn mower blade sharpener that I have used for 4 years.
This sharpener provides all the necessary criteria for at-home sharpening.