When working outdoors, machetes are essential tools to make your clearing jobs faster and safer. You can use a machete for clearing brush, cutting palms, or thick tree branches. 
There are so many different machetes on the market, targeting many different needs and it can be difficult to determine which is the best for your needs! 
To make it easier for you, we reviewed dozens of the best machetes for clearing brush and selected our 5 favorites, plus 2 honorable mentions for all your yard and farm needs. 
*This post may have affiliate links, which means I may receive commissions if you choose to purchase through links I provide (at no extra cost to you). As an Amazon Associate I earn from qualifying purchases. Please read my disclaimer for additional details.
Our Picks
|   | Product | Details   |   |
| --- | --- | --- | --- |
| | Best Overall: Condor Tool & Knife Duku Machete | A sleek, efficient, and clean machete in a class of its own. | Check Price |
| | Best Budget Pick: Fiskars 29-Inch Machete Ax | A durable and long-sized machete that won't break the bank. | Check Price |
| | Best for Cutting Trees: Condor Tool & Knife Warlock Machete | Tough enough to handle cutting tree trunks, and clearing a lot of space in a hurry. | Check Price |
| | Best for Clearing Bamboo: Condor Tool & Knife Parang Machete | Long and sleek, this machete goes straight through bamboo thickets. | Check Price |
| | Best for Trail-Clearing: KA-BAR 2-1249-9 Kukiri Machete | A great all-around choice for brush, trees, and grass. | Check Price |
How We Chose the Best Machete Options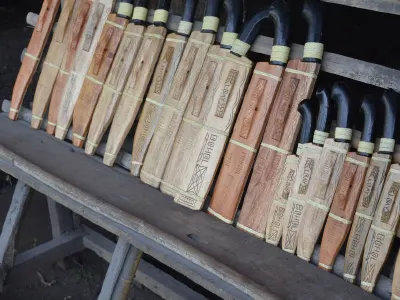 Blade Effectiveness
Material
The three materials used to make machete blades are carbon steel, stainless steel, and high-carbon stainless steel.
All three have their strengths and weaknesses. First, carbon steel is a conventional and functional material to produce machete blades.
Compared to stainless steel, it's harder, cheaper, and able to keep its edge for longer. However, carbon steel rusts easily, and is hard to resharpen.
The second material is stainless steel, which is most commonly utilized for ceremonial and decorative machete blades.
This type of steel resists corrosion, and requires less maintenance, compared to carbon steel. Nevertheless, stainless steel is softer, more costly, and dulls easier.
Lastly, high-carbon stainless steel combines the advantages of both carbon and stainless steel. It resists rusting and is long-lasting.
However, the material is pricey, and has poor heat tolerance before it becomes brittle.
Length
For strength and safety, the tang of a machete should span the entire length and width of the handle. Machete blades range from 10 to 28 inches in length.
While shorter blades provide more agility, and are easier to transport, longer ones have a longer reach, allowing you to more easily clear large areas.
Features
The groove spanning down the blade length not only adds decoration, but helps to lighten and strengthen it, which is especially beneficial for longer and thicker blades.
Modern machetes often include other features that allow you to multitask, such as a bill hook, sometimes known as a reverse hook, which is useful for pruning branches precisely. 
Depending on how versatile you want your tool to be, consider blades with extra features. 
Handle Quality
Material
A handle with a full tang improves your grip and cushions your hand when in use. Wooden handles are comfortable, warm, and light to hold, but they must be cleaned and maintained regularly to avoid damage.
On the other hand, molded plastic is low-cost and low-maintenance, but it can easily crack over time and typically isn't as resilient to weather. 
Other alternatives are leather and rubber, which are both comfortable and offer a good grip. However, rubber can rot and leather can be slippery or deteriorate over time, while rubber can tear.
Micarta is considered the highest-quality material for your machete handle. It's made from layers of linen, fiberglass, plastic, canvas, or paper treated with heat.
The material is tough, long-lasting, and very comfortable, but it's also pricey.
Design
When using the machete, the handle should be comfortable. It should be long and wide enough for you to use for a long period without causing hand fatigue.
Features
Long handles are used on two-handed machetes for increased strength when you cut through tough vegetation. A wrist lanyard is incorporated in many machetes to improve your grip on the tool.
A quillon handle is a straight handle encircling the tang, and is found on nearly every machete.
There are raised areas at the ends of a quillon handle to allow you to grip your machete more securely. However, the quillon handle doesn't come with hand protection.
A D-ring handle has a cover that both protects your knuckles, and helps to keep the handle from slipping. D-ring handles aren't comfortable for everyone, and the extra material makes them more difficult to carry.
You may want to consider crossguard handles, which provide safety by lowering the possibility of the handle slipping out of your grip, and causing knuckle injuries.
Be aware that they also make your machete larger and heavier, and don't fit all hands.
Overall Durability
While machetes are generally light tools, their weight can vary greatly across so many variations in designs, so it's crucial to understand which features and designs contribute to the blade's overall weight when selecting which features are most important to you. 
A machete's weight is determined by its blade length, breadth, and thickness. To minimize total weight, you should seek blades that are shorter, narrower, or slimmer.
However, each of these dimensions will affect your machete's overall performance.
You should also consider the weight and durability of the sheath. When you don't use your machete, the sheath will protect both its blade and you.
It's also a convenient way to secure the machete to your belt or avoid damage to other objects in your tool bag.
Materials used to make machete sheaths can be leather, molded plastic, and heavyweight textiles such as nylon.
Leather is durable, but it's susceptible to dampness and requires extra cleaning as well as conditioning. 
On the other hand, molded plastic is tough but not lightweight. Heavy-duty fabrics are resistant to the elements, but are more vulnerable to sharp blades.
Best Machetes for Clearing Brush Reviewed
1. Best Overall:
Condor Tool & Knife Duku Machete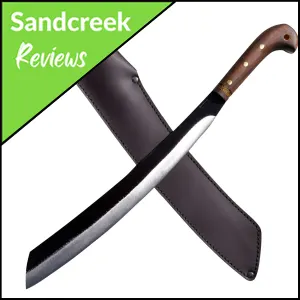 Product Ratings
| | |
| --- | --- |
| Blade Effectiveness | 5/5 |
| Handle Durability | 5/5 |
| Overall Durability | 5/5 |
| Affordability/Value | 5/5 |
Weight: 1.5 pounds | Material of Blade: 1075 High-Carbon Steel | Length of Blade: 15 ½ inches 
What We Liked
1075 High-Carbon Steel Blade
Full Tang
Medium-long blade is perfect for cutting through thick and woody brush 
Heavy-duty leather sheath
What We Didn't Like
Natural finish requires regular oiling
Heavy model, requires expert control to use effectively
Following the design of the traditional Malaysian parang, Condor Duku Machete is your most ideal choice for clearing brush or outdoor adventures.
The Duku comes with a hand-crafted welted sheath just like all knife models of Condor.
No machetes beat this German-made parang cutting tool on its high craftsmanship. The blade is made of 1075 high-carbon steel, sharp and strong enough to cut through thick and woody tree brushes.
Moreover, the 1075 steel can retain its edge longer, is harder to break or chip, and is faster to sharpen than 1095.
Hence, you can polish it in a few minutes after months of regular use. The knife blade is quite long, with a blade length of 15 ½ inches, allowing you to cut safely without hurting your hands.
This extra length also helps to clear a large swath at a time, and avoid repeated chops. This machete weighs 1.5 pounds, which is quite heavy.
Although its blade thickness of 4.5mm can handle thick grass and tree branches, it's still a little difficult to swiftly control the blade.
Leather Sheath? No Problem. Check out How to Take Care of a Leather Sheath.
See Price on Amazon
---
2. Best Budget Pick:
Fiskars 29-Inch Machete Ax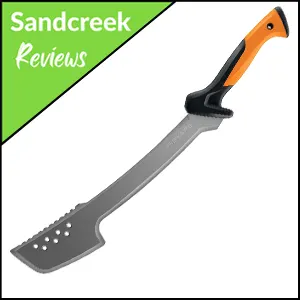 Product Ratings
| | |
| --- | --- |
| Blade Effectiveness | 4/5 |
| Handle Durability | 5/5 |
| Overall Durability | 5/5 |
| Affordability/Value | 5/5 |
Weight: 2.5 pounds | Material of Blade: Steel | Length of Blade: 18 inches
What We Liked
Works as a machete and doubles as an ax
High-quality and well-made blades
Strong handle can be used with one hand
What We Didn't Like
End of blade isn't as heavy as an actual ax
The Fiskars 29-Inch is an affordable long-sized machete. Its unique design results in high performative cuts.
You can use this cutting tool to clean vegetables, shrubs, or fast-growing trees in your backyard. The blades of this Fiskars machete follow high-quality standards.
They are razor-sharp, corrosion-resistant, and retain their original edges through vigorous use. Its unique design with a long head makes it a multi-functional tool.
Fiskars machete has an ax-like head, so you can also use it as an ax to clear, chop, or cut things.
Another reason that makes the Fiskars 29-Inch a good machete for clearing brush is that it's user-friendly with a reinforced handle.
You can cut piles using a single hand, an exclusive feature that is not available in other ax-styled machetes.
Further Reading: Best Trenching Shovel Reviews. We tested the top trenching shovels and here's what we found!
See Price on Amazon
---
3. Best For Cutting Trees:
Condor Tool & Knife Warlock Machete Knife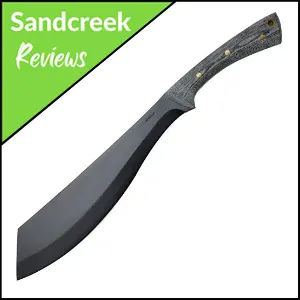 Product Ratings
| | |
| --- | --- |
| Blade Effectiveness | 5/5 |
| Handle Durability | 4/5 |
| Overall Durability | 5/5 |
| Affordability/Value | 3/5 |
Weight: 2.07 pounds | Material of Blade: 1075 High-Carbon Steel | Length of Blade: 12.5 inches
What We Liked
Anti-corrosive blade coating
Multipurpose blade is great for a variety of outdoor tasks
Micarta handle provides extra grip and durability
What We Didn't Like
One of the most expensive blades in our lineup
Handle is shaped oddly
The Condor Warlock is an excellent machete for heavy-duty work like cutting trees, thick branches, or even chopping wood.
At 2.07 pounds, and with a blade thickness of 5mm, this hefty blade is not for the faint of heart. Like the Condor Duku, the Warlock is made of 1075 High Carbon Steel.
However, this chopper has a black textured powder coat finish, which can last up to 20 years. This coating brings a polished look to the blade, and helps prevent it from corrosion or rust. The micarta handle is easy to grip, both wet and dry.
Some people might prefer a wooden handle, but micarta is tougher, and will not shrink or swell when used in high-moisture environments like a wooden one.
The blade is shaped so that each section supports a different type of outdoor task. The top end of the blade is best for thick wood and heavy-duty chopping.
The middle is best for mid-range work like lopping tree branches or slicing meat, and the bottom section is suited for precision tasks like feathering, sharpening, or opening beer bottles.
This machete has a medium blade length of 12 ½ inches (19.4 inches being its complete length with handle), and it's equip with a natural leather sheath for easy transportation. 
See Price on Amazon
---
4. Best for Clearing Bamboo:
Condor Tool & Knife Parang Machete
Product Ratings
| | |
| --- | --- |
| Blade Effectiveness | 5/5 |
| Handle Durability | 4/5 |
| Overall Durability | 5/5 |
| Affordability/Value | 4/5 |
Weight: 1.5 pounds | Material of Blade: 1075 High-Carbon Steel | Length of Blade: 17.5 inches 
What We Liked
Long and thin blade is ideal for clearing huge swaths of bamboo
Curved blade provides excellent power and ease
Visually appealing
Great for the pros
What We Didn't Like
Can be hard on the wrist
Blade is a bit thin
When cutting down thick and tall vegetation like bamboo, corn stalks, sugar canes, or rice, long machetes like the Condor Parang are a valuable agricultural tool. 
This chopper has a great blade length of 17 ½ inches and a blade thickness of 1/8 inches, letting you clear a significant area of brush at a time effortlessly.
The blade is the heart of this machete, and it is a work of art. It's slightly curved to strengthen the stroke and ease your cutting jobs.
Although this full tang blade is heavy and irreplaceable, it is easy to sharpen and align once the edge dulls.
The blade's heavyweight makes you feel the balance, thus adding more balance and power for clearing your bamboo plot in a few swings.
The hardwood handle can be very tough on the wrist, especially if you have weak wrists or a prior injury, but if you are in good health, the curved, ergonomic handle is more robust than a plastic one.
Further Reading: Best Gas Hedge Trimmers Reviews. Manual hedge trimmers not cutting it? Check out these tried and true gas hedge trimmers!
See Price on Amazon
---
5. Best for Trail Clearing:
KA-BAR 2-1249-9 Kukri Machete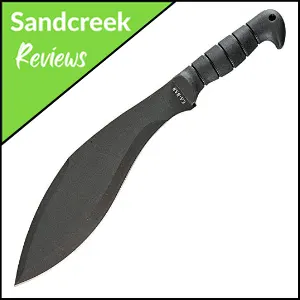 Product Ratings
| | |
| --- | --- |
| Blade Effectiveness | 5/5 |
| Handle Durability | 5/5 |
| Overall Durability | 3/5 |
| Affordability/Value | 5/5 |
Weight: 1.5 pounds | Material of Blade: 1075 High-Carbon Steel | Length of Blade: 17.5 inches 
What We Liked
Handle has great ergonomic design

Comes with leather sheath

Small and easy to handle
What We Didn't Like
Not great for thicker vegetation

Finish on blade is rough
The Ka-Bar kukri machete is the best machete for trail clearing, clearing brush, or chopping down weeds.
Its comparative weight of 1.3 pounds helps you get your jobs done effectively while reducing your hand fatigue.
Behind its lightweight characteristic, the ergonomic design of the TPR handle also helps you hold the blade confidently in your hand.
If you want to carry this cutting tool while moving around, you can put it in its leather/Cordura combination sheath and put it in your backpack. This sheath is compact and can also fit perfectly in your belt, keeping your hands free.
Kukri and Barong machetes like this Ka-Bar one can't cut through hard and thick vegetation easily. You should consider heavy-duty alternatives, like Bolo, Panga, or Parang.
See Price on Amazon
---
Comparison Chart
| Product | Best Overall | Best Budget | Best for Trees | Best for Bamboo | Best for Trail Clearing |
| --- | --- | --- | --- | --- | --- |
| Overall Rating | 5/5 | 4.75/5 | 4.25/5 | 4.5/5 | 4.5/5 |
| Blade Efficiency | 5/5 | 4/5 | 5/5 | 5/5 | 5/5 |
| Handle Durability | 5/5 | 5/5 | 4/5 | 4/5 | 5/5 |
| Overall Durability | 5/5 | 5/5 | 5/5 | 5/5 | 3/5 |
| Affordability | 5/5 | 5/5 | 3/5 | 4/5 | 5/5 |
The Winner
Our clear favorite was the Condor Tool & Knife Duku machete. It's versatile, elegant, and precise. It's comfortable and easy on the wrist, and will last a lifetime. 
How to Choose the Machete to Fit Your Needs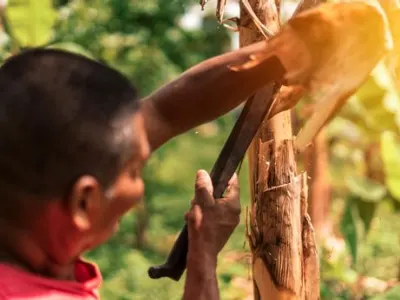 The shape of the blade dictates which tasks the machete is best suited to. So this can definitely help you to choose the right machete.
Straight, balanced blades are for clearing tender vegetation such as coarse grass and herbaceous vegetation. 
By contrast, thick, woody vegetation necessitates a machete blade that is full near its middle and tip, but narrows as it approaches the handle. Upward-curving blades slice and chop efficiently, and don't become stuck in woody materials.
By contrast, downward-curving blades have more chopping power, similar to that of an ax.
Longer blades are a good choice for clearing grass and bamboo, while shorter blades are good for hacking through tough material.
You may want to explore an option that has a hook or ax on the end for special usage. 
Consider your weather and climate as well. Will the handle be grippy in wet weather? Maybe you want something that's easy to clean if you live in a sandy or muddy environment. 
Weight is also a factor. If you need to carry the machete all day with you on long treks, the weight of the blade will become burdensome over time. 
How to Stay Safe When Using a Machete
Swinging a machete through dense foliage carries inherent risks, so you should use this tool as cautiously as possible.
Begin by taking in your surroundings: springy branches, overhanging objects, people nearby who could be hit by your machete, or falling vegetation, are all threats to yourself and others.
To guarantee your safety, you should put on protective clothing including gloves, boots, and eye protection.
By applying precise cutting techniques, and avoiding impacts with rock and metal, you can extend the blade's sharpness.
Read our related article on the Best Ways to Clear Brush and Vines for helpful tips and tricks!
How to Use a Machete
To boost momentum, begin swinging the machete from a higher position, and direct your entire arm downward. Swinging your shoulder down is also a good idea. 
Allowing your elbow to direct your swing is crucial, and try to twist your wrist a little when it comes in touch with the material you're cutting.
An upward flick is required for grass and green growth, whereas a downward flick is required for woody vegetation.
Check out this helpful video on how to use a machete as a tool:
Honorable Mentions
The Woodman's Multi-Use is a great and versatile option, but we found the blade so thick that it was hard to cut through vegetation, brush, or detail work, so we liked Condor Tool & Knife Duku machete for its greater versatility. 
The Hooyman is an affordable, all-purpose machete suitable for many types of work.
However, our reviewers noted it to be insufficiently sturdy for long-term use, so we recommend the Condor Tool & Knife Duku machete for durability.