In farm work, machetes are the essential tools to make your clearing jobs faster and safer. You can use a machete for clearing brush, cutting palms, or thick tree branches. So, what is the best machete for clearing brush?
Since there are numerous types of machetes on the market, it will be difficult to find an appropriate model for your demands. In this article, I'll list down the 7 best-rated machetes for assisting you in all common cutting jobs on your lawn and farm.
*This post may have affiliate links, which means I may receive commissions if you choose to purchase through links I provide (at no extra cost to you). As an Amazon Associate I earn from qualifying purchases. Please read my disclaimer for additional details.
Top 7 Best Machete For Clearing Brush 2021
In-depth 7 Top Rated Machetes For Clearing Brush Reviews
Check Latest Price
Following the design of the traditional Malaysian parang, Condor Duku Machete is your most ideal choice for clearing brush or outdoor adventures. The Duku comes with a hand-crafted welted sheath just like all knife models of Condor.
No machetes beat this German-made parang cutting tool on its high craftsmanship. The blade is made of 1075 high-carbon steel, sharp and strong enough to cut through thick and woody tree brushes.
Moreover, the 1075 steel can retain its edge longer, harder to break or chip, and is faster to sharpen than 1095. Hence, you can polish it in a few minutes after months of regular use.
The knife blade is quite long, with a blade length of 15 ½ inches, allowing you to cut safely without hurting your hands. This extra length also helps to clear a large swath at a time and avoid repeated chops.
This machete weighs 1.5 pounds, which is quite heavy. Although its blade thickness of 4.5mm can handle thick grass and tree branches, it is still too difficult to control the blade.
Pros
Cons

1075 high-carbon steel blade; full tang
Medium-long blade to cut through thick and woody brushes
Heavy-duty leather sheath

Natural finish, need oiling regularly
Fairy heavy, difficult to control
Check Latest Price
The Condor Warlock is the best machete for cutting trees, thick branches,  or even chopping wood, thanks to its hefty weight of 2.07 pounds and its blade thickness of 5mm. You can use this as a weapon to protect yourself against wild animals coming out of their hibernation.
The Warlock machete is also made of 1075 high-carbon steel like the above Condor Duku. However, this chopper has a black textured powder coat finish which can last up to 20 years. This coating brings a polished look to the blade and helps prevent it from corrosion or rust.
The micarta handle is easy to grip, both wet and dry. Some people might prefer a wooden handle, but I love this micarta version. It is tougher and will not shrink or swell when used in high-moisture environments like a wooden one.
When you are in the forest, you might experience things that are not generally seen in your daily life. In those cases, Condor Warlock will assist you with those outdoor tasks.
You can use each section of this versatile tool for specific purposes. The top of the blade is used for most cutting and chopping tasks; the middle part is for chopping tree branches or slicing meat; and the blunt bottom part is used for more delicate tasks like feathering, or sharpening sticks, opening beer bottles.
This machete has a medium blade length of 12 ½ inches (with an overall length of 19.4 inches), and it comes with a natural leather sheath for easy transportation.
Pros
Cons

Anti-corrosion blade coating
Multipurpose blade for outdoor tasks
Micarta handle for extra grippy and durability

The handle is too wide and thin
Expensive
Check Latest Price
When cutting down thick and tall vegetation like bamboo, corn stalks, sugar canes, or rice, long machetes like the Condor Parang is a valuable agricultural tool. This chopper has a great blade length of 17 ½ inches and a blade thickness of 1/8 inches, letting you clear a significant area of brush at a time effortlessly.
The blade is the heart of this machete, and it is a work of art. It's slightly curved to strengthen the stroke and ease your cutting jobs. Although this full tang blade is heavy and irreplaceable, it is easy to sharpen and align once the edge dulls.
The blade's heavyweight makes you feel the balance, thus adding more balance and power for clearing your bamboo plot in a few swings.
I know the hardwood handle is not a good choice for farmers with a weak hand wrist. But if you have enough power, this curved ergonomic handle would be more stable and robust than a lightweight plastic one.
Pros
Cons

Long and thin blade to clear a significant area of bamboo
Curved blade shape for extra power and ease

Not suitable for farmers with a weak wrist
Check Latest Price
The Fiskars 29 Inch is an affordable long-sized machete. Its unique design results in high performative cuts. You can use this cutting tool to clean vegetables, shrubs, or fast-growing trees in your backyard.
The blades of this Fiskars machete follow high-quality standards. They are razor-sharp, corrosion-resistant, and retain their original edges through vigorous use. Its unique design with a long head makes it a multi-functional device.
Fiskars machete has an ax-like head, so you can also use it as an ax to clear, chop, or cut things.
Another reason that makes the Fiskars 29 Inch a good machete for clearing brush is that it is vastly user-friendly with a reinforced handle. You can cut piles using a single hand, an exclusive feature that is not available in other ax-styled machetes.
Pros
Cons

Can work as a machete and an ax with an ax-like head
Well-made blades
Strong handle, can be used with one hand
Affordable
Check Latest Price
Woodman's Pal 2.0 is different from those machetes I have ever used. First used in 1941 for forestry and agriculture purposes, this classic billhook machete became a survival weapon for the US Army in World War II. Nowadays, it is upgraded for broader use – as a machete, shovel, brush ax, and knife.
The 10 ½ inch blade is short, broad, and thick by machete standards. Although it looks like a sketch during a boring math class, it means you can.
The blade with a thickness of 1/8 inches is far beefier than any other machetes that I have seen before. Since there is a lot of weight behind this ax-like blade, you can take down small trees, thick branches, gather firewood for camping, or break down deadfall effortlessly.
The signature side hook of Woodman's Pal 2.0 can be used for slicing through vines and briars. It is very sharp and reinforces the vicious appearance of the Pal. However, the blade is so chunky, so it might be challenging to clear vegetation, brush, or detail work.
Another notable fact is that every part of this machete – the blade, the ash wood handle, and the leather sheath – is manufactured in the USA by skillful craftsmen. Every blade is carefully handcrafted to ensure this perfect machete cuts through everything you want.
Pros
Cons

Classic billhook with a side hook
Can be used for various purposes
Made in America

Chunky blade, hard to cut through vegetation, brush, or detail work
Check Latest Price
The Ka-Bar kukri machete is the best machete for trail clearing, clearing brush, or chopping down weeds. Its comparative weight of 1.3 pounds helps you get your jobs done effectively while reducing your hand fatigue.
Behind its lightweight characteristic, the ergonomic design of the TPR handle also helps you hold the blade confidently in your hand.
If you want to carry this cutting tool while moving around, you can put it in its leather/Cordura combination sheath and put it in your backpack. This sheath is compact and can also fit perfectly in your belt, keeping your hands free.
Different machete types serve specific purposes. Kukri and Barong machetes like this Ka-Bar one can't cut through hard and thick vegetation easily. You should consider heavy-duty alternatives, like Bolo, Panga, or Parang.
Pros
Cons

Lighter than most machetes but effective
Compact leather/Cordura sheath
Durable

Can't cut through thick and hard vegetation easily
Check Latest Price
The Hooyman Kukri Machete is one of the most heavy-duty choppers on the market with a modern, appealing aesthetic design.
This kukri machete is made of 3CR13 stainless steel with a refined edge for a reliable cut in all situations. It has a non-slip H-Grip handle to deliver the most secure grip even in wet conditions.
You can store this kukri machete when not in use in two ways. First, use a peg hole on the blade to hang it on the wall. Second, place it in the custom 1680D polyester sheath and tug it on your belt.
The overall length of this machete is 21 ½ inches, which is compact enough for easy storage.
Pros
Cons

Sharp edge for fine cuts
Full tang
Waterproof 1680D polyester sheath
How to choose the best Machete for clearing brush?
Machetes are available in various weights, materials, sizes as well as designs, so it's crucial to consider all of your alternatives before you purchase a machete for clearing bush. Continue reading our buying guide to learn more about the criteria on which you should focus.
1. Your Use
Machetes come in a variety of shapes and sizes. Each of them has its own set of capabilities.
Machetes, blades of which are long, thin, and straight, are great for clearing both tall, weedy grass and thin, green brush. By contrast, you should use thick, curved, and weighted blades for woody material.
Besides design, length also makes a difference. Relatively short-bladed machetes are easier to carry with you on camping trips than long-bladed ones. However, the latter offers more cutting power and reach.
By choosing the most suitable machete, you can complete your tasks in the shortest amount of time.
2. The Blade
Material 
One of the 3 materials, including carbon steel, high-carbon stainless steel, and stainless steel, can be used to make machete blades.
First, carbon steel is a conventional and functional material to produce machete blades. Compared to stainless steel, it's harder, cheaper, and able to keep its edge for a longer period. However, carbon steel rusts easily and is hard to resharpen.
The second material is stainless steel, which is most commonly utilized for ceremonial and decorative machete blades. This type of steel resists corrosion and requires less maintenance, compared to carbon steel. Nevertheless, Stainless steel is softer, more costly, and dull easier.
Lastly, high-carbon stainless steel combines the advantages of both carbon and stainless steel. It resists rusting and is long-lasting. However, the material is pricey and has poor heat tolerance before it becomes brittle.
Length
For strength and safety, the tang of machetes should span their handle's entire length and width, creating its core. Machete blades vary between around 10 inches and 28 inches long.
While shorter blades provide more agility and are easier to transport, longer ones have a longer reach, allowing you to easily clear big areas.
Design
The blade's edge is shaped in such a way that it's better suited to specific tasks. Straight, balanced blades are for clearing tender vegetation such as coarse grass and herbaceous vegetation.
By contrast, thick, woody vegetation necessitates a machete blade which is full near its middle and tip but narrows as it approaches the handle.
Moreover, upward-curved blades slice and chop efficiently, and avoid becoming stuck in woody materials. On the contrary, downward-curved blades have more chopping power, similar to that of an ax.
So depending on the type of brush, you should choose the right machete design that suits your needs.
Features
The groove spanning down the blade length is a conventional feature incorporated in many machete blades. It not only adds decoration to the blade, but it also helps to lighten and strengthen it, which is especially beneficial to longer and thicker blades.
Other features that allow you to multitask are sometimes included in modern machete designs. For instance, a bill hook, also known as a reverse hook, can be useful for pruning branches precisely. It allows you to reach and grab thorny materials safely.
3. The Handle
Material
A handle with its full tang facilitates your grip and cushions your hand when in use. Wooden handles are comfortable to hold, warm and light, but they must be cleaned and maintained to avoid damage.
Molded plastic is low-cost and low maintenance. However, it can crack over time. Other alternatives are leather and rubber, which are both comfortable and offer a good grip. Nevertheless, leather can be slippery or deteriorate over time, while rubber can tear.
Micarta is considered the highest-quality material for your machete handle. It's made from layers of linen, fiberglass, plastic, canvas, or paper treated with heat. The material is tough, long-lasting, and comfortable, but it's also pricey.
Design
When using the machete, its handle should be comfortable. It must be long and wide enough for you to grip comfortably for a long period without causing hand fatigue.
Features
Long handles are available on two-handed machetes for increased strength when you cut through tough vegetation. A wrist lanyard is incorporated in many machetes to improve your grip on the tool.
A quillon handle refers to a straight handle encircling the tang. It's found on nearly every machete. There are raised areas at the ends of a quillon handle to allow you to grip your machete more securely. However, the quillon handle doesn't come with hand protection or a knuckle.
A D-ring handle has a cover that both protects your knuckles and helps to keep the handle from slipping. D-ring handles aren't for everyone and the extra material makes them more difficult to carry.
The last handle feature is crossguard handles. They provide you with safety by lowering the possibility of them slipping out of your hand and knuckle injuries. They also make your machete slightly larger and heavier and don't fit all hands.
4. Machete Weight
While machetes are generally light tools, their weight depends on sizes and types greatly. With so many variations in designs, it's crucial to understand which features and designs contribute to the blade's overall weight. More metal is equivalent to more weight.
A machete's weight is determined by its blade length, breadth, and thickness. To minimize total weight, you should seek blades that are shorter, narrower, or slimmer.
However, remember that each of these dimensions will affect your machete's overall performance.
5. The Sheath
When you don't use your machete, the sheath will protect both its blade and you. It's also a convenient way to secure the machete to your belt or avoid damage to other objects in your tool bag.
Materials used to make machete sheaths can be leather, molded plastic, and heavyweight textiles such as nylon.
Leather is durable, but it is susceptible to dampness and requires extra cleaning as well as conditioning. Whereas molded plastic is tough but not lightweight. Heavy-duty fabrics are resistant to the elements, however, they are more vulnerable to sharp blades.
Safety tips when using a machete
Swinging a machete through dense foliage carries inherent risks, so you should use this tool as cautiously as possible. Begin by taking in your surroundings. Springy branches, overhanging objects, people nearby who could be hit by your machete, or falling vegetation, are all threats to yourself and others.
To guarantee your safety, you should put on protective clothing including gloves, boots, and eye protection. By applying precise cutting techniques and avoiding impacts with rock and metal, you can extend the blade's sharpness.
Ensure that bystanders be kept well away from your cutting area.
To enhance cutting efficiency and prevent user fatigue, keep the blade sharp.
Maintain your focus on the task at hand. Swinging across your body or to the side is not a good idea.
FAQs about Machetes
1. How to sharpen a machete?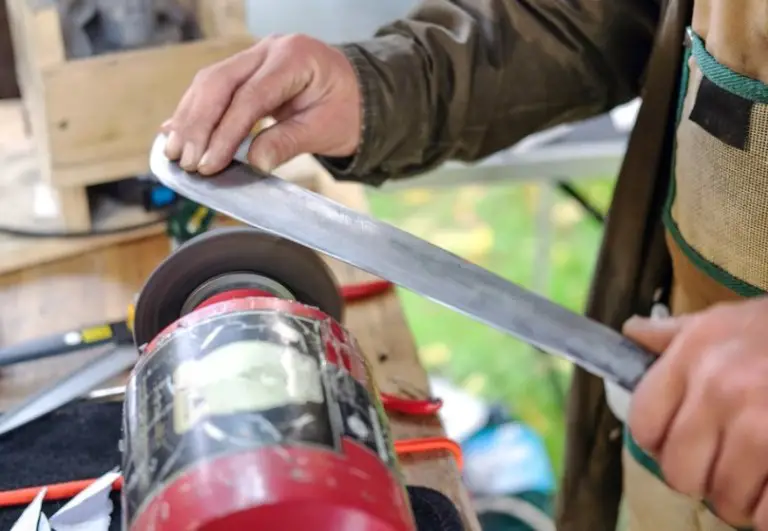 Depending on your type of work, you can sharpen your machete blade to 25 degrees (general use), 20 degrees (finer work), or 35 degrees (coarse chopping).
You can follow these simple steps to sharpen your machete:
Step 1: Move your machete over your sharpening tool (file, grinder, whetstone, or Dremel) in the same way.
Step 2: Change sides and repeat step 1 for the less dominant blade side.
Step 3: Hone the edge
Step 4: Polishing the edge
Step 5: Test your machete
2. How to swing a machete?
There are some tips for you to swing a machete more effectively, including:
To boost momentum, begin swinging the machete from a higher position and direct your entire arm downward.
Swinging your shoulder down is also a good idea.
Allowing your elbow to direct your swing is crucial.
Try to twist your wrist a little when it comes in touch with the material you're cutting. An upward flick is required for grass and green growth, whereas a downward flick is required for woody vegetation.
For demonstration, watch this video.
3. Is it illegal to walk around with a machete?
This tool is classed as agricultural implements, and they are permitted to be used in that capacity.
My Top Pick
Condor Tool & Knife is my most trustworthy brand for machetes. This is also the reason why I mentioned the first three items from Condor, with Condor Duku being the cream of the crop.
Founded in Solingen, Germany, Condor is well-known for producing the best machete for clearing brush and outdoor activities. Although its products are fairly expensive, they can deliver an excessive cutting performance in years to come.
If you love bolo machete, you can also find your favorite in Condor. But for clearing brush, the first three Condor items on this list are the best ones on the market right now.