Removing snow buildups in winter can be a huge issue for farmers. While schools, offices, and construction sites can have a day off, farmers must keep their farm chores going even on hard snowy days. By choosing the best snow shovel, you, hard-working farmers, can clear snow piles on your sideways, driveways, or patios.
Let's take a look at the 7 following top-rated snow shovels to get an idea of which snow shovel is suitable for your farm.
*This post may have affiliate links, which means I may receive commissions if you choose to purchase through links I provide (at no extra cost to you). As an Amazon Associate I earn from qualifying purchases. Please read my disclaimer for additional details.
Top 7 Best Snow Shovel 2022
In-deph 7 Top Rated Snow Shovel Reviews
1. Snow Joe SJ-SHLV01-RED – Ergonomic Snow Shovel with Spring Assisted Handle
Check Latest Price
Whether you are digging out a snowstorm or clear a few inches of snow on your driveway, Snow Joe SJ-SHLV01 is a reliable choice for you.
This snow shovel has an innovative design that makes snow removal more comfortable. It features a second handle that allows you to lift more and throw farther while reducing back strain in harsh weather conditions. Moreover, it's very lightweight with a weight of 3.6 pounds.
The blade of this 18-inch snow shovel is made from sturdy, impact-resistant aluminum. And its ergonomic design helps improve your posture by reducing how much you need to bend. Thanks to its two-handle design, you can lift and toss heavy loads of snow with your lower hand with ease.
There are two drawbacks to this snow shovel. First, its main handle can't be adjusted. Taller users still need to bend their back to use it while holding both the two D-handles. Second, some users reported that this shovel could only pry fresh falling snow, not frozen or heavy snow loads.
Pros
Cons

Second grip for easy snow lifting and tossing
Lightweight
Wide, impact-resistant blade

The main handle isn't adjustable
Not applicable with frozen/hard snow
2. Suncast Sc3250 – Best Commercial Snow Shovel
Check Latest Price
To protect your lower back while shoveling snow, you should toss the snow in front of you horizontally. This metal snow shovel from Suncast allows you to do it perfectly, thanks to its user-friendly design. If you are about 5'8" high like me, I bet you'll like it!
The Suncast SC3250 is also called a snow shovel/pusher combo due to its angled channels. The angled rib pattern (which appeared in many snow pushers) allows you to remove snow efficiently while avoiding sticking.
Besides, its curved 40-inch steel grip allows you to push the snow in front of you without bending your back, thus reducing strains on your back and legs. The D-shaped handle will enable you to make repetitive movements easily, even if you wear protective gloves.
The sharp steel blade edges of this Suncast shovel can clear ice and snow to the asphalt in only 1 to 2 scrapes.
However, due to its 18-inch blade width, you can't remove a massive amount of snow with this shovel. This sharp blade can also scratch decking and other wooden or stone surfaces.
Pros
Cons

40-inch curved steel grip for extra comfort and safety
Sharp blade edges for quick snow removal

Can't clear a massive amount of snow
Hard to clear the snow behind you
The sharp metal blade can scratch decking, wooden or stone surfaces
Check Latest Price
If you are looking for a shovel to remove snow on wood decks, stairs, or wooden surfaces, this True Temper snow shovel is your best candidate.
This snow shovel features a plastic blade so it won't scratch wooden surfaces. The blade has a nylon wear strip for extended durability.
In addition, its oversized 18-inch steel shaft helps you hold the shovel tightly even when wearing gloves. Since it has a curved shape, you can lift large scoops of snow forward without leaning over too much compared to a straight one.
However, this plastic shovel is only capable of lifting and tossing light to medium snow. If you need a shovel to remove thick snow or ice buildups, you should pick up a shovel with a metal blade for more efficiency.
Pros
Cons

Polypropylene blade to avoid scratches on wooden surfaces
Curved, oversized handle for easy gripping
Made in the USA

The plastic blade is not as strong as the metal blade
Check Latest Price
Apart from traditional snow shovels, pusher shovels like the Snowcaster 30SNC are more robust to move a considerable amount of snow on your sidewalks and driveways. You can use this shovel to reduce a snow buildup of 3 inches or less on continuous snowfall or decks.
This push shovel from Snowcaster is designed by snow and ice management professionals in the USA to save your time and energy. This shovel features two durable wheels for 50% more efficiency in snow removal than those with no wheels.
The bi-directional, angled 30-inch blade is made from construction-grade material that can handle many piles of snow with ease. There are no lifting efforts, no back or leg pain issues, and no heart attack risks.
Like other snow shovels of the Snowcaster family, the 30SNC shovel is built to last and can serve your snow-removing demands for years.
If any part of this shovel is out of use, you can buy replacements from Snowcaster instead of repurchasing the whole shovel. You can assemble its components in under 10 minutes with no professional help.
Pros
Cons

Can be used for residential or Have wheels for 50% extra efficiency
Bi-directional, angled blade for extra strength
Blade and bracket can be replaceable
Quick assembly

Can't remove snow on stairs
Quite expensive
Check Latest Price
Removing snow from your farm or garden all winter long is a tiring job that leaves your legs and back sore. So if your living area often experiences hard snowfall, an electric snow shovel like Joe 323E should be your winter companion. This compact machine is ideal for quick snow removal on steps, decks, patios, and sidewalks.
It costs less than a bulky snowblower but is more efficient than a manual shovel. It boasts a 10-amp electric motor that can throw snow up to 20 feet and throw up to 400 pounds of snow per minute.
Compared with a manual shovel, this beast can clear an area of 13 inches wide and 6 inches deep in every pass. If your farm has more snow than that, you can make a second pass to remove it altogether.
Not only performative, but this electric snow shovel is also lightweight and has an ergonomic design for your safety. It weighs only 13.8 pounds and has dimensions of 14 x 58.7 x 14.6 inches, which is easy to control and store after use in your garage.
Moreover, this Snow Joe shovel can suit farmers of all heights, thanks to its adjustable handle. You can put it into work immediately by pushing the Instant Start button or lock the safety switch to avoid accidental starting.
Pros
Cons

Can throw up to 400 pounds of snow per minute, throw snow up to 20 feet in distance
Lightweight and compact
Adjustable handle
Instant Start button

Not durable
Need more effort to handle wet, slushy snow buildups of 25 feet
Can only throw snow forward
Check Latest Price
This cordless Snow Joe shovel can throw snow up to 20 feet like the above Snow Joe 323E, but it is more convenient since it uses a rechargeable 24-Volt lithium-ion battery with a capacity of 5.0Ah.
Hence, you don't need to rely on an electric cord or cord extension to achieve your job. You can also keep the job going even when the electricity is out of your area, provided that you always maintain enough power in the battery.
Why do I call this Snow Joe item the best snow shovel for seniors? It's because you don't have to hurt your lower back, especially when lifting and throwing large piles of snow.
This machine is easy to control with a weight of only 11.7 pounds. Besides, it features an adjustable handle, allowing senior farmers to move up to 1,620 pounds of snow per charge.
According to the manufacturer, this cordless snow shovel can run for 22 minutes per charge. However, it takes up to 197 minutes to fully charge a 5.0Ah battery using its charger. If you hate waiting, you can buy a second battery to use while the first one is charging.
This battery-powered snow shovel is less powerful but much quieter than a single-stage gas snowblower. Besides, it has a relatively narrow clearing path of 11 inches, so it might run out of energy before clearing all snow on your property. It also doesn't have enough power for clearing heavy, firmly pack snow or ice.
Pros
Cons

Quiet runtime
Battery-powered, no cord or cord extension required
Safe to use for old farmers

Relatively expensive
Narrow clearing path (11 inches)
Not powerful enough for removing hard snow or ice
Check Latest Price
After a day at work, you notice that your vehicle has been covered in several inches of snow. A compact snow shovel from SubZero will help you remove snow quickly. This handy snow removal tool is lightweight and small, and it should appear in every vehicle on winter days for such emergency cases.
This compact snow shovel features an extendable handle that can extend to 37 inches with a button-lock slider. This handle also has cushion foam so you can grip it with maximum comfort.
Since the 9.5-inch blade of this telescoping snow shovel is made from plastic with no sharp edges, you can use it to remove snow on all your vehicles like your tractor or car without worrying about scratches.
Also, don't worry that snow will stick on the blade since it has graphite construction.
Pros
Cons

Best for emergency cases
Small and lightweight, can be stored in your vehicle
Extendable handle

The telescoping handle can't stay extended when tossing icy snow
What To Consider When Choosing A Snow Shovel?
Types of snow
You should choose a snow shovel that aligns well with your local snow types.
For example, if you live in cold climates with light and dry snow, a snow pusher with a blade size over 24 inches is perfect for pushing snow away.
However, a true shovel is more meaningful to lift and move heavy snow in areas with significant snow build-ups or wet snow. This snow type is more suitable if you often have to carry a deck of snow or other materials that are in a small space.
Material of the blade
Apart from a snow type, the shovel's blade material also determines the snow shovel's lifting power and your work performance. You should consider the local climate and snow type when picking up a blade material.
Plastic blades: The most common ones and are often used to lift light snow or large snow shoveling jobs.
Steel blades: More robust than plastic ones and often remove wet or heavy snow accumulation. You can use these steel blades to chop down hard ice build-ups.
Aluminum blades: Although these blades are lightweight, they are not recommended for challenging tasks or lifting large amounts of wet snow.
Material of the Wear Edge
The wear edge (or the end of a shovel) is where your snow shovel contacts the ground. This edge also helps you chop hard packs of ice easily.
You should choose shovels with a metal wear edge since this material has better hardness and durability than shovels with a plastic wear edge. Steel is the best choice for a wear edge, while aluminum is more malleable and deformed over time.
Types of shovel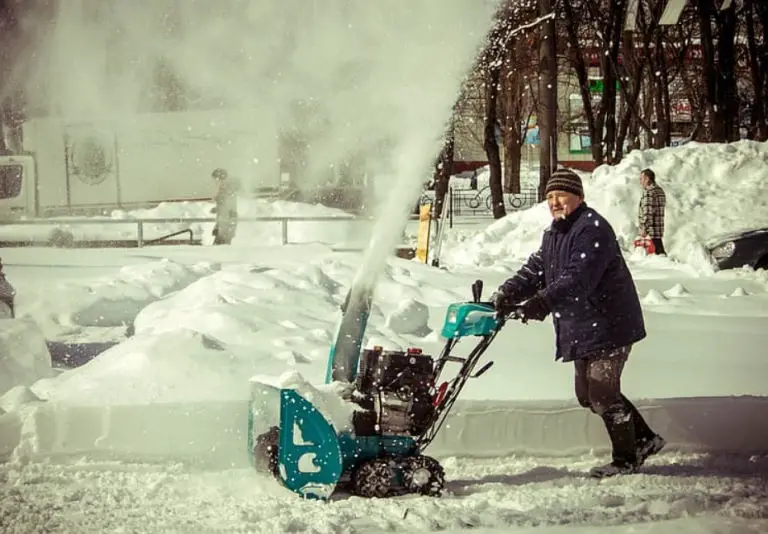 There are 3 shovel types based on your snow clearing methods:
Traditional: This is the most popular shovel type on the market. Boasting a simple design with a wood shaft and a plastic blade, this snow shovel can scoop or toss snow. Some heavy-duty models have blades made of aluminum, steel, or metal alloy. Traditional shovels also come with various shaft lengths, so you can pick up one that best fits your height. Remember that the longer the shaft, the more shoveling power it will be.
Pusher: As its name said, a pusher shovel is used for pushing snow instead of lifting it off the ground. This shovel type is suitable for clearing areas with light snow or large amounts of snow. However, it can't be powerful enough to handle wet or heavy snow accumulation.
Combination: This snow shovel acts both as a traditional and a pusher shovel. It can push, lift, or toss snow of all types and areas.
Shaft design
You can choose between 2 shaft designs – the straight shaft or the curved shaft.
Straight shaft: This shaft offers you the best hand position for chopping, lifting, or tossing hard snow.
Curved shaft: A curved-shafted shovel is ideal for pushing instead of lifting snow. This shaft shape lessens your back pain when pushing snow forward.
Handle design
You should always hold the shovel in an upright posture to minimize back strain. Place one hand as close to the blade and another hand on the handle grip. Use your biceps, shoulders, and legs instead of your back to clear snow.
Besides, you should go for a snow shovel with an ergonomic handle to make snow clearance less hassle and increase your lifting/pushing power. There are many types of handle assistance, like a foam-cushioned handle or a wide D-shaped grip.
The drawback of these ergonomic handles is that they are hard to store, but they are worth your investment to avoid injuries or accidents when doing this hyper-physical activity.
Construction details
The construction of a snow shovel directly affects how powerful and confident you can remove snow and the snow's lifetime usage.
Thus, you should purchase a shovel with its parts closely connected. This shovel should have thick-wall tubing and strong hardware to handle tons of snow after a snowstorm.
Since it is hard for first-time users to indicate a sturdy construction, you can consider two factors – the types of snowstorms and the terrain of your local area:
Types of snowstorms: Is snow in your area fluffy, light snow, or heavy and wet?
Terrain: A plow shovel can hardly work on narrow pavements with gravel and bricks.
Wheels
If you often have to deal with extra heavy snow or large amounts of snow at a time, you should consider getting a snow pusher with wheels.
This powerful tool uses your elbow grease instead of gasoline or electricity for operation, so you can use it anytime with no maintenance or care required. It can move without straining your lower back. The blade of this tool is made of iron for extra strength, stability, and weight capacity.
FAQs (Frequently Asked Questions)
1. Is metal or plastic snow shovel better?
A plastic snow shovel is more common than a metal one and can remove snow in residential areas. If you have to deal with wet or heavy snow or chopping a hardpack of snow and ice on your worksite, you can consider getting a metal shovel.
2. Are ergonomic snow shovels better?
Ergonomic snow shovels can effectively remove snow without hurting your back and your body. Thus, you should always choose a shovel with an ergonomic handle. A small drawback of this handle type is that it takes more space for storage than a non-ergonomic one.
3. When should you not shovel snow?
Older people from 55 years old or more can easily suffer from a heart attack while shoveling snow. Thus, you should not shovel snow yourself if you are in this age range and have heart-related issues.
4. Can you use garden shovels for snow?
You can utilize a garden shovel for clearing light or fluffy snow. However, you should get a shovel specially designed for snow clearing to get the best result.
5. How often should you shovel snow?
You should shovel snow when the snow falls to reach a few inches. If there is a snowstorm outside, wait until the storm ends or shovel between snowfalls to reduce the risks of hard snow accumulation.
My Top Pick 
Each of these 7 above snow shovels serves a specific purpose, even though they all need a little physical labor. Hence, you can pick up an item depends on the snow depth and the area that you want to clear snow.
Snow Joe SJ-SHLV01 is the best snow shovel for my farm. This handy tool is lightweight and has a clever design to help me remove snow in a short time with fewer leg or back pains.