Electric snow shovels aren't as powerful as snow throwers, but they are more affordable, easier to use to clear thick snow build-ups on driveways and sidewalks. Besides, they won't cause hand and back pains like shoveling by hand.
However, choosing the best electric snow shovel might be challenging for you as there are so many shovel models on the market.
To ensure your selected electric snow shovel doesn't disappoint you, I have collected the 5 best-rated items with in-depth reviews of each to save you the trouble of spending money to test each one.
*This post may have affiliate links, which means I may receive commissions if you choose to purchase through links I provide (at no extra cost to you). As an Amazon Associate I earn from qualifying purchases. Please read my disclaimer for additional details.
Top 5 Best Electric Snow Shovels 2022
In-depth 5 Top Rated Electric Snow Shovel Reviews
Weight: 16 pounds
Clearing width: 16 inches
Clearing depth: 8 inches
Throwing capacity: up to 430 pounds per minute
Throwing distance: 30 feet
Check Latest Price
Earthwise SN70016 is an easy option when it comes to picking up a reliable electric snow shovel for your residential use.
This cord snow shovel boasts a large clearing path of 16 inches wide and 8 inches deep so that you can clean a large place with less time than a conventional 12-inch one.
Additionally, its powerful 12-amp motor with dual-curved auger blade allows it to move up to 430 pounds of snow per minute and throw snow approximately 30 feet far away from your current place. With that much power, this machine can perform as effectively as an expensive gas-powered snow thrower.
You might think this shovel to be heavy, but it weighs only 16 pounds and has dimensions of 41x16x38 inches. Thus, you can store or transport it with little effort.
Controlling the machine around your property becomes easy without bending your back, thanks to the 6-inch rear wheels along with an adjustable handle.
Pros
Cons

16-inch clearing width
Powerful 12amp electric motor
Come with wheels for easy control
Lightweight and compact
Specs:
Weight: 14 pounds
Clearing width: 12 inches
Throwing capacity: up to 300 pounds per minute
Throwing distance: 20 feet
Check Latest Price
Although this Greenworks snow shovel is less powerful than the above Earthwise item (8-amp motor), it can still up clean a maximum of 300 pounds of snow per minute.
With over 10 years in manufacturing outdoor, lawn, and garden tools, Greenworks Tools understands that snow removal is a repetitive, tiring job. Therefore, it offers an ergonomic design to this 12-inch shovel to make your winter chores more comfortable.
This snow shovel has an auxiliary handle that can be adjusted to fit the height of all people. So, everyone in your family can help you with the snow removing job with no difficulty.
This Greenworks shovel has a popular discharge distance of up to 20 feet,  suitable for almost all home and garden areas. However, you can't utilize this device for larger areas.
Pros
Cons

The auxiliary handle fits with people of all heights
Impressive 4-year warranty
Reasonable price

Underpowered 8-amp motor
Only throw snow up to 20 feet
Weight: 13.8 pounds
Clearing width: 13 inches
Clearing depth: 6 inches
Throwing capacity: up to 400 pounds per minute
Throwing distance: 20 feet
Check Latest Price
A few minutes of manual snow shoveling each week can be a great cardiovascular exercise, but too much of it every day can be tiring or dangerous, even for gym rats. Whether you are a homeowner, a landlord, or a small business owner, you should get a high-quality snow removal device like Snow Joe 323E before the winter comes.
This compact snow shovel is the best value item among the remaining ones in this review article. It is able to keep your decks, steps, and walkways free of snow during winter days.
First, it offers a powerful 10-amp motor that can clean up to 400 pounds of snow per minute.
Second, its two-blade auger allows it to clean a path of 13 inches wide and 6 inches deep in each pass, which is ideal for small areas like doorsteps. The plastic auger is durable, and it has an impressive throwing distance of 15-20 feet.
Unlike manual shovels, this electric shovel doesn't make your back hurt the next morning. You can adjust the handle to make it fit with your height while minimizing your back strains. Besides, there is a safety switch to avoid accidental starting, especially when you leave the device in areas with kids.
Sometimes you want to remove thick snow build-ups on dark winter mornings to get to your garage. In this case, you might want to explore another model of Snow Joe with a headlight – Snow Joe 324E.
Pros
Cons

Great for maintaining sidewalk safety in winter
Two-blade paddle auger
Safety switch to avoid accidental starting
Include a 50-feet extension cord

Only 6-inch clearing depth
No headlight for working under low-light conditions
Weight: 12.72 pounds
Clearing width: 10 inches
Clearing depth: 6 inches
Throwing capacity: up to 300 pounds per minute
Throwing distance: 20 feet
Check Latest Price
Snow Joe 320E is another budget-friendly option for maintaining safety on your winter sidewalks. This shovel has some similarities to the Snow Joe 323E, including a sturdy dual-blade auger, adjustable handle, using electricity for operation.
So what differentiates this shovel from its 'brother'?
First, it's less robust than the 323E. It has an 8.5-amp motor that can remove up to 300 pounds of snow per minute.
Second, it can only cut an area of 10 inches x 6 inches in each pass. So, if you are looking for a small device to keep your property snow-free in winter, or you only need a device that can fit in small areas, the Snow Joe 320E is the perfect choice for you.
This snow shovel weighs only 12.72 pounds and has compact dimensions of 52 x 12.6 x 10.6 inches. When not in use, you can easily store it inside a hall closet or hang it on the wall to save your storage space.
Pros
Cons

Lightweight and compact for small storage space
Budget-friendly

Has some limitations in its coverage area and performance
5. Earthwise 20V – Best Cordless Electric Snow Thrower
Specs:
Weight: 11 pounds
Clearing width: 12 inches
Clearing depth: 3.5  inches
Throwing capacity: up to 300 pounds per minute
Throwing distance: 25 feet
Check Latest Price
It's time to say goodbye to tangled cords, electricity cord extensions, or depending on an electrical outlet because you have this cordless Earthwise snow thrower. This powerful device is the best companion for those who have to dig more than one deck or stairway daily.
Since this 20-Volt Earthwise device is a snow thrower, it's more efficient and ergonomic than all snow shovels on this list.
It boasts a 20-Volt brushless motor and a 4Ah rechargeable battery, giving you an outstanding runtime and performance like any conventional gas-powered snow thrower. It can clear a snow path of 12 inches width and 3.5 inches depth, and throw snow to a maximum distance of 25 feet.
Using this cordless electric snow removal for your home and garden is safe for your health and our Earth. You don't have to worry about the risks of inhaling harmful fumes from gas-powered devices. Our Earth also thank you for cutting carbon emissions out of the environment.
However, it's relatively expensive due to its high performance. If you experience only light snowfall, you should consider a more affordable item from on this list.
Read more: Top 5 Best Electric Snow Blower
Pros
Cons

Cordless, easy to manage
More heavy-duty than all snow shovels
Environment-friendly
4Ah rechargeable battery and charger included
Buying Guide: How To Choose The Best Electric Snow Shovel?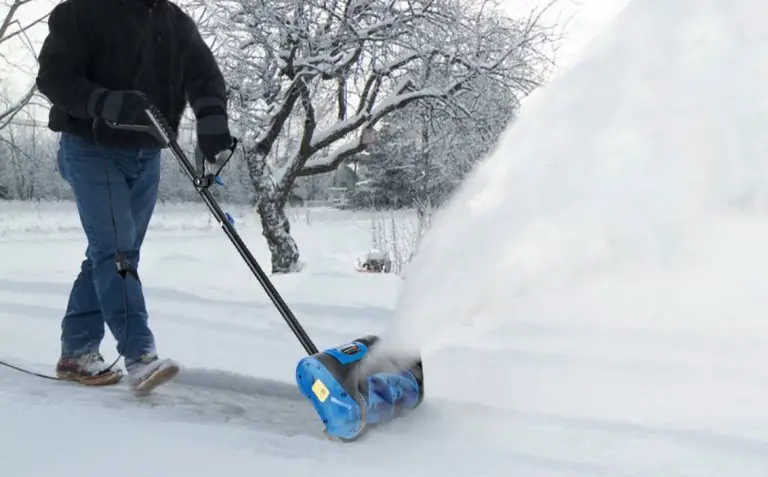 Corded or cordless
Power option is the first criterion you should consider when purchasing an electric snow shovel. Is a corded or a cordless shovel suitable for your demands?
They are lighter and more powerful than cordless ones because they are always connected with a constant power supply. Also, they don't require waiting time for a battery charge, which can take up to a few hours.
However, you can't use these devices in places without electricity or a power generator. Your coverage area is also limited by the length of the cord (which is from 50-100 feet).
They offer you more freedom in operation with no electricity cord or cord extension limitation.
However, they can only run from 20 to 50 minutes on a single charge since they rely on a rechargeable Lithium-ion battery. They are often heavier than corded ones due to the portable power pack. They also lose their power when coping with heavy snow and ice build-ups.
Thus, if you have a lot of snow to clear, you should go for corded ones with better power.
Clearing area
The clearing area of an electric snow shovel depends on the intake chute's height and weight.
The height indicates the maximum depth of snow that the chute can remove in a single pass. A shovel can often handle a snow depth of 4-8 inches.
The width refers to the width of the snow clearing path, and it is often 10-16 inches wide.
Battery capacity
The battery capacity of a cordless electric snow shovel (or a battery-powered snow shovel) shows how long it can work until it needs charging. Generally, a cordless shovel can work from 20 to 50 minutes. Additionally, a 40V battery can run 2 times longer than a 24V one.
The battery life of a shovel also depends on its chute size. For instance, if more snow is to be cleared, the shovel will have to use more power, thus shortening the battery life.
You can extend the runtime of your snow shovel by purchasing a secondary battery. But remember that a rechargeable battery can lose its power over time. If your current battery needs charging more regularly than before, you should replace it with a new one.
Usability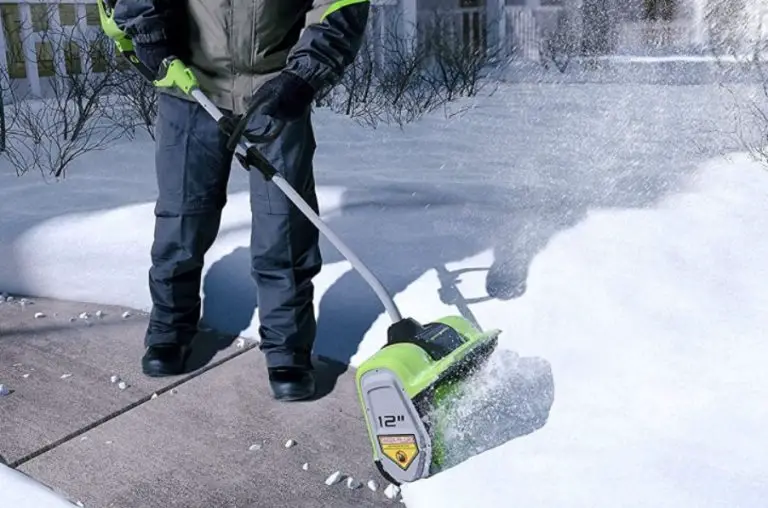 Since snow removal is a strenuous job, you should choose a shovel that is easy to operate. You can consider its usability based on the following specifications and features.
Blades: The horizontal auger of a snow shovel often features from 1 to 2 blades. Either a single or a double-blade snow shovel can get the job done, but the latter can do it quicker.
Built-in scrapers: These scrapers slide under the snow to lift it or quick discharge out of the chute.
Adjustable handles: A snow shovel with an adjustable handle allows you to adjust its height appropriately so that you don't have to strain or bend your lower back while working. Some premium items also have a secondary handle to push the shovel through snow easier.
Weight: A snow shovel weighs around 10-16 pounds. Unlike a snow blower, a snow shovel is not self-propelled. It means that you have to push the shovel to remove snow on the ground. Thus, you should choose a lightweight item to push effortlessly but still heavy enough to push into the snow instead of sliding over it.
Cord length: No snow shovel has an electric cord of longer than 6 feet. Therefore, you should purchase a 12- or 14-gauge cord extension (sold separately, not included in the snow shovel product package).
Headlight: If you often have to remove snow in low-light conditions (late afternoons or early mornings), you should choose an item with a LED headlight.
How Does An Electric Snow Shovel Work?
First, make sure that your electric snow shovel is connected to a power source (a power supply – for corded one, or a rechargeable battery – for cordless one).
Next, put the snow shovel on the snow, and press the start/power button to let the device start working. The electric motor rotates the horizontal auger to collect the snow, or crush it, then discharge it out of the chute.
How To Use An Electric Snow Shovel?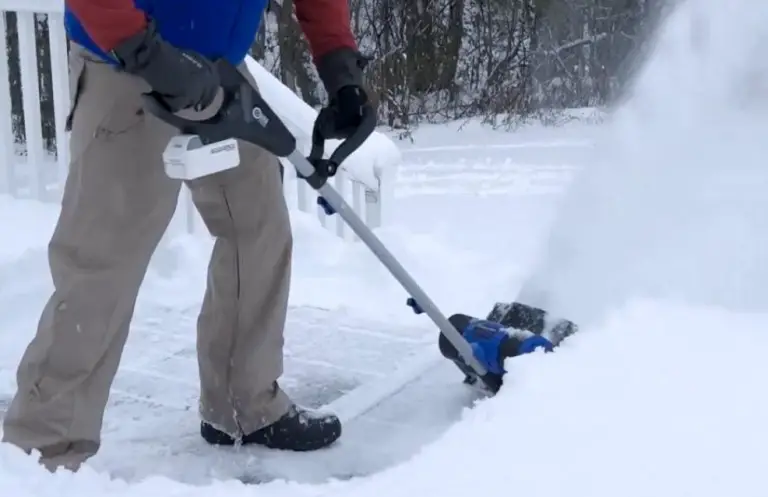 When an electric snow shovel is working, its horizontal auger with 1 to 2 blades scoops and throws snow about 25 feet away from the current area. A snow shovel can remove up to 300 pounds of snow per minute.
While an electric snow shovel requires less labor than a traditional one, it still needs some manual effort to push snow as it is not as self-propelled as a snowblower.
This snow shovel is suitable for light snow areas where the snow is only 1 foot deep or less. Yet, if you live in an area with heavy snow, you should choose a snowblower, even a track snowblower if the area is too big, or a traditional shovel.
FAQs (Frequently Asked Questions)
1. Are electric snow shovels worth it?
Electric snow shovels are best suitable for an area with a snow depth from a few to 6 inches. They also require a wide, open space to discharge snow. They are often used for removing snow on small driveways, walkways, decks, and patios.
2. Is a snow pusher better than a snow shovel?
Each of these snow removal tools is suitable for a specific condition.
A snow pusher has a long, narrow curved blade, making it an ideal snow removal tool for large driveways.
On the other hand, a snow shovel has a flat rectangular blade, allowing it to work best on small driveways, walkways, decks, and patios where the snow pusher can't maneuver well.
3. Are curved snow shovels better?
Snow shovels with a curved handle are a better choice than straight-handled ones because they reduce the back bending effort and mechanical loads on your lower back by 16%.
4. Is metal or plastic snow shovel better?
A sturdy metal shovel (like steel or aluminum) can effectively clear ice and hard-packed snow. However, a light or medium plastic shovel can gently remove snow on decking or wooden/stone surfaces without scratching or damaging these surfaces.
5. How tall should a snow shovel be?
The height of a snow shovel depends on its style, height, and preferences. But on an average-height person, it should be about shoulder height.
6. How big should a snow shovel be?
You should choose the blade size based on your clearing style. For example, a snow shovel with a narrow blade of 18 inches scoops and throws snow out of the path, while one with a broader blade of 24 to 30 inches can push snow quickly but it is hard to lift the snow off the ground when it is fully loaded.
My Top Pick
While snow removal seems a daily chore, it can bring many health risks, or make your back and hand sore. Therefore, you need to pick up a sturdy specialized device like a snow shovel to help you handle that strenuous chore.
However, this job isn't advisable for seniors. If you are over 55 years old, you should avoid shoveling snow by yourself since it can result in a heart attack.
What is the best electric snow shovel among these 5 ones? Earthwise SN70016 is my all-time favorite and also my first recommendation for you. This device has a wide clearing width of 16 inches, and it has enough power to tackle all regular snow-removing jobs.