Cordless snow blowers are more efficient than electric shovels yet require less maintenance than gas-powered or electric-powered ones. They can help you get the job done with no muscle pains or hazardous health problems.
The best cordless snow blower helps you clean your driveways and sidewalks without bending your back or getting stuck with tangled electric cords or cold morning starts.
Let's check out the 5 best-rated cordless snow blowers that small homeowners are using to keep their properties snow-free.
*This post may have affiliate links, which means I may receive commissions if you choose to purchase through links I provide (at no extra cost to you). As an Amazon Associate I earn from qualifying purchases. Please read my disclaimer for additional details.
Top 5 Best Cordless Snow Blowers 2022
In-depth 5 Top Rated Cordless Snowblowers Reviews
Specs:
Weight: 25 pounds
Throwing distance: Up to 35 feet
Voltage: 56V
Clearing width: 21 inches
Check Latest Price
If you want the full power of a gas engine inside an electric cordless snow blower, EGO Power+ SNT2102 is an overkill for you.
As advertised by the manufacturer, it is the best battery-powered snow blower that can compete with gas-powered engines. It can clear heavy and wet snow just like other electric snow cleaning engines. So, what contributes to this awesomeness?
First, this snow blower runs on a powerful brushless 56-Volt motor, allowing it to clear an impressive area of 21 inches wide and 8 inches deep.
Besides, it also comes with two ARC Lithium batteries, which appear on all EGO Power+ products. The exclusive ARC Lithium from EGO is the most advanced battery technology in the farm equipment industry. It provides superior snow cleaning power while keeping your device cool thanks to the patented Keep Cool Cell technology.
Therefore, you can use the battery for an extended period while maintaining high performance on hard work. In this case, you can throw snow up to 35 feet away from your current area.
Nothing can stop you from clearing snow, whether in early mornings, on hard snowfalls, in foggy snowstorms, or any harsh weather conditions. The two bright LED headlights help you see the clearing path easier without wasting too much energy. When not in use, you can fold the handle to store this machine in a small corner of your home garage.
Pros
Cons

High-efficiency brushless motor
Two 5.0Ah ARC Lithium batteries
Maximum snow throwing distance of 35 feet
Foldable handle

Need to keep the engine at maximum potent to clear a snow path as advertised
Weight: 33 pounds
Voltage: 80V
Throwing distance: 20 feet
Clearing width: 20 inches
Check Latest Price
This 80V Greenworks Snow Thrower is a quiet machine that packs a lot of power. Packed with a powerful brushless motor and one 80V 2.0 Li-ion battery, it can run up to 45 minutes.
Since it is battery-powered, it is always ready to work whenever you need it with low maintenance effort. You also don't have to worry about cold starting problems like one that runs on gasoline.
How about its operating performance? This snow thrower can clear an area of 1 acre, with 20 inches width and 10 inches depth. You can throw snow discharge in any exact direction with a maximum distance of 20 feet, thanks to the 180-degree rotating chute.
Thanks to its battery Quick-Charge technology, you only have to wait for 30 minutes to resume your work. There is an onboard battery life indicator on the machine to let you know when it is about to run out of energy.
Since this Greenworks snow blower is a single-stage model, it only removes fresh snow out of small driveways of residential areas. You can hardly use it for extreme snow-clearing places or on gravel driveways.
Its auger blades' position is two low and will throw rocks instead of digging into the ground, resulting in damage to the machine or causing harm to nearby people and property.
Pros
Cons

Quiet operation
Can run up to 45 minutes
Dual LED lights
180-degree rotating chute

Can't use it for gravel driveways
Weight: 40 pounds
Voltage: 48V
Throwing distance: 20 feet
Clearing width: 18 inches
Check Latest Price
Are you looking for a snow blower for your property but don't want to break your bank account? Snow Joe X2-SB18 should be on the #1 position on your shortlist.
Snow Joe cordless snow blower boasts a 1200W brushless motor and two 4.0Ah batteries that can run continuously for 40 minutes, which is sufficient for daily snow clearing. It can clear up to 14 tons of snow per charge (approximately 700 pounds per minute). Besides, you can rotate the chute crank up to 180 degrees to throw snow up to 20 feet away in any direction.
Apart from battery capacity, build quality is another vital criterion for purchasing a battery-powered snow blower. Snow Joe X2-SB18 offers a sturdy 4-blade steel auger to clear an area of 18 inches wide and 10 inches deep in a single pass.
The auger is covered with rubber tips to protect the surface from scrapes. Snow Joe also sells these replacement rubber pads, so you can get them before the next winter.
This snow blower is not only efficient but also designed with the user's comfort and safety in mind.
First, there is a safety switch to avoid accidental starting. You can store the machine in the garage without worrying about curious kids.
Second, the 2W LED headlight lights up the clearing path for safer nighttime snow clearance.
Pros
Cons

Affordable
4-blade steel auger with rubber tips (rubber tip replacement is available)
2W LED headlight
Safety switch

The battery runs out quickly and requires a long time for charging
Specs:
Weight:  88 pounds
Voltage: 56V
Throwing distance: 40 feet
Clearing width: 21 inches
Check Latest Price
A major problem of heavy-duty gas-powered engines like snow blowers is that they have negative impacts on the environment. When gasoline is burned, it emits toxic substances like nitrogen oxides, carbon monoxide, and particulate matter, contributing to global air pollution.
This second pick-up from EGO Power+ runs on rechargeable batteries, so it is an environment-friendly solution to keep your home free of snow with no worries about climate changes.
Unlike cheap conventional blowers, the SNT2114 inherits the leading Peak Power technology of EGO Power+ to combine the power of any two EGO batteries for longer runtime.
It means that if you have any other machine that runs on 56V 6.7Ah ARC Lithium batteries, you can utilize its battery for extended clearing power. With that power in hand, you can clear wet or heavy snow with no back pain the following day, like using a shovel.
This cordless snow blower comes with a rapid charger. Besides, it can throw snow up to 40 feet away and clear an area of 21 x 8 inches in every pass.
Pros
Cons

Environment-friendly
Peak Power technology
Rapid charger included
Specs:
Weight:  150 pounds
Voltage: 56V
Throwing distance: 50 feet
Clearing width: 24 inches
Check Latest Price
The final item on this top list is also the third choice from EGO Power+. The SNT2400 has the same battery voltage as the first SNT2102. So what differentiates it from the first single-stage item?
First, it is a two-stage snow blower, meaning that it has an impeller fan to make it more effective at removing a remarkable amount of snow. The steel auger can cut heavy snow and ice 50% faster than a single-stage mode like SNT2102. Interestingly, this beast can throw snow farther at a maximum distance of 50 feet.
Second, this snow blower uses the EGO's Peak Power technology to combine the power of 2 EGO 56V ARC Lithium batteries. With this integrated energy, this machine can confidently scoop wet or heavy snow buildup after a long night around your home.
You can also adjust the auger speed to completely clear a specific area even at nighttime with the help of four bright LED headlights.
Pros
Cons

Two-stage snow blower for gravel driveways
Maximum snow throwing distance of 50 feet
Variable auger speeds
Four bright LED headlights
Buying Guide: What Should You Look For In A Cordless Snow Blower?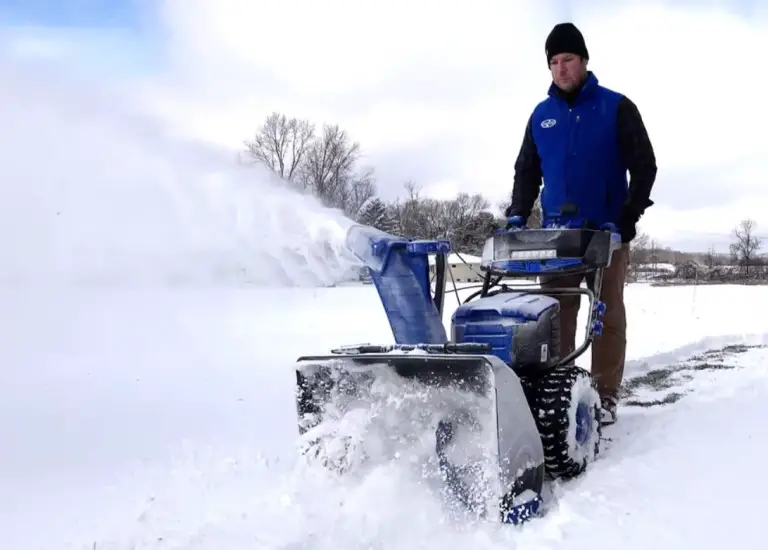 Single-stage or two-stage
The number of stages is the first factor you should consider when choosing the best cordless snow blower. There are three main stage types – single-stage, two-stage, and three-stage. The first two types are mainly used in residential areas, while most of the last ones are gas-powered and often used in industrial settings.
Single-stage snowblowers: These snow blowers are popular in small residential settings. Their front horizontal auger blades can rotate to throw snow up to 15-25 feet away from the current area. However, their auger blades are too low and will pick up rocks. Thus, they can't be used on gravel driveways.
Two-stage snow blowers: They are more powerful than single-stage ones and often be used on large-scale residential or commercial areas. They have solid auger blades and an impeller fan that can scoop and throw heavy snow piles up to 35 feet. In other words, these cordless snow blowers can be used to clear gravel driveways.
Battery capacity & Runtime
Most cordless snow blowers on the market have a battery voltage of 40V, and some heavy-duty models can reach up to 80V of power. When fully charged, an average blower can operate for up to 30-45 minutes.
The runtime of this snow blower also depends on the snow depth or whether the snow is light, medium, or thick. For example, a snowblower can work for 45 minutes in light snow conditions, but in hard snowfall, it can have a shorter runtime of 30 minutes.
The number of batteries also affects the runtime of this device. If it has more than one battery (for instance, a dual-battery blower), it will have more power and longer runtime.
Size & Weight
Since you have to push the battery-powered snow blower forward to keep it running, you also need to consider its size and weight.
An average blower weighs around 20-50 pounds. And while some models have a self-propelling system, you should choose a lightweight one if you plan to use this device on hills or steep terrains.
Sizing is also important. If you don't have much storage space, you should choose a compact blower or one that only takes up a small space in your garage or shed.
Clearing width & Depth
Before making the final decision, you should determine the clearing area that needs to be kept snow-free – whether it is a driveway, sidewalk, or other areas.
Auger size: Snowblowers with small augers can clear 6 inches of snow while can large ones can clear snow of up to 12 inches.
The number of stages: Single-stage blowers can remove snow in areas 11 to 22 inches wide, while two-stage ones have a clearing width of 20-30 inches.
Speed control
To control a bulky device like cordless blowers, the manufacturers often integrate a digital drive system with a variable-speed auger that enables it to be self-propelled.
These self-propelled blowers can quickly clear light snowfalls, but they are not efficient on heavy, packed snow.
Chute control
A chute is a hollow, curved tube that makes the route for throwing snow.
There are two types of chute control.
Manual chutes: You use the manual crank/lever to change the angle and the direction of snow discharge.
Auto-rotating chutes: On these premium blowers, you can push a button to change the snow discharge's angle to throw snow farther. A notable advantage of these blower models is that you can throw snow and keep the machine simultaneously.
Tracked or wheeled
The choice of a cordless snowblower with tracks or wheels depends on the terrain type you will operate your device.
Tracked snow blowers: These blowers (mostly two-stage) suit unpaved, steep surfaces thanks to their excellent traction. Since they are closer to the driving surfaces, they will leave a thinner layer of snow and ice.
Wheeled snow blowers: They are easier and faster to maneuver than tracked ones, with a wheel size of 6-8 inches. Thus, they are often used on paved surfaces like driveways and sidewalks. Smaller wheels are easy to handle on light to medium snow, while bigger wheels can clear deep snow better.
Extra features
Some snow blowers also come with extra features to make snow clearing less hassle. The most common features are heated handles, drift cutters, electric start, auto safety shutoff, LED headlights.
Heated handles: This feature makes outdoor working in freezing temperatures safer. They generate heat to keep your arms warm and make you control the device for efficient snow clearance.
Drift cutters: The metal housing of the cutter scoop and push snow into the auger for disposal. This feature is often used to remove deep snow.
LED headlights: Choose a cordless snow blower with LED headlights if you often have to scoop snow and ice in low-light conditions, like at night, late afternoons, or dim lighting.
Automatic safety shutoff: This safety feature automatically stops the device when you release the handle.
How Does A Cordless Snow Blower Work?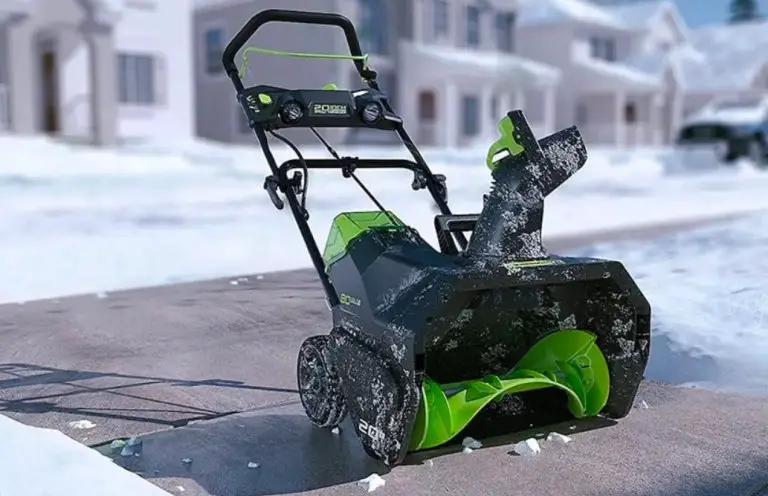 Battery-powered snow blowers are becoming more popular nowadays. This is because they don't require oiling, regular maintenance, or warm-up. They also operate quieter and more flexible than gas-powered models. Thus, they are preferred in areas with a snow thickness of 6 inches or less.
A cordless snow blower uses a lithium-ion battery for its operation. It runs the rotary and air compression system to clear snow without bending your lower back or legs like a manual shovel. However, if the snow is too thick or wet, it might not work properly as a heavy-duty gas-power item.
FAQs about Battery Snow Blowers
1. Are battery-powered snow blowers any good?
Battery-powered snow blowers are the best choice to clear light, fluffy snow of 6 inches or less like sidewalks, decks, single-car driveways, and more.
However, they are not powerful enough to handle wet snow.
2. What is the most reliable snow blower brand?
There are many worldwide well-known snow blower brands, like Craftsman, Husqvarna, Cub Cadet, Troy Bilt, etc. For me, the most reliable brand is EGO Power+.
3. Does Dewalt make a cordless snow blower?
Although Dewalt doesn't make cordless snow blowers, it has some rechargeable batteries that can be used for this power tool.
4. How long do battery snow blowers last?
A fully-charged battery on a snowblower can keep the device running for 30-45 minutes. This battery runtime also depends on the snow's thickness and the snow clearing area. If you have to work on a large site, you should purchase a secondary battery for extended operation.
5. Which is better 2-stage or 3-stage snow blower?
A two-stage snow blower can be used on extensive residential or commercial areas, while a three-stage snow blower better suits industrial environments. You should choose a snow blower type based on the area you want to keep snow-free.
My Top Pick 
Not as powerful as industrial gas-powered engines, cordless snow blowers are compact, lightweight, budget-friendly, and require little to no maintenance and care. This machine can clear snow and ice around your property without cord length limitation or cord extension.
However, if you live in an area with frequent hard snowfalls or wet snow, this electric blower type might not be your ideal choice.
EGO Power+ SNT2102 is my best cordless snow blower that has helped me survive through many winters. While this machine runs on battery, it can perform nearly as powerful as a gas-powered engine. Another reason that I love this item is that it can quickly clear any outdoor area around my house without hurting my back pain and wasting too much time, like using a steel shovel.