Shovels are an indispensable part of your gardening toolkit.
With curved sides and long handles, they are easy to use, allowing you to dig up most anything, especially the garden soil.
The best shovel for digging in clay soil or other complex soil types should be versatile to assist you in daily garden chores.
In this article, we will provide valuable information to help you pick up a shovel that best suits your gardening tasks.
*This post may have affiliate links, which means I may receive commissions if you choose to purchase through links I provide (at no extra cost to you). As an Amazon Associate I earn from qualifying purchases. Please read my disclaimer for additional details.
7 Best Shovels For Digging In Clay Soil
In-depth 7 Best Rated Shovels For Digging In Clay Reviews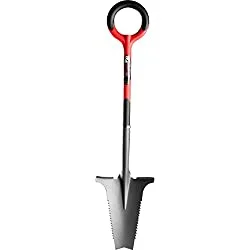 Specs:
Weight: 5 pounds
Material: Carbon steel
Total length: 45 inches
Check Latest Price
The Radius Garden 22011 is the best shovel for clay soil or for digging in hard organic material.
This handy garden tool is carbon steel and has excellent resistance to shock, scratch, and strong force.
Thus, this clay shovel is a reliable choice for both experienced and new gardeners alike.
Unlike conventional shovels, this Radius Garden shovel offers a V-shaped cutting tip.
This V-shaped cutting tip allows you to focus your force on a specific area to penetrate through hard-packed soil or dirt readily.
Besides, its sharp teeth work like a saw to remove dead plant roots or weeds.
The secret to a lush lawn lies in well-prepped soil.
Therefore, you need to dig down at least 6 inches to remove bricks, stones, dead plant roots, or other debris before planting your new plants or flowers.
Thanks to its clever design, you can push the shovel down with its handy wide foot placement spot, making your dig easier and this shovel the best shovel for hard clay soil.
Plus with a long handle of 31 inches made of durable resin-encased carbon steel, you can get the job done with no back, arm, or hand pain the following day.
Pros
Cons

Made of durable carbon steel with powder-coating
V-shaped cutting tip
Wide foot placement spot for maximizing your digging capability
Handle with a height of 31 inches for painless execution

Hard to remove bamboo roots

Specs:
Weight: 5.25 pounds
Material: Carbon steel
Total length: 57.5 inches
Check Latest Price
The Root Slayer XL is the extended version of the above award-winning Root Slayer.
With a longer handle of 44.5 inches, this extended version provides you extra leverage.
This handle is also fiberglass, an excellent alternative to resin-encased carbon steel with extra durability but lighter in weight.
This shovel is a must-have tool for small homeowners and gardening addicts because it can eliminate the need for other tools like saws, prybars, or hatchets.
Plus, its straight handle helps save room for tight areas than shovels with wider handles.
However, lifting heavy materials with this shovel can lead to lower back pains.
Pros
Cons

More extended handle than the Radius Garden 22011
Fiberglass handle for added durability

Not strong enough for heavy-lifting
Expensive
Specs:
Weight: 6.14 pounds
Material: Carbon steel
Total length: 56.75 inches
Check Latest Price
Shovel blades with round-pointed or inverted-V cutting tips like the Radius Garden 23211 Shovel are the most effective tools for digging hard ground.
This shovel has 2 tips instead of one to facilitate better penetration in hard or compacted soils like clay or rocky soil while reducing any applied force needed.
Apart from soil tilling, you can use this multi-functional tool to remove old plant roots, rocks, or dense organic materials.
Its blade is made of 13-gauge mid-carbon steel, allowing it to tackle the most challenging jobs without bending or breaking.
If the head is blunt, you can sharpen it without voiding the manufacturer's lifetime warranty.
Pros
Cons

Inverted V blade for efficient digging in compacted or hard soils
Lifetime guarantee

Might be hard to use for short people
Quite heavy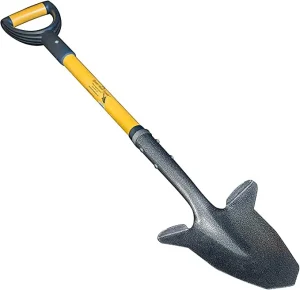 Specs:
Weight: 3.79 pounds
Material: Alloy Steel
Check Latest Price
This clay shovel from Spear Head Spade can act both as a shovel and as a spade.
As stated by the manufacturer, thanks to its user-friendly design, this hybrid shovel/blade item is guaranteed to reduce 80% of your digging effort.
Weighing only 4 pounds, the SHFD3 is among the lightest shovels on the gardening tool market.
First, the blade has a square tip to penetrate deeply or glide smoothly over the most rigid surfaces. It also performs well on loosen and compacted clay.
The spacious bent footrest prevents the shovel from getting tangled with roots while allowing it to hold and lift more soil in every pass.
Second, its handle consists of two top-notch materials in shovel-making – reinforced steel and pultruded fiberglass.
This perfect combination, along with the large padded D-grip, gives you more strength, comfort, and freedom in digging tasks, whether you are using work gloves or not.
This handle meets the EN-3388 spade/shovel standards, making it a safe choice for digging jobs with no risks of injuries to your back, arms, and hands.
Pros
Cons

Large D-grip for more comfort and strength
Lightweight
Square-shaped blade to dig deeply into the most challenging surfaces

The shaft can be broken when using excessive efforts
Quite expensive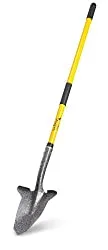 Specs:
Weight: 4 pounds
Material: Carbon Manganese Steel
Total length: 58 inches
Check Latest Price
This best digging shovel is another potential candidate from Spear Head Spade with the same weight, giving you more flexibility in refreshing your soil for new plants or flowers or removing sod by hand.
This shovel received the "Best of the Best" award in garden shovels from 2018 to 2020 by the National Home Gardening Club for its outstanding design and construction.
Its cutting tip consists of carbon manganese steel, which is 33% thicker and 25% harder than ordinary steel shovels.
Thus, you can use it for all landscaping and gardening jobs.
This pointed-tip shovel performs wonderfully on all terrains, including rocky, clay, and compacted soils.
Safety is a criterion when choosing handy tools.
This blade comes pre-sharpened from tip to tail at a 35-degree angle. This sharpness is enough to cut smoothly through tough roots or weeds.
However, it is much duller than a knife, so it will cause no harm to adults, kids, pets, and animals on your property.
Pros
Cons

The blade is made of carbon manganese steel
35-degree sharp blade

Small shovel head; require more time to get your digging/cleaning job done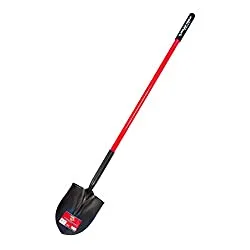 Specs:
Weight: 5.4 pounds
Material: Alloy Steel
Total length: 60 inches
Check Latest Price
This Bully Tools shovel is fabricated from 14-gauge carbon steel with Welded-I-Beam construction, making it sturdier and more durable than other opponents on the market.
This shovel is available at an affordable price tag, easy to reach for small garden owners with a limited budget.
Maintaining a shovel, especially a steel one, is a common problem for all farmers.
Since a shovel is your garden workhorse, you should keep it clean and dry after every use.
It is relatively easy to clean after use and its closed-back head prevents the buildup of stubborn dirt.
Besides, remember to lubricate the blade with motor oil and sand several times to avoid rust and store it in a dry and cool location.
However, this rounded-blade shovel is best for digging new soils. For digging really hard clay, you should choose one with a pointed or inverted V blade.
Pros
Cons

Made in the USA
Made of 14-gauge carbon steel with Welded-I-Beam construction
Easy to clean with a closed-back head

Can't be used to dig hard/compacted clay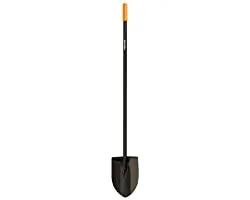 Specs:
Weight: 6 pounds
Material: steel
Total length: 57 inches
Check Latest Price
The Fiskars 9665935J is undoubtedly a well-built handy digging tool. It comes with all-steel construction – a welded 14-gauge hardened steel blade and an 18-gauge steel shaft.
The sizable sharp blade makes it easy to dig through hard soil or remove hardened dirt clods.
If you are new to gardening and you don't want to purchase too many tools, this item from Fiskars is a general-purpose shovel for almost all tasks in your backyard garden.
This Fiskars shovel caught my attention among the many different gardening tools on the market because it comes with a lifetime warranty.
Fiskars promises to replace the shovel for no extra cost if it is broken.
This is a great added value to a cheap tool like a shovel because your tool can go out of use if you dig hard materials for a long time.
Pros
Cons

Constructed from 100% steel for excellent durability and strength
Lifetime warranty

Poor-quality powder coating
My Top Pick
Picking up the best shovel for digging in clay, you can confidently perform heavy digging and landscaping tasks for years with low maintenance and replacement costs.
A high-quality shovel with an appropriate handle length also helps you with ease while lessening the risks of lower back pains and other health issues.
The Radius Garden 22011 Root Slayer Shovel should come first when thinking about shovels.
Although this tool is not the cheapest on the market, it is a serious investment for hard-working farmers that can last for years under frequent arduous usage.