Thatch can serve positively for your lawn. But more than ½ inch of thatch can block water and oxygen supply to your grass. To keep your grounds healthy, you should dethatch your lawn once a year using the best electric dethatcher.
A dethatching machine is essential for medium and large lawns. It looks like a lawnmower, but the two perform differently. I have listed the 7 top-rated electric dethatchers on the market based on quality, features, price, and customer reviews.
*This post may have affiliate links, which means I may receive commissions if you choose to purchase through links I provide (at no extra cost to you). As an Amazon Associate I earn from qualifying purchases. Please read my disclaimer for additional details.
Top 7 Best Electric Dethatchers 2022
In-depth 7 Top Rated Electric Dethatchers Reviews
Check Latest Price
Have you noticed dry, browning patches on your lawn that aren't receiving enough water? Your farm most likely has too much thatch! Get the Sun Joe dethatcher AJ805E to make your property stay alive. This gardening equipment best suits small and medium-sized lawns.
While conventional manual rakes waste too much labor and bring little, this electric dethatcher has a 13-amp motor to handle an area of 15 inches in a single pass. Its enhanced AirBoost technology with spring steel tines helps maximize thatch removal while keeping the blades sharper for a long time.
Moreover, you can control the raking depth of this Sun Joe dethatcher from 0 inches to 0.4 inches and the scarifying depth from -0.4 inches to 0 inch thanks to its 5 control knob.
A collection bag is a common missing point of many buyers when looking for a dethatcher. With the removable thatch collection bag, now you can store the thatch and dispose of them quickly at the end of your working day.
Pros
Cons

Powerful 13-amp motor
AirBoost technology to maximize your performance
Collection bag for easy storage and disposal
Maintenance-free
Check Latest Price
When thatch reaches more than ½ inch, it's time to dethatch your lawns to prevent them from thatch pests, mice, rats. The Greenworks 27022 is a 10-amp dethatcher keeping your yard safe and hydrated.
This Greenworks dethatcher is light and easy to use for small lawns with a weight of 25.9 pounds. It features 18 stainless steel tines with a working path of 14 inches. These tines can remove matted layers of thatch in your lawn.
Besides, it has adjustable handles that you can fold after use to save your storage space. The handles are cushioned to offer you a firm grip and exceptional comfort.
The provided 10-amp motor is appropriate for this type of device. It is strong enough to pull up all the thatch underground but not too strong to destroy healthy grass.
You can purchase an extension cord depending on the area that you are dealing with. If you love this machine, you can buy it with scarifier tines for replacement.
Pros
Cons

Lightweight, foldable for easy storage
Soft cushion handle for solid grip and maximized comfort
10-amp motor, good enough for small lawns
4-year warranty

Instruction is hard to follow
No collection bag
Check Latest Price
If you don't have a flat lawn or are dealing with grass of varying heights, this simple Earthwise DT71613 dethatcher will clean out all thatch with little effort and maintenance. This machine is suitable for yards of all sizes.
This Earthwise electric dethatcher can lose all matted layers of grass and debris with an adjustable depth from -0.4 inches to 0.4 inches.
With a working path of 16 inches and 45 durable spring pins, this versatile gardening device can clean the grass surface or reach deep into the grassroots for intense dethatching depending on your lawn requirements. Its powerful 13-amp motor means less downtime and higher performance.
Apart from its robust performance, this dethatcher also offers easy cleaning with a grass catcher of 10 gallons (around 37 liters). You can focus on grooming your lawn without wasting extra time collecting debris at the end of the day.
Pros
Cons

Can work on small and large yards
Powerful 13-amp motor, less downtime
Adjustable working depth
45 stiff spring pins

The bag might be a bit small for a swipe of about 10 ft
#4 VonHaus 15-Inch – Best Electric Dethatcher And Aerator Combo
Check Latest Price
Why do you have to ask whether dethatching or aerating your lawn first when you can accomplish these two tasks at once with a lower price! This VonHaus combo is a powerful combination to help you improve air and water circulation for your lawn.
Unlike other dethatchers on this list, this lawn care combo saves your storage space and budget for farm equipment. Instead of purchasing 2 separated items, you can combine them into a single machine for your lawn maintenance demands.
With a dimension of 23 x 55 x 40 inches, a foldable handle, and a removable grass box, you can store it easily when not in use.
Compact yet robust, this multi-functional verticutter can handle any small to mid-sized lawns, thanks to its 12.5A motor. It has a high load speed of 3,600 RPM – which is as powerful as the well-known Husqvarna gas dethatcher DT22 but with a much affordable price tag, no maintenance required, and no air pollution.
The grass box can store up to 45 liters (around 12 gallons), saving your time collecting debris.
Pros
Cons

Can work as a dethatcher and aeration
Powerful 12.5A motor with the high load speed
Big collection bag (around 12 gallons)
5 operation heights for all-year lawn maintenance

The aerator blades should be bigger to penetrate more dirt
Expensive
Check Latest Price
A power dethatcher like WORX WG850 is a budget-friendly thatch removing solution for your medium-sized to large lawns. This vertical cutter has a high torque with a maximum output speed of 3,500 RPM.
The 12-amp motor of this WORX dethatcher has a long heating time to remain calm for a long time for continuous work performance. This powerful motor combines with 14-inch sharp steel tines to cut through tough lawns or maintain picture-perfect properties. You can adjust 3 tine depths for different grass heights and types, including -9, -3, and +3mm.
Safety is a vital criterion when looking for the best electric dethatcher or any electric-powered machines. You can turn off this machine instantly with no panic and no risk by pushing a switch on its body. There is a full-padded ergonomic grip to maximize your comfort and safety when in operation.
Pros
Cons

12-amp motor with high-torque
Safely instant stop with Instant Lock Switch
Full-padded handle

The collection bag is too small
The bottom of the bag keeps lifting during operation
Check Latest Price
Restore your lawn's fresh appearance with LawnMaster GV1314. This corded dethatcher is one of the most influential models on the market, with the following top-notch features.
This cutter provides 19 different height adjustments to fit any lawn cleaning requirements. The scarifier cylinder has a scale of -0.39 to 0.19 inches, while the aerator cylinder has -0.19 to 0.39 inches. You can change these settings with a single click of a lever.
The main reason for its quick thatch cleaning speed lies in the motor. This lawn dethatcher is armed with a 12.5-amp engine that can speed up to 3,700 RPM. As a result, you can push across the highest, toughest grass on your lawn or yard and clean a wide area of dead grass.
A slight drawback of this LawnMaster cutter is that the cord is too short. Hence, remember to purchase a high-quality cord extension along with it.
Pros
Cons

19 height adjustments for all lawn cleaning projects
Quick height adjustment with a click on the lever
High-performance motor with a maximum rolling speed of 3,700 RPM

The power cord is too short
Check Latest Price
Unless you have a tiny back garden, you will waste a whole week manually removing all dead grass and organic debris by hand.
Greenworks DHF301 is part of the legendary 40V product line of Greenworks. This compact machine can handle thick layers of thatch within a shorter time and with higher performance.
This Greenworks dethatcher can operate with no electric cable. You don't have to worry about the cord getting tangled or spend extra money for a cord extension.
This portable machine can work continuously in 30 minutes with a 4Ah rechargeable battery. After that, it will take around 120 minutes for a full charge before getting back to work again.
Another benefit of using a cordless dethatcher like DHF301 is that it requires no gas or oil mixture and no toxic emissions into our environment. As an exclusive equipment sponsor in Earth Day 2020, Greenworks promise to bring cruel-free products with high efficiency like this DHF301 to their buyers.
Pros
Cons

No electric cord required
Environment-friendly
Compact and lightweight, it can be used with one hand
---
How to Choose the Best Electric Dethatcher?
Size of Your Lawn
The size of your lawn is probably the most important variable that you have to take into account before you order a new electric dethatcher. Some models are great for clearing up a small garden or yard, while others are powerful enough to handle 1 or 2-acre grounds.
More performance translates to higher costs and greater power consumption. So, it's in your best interest to size your dethatcher correctly to avoid overspending or wastage.
If you have a very small yard or a cramped city-owned parcel, a manual dethatcher will do the trick. It's cheap, easy to use and store, and will most likely meet up with all of your needs. There won't be a lot of thatch to deal with, so there's no need to go big on a motorized grass dethatcher.
For mid-size properties that are around 1 to 2 acres in size, pick up a motorized electric dethatcher. They have the power to clean everything up.
Do note that most electric dethatchers have to be plugged in. Make sure that where you work will always be in close proximity with a power outlet. If not, consider picking up a few extension cords.
Last but not least, for very large properties that are over 2 acres, you will need a pull-behind dethatcher. Basically, these are large machines that have to be towed around behind a mower or a tractor. They're extremely proficient at clearing up thatch. However, they're heavy and expensive.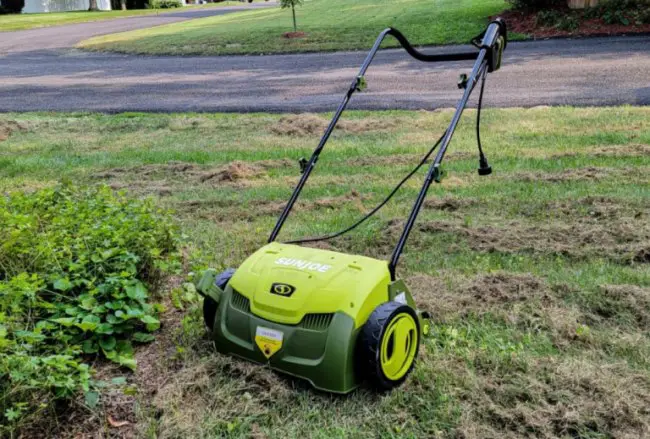 Number of Tines
Tines are the prong-like parts that dig into the soil and scrape up the thatch. Typically, the wider the dethatcher, the more tines it has. When you push the dethatcher across the yard, the tines rotate around a shaft, digging up the thatch and breaking it up.
While you're inspecting the tines, also take note of the material that they're made from. Thatch is often damp, so if the tines aren't made from rust-resistant materials, they would break down quickly. Look for models that come with either stainless steel or spring steel tines.
Although both of these metals resist rust and corrosion well, stainless steel tines are generally considered to be the best. Stainless steel offers a good balance between strength, longevity, and corrosion-resistant.
Motor Power
Unlike other gardening tools like chainsaws or pole saws, dethatching isn't very strenuous. So, even commercial dethatchers don't pack giant, powerful motors. In most yards, the layer of thatch is thin and easy to dig up. You'll do fine with a 10 or 15-amp electric dethatcher.
If your yard is small, a small 10-amp model will do the trick. For people with larger yards, go for the 15-amp grass dethatcher. The higher amperage means better cooling efficiency for the motor, allowing it to work for longer periods.
Working Width
Widths vary from one model to another. Some have a working width as small as 12 inches, while others are as wide as 48 inches. The larger the width, the more ground you can cover with each pass.
However, larger isn't always better.
First, take into consideration the size of your lawn. Dethatchers with wider working widths are more expensive. There's no need to spend extra money when a small 12-inch model will do the work just fine.
Second, consider the obstacles on your property. Wider dethatchers will have issues moving between trees or gates. Measure the narrowest areas on your property before you place your order. You don't want the dethatcher to be so big and cumbersome, it doesn't even fit through the front gate.
Corded vs Cordless Electric Dethatcher
Out of the two, corded electric grass dethatchers are more popular. Basically, corded models will have a standard plug that you need to fit into an outlet. The dethatcher draws power from there to work the motor. The outlet can either be your house's main or a portable generator.
So long that the dethatcher is plugged in, it's never going to run out of juice and can work (at least theoretically) forever.
But that also presents an issue: the power cord itself is limited in length. If your property is too large, you're bound to run out of cord length. Sure, you can remedy it with either extension cords or portable generators, that's still a lot of hassle.
Cordless dethatchers solve the inconvenience of their corded siblings by doing away with the power cord altogether. Instead of drawing power from an external source, it uses an in-built battery.
Keep the battery charged up, and you can use the dethatcher anywhere.
While it sounds great, there are a few drawbacks that you have to be aware of.
Since this type isn't as popular as corded, there's only a very small selection of cordless dethatchers for you to buy. You'll need to search quite hard to find a decent one.
Then, because battery technology is complicated, cordless models tend to be more expensive. If you think that the extra versatility and portability are worth the investment, go ahead!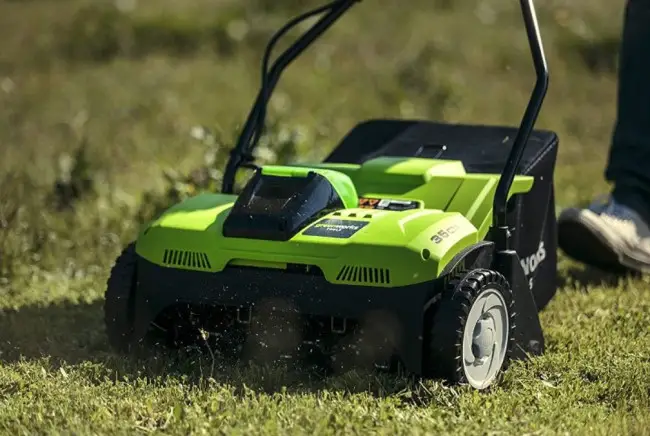 Weight Capability
The weight of the dethatcher can determine how deep the tines can dig into the soil.
You'll want to have more weight when you're dealing with a yard that's covered up by an especially thick layer of thatch. For example, when the thatch got a full season to build and clog up into a dense mat of dead vegetation. A weightier dethatcher can penetrate the mat and break it apart.
Electric dethatchers usually aren't very heavy, so this could be an issue for many users. If you need more weight, the tow-behind dethatchers can help. These are hooked to the back of tractors and drag along the ground. They're guaranteed to dig through even the densest thatch layers.
Extra Features
To be fair, all of the dethatchers on the market have basically the same design and function. If that makes it a bit too difficult for you to choose, then use the extra features offered by each model as the tie-breaker.
Some models will come with adjustable heights that allow you to adjust the ground-penetration depth of the tines.
For example, if you have a thick, dense thatch to take care of, you can control the tines to dig deeper. On the other hand, if the thatch is thin and you don't want to mess up the grass, you can adjust the tines so that they just barely glide over the surface.
Alternatives to Electric Dethatchers
As we mentioned earlier, electric dethatchers aren't for everybody. Depending on the size of your lawn and your needs, there are other types of dethatchers that will be a better fit for you. Check the list of alternatives here and see if any could fit your requirements.
Tow-Behind Dethatchers
For people with very large properties as well as a tractor, a tow-behind dethatcher can be a good addition to your arsenal of gardening tools. This type of dethatcher can be hooked up to the back of your tractor, lawn-mower, four-wheeler, or a side-by-side.
After they have been attached to a compatible vehicle, they're super easy to use. Just drive across the yard and the dethatcher will closely follow, loosening and breaking up the thatch all the while.
You can even pull double-duty with this type of detacher by attaching it to a riding lawnmower. You would be able to trim the yard and dethatch at the same time.
A few small issues with this type is that they can be a bit expensive. Certain models can also be hard to store with a working width of up to 4 feet.
Manual Dethatchers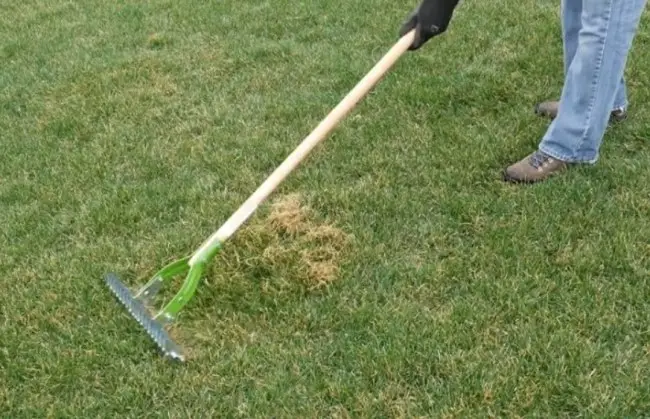 A manual dethatcher is a good option for people with very small yards. Although you have to put in some grease elbows, manual dethatchers are very affordable.
By design, these tools look like a yard rake. Drag it across the yard and the tines will dig up the thatch.
These tools are very compact and can be easily stored in a toolshed or a garage.
Attachment Dethatcher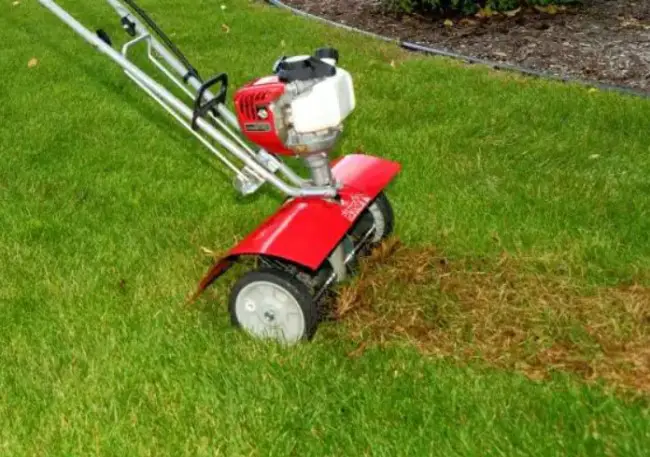 Attachment dethatchers aren't full-fledged tools by themselves. Instead, they're small attachments that you can integrate with a different gardening tool like a lawn mower.
With a lawnmower, you have to replace the mowing blades with dethatching blades. Typically, most attachments are made to fit lawnmowers with 20-inch decks. Once properly fitted, you can use it as usual but instead of trimming the grass, it would be digging up thatch for you.
A dethatching attachment is a lot more affordable and easier to store than a separate dethatcher.
Check more: Top 7 Best Portable Generator For Home & Farm Use
FAQs
1. How many times a year should you dethatch your lawn?
As a rule of thumb, you should dethatch your lawn at least once a year.
However, reality is a bit more complicated than that. Depending on where you live, the thatch could grow quicker or slower than in other areas. To check, just dig your fingers into the ground and see if the thatch layer has built to around ½ or 2 inches thick yet. If it has, then it's time for a dethatch.
2. Is it better to dethatch or aerate?
Dethatching and aerating are both important techniques that you have to know in order to keep your lawn healthy.
Check your soil to see if it's healthy with plenty of bacterial activity. If it does, you can cut down on the dethatching to around a season a year.
Depending on the type of soil you're working on, you can aerate the ground once or twice a year. Sandy soil will need to be aerated once a year, while two times a year is recommended for clay soil.
3. Can you dethatch too much?
Thatch is only a problem when it's built too thickly. A thin layer of thatch is beneficial for your lawn as it helps the soil conserve moisture and protect against weeds. If you remove all of the thatch, your yard misses out on all of these benefits.
Additionally, dethatching – by nature – is a damaging process to your lawn. If you overdo it, you would be doing more harm to your yard than good by damaging the grass roots.
4. What month should I dethatch my lawn?
There are two good seasons to dethatch: early spring and early fall. Warm-season grass grows in the spring, cool-season grass in the fall.
During these seasons, the grass grows quickly and the soil condition is good. A thick layer of thatch could build if you don't keep up with their growth pace.
5. Can you dethatch a wet lawn?
Only dethatch the lawn when the grass and soil are moderately moist. You should avoid dethatching when everything's too wet or too dry, as that could damage the grass roots.
6. What height do you set a dethatcher?
The number depends on the condition of your lawn, but a good starting number is around ¼ inches above the ground.
Read more: Top 7 Best Cordless Hedge Trimmer
My Top Pick
It is hard to find the best electric dethatcher for all users. You should consider an appropriate item depending on the grass size, head width, amp rating, warranty policy, and, most importantly – your budget.
Unless you are a professional farmer, the Sun Joe AJ805E is the most valuable option among these nominees. This electric-powered dethatcher aims to maximize your performance when working on small to medium-sized lawns.