Power outages result from sudden lightning strikes, thick ice buildups, or high wind. While waiting for the utility crews to come and restore the service, you should have the best portable generator for home & farm use on hand to run farm machines, tools, and heaters during a power outage.
Choosing a portable generator is not a matter of convenience but also security and safety. Therefore, I have collected my detailed reviews on the top 7 best-rated portable generators that you can use for your home and farm purposes.
*This post may have affiliate links, which means I may receive commissions if you choose to purchase through links I provide (at no extra cost to you). As an Amazon Associate I earn from qualifying purchases. Please read my disclaimer for additional details.
Top 7 Best Portable Generator For Home & Farm Use 2022
In-depth 7 Top Rated Portable Generators For Farm Use Reviews
Check Latest Price
If you are looking for a generator that runs on battery power, Jackery Explorer 500 is a reliable choice for home and agriculture use. This generator has a total wattage of 518Wh, which can power many appliances like lamps, TV, cooling fan, mini-fridge.
Despite its superpower, it has the size of a basketball with the dimensions of 11.84 x 7.59 x 9.2 inches and a weight of 13.3 pounds, allowing you to transport it side to side or store it easily with its sturdy top handle.
The best part of this temporary electricity supply is that it supports pass-through charging. Its Battery Management System ensures each appliance is charged individually. Thus, you can maintain both appliances' performance and battery life cycle.
Another reason that I picked Jackery Explorer 500 as my 'cream of the crop' for portable generators is that it has an environmentally conscious design. This generator runs on a Lithium-ion battery pack instead of gasoline, diesel, or propane.
This green fuel type helps you avoid infrequent power usage problems, but there are no gas emissions in operation. Thus, you can use this power pack indoors on brutal snowfalls or rainfalls without any health risks.
This Jackery generator provides 3 ways of charging, via an AC wall outlet (within 7.5 hours), from a carport (within 16 hours). You can also connect this generator with a cheap Jackery Solar Saga 100W solar panel to gain natural power from the sun and fully charge it within 9.5 hours. The solar panel is not included in this product package.
Pros
Cons

3 ways of charging – solar panel
Size of a basketball; lightweight for easy carrying and storage

Not suitable for appliances with the running wattage above 500W
Check Latest Price
This portable Jackery generator is twice powerful as the above Jackery Explorer 500. It comes with 2 SolarSage 100 solar panels with a built-in MPPT Charge Controller for efficient solar charging.
It can complete charging in just 8 hours of full sun, allowing you to enjoy limitless solar power for no extra fees and maintenance effort.
This generator features a 1002Wh Lithium-ion battery with 1000W continuous and 2000W surge power capacity. Therefore, it is suitable for most higher-power home and farm electrical appliances.
According to the manufacturer, this portable electricity supply can maintain a microwave oven for 45 minutes, a light bulb in 76 hours, and an electric grill in 50 minutes. You can count your device's working time using the formula:
Working time =1002Wh * 0.85/operating power of your device.
Unlike traditional generators, Jackery 1000 runs on renewable energy from the sun. It can operate quietly and creates almost no noise and emissions. You can while maintaining clean and fresh air both indoors and outdoors.
Moreover, Jackery 1000 is made from durable materials for an extended lifetime. The solar panels are made of ETFE (Ethylene tetrafluoroethylene), a fluorine-based plastic used in agricultural and architectural projects. This material provides a light transmittance and a longer life cycle in harsh weather conditions.
Pros
Cons

Include 2 SolarSaga 100 solar panels; built-in MPPT Charge Controller
Multiple output ports for many devices
Quiet operation
2-year warranty

The solar panels can't be put outsides in inclement weather
Check Latest Price
One of the advantages of Generac 7117 is the option to connect two inverter generators to run in parallel and double your power – 4,400 starting watts and up to 3,230 running watts.
The difference between using two Generac 7117 and using a bigger generator is that you can put less strain on the engine. In other words, you can connect these two generators only when you need them, not all the time.
This inverter Generac generator is more affordable than Honda models and very compact and easy to use. The built-in top handle makes it easy to transport to your working area or store it after use. You can quickly start the machine in a few seconds, thanks to the integrated OFF/RUN/CHOKE knob.
Generac G2200I features the signature Generac's True Power Technology with under 5% total harmonic distortion. This best-in-class power quality ensures a smooth operation for your sensitive tech gadgets, home appliances, and farm tools.
You can turn on Economy Mode to save your fuel and reduce noise while extending the generator's runtime when not in use.
Since this Generac generator runs on gasoline, it is more potent than those above battery-powered models. Its 1.2-gallon fuel tank allows this engine to run 10.75 hours at 25% load and 7 hours at 50% load.
On the engine's body, there is a LED status light to let you know when to refill oil, overload, and power.
Pros
Cons

Long run time (up to 10.75 hours at 25% load)
Quieter than conventional generators
True Power technology for sensitive gadgets and appliances
Affordable

Eco mode doesn't perform well at higher loads
The parallel kit is not included in the product package
Check Latest Price
Honda EU3000IS is one of the best 3,000-watt inverter generators on the market. Although it is at a much higher price tag than conventional generators, it's much quieter and substantial construction. If you have experienced Honda farm machines before, this Honda generator won't disappoint you!
One of the reasons this top-notch generator won so much reputation from landowners and farmers is its sturdy build and the well-known original Honda engine.
First, it has a durable frame of 100% steel that stands still against all harsh weather elements.
Besides, it features a 4-stroke Honda engine, enabling it to deliver 2,800 running watts of power. It is a reliable choice to run all your major home appliances in a power outage. For example, you can run an RV 15,000 BTU air conditioner with this generator.
Due to its superpower, this portable generator is quite heavy (131 pounds) and hard to move around unless you buy an additional set of wheels. Although some people might not be happy with its weight, I think it's the price I have to pay for its solid steel construction.
Additionally, it is not the quietest model on the market, but not too annoying with a noise level of only 49dB at 25% load and 58dB at 100% load.
Pros
Cons

Original Honda engine
Durable steel frame
High fuel efficiency thanks to the Honda's Eco-Throttle system

Quite heavy; need to use an additional set of wheels (sold separately) for transportation
Expensive
Check Latest Price
This 3600-watt generator from Westinghouse provides dependable backup power with its 212cc four-stroke OHV engine. The four-stroke engine has an outstanding runtime of 13.5 hours at 50% load. This engine, along with cast iron sleeves and overhead valves, is one of the most robust you can find on a portable power generator.
This dual-fuel Westinghouse generator offers you two fuel options – gasoline and propane. Propane (or LPG) is more stable than gasoline and leaves no stale or gummy deposits in infrequent uses.
However, if you have to use this generator to perform your daily lawn jobs, you can use only gasoline for lower operation costs and extreme potency.
Westinghouse is known for building rugged generators, and WGen3600DF is not an exception. When using gasoline, this dual-fuel generator boasts 3,600W of constant running power and has a peak surge/starting wattage of 4,650W. On propane, it offers a lower current of 3,240 rated watts and 4,650 peak watts.
Pros
Cons

Dual-fuel – gasoline or propane
Outstanding runtime of 13.5 hours (50% load)
Automatic Low Oil shutdown
Check Latest Price
WGen9500 is my second pick from Westinghouse but runs solely on gasoline.
This gasoline-powered generator is the most affordable option for anyone considering a 9,500W portable power generator appropriate for residential and farm power requirements. This engine meets the EPA and CARB standards for producing less harmful emissions and toxins.
This generator offers you a heavy-duty 457cc four-stroke OHV engine with a 6.6-gallon tank that can run continuously for a maximum of 12 hours to maintain your major appliances, like an air conditioner, refrigerator, and sump pump. There are rubber covers on all outlets to prevent electric shocks.
Starting this gasoline-powered engine is easy as pie with a dependable electric start system. You can get it to start or stop with a single push of a button.
Plus, you don't have to go outside under the hard snowfall to start the machine since it features the remote start key. You can turn on/off the generator from up to 260 feet away from your home.
Pros
Cons

Electric Start Push-Button and remote start key for convenient on/off
Powerful 457cc four-stroke OHV engine with a maximum runtime of 12 hours
Two Transfer Switch types – 14-30R/30A and 14-50R/50A

The lights on the control panel sometimes don't work properly
Check Latest Price
The biggest advantage of DuroMax XP12000EH is that it offers dual-fuel capabilities. That means you can operate it on both liquid propane and gasoline and switch between these two options in a blink.
So not only can this strong plus lower your running costs, but it can extend its runtime when the power outage lasts for several days, and there might be a lack of gasoline supply in your area.
Another strong plus of this dual-fuel generator is that you can choose to operate it at both 120V and 240V simultaneously or maximize its power from each 120V receptacle with full capacity.
The control panel includes two 120V/20-amp outlets, one 120/240V 30-amp outlet, one 120V/30-amp twist-lock outlet, and a 50-amp outlet for the most high-powered needs.
Also, there is a DuroMax's MX2 switch on this panel to double your 120V amperage for intense loads.
This Duromax portable power supply is also a practical choice for hardworking farmers or workers since it's made of high-quality materials. Its full-metal construction with durable solid-fill wheels makes it your best companion on emergencies on farms and construction sites.
Besides, the power part of this generator is made of 100% copper windings, which are more durable and energy-saving than aluminum ones. All-copper windings are also quieter, with a noise level of 74dB.
Although this is not an ideal noise level for a quiet generator, I have seen some smaller generators with the same noise level or even worse.
Pros
Cons

Dual-fuel capability
120V/240V power options
Full-metal construction
All-copper windings
Types of Generators
Portable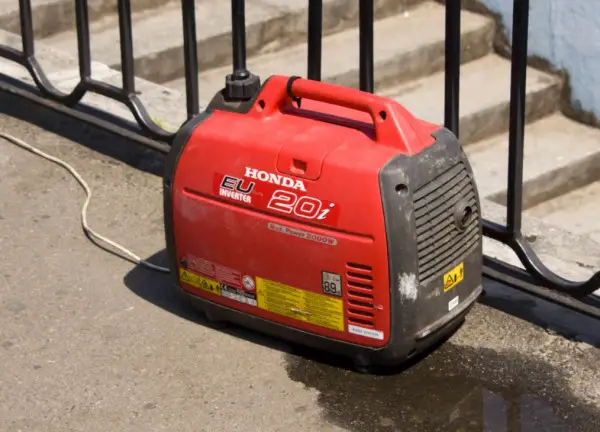 When the word "power generator" is mentioned, most people will think of portable generators (or backup generators). These are often used to provide temporary power when needed or during emergencies.
Some generators are more portable than others. The smallest models are lightweight enough that they can be carried by hand. Still, most generators on the market are equipped with wheels for easier transportation.
Portable generators – even the lightest ones – could weigh up to 100 pounds. As such, even when they're called "portable", it may require two people to move or transport the generator.
This type usually has convenient power ports in front that you can plug in power tools and other gadgets. Super useful if you're bringing the generator to power farming equipment, for example.
Larger ones can produce a 240-volt current. They can connect to your house's grid with a twist-lock plug and provide electricity during home power outages and emergencies.
Inverter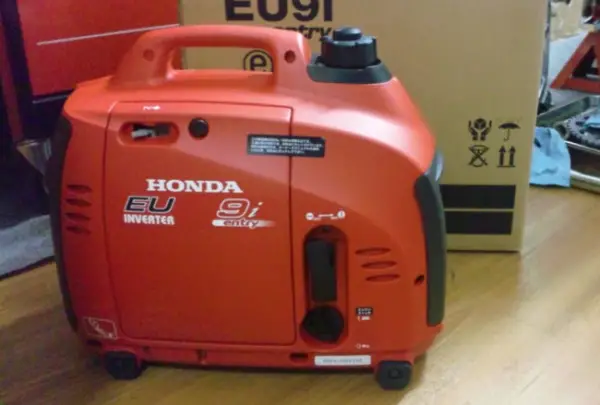 Inverter generators can produce a standard Alternating Current (AC) of around 120-volt or 240-volt. But what sets inverter generators apart from ordinary, non-inverting generators is the "clean-up" step that it does.
Basically, after the initial AC current is produced, it's stabilized into a Direct Current (DC). This DC current is then inverted back into AC for the last time for consumption.
The reason this is done is to get a "cleaner", more steady voltage. The initial AC current that the generator produces can be unstable with a lot of voltage surges. When this unstable AC current is converted into DC, it becomes a clean, stable current. The clean current is then converted back into AC – without the surges – for your consumption.
Unstable AC power can damage gadgets like laptops and smartphones when plugged in, which is exactly the reason why inverter generators are more desirable than typical, non-inverting generators.
The conversion is done by an inverter circuit, which serves as basically a filter for the current. The circuit filters out the surges and flattens out the sine wave in the AC current, turning it into a linear DC current. Once the current has been turned into DC, it's then inverted back into AC by the circuit.
Of course, that doesn't come without a cost (literally). The more complicated mechanism means inverter generators are more expensive on average than ordinary power generators.
Standby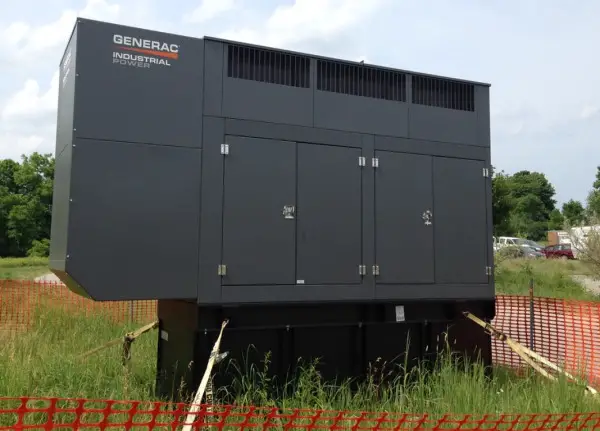 Standby generators are permanently affixed to a home's power grid. Its job is to serve as the home backup power source when the grid goes out.
When main power is cut (due to outages or similar emergencies), the standby generator would automatically kick in to keep the lights on.
Best Portable Generator for Home & Farm Use: Buying Guide
Power
This is, without a doubt, the most important factor to take into consideration when you're buying a new power generator: how powerful it is.
A generator's strength is measured by wattage. The higher the wattage, the more power is going to be able to provide. So, they will be able to provide power to more gadgets and appliances for a longer amount of time.
If you're seeking a generator for your home, a model that can produce between 5,000 to 7,500 watts will do the trick. You will be able to power the lights, refrigerators, and freezers, as well as a water pump without any issues.
The more appliances you put on the grid, the stronger the generator has to be. If you plan to also run HVAC systems and the likes, you may need to use a generator that supplies 10,000 watts or more.
Fuel Options
Power generators run on many kinds of fuel, each with its own advantages and disadvantages. You can take your pick in accordance with what you require and what type of fuel is available to you.
Propane has a long shelf life, so it's the best kind of fuel for emergency generators. It also burns very smoothly, so the noise level of a propane generator is going to be lower than that of gasoline or diesel.
The drawback is that it costs a bit more than gasoline and diesel. It doesn't help that propane burns out quicker compared to these other types of fuel. Additionally, propane has to be stored in a specially-constructed vessel. This results in a heavier and bulkier generator design.
This is by far the most popular fuel type of generator since it's the most accessible and relatively affordable. You only need to visit your local gas station to stock up on fuel for your generator.
The cons of using gasoline are that it's not exactly eco-friendly. It also has a short shelf life compared to propane. Fortunately, if you're planning on storing gasoline for the long term, you can add a fuel stabilizer.
Diesel is similar to gasoline in terms of accessibility and ease of use. The difference is that it's a bit more expensive. Diesel generators are also known to be noisier than those that run on gasoline.
Natural gas burns very quietly and, compared to gasoline and diesel, is a lot cheaper. But before you buy a natural gas generator, make sure that there's a fuel source nearby. Natural gas stations aren't as ubiquitous as stations that serve gasoline.
"Electric power generators" are essentially your portable battery banks. They store power in (typically) Lithium-ion cells and discharge when you plug something in. Due to their compactness, these are great for charging your gadgets and appliances when you don't have access to grid power.
However, most battery banks on the market aren't capable of providing power to a house just yet. Note that the keyword here is "most". Some do, but they're quite rare and expensive.
Size of Fuel Tank
The larger the fuel tank of your generator, the longer it's going to be able to run.
If you need long-term power, consider investing in generators with larger built-in tanks. Most generators that are able to supply power for a house can last for six or eight hours under 50% load. Lower load translates to more running time.
If you have to choose, always pick the model with the larger fuel tank.
Level of Noise
Power generators are sort of infamous for their noisy motors. Depending on your application, this can be an issue or not.
Say, you're looking to invest in a generator for agricultural usage, noise isn't going to be much of a problem. However, if you're seeking a residential generator, noise can definitely spell trouble if it's loud enough to disturb the neighbors.
Stronger generators will naturally make more noise than weaker ones. It's a balancing game.
Most generators will produce a constant hum between 70 to 80 decibels. This is the equivalent of a lawn mower's engine noise.
Easy Moving
If you wish to improve the portability of your generator, there are many things that you can do (or rather, add).
Wheel kits, for example, can be used to make the weighty generator and all of its accessories easier to transport. You only need to push them around rather than having to physically carry them.
Next, if you're going to lift and lower the generator down the truck bed or stairs, install a lift hook bar.
Consider Your Safety When Using Generators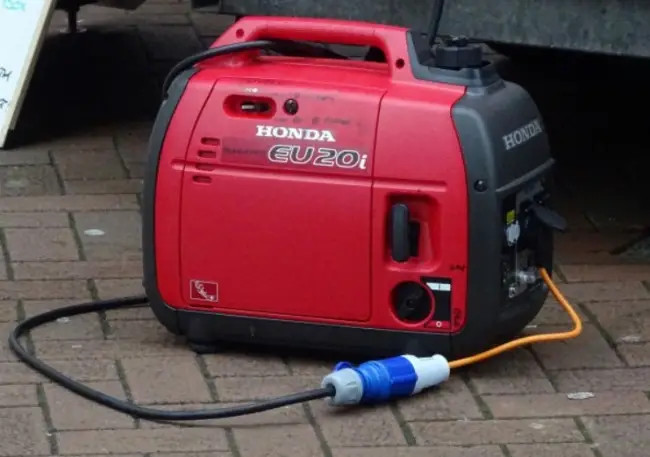 Power generators – especially ones that run on fossil fuels like gasoline, diesel propane, and natural gas – produce carbon monoxide (CO) exhaust. For this reason, you should never attempt to run a generator in an enclosed space without adequate ventilation.
CO is a silent killer. It is odorless and colorless. It can cause CO poisoning in high enough concentrations, which can either incapacitate or, in the worst-case scenario, kill. 430 people die in the US alone due to accidental CO poisoning.
Many manufacturers built a safety mechanism for their generators. If the CO in the air is in high enough concentration, these generators can automatically shut themselves down.
It's best not to run the generator anywhere indoors. For example, even if you run it in the garage with the door wide open, the exhaust can still accumulate and slowly make its way into the house.
Therefore, you should always run your generator outdoors, at least 20 feet away from the house.
Ground It or Not?
That depends on how you use your generator. If you use it to power gadgets and electronics, you don't have to ground it. However, if you use it to power your home, then … maybe.
You should check up on the user's manual that comes with your generator, consult with professional electricians in your area, and check the ordinances in your local area. Regulations may differ from place to place, some localities may even have different directives than the National Electric Code (NEC).
But, for maximum safety, we always recommend that you ground your generator. In case of a short circuit, all of the currents would be directed toward the ground. That can reduce the chance of the potentially lethal circuit being conducted through you.
Some generators will come with a GFCI (Ground Fault Circuit Interrupter). They need a neutral switch (three-pole transfer switch). After that, you must ground the generator by connecting the ground terminal to the ground rod, which is stuck to the ground.
FAQs (Frequently Asked Questions)
1. What size generator do I need to run most of my house?
A 5,000 to 7,500 watts generator will be sufficient to run critical appliances and circuits in a house, such as a refrigerator, freezer, water pump, and lighting.
But, if you wish to power your entire house, you need to do the math to ensure that you purchase the right generator. If you buy a generator that produces more power than you consume, you end up overpaying. Of course, if the generator's too small, then it wouldn't meet your demand.
Go around the house and write down every piece of appliance and gadget that you own. Then, next to their name, write out their wattage rating.
There are two kinds of wattage ratings: starting and running. The former is the wattage required to power up the appliance, and the latter is what the appliance consumes while it's working.
Write everything down and then add them all up together. The sum of all the individual wattages is the amount of power that your generator has to provide.
A home, usually, can make do with a 35 kW whole-house power generator.
2. Is a dual fuel generator worth it?
Although dual fuel generators are definitely more expensive than the standard single-fuel-type generator, they can save you a lot of money in the long run. Using two different kinds of fuel, you can switch between them whenever it suits you.
For example, let's say you get a gasoline-propane generator. If gasoline prices go up and propane becomes more attractive, you can switch to using propane instead of gasoline. Vice versa, if propane price suddenly goes up or it becomes more difficult to access, you can switch back to using gasoline.
The flexibility here can be well worth it to some people and can be a great incentive to pay the extras.
3. What size generator do I need to run a 2000 square foot house?
Once again, this will depend on how many appliances that you got. But the average 2,000 square foot home will use around 1,000 kWh a month. So, a generator that can provide 32 kWh a day will suffice.
4. Is it cheaper to run a generator on gas or propane?
Depends on the market. At the moment this article is being written in March, 2022, a gallon of gasoline costs around $3.6 in the US (on average). Meanwhile, propane trades at around $2.8 a gallon.
So, as of right now, running a propane generator will be cheaper than a gasoline model. This will be subject to change as gas prices go up and down. In the past, using a gasoline generator was cheaper than propane.
5. How long will a whole house generator run?
This will depend on how large the fuel tank of your generator is. But, a standby generator can run for up to 3,000 hours all at once if it's supplied with sufficient fuel.
You can check reviews of Top 3 Best Generac Whole House Generators here.
My Top Pick
When picking up a portable generator, you should list down your electric devices and the total wattage you need in a generator. Don't try to power more than it can handle since the power overloading will break your generator.
Do any of these generators catch your eyes? If you need a clue, Jackery Explorer 500 has been my best portable generator for home & farm use for more than 3 years, and it still runs well.
This item is affordable and compact yet includes all the necessities I need to maintain my daily family activities and farm chores whenever the power goes out.