The size is an essential criterion when thinking about a new tractor. There are several common questions on this topic, like "What size tractor should I purchase?" or "What size tractor do I need for 10 acres or less or more?"
Don't pick up a tractor that is too small or too big. A too-small tractor can lead to longer working hours, unnecessary delays, or premature replacement. On the other hand, a heavy-duty tractor on a super small lawn can waste operation costs.
This article will provide the necessary information on choosing the appropriate tractor size for your property.
*This post may have affiliate links, which means I may receive commissions if you choose to purchase through links I provide (at no extra cost to you). As an Amazon Associate I earn from qualifying purchases. Please read my disclaimer for additional details.
What Size Tractor Do I Need?
Tractors come in various features, sizes, weights, and horsepower to serve specific purposes. You should pick up your tractor size depending on the size of your property and the types of daily jobs to do.
| | | |
| --- | --- | --- |
| Acres | Type of Tractor | HP |
| 1-4 | Garden tractors/Sub-compact tractors | |
| 5-9 | Sub-compact tractors | 15 to 25HP |
| 10-19 | Compact tractors | 35 to 50HP |
| 20+ | Utility tractors | 50 to 250HP |
| Commercial farming | Farm tractors | 85 to 450HP |
Notice: A tractor might not be the machinery you need if you dig and move a massive amount of soil.
For 1-4 acres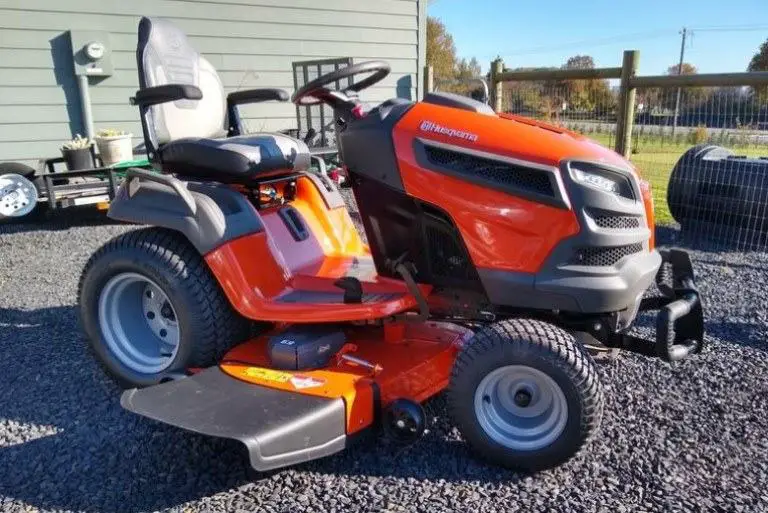 If you have a super small garden with a few fruit trees, strawberry bushes, small poultry flocks, or honey bees with an area under 4 acres, a garden tractor or subcompact tractor is your best choice.
These two tractor types often come with tractor attachments, including snowblowers, tillers, back blades, front-end loaders (FELs).
A garden tractor like John Deere 317 can be used for yard maintenance tasks, such as cutting grass or transporting light debris.
A sub-compact tractor is more powerful than a garden tractor. It has a small diesel engine with horsepower up to 25HP. Additionally, it has a 3-point hitch and PTO, making it suitable for jobs like mowing, gardening, snow removing, and landscaping.
For 5+ acres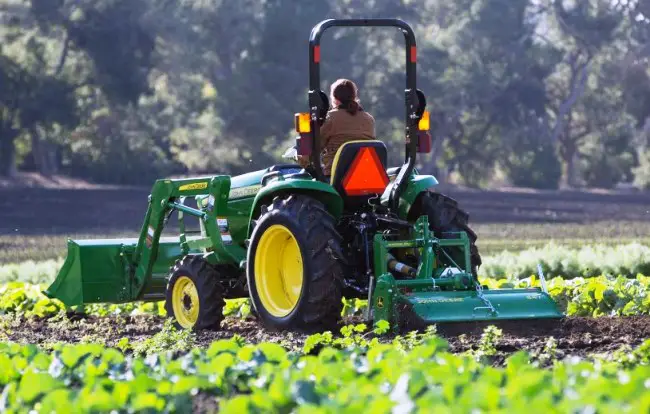 A sub-compact tractor can handle gardening and light landscaping tasks for a property of 5 acres or bigger.
Sub-compact tractors with a horsepower around 15HP to 25HP are the smallest tractor size that fits a standard home garage. They are also the most budget-friendly ones that can handle lawn mowing tasks on your small to medium lawns.
For 10+ acres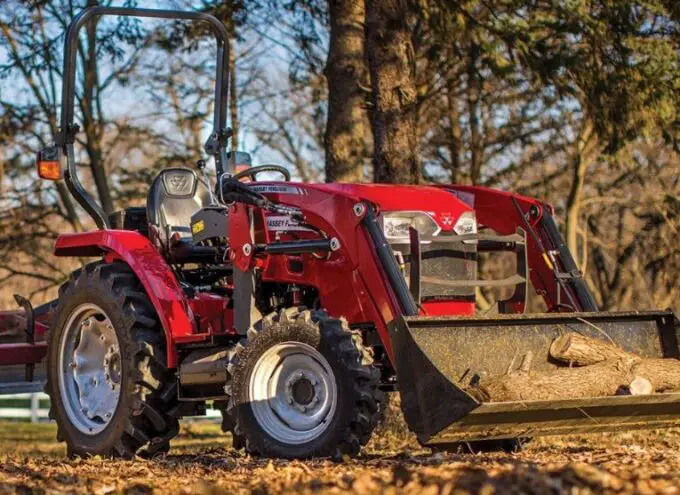 A compact tractor with horsepower between 35HP to 50HP is the best pick for maintaining a lawn of 10 acres or moderate chores. It is easy to handle but still powerful enough to lift and move heavy objects.
You can use a compact tractor to move soil, and other materials or even do heavy-duty landscaping jobs like managing hay.
You should consider some critical specifications when picking up a compact tractor, like horsepower and lifting capacity. These specification numbers depend on your farm chore types, how much weight you need the vehicle to lift in one pass, and how quickly you want it to handle the chores.
For 20+ acres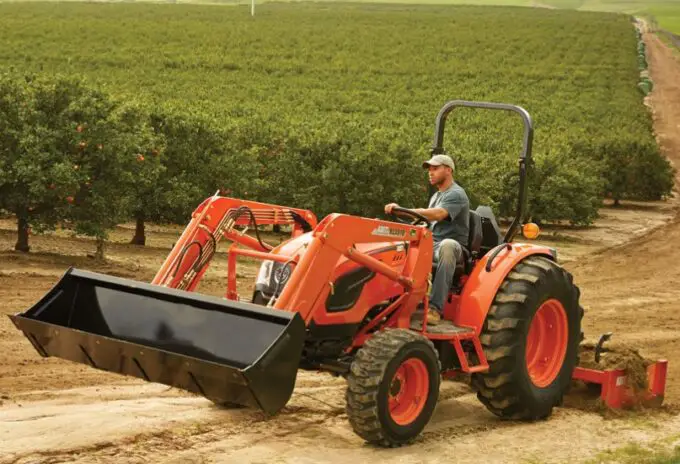 For a farm of 20 acres or more, you should purchase a utility tractor with horsepower ranging from 50HP to 250HP.
This tractor size is more extensive, has higher maximum lifting capacity, better stability, and higher horsepower than a compact tractor, allowing it to handle a large property area and high-demanding chores.
You can use a utility tractor for chores like moving a massive amount of tall grass discharge, harvest crops all year long, or other livestock chores.
For commercial farming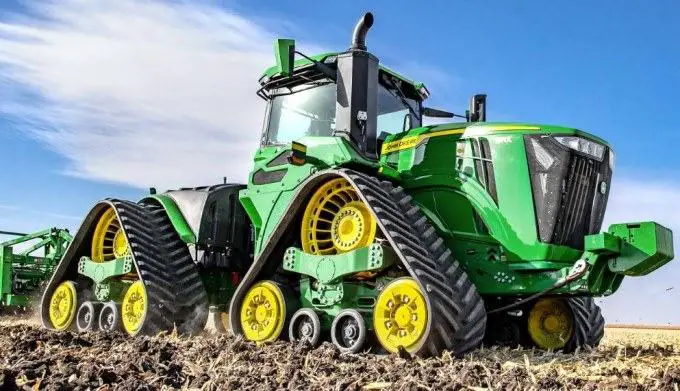 Farm tractors with horsepower from 85HP to 450HP are the most potent tractor size for professional farming purposes. These machines can help farmers and farm workers tackle all heavy-duty chores all day long.
A farm tractor often runs on a 4 to 6 cylinder diesel engine, making it possible to handle high-demanding farm chores in less time and labor. Besides, this machine often comes with great additional features, like heating, adjustable power seats, tilt steering wheels, GPS, sound system, and so on.
Depending on your property size, you can pick up a farm tractor for a farm of 40, 50, 100, or 1000 acres.
Read More: What Are ROPS On a Tractor? ROPS keep you safe while operating machinery such as tractors. We discuss ROPS, the different types, and why they're important features.
Tips To Choose The Right Tractor
1. Stronger tractors support wider attachments
A tractor with higher horsepower and size can get the job done faster, thus saving more time and effort for you. You should consider the tractor size depending on your farm size and the amount of time you want to save.
If your farm has a limited area, you should get a smaller tractor with narrower tractor implements.
2. Stability is important
Stability is another important criterion when choosing a new tractor, especially when you often have to ride on slopes, hillsides, or rough terrain. A tractor with inappropriate weight can result in low stability or controlling issues.
3. Be clear on tractor specifications
Tractor specifications may differ between manufacturers. Therefore, you should clarify the exact specification of the tractor you are considering getting.
4. Bigger, more powerful tractors for repetitive tasks
Sometimes, when moving rough bush blocks, you can get a loader for your small tractor to accomplish this job. However, if this job happens every day, you should switch to a bigger tractor to enhance your performance.
5. Tractors are not for earthmoving jobs
If you have to dig and move large amounts of soil on your lawn, a tractor might not be appropriate machinery. You should pick up a machine specifically designed for earthmoving jobs.
Since earthmoving is not a daily job, you should save your storage space and budget by renting this equipment from the store than purchasing it.
Read More: How to Drive a Tractor Video and Guide. If you're a beginner, this guide is a great place to start! Learn about safety, getting to know your tractor, and watch a helpful starter video!
Are Antique Tractors Any Good For Small Farms?
Antique tractors are much more affordable than brand new ones, and they are suitable for small farm owners with a limited budget.
When picking up an antique tractor, you should choose the model that has a 3-point hitch and rear PTO to work with modern tractor attachments (like the post hole digger). Furthermore, the rear PTO speed should be at least 540RPM so that the tractor can be compatible with modern PTO drive attachments.
Despite their low price tag, some old tractors don't have a loader on them. They are also limited in functionality for a few chores.
Final Words 
I hope this article has provided a detailed, helpful answer to your question "What size tractor should I buy?". As long as you know the types of chores you will be doing with your tractor and your property size, you are good to get a tractor worth every penny.