Choosing an electric fence is no small feat. With plenty of features to consider, it can feel overwhelming to choose the right one. 
On top of that, with so many options on the market, finding the right fence can be a challenge. Luckily, we have done the work and put together a list of the best choices based on various needs. 
Whether you are looking for strength, solar, or units covered, our team has done the research to select the best electric fence chargers for cattle!
*This post may have affiliate links, which means I may receive commissions if you choose to purchase through links I provide (at no extra cost to you). As an Amazon Associate I earn from qualifying purchases. Please read my disclaimer for additional details.
Our Top Picks 
|   | Product | Details   |   |
| --- | --- | --- | --- |
| | Best Overall: Cyclops Master 20 Joule | This charger offers a wide-range coverage with a strong electrical shock. | Check Price |
| | Best Solar: Gallagher S10 Solar Electric | This easy-to-install charger offers 360 coverage and can be placed anywhere that faces the sun. | Check Price |
| | Best Coverage: Gallagher M1500 Electric Fence Charger | This charger can cover a wider area than most of its competitors while maintaining 15 joules. | Check Price |
| | Best for Companion Livestock: Zareba EAC50M-Z Low-Impedance | This fuseless design offers a 2-joule output and is great for different wiring options. | Check Price |
| | Best Budget: Patriot PE10 | Designed for small farms, this charger is great for people who are new to electric fences. | Check Price |
| | Best for Low Impedance: Parmak DF-SP-LI Solar Pak 6 Low Impedance | Reliable and robust for its size, this charger offers wide coverage with a low impedance. | Check Price |
How We Chose the Best and What to Look For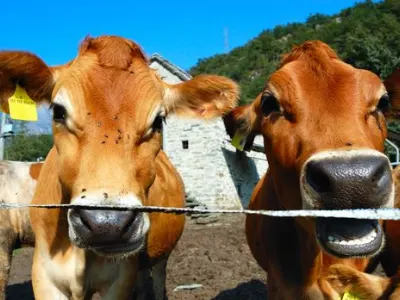 Knowing what separates the different types of fence chargers will help you narrow down the options. Here are a few factors that we considered when choosing the best. 
Charger Terminology
Low Impedance 
Understanding low impedance is the key factor affecting your choice.
Low impedance simply means the flow of current through the wire brings less resistance overall, resulting in more power flowing through the wire with less heat generated. 
Solid State
Solid-state fence chargers offer a moderate current that does not require a long time to maintain. This charger is best suited for short-haired animals and/or small pets. 
Continuous Output 
A continuous output charger produces a stable charge, meaning electricity will be supplied continuously and uninterrupted during operation. This charger is ideal for dairy stalls and smaller paddocks. 
Types of Fence Charger
Plug-in (AC) Powered 
Plug-in chargers are directly powered chargers that require you to connect the charger to a power supply or grid.
You can use this type of charger to plug into several walls or use an extension cable. In a remote place or areas away from the power source, you should seal the path of the electric fence energizer for safety. 
DC (Battery) Powered
The DC charger uses batteries to power it. This can make it easier to operate, and helps you avoid problems like finding cables, or sealing off cable paths. 
The only thing to remember here is batteries need to be charged in a timely manner to ensure consistent energy coverage.
You could even buy an extra set of batteries and trade them out whenever one set needs to be charged. 
Battery chargers typically do not come with electric barrier chargers. While some are rechargeable, others just need to be replaced when their power has been depleted. 
Solar-Powered
By far the most environmentally conscious choice, solar-powered electric fences need to be charged, but the charger is connected to solar panels.
When the sun is present, the battery absorbs it, turns into an electric current, and then transmits it to the charger. 
It is also important to note that chargers that run on solar power can operate for 2 weeks without sunlight. They are usually fairly easy to use, light, durable, and easy to move if you need to. 
The acid batteries of these chargers have the longest lifespan, at nearly 1,000 charging days. 
Size and Power of Charger
The best tip for choosing a charger is to choose one that has certain parameters and numbers for your property that will provide you with an efficient charger. 
Instead of relying on what the specs are according to the manufacturer, we paid more attention to specific needs.
Manufacturers provide those numbers based on ideal conditions, but as you know, that's not always the case. 
Volt 
Volt is an SI unit of electromotive force that can be defined as the difference that will potentially be carried with 1 ampere of current against one-ohm resistance.
Volts can help you predict at what force your cattle could be endangered because, for any kind of cattle fencing, the maximum amount of volt allowed is 7,000. 
Miles 
Miles is a parameter that involves the ability to charge an electric fence successfully to handle a fence of a certain length. 
The flow of current is secured for the fence length indicated, but if the fence length exceeds permissible standards, the efficiency of the current is compromised. 
Joules
Each fence will have a certain degree of shock power, and an efficient charger not only keeps cattle inside the fence but also protects them from outside predators. A joule refers to the power required to shock. 
You can refer to the following list for minimum requirements: 
Cattle and horses: 3-5 joules
Deer and pests: medium power
Predators: 3-8 joules
Boar: a large shock of power
Bear: high power
Installation
Most fences come with user guide manuals, and make it easy to follow instructions. However, it's good to keep some factors in mind. If you choose the AC charger, you must connect it to a power of 110 volts.
Chargers might need to be protected from weather factors so make sure to put a protective cover around your charger if it's not waterproof. 
Always, always, always use insulated ground wire for safety. Fence chargers should always have a separate ground rod system.
This ensures that it remains separate from the ground rods that your home relies on. Fix the charger covers with screws or nails to limit outside impact exposure. 
Check out this handy video on how to install a fence charger and ground rods:
With all of that said, let's hop into our reviews of the best electric fence chargers for cattle!
Best Fence Chargers Reviewed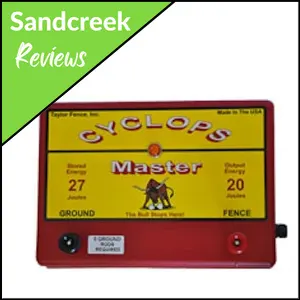 Product Ratings
| | |
| --- | --- |
| Shock Power | 4.9/5 |
| Durability | 5/5 |
| User-Friendly | 4.9/5 |
| Coverage | 5/5 |
Range: 20 Miles | Power: 20 Joules | Warranty: 1 Year | Weight: 8 Lbs
What We Liked
Made in the US
Powerful shock
Firm housing
Low impedance design
Can be used on any conductive material
Easy to use
One-year limited warranty includes damage caused by lightning
What We Didn't Like
Not the most budget-friendly option

Heavier than some chargers
With a 20-joule AC charger, this fence has been designed with larger pastures in mind and can cover up to 640 acres or a 20-mile fence.
BONUS! It was produced right here in the US. 
This charger is best for those who worry about unforeseen gaps in their coverage.
Typically, 5 to 10 joules are more than enough to keep your cattle in and predators out. Knowing this, there will still always be the potential for a lack of coverage somewhere – cue this charger. 
While expensive, this charger has a 1-year warranty that even covers damages sustained by lightning, and can be extended as desired.
The charger comes in a sturdy case and a low impedance, making it the best fit for your strongest electric fence needs. 
Further Reading: Best Electric Fences for Horses. We also tested electric fences suitable for horses in this review and guide!
See Price on Amazon
---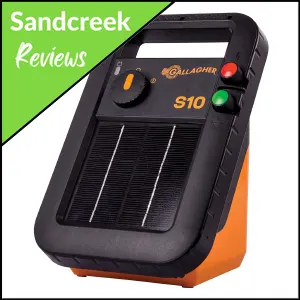 Product Ratings
| | |
| --- | --- |
| Shock Power | 4.5/5 |
| Durability | 5/5 |
| User-Friendly | 4.5/5 |
| Coverage | 4/5 |
Range: 3 Miles | Power: 0.1 Joules | Warranty: 3 Years | Weight: 4.6 Lbs
What We Liked
Made in the US
Affordable price
Super tough
Lightweight and portable
Easy to install and use with no main power required
3-year warranty
What We Didn't Like
Not so powerful to discourage larger predators
Not suitable for large properties
If sustainability is on your mind, look no further than this charger powered by solar energy.
This fence is great for remote areas that do not have access to main power for temporary grazing. 
Smaller pastures can trust in this reliable electric fence energizer.
Manufactured in the US, this tool powers up to 3 miles of single wired fence. Unique battery storage technology makes sure that with a full charge, you can last up to 3 weeks without sun.
With an excellent mounting capability of 360°, you can position the charger in whatever location is convenient for you, so it can soak up that sun. 
Further Reading: Best Electric Fence Testers. Not sure if your fence is a dud? Find out with these tried and true testers.
See Price on Amazon
---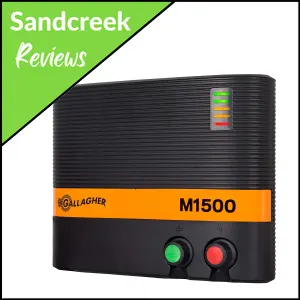 Product Ratings
| | |
| --- | --- |
| Shock Power | 3.9/5 |
| Durability | 5/5 |
| User-Friendly | 4.5/5 |
| Coverage | 5/5 |
Range: 160 Miles | Power: 15 Joules | Warranty: 3 Years | Weight: 5.85 Lbs
What We Liked
Durable build
Can cover a large area
Strong shock output
Adaptive output control technology
Built-in lightning diverter
Quicks​​​can output voltage bar graph
What We Didn't Like
Expensive
Can be heat sensitive
This charger covers more area than its competitors. The M1500 can power up to 160 miles of single-wired fence, or up to 40 miles of multi-wire fence.
Not only can it cover such an expansive area, but it also does so while maintaining 15 joules of power. Plenty to keep your cattle safely inside the pasture and predators out! 
Designed to last, this device consists of durable, hard, high-impact plastic for its external casing, and a built-in lightning diverter as a part of the new internal circuitry. 
Further Reading: Best Solar Fence Chargers. Explore these eco-friendly fence chargers through our ultimate guide!
See Price on Amazon
---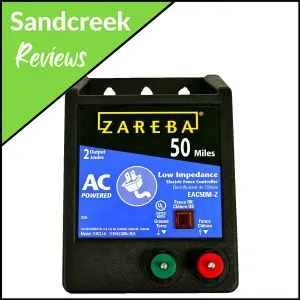 Product Ratings
| | |
| --- | --- |
| Shock Power | 3.5/5 |
| Durability | 5/5 |
| User-Friendly | 3.5/5 |
| Coverage | 4/5 |
Range: 50 Miles | Power: 2 Joules | Warranty: 2 Years | Weight: 3.15 Lbs
What We Liked
The 2-joule output is effective.
Fuseless design.
Digital timing with indicator light
Different wiring options
What We Didn't Like
Quite difficult to install
A little bit noisy
Manufactured in the US, this fence option provides one of the safest charge options for wide-area control.
This charger is considered ideal for any kind of livestock management where AC power is available. Coverage extends up to 50 miles with a charge output of 2 joules.
Also, you have the option of using different wiring options such as poly wire, high pulls, poly tape, poly cord, etc. 
An AC-powered electric fence holds full energy while providing reliability, waterproof, and high-voltage shocks for all animals with added digital protection. 
See Price on Amazon
---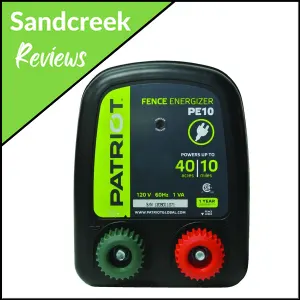 Product Ratings
| | |
| --- | --- |
| Shock Power | 3.5/5 |
| Durability | 4/5 |
| User-Friendly | 3.9/5 |
| Coverage | 3/5 |
Range: 10 Miles | Power: 0.3 Joules | Warranty: 1 Year | Weight: 1.5 Lbs
What We Liked
Good price
Designed for small farms
Ideal for safely containing pets and smaller livestock
Can be used as a dog enclosure
Low impedance
Large color-coded controls and LED indicator
What We Didn't Like
Not suitable for bigger or braver cows
Not effective for larger properties
This 0.30-joule AC-powered charger is best for small farms, or residences up to 10 miles, especially for horses and other small animals, such as cats, chickens, hogs, or goats inside their enclosure.
This charger is built for defense against small predators. 
It's also a great device for people who haven't used an electric fence charger before. The LED indicator indicates proper energy source operation, and has broad-color coded controls for clarity. 
With a low-impedance configuration, this device guarantees a steady current of 5,000 to a 10-mile poly wire, poly tape, steel, or aluminum fence under heavy vegetation or dense soil. 
See Price on Amazon
---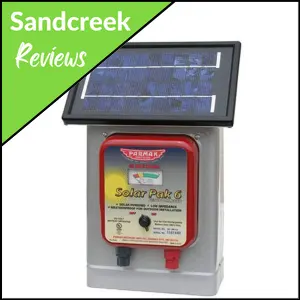 Product Ratings
| | |
| --- | --- |
| Shock Power | 4.5/5 |
| Durability | 4/5 |
| User-Friendly | 3/5 |
| Coverage | 3/5 |
Range: 25 Miles | Power: 1.4 Joules | Warranty: 2 Years | Weight: 11.4 Lbs
What We Liked
Made in the US
Great for small-medium sized hayfields
Reliable, robust unit for all weathers
Cost-effective energy solution thanks to the solar panel
What We Didn't Like
Not suitable for larger farms
Need to improve customer service
Small in size, but mighty in power, this charger can continuously charge a 6-volt battery, making it the ideal energy motor to support the property of up to 25-miles of staggered wire, or a poly-band fence. 
This charger has a strong enough charge to prevent stray animals and predators from targeting cows, horses, or pigs with its low-impedance charge. 
An economical option that appeals to tight budgets, this solar charger is great for people with bovine and livestock.
Not only does it handle bad weather well, but it also provides a robust, reliable, and consistent charge.
See Price on Amazon
---
Comparison Chart
| Product | Best Overall | Best Solar | Best Coverage | Best for Companion Livestock | Best Budget | Best for Low Impedance |
| --- | --- | --- | --- | --- | --- | --- |
| Overall Rating | 4.95/5 | 4.75/5 | 4.6/5 | 4/5 | 3.6/5 | 3.6/5 |
| Shock Power | 4.9/5 | 4.5/5 | 3.9/5 | 3.5/5 | 3.5/5 | 4.5/5 |
| Durability | 5/5 | 5/5 | 5/5 | 5/5 | 4/5 | 4/5 |
| User-Friendly | 4.9/5 | 4.5/5 | 4.5/5 | 3.5/5 | 3.9/5 | 3/5 |
| Coverage | 5/5 | 5/5 | 5/5 | 4/5 | 3/5 | 3/5 |
The Winner
Coming at number one is the Cyclops Master 20 Joule for its formidable shock output that deters predators while still being able to cover a large area up to 20 miles. 
While it is more expensive than the other options, its features and capabilities far outweigh its competitors.
What to Consider When Choosing the Best Charger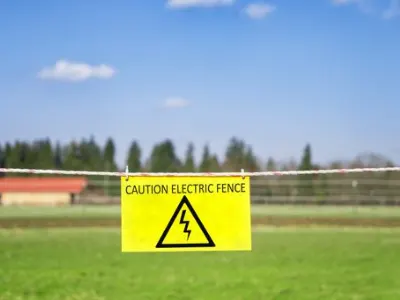 Number of Fence Wire Strands
For multi-wire fences, divide your charger distance rating by the number of wire strands, and then choose a charger with a mileage rating that meets your needs. 
It's important to note that when adding additional wires, you should increase your electricity demand, as well. 
Amount of Weeds 
It is vital to regularly treat the weeds near your fence, because when the weeds touch the fence, it will draw electricity, and make the fence more energy-consuming.
Though, it's unlikely to catch fire, but it is not impossible, however.
If your fence has a lot of weeds growing around, a low impedance charger would be best to ensure the electrical energy of the fence is always maintained at a high and stable level. 
Area to Enclose 
The strength of your charger ultimately depends on the length of your fence to ensure consistent electrical capacity. 
The electric fence energizer will list a mileage rating, but it is important to note that this number does not account for external environmental factors, such as weeds. 
Types of Animal Controlled
Larger cows and bulls will require a greater shock than smaller breeds. Similarly, more aggressive cows will need a stronger fence charger. 
FAQs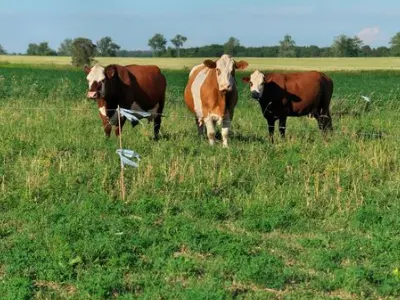 1.
What Size Fence Charger Do I Need for Cattle?
While manufacturers will push their competitive numbers, it's important to remember that the strength of your charger should really depend on how long the wires are. 
First, determine how many miles of fence lines you have. It's important to count all of the strands of wire that go around the fence.
For example, 5 strands of wire across 5 miles of the fence are 25 miles in length, requiring a stronger charger. 
Generally, 8-20 miles/joule is what is most available today, but again, this number is not practical for normal conditions.
If your fence has grass, weeds, tree branches surrounding, rain or snowfall, you may only get 3-6 miles/joule. 
Many chargers also include their electric power by the number of acres, but don't be confused by this since the length of fence lines will vary greatly on the different perimeters of your setting. 
2.
How Many Volts is an Electric Fence for Cattle?
The suitable voltage range for cattle is 2,000 to 4,000. Gentle and quiet cattle like dairy cows can be kept with lower voltage, whereas more aggressive ones like bulls would require a more powerful charger.
3.
What Fencing is Best for Cattle?
High tensile wire fencing is the most expensive, but provides results. This type of fence can bear over 1,000 pounds of pressure, without losing its shape.
It also requires fewer repairs than all fencing options. Hinged joint fencing provides the most cost-saving results and can also be used for horses and goats since they won't get stuck in between the fence. 
However, it's important to note that they won't be as stable as other fences, and need frequent checks and maintenance. 
Barbed wire fencing may sound out-of-date, but they are still added at the top of the hinged joint, and high tensile fencing to help keep predators out. 
4. Will a Cattle Electric Fence Hurt a Dog? 
Electric power of 2,000-4,000 volts running through the fence will definitely hurt a dog.
Your dog may feel slight panic after touching the fence, but if this continues to happen more than one or two times, he may not want to go out to the yard anymore. 
It's not recommended to use an electric fence made for cattle for dogs. There are other electric fence options you can use for your smaller animals.
5. Can cows sense electric fence? 
Cows can hear the electric hum of the charge going through an electric fence. And once trained, they will avoid the fence.
6. How many volts does it take to stop a bull? 
It is recommended to maintain 3,000 to 4,000 volts on a fence for bulls.
7. Is Thicker wire better for electric fence? 
Yes, thicker wire is better as the thicker the wire, the more electricity that will be able to be transmitted. The smaller the gauge number, the thicker the wire.
Honorable Mention 
This charger offers low impedance, and a 12-volt battery that reaches over 30 miles.
This model is weatherproof and portable for easy movements around the property. Some reviewers complain of circuit failure, but this model does offer a warranty.
Whatever charger you go with, it's important to take your needs, property size, and resources into consideration!