Cattle prods have been around for roughly 100 years now. In some forms or another, their application has always been unchanged. It's to deal with stubborn, aggressive animals, especially livestock. A best cattle prod is an essential tool for all farmers and ranchers.
They are built to ensure that they are safe and will not do any pain or long-term harm to the cattle. They're fairly easy to use and don't need much experience or knowledge to handle.
If you're here, perhaps you are in need to find the best cattle prod for your livestock or self-defense or even finding the best price that probably does both. That said, not all cattle prods are designed to be used in every case.
With that in mind, we have featured 7 best cattle prods with highlighting what's best at what for you to check out.
*This post may have affiliate links, which means I may receive commissions if you choose to purchase through links I provide (at no extra cost to you). As an Amazon Associate I earn from qualifying purchases. Please read my disclaimer for additional details.
Top 7 Best Cattle Prods on the Market 2022
In-depth 7 Top-rated Cattle Prods Reviews
Read More Reviews on Amazon.com
This is by far one of the strongest cattle prods on the market in my opinion.
HOT-SHOT DX36 from Miller Mfg Co includes patented feedback shock reduction technology, which is not so many products implemented. This prod also has enclosed circuitry, a sturdy handguard, and a rubber grip to minimize fatigue, a large trigger for an easy solid press.
Its built-in safety switch to prevent unwanted zap is one of my favorites. We all need it since no one wants to accidentally shock themself while holding a prod. The DX36 model comes with a snap-on battery pack (included) for easy battery replacement without any tools.
The 36-inch fiberglass shaft length is quite durable and ideal reachability. You might be surprised to know that some owners didn't have to actually touch their livestock as this prod emits a high pitch sound that is quite imitating.
PROS:
CONS:

Has patented shock-reduction technology, built-in safety switch.
Sealed circuitry, sturdy handguard and rubber grip.
Snap-on battery pack for easy replacement.
36-inch fiberglass shaft.
High durable product.
Manufactured in the US by 79-years experienced company

Some may prefer a rechargeable version
#2 HOT-SHOT HS2000 – Best Rechargeable Cattle Prod
Read More Reviews on Amazon.com
Another well-manufactured product from Miller Mfg Co. HOT-SHOT HS2000 The Green One is a rechargeable battery-operated livestock prod that delivers outstanding efficiency in all conditions, particularly on wet animals.
It comes with a permanently sealed maintenance-free motor that keeps dust and water away. The shaft is 48-inch interchangeable fiberglass, which is quite long, along with a protection clip that prevents accidental discharge. This one is probably the best cattle prod for self-defense, from animals and from the prod itself as well.
If you prefer charging over replacing batteries, this prod is for you. It has a rechargeable battery pack that can be recharged around 300-500 times. Latigo carrying strap is included.
PROS:
CONS:

Can be used in many conditions free-minded
The permanently sealed design allows dustproof and moisture-proof
Batteries are rechargeable
Has protection clip
Long durable 48-inch fiberglass shaft
Manufactured in the US by 79-years experienced company

Not so comfort handling design
The charger is not included
Read More Reviews on Amazon.com
Coming from Springer Magrath, a company with more than 50 years of experience in providing products of animal care, this product is one of the most powerful cattle prods on the market.
This prod for cattle has a solid-state electronic system with no moving parts to wear out or replace. It has a finger guide that helps you to feel the switch, even with thick gloves on. The switch is coated with rubber to avoid electrical feedback.
Battery contacts are made of refined metals to resist rust and use strong coil springs to maintain firm contact with the battery. It runs on 4 C batteries and releases around 5500 kV of shock.
One cool feature of this prod is after the release of the button, it still stores 1 shock in the shaft. It has a 22-inch shaft that for me is quite short. I assume this thing is for experienced ranchers.
PROS:
CONS:

Lightest prod on the list
Durable build
Rubber switch to prevent feedback shock
Store 1 shock after releasing the button
Flexible shaft

22-inch shaft
Batteries not included
Hard to disassemble the handle when needed.
Read More Reviews on Amazon.com
Yet another product of Springer Magrath, this prod shares a lot of similar specs with the previous prod at #3.
Sharing almost the same design means this prod inherits a lot of good stuff from the previous. This one also has a fairly solid built, moulded of a sturdy structural grade, high-impact plastic material. Rust-resistant battery contacts. Rubber coated trigger.
The 34-inch shaft is also a flexible type that allows you to operate confidently. A longer shaft means you can keep your distance while still in full control of your cattle.
PROS:
CONS:

Lightweight and durable built
34-inch flexible shaft
Rubber coated switch
Long battery life

Batteries are not included
Quite hard to assemble.
Read More Reviews on Amazon.com
This prod has solid-state circuitry, it features zero moving parts that are good for resisting dust and moisture, hence preventing accidental shock. Instant-on technology delivers an effective and safe shock, eliminating the need to wait for a motor to spin up.
It might be the most battery economy on the list, the unit uses only 2 C cell batteries (included). Providing its quite short 29-inch shaft, Parma Master Stock Prod is specifically designed for close applications, such as chute loading.
Unfortunately, low-cost built comes with lower quality, this prod is not the most durable on the list, it might break quite easily when dropped. The internal electrical part might crack and stop working.
PROS:
CONS:

Super inexpensive that works
Lightweight
Instant-on technology
Only use 2 C batteries
Sealed circuitry

Weak shock, not recommended for cows or bigger cattle
Comes with no instruction documentary.
Low sturdy materials.
Read More Reviews on Amazon.com
If you are looking for the cheapest prod for cattle, this is the one.
Made of engineered plastic, this prod offers a promising shockproof, moisture resistance and enhanced durability.
It has a non-slip design enabling a comfortable grip. Safety switch and button clip to prevent unintended shock. The battery is rechargeable with an included charging cable.
Although not being the best cattle prod, this one probably the best budget prod on the list. With a 22-inch flexible shaft, this prod might not be made for inexperienced ranchers.
PROS:
CONS:

Lightweight
Non-slip design
Safety switch and button clips
Budget price

22-inch shaft
Not so sturdy materials
Not sure about durability
Read More Reviews on Amazon.com
This is a prod with a clog-free, no-ground tip. The strong flexible 22-inch shaft can bend to a 90-degree angle even in cold weather and revert to its original form.
This prod has a solid-state electronic system designed to transmit a very low current to an animal with a strong instant jolt so there is no danger of harming you or your livestock. The case is made from high-impact yellow plastic.
You should notice that it still store one more shock after releasing the fingertip switch (like the #3 prod on this list). So, be careful not to shock yourself in the next use.
Weight at 2.75 pounds and the shaft length is just 22 inches, this prod is the shortest yet heaviest on the list, making it quite uncomfortable for women users.
PROS:
CONS:

Clog-free, no-ground tip
Durable build
Flexible shaft
Solid-state electrical system

Only 22-inch shaft
Heaviest prod on the list
What to consider when buying a cattle prod?
1. Length
Length is the first consideration when choosing a cattle prod.  Based on the distance you want to contact the animals, you can select a cattle prod with an appropriate length.  The most common cattle prod length on the market today is between 24-36 inches.
An ideal length prod will ensure that the distance between you and the flock is not too close or too far.  It helps the cattle not too scared and also ensures your safety when dealing with large animals such as buffaloes and cows.
2. Stiff rod or flexible rod
Generally, the rod is the most important part of a cattle prod. To choose a stiff or flexible rod, you need to consider many factors.
A flexible rod is usually made of rubber while a stiff rod is usually made of fiberglass. A flexible one is often cheaper and less likely to break than a stiffer one with such ingredients.
3. Safety features
The cattle prod generates an electric current when activated, so in some cases, it may accidentally shock the user.  To prevent this, selecting a cattle prod with safety features for the user will be better.
These features can be rubber handles triggers to limit conductivity.  The closed-circuit design limits water leakage, causing electric shock.  Besides, a cut-off safety to prevent the user from mistakenly pressing the activation button will partly reduce the risks of using the tool.
4. Battery life
Battery life is also a factor to decide whether a cattle prod is good or not.  Currently, these products use two main types of batteries.
One type is a rechargeable battery with a fairly large capacity, allowing you to easily recharge multiple times.  The other is a basic battery like 2 or 4C which is often cheaper. This type has a decent battery life and can be flexibly replaced when the battery runs out.
Since using any type of battery is quite convenient and effective, there is no big difference between these two types.  You can depend on your needs and preferences to choose the most suitable one for yourself.
5. Durability
The cattle prod is mostly used in rough and dirty environments.  It can be easily damaged if it is kicked, crushed, or dropped while you contact the animals.  Therefore, let's choose the toughest and most durable cattle prod you know.  This will help you use it for a longer time and more economically.
6. Material
Another way to find out what type of cattle prod is right for you is probably to look at their material.
Fiberglass
Fiberglass has the features of both glass and plastic.  This may be because it contains both materials.
People often use an industrial-grade plastic base, then the glass fibers are arranged and weave through this base. With such composition and construction, it both retains the hardness while still ensuring flexibility.
In fact, fiberglass is not a very durable material, especially in cold weather.
Steel
Instead of being used in conductors for their electrical conductivity, steel is used differently.  It is used to reinforce the shafts in cattle prod.
Steel is also used similarly as glass is woven into the plastic to form fiberglass. Due to its molecular structure, steel is an excellent material with strength and flexibility, making it an ideal material for your cattle prod.
Rubber
In cattle prod, the rubber is used primarily as an insulator to protect the user against accidental electric shock.
Rubber is commonly used in the shaft part of the cattle prod.  It is blended with steel fibers to give product flexibility.  This way ensures that the cattle prod is still durable enough to cling to the cattle.
Rubber is an organic material, hence, it can be rotten in a wet environment or if not stored carefully.
ABS
ABS is an extremely durable material, water-resistant, not reactive with other substances, and less affected by the temperature. For these traits, ABS is often used in the handle of the cattle prod.
ABS is a special plastic, so it has many superior properties than the conventional one, which makes it an ideal material for a cattle prod.
Copper
Among the materials, copper is less commonly used in cattle prod.  The only reason is because of its excellent electrical conductivity. In fact, the electrical conductivity of copper goes beyond simple wiring.  Therefore, it is used as a contact in cattle prod.
Besides, copper is also a material with good durability. A cattle prod with copper contact ensures its durability and avoids the terminal wear and loss of electrical charge.
How to use a cattle prod correctly?
The cattle prod is designed with the switches set to the high or low level. For small animals, you should turn to the low charge setting.
The usage of a cattle prod is quite simple.  Put the contact point of the prod on the upper rear legs or rear flank of the animal. Lightly press then release the power button to shock the animals with just enough current.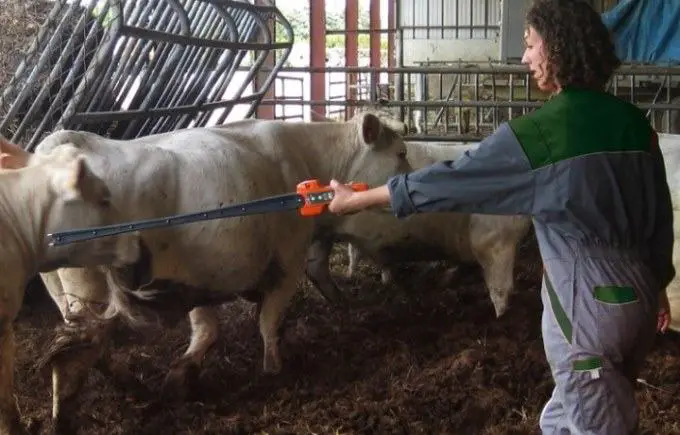 To use a cattle prod in a safely and effectively way, you should observe the following:
Do not shock the animal when it is wet as this can increase the intensity of electric shock on the animal.
Do not use cattle prod for continuous electric stimulation on the same animal.
Do not shock in sensitive and vulnerable parts of ​​the animal such as the genitals, face, udder, or anal area.
Do not use electric cattle prod for calves or small animals under 3 months of age. It's better to move them directly by hand.
Do not overdo the cattle prod as it will cause stress and fear in your herds.
Although cattle prod is useful, it should be only used as the last method for your herd.  Everything will be better when handled gently and calmly.  If cattle prod assistance is required, you must select an instrument that is suitable for your herd. This allows you to shape your animals without getting too scared or hurting them.
FAQs about Cattle Prod
1. Can you use a cattle prod on a human?
The answer is YES because cattle prods don't cause electrical currents strong enough to cause severe damage to the human body.
To make it easy to imagine, the cattle prod was the forerunner of the stun gun. However, the amount of voltage the cattle prod releases is not enough to put us in a critical situation.
That said, no one wants to experience the discomfort of being stung by electricity. Think twice!
2. Is a cattle prod good for self-defense?
If you need to defend yourself in an emergency, a cattle prod is not an intelligent choice. Although it can discharge electricity, its primary purpose is only to control the herd.
Furthermore, you can only use an electric cattle prod at a small distance. Speaking of self-defense, you should first learn about the skills. Then look to more reliable self-defense weapons to defend themselves from space. A stun gun is a suggestion because of its compactness and convenience, and pepper spray can help also.
3. Would a cattle prod kill a dog?
The current from an electric cattle prod is not enough to kill a dog, but we believe you do not want to try this.
An electric shock can make your dog more obedient if you sting correctly. However, with some aggressive breeds, the use of cattle prod can also make it angry and bite you.
In some countries, police may notice if you carry a cattle prod around dogs. Using cattle prods also won't be too effective if the dog has long, protective fur. So if you want to defend yourself against dogs, find another option.
3. Are electric cattle prods illegal?
In certain areas like Baltimore and Baltimore County, stun guns are illegal. However, we don't have any specifics for electric cattle prods yet. Although many people were apprehensive about electroshock devices, cattle prods were legally sold in the US for decades.
4. How bad does a cattle prod hurt?
Have you ever been electrocuted? The pain a cattle prod brings is similar to being shocked by a low-powered electrical source. You will feel a sudden pain, and some say it is like a cramp. However, that pain goes away as soon as you no longer touch the cattle prod. Also, it causes no damage to the muscles or systems in the body.
5. What is the voltage of a cattle prod?
The voltage of a cattle prod depends on the manufacturer's design. Most cattle prods will have a voltage of no more than 9 volts and 20ma. You can also power the cattle prod with batteries.
Of course, that's a low voltage. However, it's enough to cause significant pain in both animals and humans, so use it with care.
5. Who invented the hotshot?
The first versions of the hotshot – electric cattle prods have been available on the market since 1917. However, it was not until the 1930s that rumors spread about the inventor of the hotshot. The father of the electric cattle prod is said to be a baron from Texas – Robert J. Kleberg, Jr. of the King Ranch.
Conclusion
Choosing the best cattle prod out of hundreds online might take forever. We've got you covered. Because of the specific details discussed above, you can make your own choice for the best that fits your needs.
In my view, the best cattle prod is Miller HOT-SHOT DX36 which is the first mentioned on the list. It's a combination of good features like patented shock-reduction tech, excellent handling and well-made material. Manufactured by a 79 years experienced company, it is hard to go wrong with the HOT-SHOT DX36.
If your top priority is for self-defense, then #2 HOT-SHOT HS2000 Rechargeable Green Livestock Prod is for you. Aside from all the safety features, it has the longest shaft at 48 inches with a durable design and powerful discharge, enough to keep your distance while remaining effective.
Still want a fine prod that won't hurt your wallet? #6 SHZICMY 8000V Electric Rechargeable Hand Prod Shock is a no-brainer. Offering almost one-third of the price of the best cattle prod on the list, this prod still gets your jobs done quite well.