Electric fences have been around for quite a long time now. You always need one when it comes to managing or protecting your cattle, pets or poultry, sometimes even to protect your garden.
Then came the operating cost. To utilize that cost, solar fence chargers are a well-known solution. Choosing the best solar fence charger means you may only pay once for a long-term benefit. Check the list below for our 7 best-rated options.
*This post may have affiliate links, which means I may receive commissions if you choose to purchase through links I provide (at no extra cost to you). As an Amazon Associate I earn from qualifying purchases. Please read my disclaimer for additional details.
Top 7 Best Solar Fence Charger on the Market 2022
7 Top-rated Solar Fence Chargers Reviews
Read More Reviews on Amazon.com
Features:
2-year warranty – 1 year for battery
Low-impedance charger
Range: 30 miles
Voltage at 500 ohms: 11,000 volts
1.1 – 3.1 joules output
This is one of the best solar fence chargers on the market, especially for those who own a medium or large pasture.
Designed and manufactured by Parmak, a 100% US brand that has years of experience in the electric fence market, this solar fence charger has guaranteed quality and efficiency.
It has a small solar panel that charges a 12V sealed lead-acid battery on a regular basis that powers the electric fence during the night. The performance meter is built-in and has 3 main functions: performance meter function test; battery level; voltage output test.
This solar fence charger is a low-impedance charger with an open-circuit voltage of 11,000 volts and a length of up to 30 miles, it is ideal for medium to wide pastures. It is also made of waterproof components, allowing you to install wherever you want without worrying about the weather.
PROS:
CONS:

Operating cost-free with a rechargeable battery
Compact design with weather shield materials
Low-impedance charger
Up to 30 miles coverage
Built-in performance meter
Manufactured in the US

Might not stop large long-haired animals with thick hides
Customer service is not so helpful
Quite pricey
Read More Reviews on Amazon.com
Features:
UL and CAS listed
2-year warranty
Range: 25 miles
Voltage at 500 ohms: 9000 volts
Energy Output: 0.75 – 1.6 joules
Looking for a smaller option for a smaller pasture? This is it. With coverage at 25 miles, this solar fence charger is another good offer from Parmak. It's ideal for small and medium pastures.
This one shares a lot of good features with the previous brother, including built-in 3 functions meter, weather shield materials, compact design with a rechargeable battery, low-impedance charger, etc…
On its own, this charger has a 6 volts battery and can cover up to 25 miles of area. It can release approximately 0.75 to 1.6 joules of shock. According to experts, the battery charging capacity is 42% higher than other models in its price range.
Read more: Best Electric Fence Tester on the Market
PROS:
CONS:

Operating cost-free with a rechargeable battery
Compact design with weather shield materials
Low-impedance charger
25 miles coverage
Built-in performance meter
Manufactured in the US
42% higher battery charging capacity than others in its price range

Not suitable for large pastures or more than 25 miles fence
Might not stop large long-haired animals with thick hides
Read More Reviews on Amazon.com
Features:
1-year warranty
Nominal output voltage: 8000 Volts
Distance range on steel wire and no weed: 2 miles
0.04 joule output
4 volts battery
This solar fence charger is ideal to apply for pets and small animals. It is a reliable choice that works for areas up to 2 miles, compatible with a range of wire styles, including poly tape, poly wire, poly rope, aluminum and steel.
This thing is incredibly light, at just 2 pounds, making it very easy to carry and install. The battery doesn't drain quickly thanks to the low-impedance design.
Although coming with a reasonable price, this solar fence charger still offers good weatherproof materials. It has an output at about 0.04 joule, which is quite enough for small animals like dogs, cats, chickens, or rabbits.
PROS:
CONS:

Low-impedance charger
Super lightweight
Suitable for a small area
Weather shield materials
Reasonable price

Pretty small output that not effective on bigger cattle
Only offer 1-year warranty
Read More Reviews on Amazon.com
Features:
1-year warranty
10 miles range
Energy output: 0.15 joules
Open circuit voltage: 11,400 volts
This solar fence charger is great for those who have a land of 10 miles border. This is a low-impedance, solar-powered solution that uses a solid-state circuitry design. It is capable of releasing 0.15 joules, which ensures effectiveness for mid-sized animals.
Zareba ESP10M-Z comes with a single unit option. The solar panel is built into the body of the charger, rather than separately. It also has a slotted mounting bracket on the back of the energizer, a lightweight packet with just 4 pounds. All of these make the installation process to be much easier.
It has a status-check light for you to ensure that your system is up and running, the battery can last up to 2 weeks without a recharge.
PROS:
CONS:

Easy to install
Compact, solid, and lightweight design
Can cover up to 10 miles of area
Long battery life
Powerful shock output
Low-impedance design

Might not effectively stop large long-haired animals with thick hides
Not sure about longevity
Read More Reviews on Amazon.com
Features:
2-year warranty – 30-day for battery
1-mile range
Energy output: 0.60 joule
Open circuit voltage: 6000 volts
It has an output at 0.60 joule, equipped with a 12V/12AH sealed lead acid battery. The 10-watt solar panel has preset tilting angles which allow you to easily change the facing direction depending on the weather.
When properly used or stored, the battery should last 3-4 years. This solar fence charger can power 1 mile of 3 strand cattle fence or 1/2 mile of 5-7 strand sheep fence. It has highly visible on and off light with a low battery indicator. The energizer can be operated by a 110V power source while the battery is missing.
PROS:
CONS:

Long battery life
Quite powerful output
Solar panel angle can be adjusted
Can operate on 110V power source when needed

Quite heavy
Short battery warranty (30 days)
Read More Reviews on Amazon.com
Features:
1-year warranty
2 miles of electric fence range
4 volts battery
0.04 joule of output
Open circuit voltage: 8000 volts
The Fi-Shock ESP2M-FS is a low-impedance design that is primarily used to control domestic animals (dogs and rabbits) and poultry. At the same time keeps other annoying animals out of your farm.
It has coverage at 2 miles with output at 0.04 joule. It comes with a 4 volts DC lead-acid battery, sealed circuitry and a solar panel that are all integrated into a single solid package. This enhances weatherproof and eases the installation process.
This solar fence charger is compatible with steel, aluminum, poly rope, poly tape and also with poly wires. It is lightweight, just 3.4 pounds, allows you to freely choose to install anywhere you like.
PROS:
CONS:

Lightweight and compact design
Low-impedance tech
Suitable for managing small animals, poultry.
Weather shield

Shock output quite weak for bigger cattle like horses, cows
Power button is not well positioned
Read More Reviews on Amazon.com
Features:
3-year warranty
3 miles of electric fence range
6 volts battery
0.1 joule of output
Open circuit voltage: 8000 volts
Gallagher is the trusted name in animal management solutions. This S10 solar fence charger is one of their best rated products on the market. It can cover up to 3 miles or approximately 5-15 acres of land. It is not only for animal protection but also for garden protection.
This solar fence charger has built-in lightning protection which is the only one on the list has offered. It is also well designed to endure weather changing, waterproof, and drop protection. I mean, you can tell just by looking at it.
It has a 6 volts battery that can last up to 3 weeks without sun. The output can be up to 0.1 joule, quite enough for cattle like cows and horses.
PROS:
CONS:

Long-lasting battery
Durable build
Built-in lightning protection
3 years warranty
Enough output to manage cows and horses…

Not suitable for medium or large pastures
Pulse rate might slow for some users
Only suitable for poly wire and turbo wire
What to consider before buying the Best solar fence charger?
1. Range capacity
Each solar fence charger is produced to power up fence wires of various lengths. The range capacity of the charger is determined by the open-circuit voltage of the equipment and the estimated voltage drops that are lost during operation across the wires.
Before choosing a solar-powered electric fence, it is a top priority to check the length of the wire of your fence. The best solar fence charger doesn't necessarily have the highest range capacity. Buying an item whose range capacity is lower than needed will lead to poor performance over time and across the fence. In contrast, selecting a product whose range capacity is higher than requirement will be an unwanted waste.
In order to figure out the suitable range capacity so that you can provide the manufacturer with, it is advised that you follow the following formula:
Range rating = Fence Length x Number of Wires x 2
Do not ignore this step as it will reduce voltage drops effectively and increase efficiency.
2. Type of animal and voltage
The second thing that determines the type of solar fence charger you should buy is the type of animal that you have on your farm and want to stay away from your fence.
There are differences in voltage requirements based on the size of the animals you are coping with. For example, if they are big-sized animals such as dear, moose, or predators, you can only set your mind at rest if the power generated is from 4,000 to 5,000 volts minimum so that the electric shock is strong enough to scare them off once touched.
It also means, if you are handling smaller sized animals such as cattle or horses, the fence should be able to generate between 2,000 – 3,000 volts. The Zareba systems of voltage minimum requirements below are for your reference.
3. Joule output
Joule output and a joule is actually another unit that people use in the electric fence chargers. A joule is a unit of energy that also represents watts. Output joules is an indicator of the amount of energy transmitted through the fence. The joule indicates the strength of the electric shock that an animal will suffer from.
Ultimately, the strength and harm of the shock lead to the loss in the amount of energy in the animal body. Since Watt = Voltage x Current, the shock the animal suffers will be affected by voltage, current, time of electric pulse and the electrical tolerance of the animal's body.
Fence charges are designed to follow standards like the UL-69 or IEC 60335-2-76, which makes sure that the electric shock emitted by the charger will not exceed 5 joules so that the damage is strong enough yet within safety limit to the animal's body.
Please be aware that the solar fence charger is just a physical protection system, even the best solar fence charger. They might help you protect your pets from giant predators by providing a powerful electric shock but they cannot recognize if the ones touching it are your little animals. Hence, it is important to train them to stay away from the fence.
4. Weed conditions and the use of the fence
Excessive weed conditions and choice of wire materials could result in a drastic loss in the voltage run through the fence wires. Therefore, you should pay attention to the fence voltage, variations in voltage output based on the type of wire.
Steel is a widely used material to achieve optimum outcomes. You might also need to look at the references indicating voltage at 500 ohms or 100 ohms, which clarifies the electrical resistance caused by weeds mainly. 500-ohm voltage is usually generated by medium weed levels and 100-ohm is by heavy weeds.
5. Warranty
Last but not least, the warranty is also as important as other factors when it comes to buying a solar fence charger. These products often have warranty terms which vary between 1 – 3 years according to brand and range capacity.
Select the solar fence chargers that have a suitable range capacity and the longest warranty for your purpose.
Benefits of a solar fence charger
1. It is convenient and flexible
You can locate your fence wherever you want when it is powered by a solar fence charger. No more a maze of electrical wiring. You can also change its location to different areas without difficulty.
Also if you and your cattle are on a trip somewhere, you would like to carry an electric fence with you. Or you just need to use it for a few days. In such cases, a solar fence charger is just a perfect temporary solution.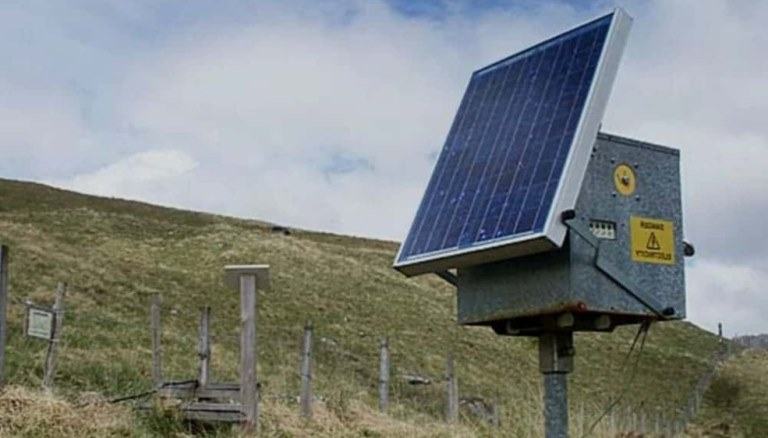 2. It is environmentally friendly
It is undeniable a fence charger powered by sunlight is an environmentally friendly option. The electricity is generated by solar energy, which is an infinite source of renewable energy. Not a tiny fossil fuel or nuclear rod is wasted to serve this purpose.
3. Can protect your fence with Power Outages
With solar-powered electric fences, you don't have to worry about power outages or bad circuitry or battery failure. It can work well after all.
4. Still work if no sunshine
You might question whether this works on consecutive days without sunshine. No worries, an advantage of it is that they can store enough power for at least two weeks' continual use on rainy days if it is fully charged.
Also, don't forget that it has backup batteries. In case your solar fence charger goes down as it runs out of energy, a backup battery can be a lifesaver. Therefore, you should always charge that one fully and have it ready for immediate use.
5. Suitable for life off the grid
More and more people are leading a life off the grid. If you live in an area off the grid whether it is on purpose or not, this is absolutely the best choice.
6. Suitable for large farms
If your farm covers a very large area and even includes some hidden corners, sometimes the connection is lost along the fence. Hence, for distant fields where an electric fence is highly needed, the solar fence charger is an effective solution.
7. Lower cost for utility
It is such a cost-saving solution as the electricity bill is totally cut down from your expense. The advice is to make sure it is in good condition and change the battery every 3 or 4 years, then you will have a device that has nothing to do with your utility bill throughout its lifespan.
Types of solar fence chargers
1. The continuous output fence charger
The continuous output fence charger provides a constant charge on the hot wires, different from pulse chargers. This uses more power and is less safe, which explains why it is not a common choice nowadays.
2. The solid-state fence charger
The second type is the solid-state fence charger. This one generates a medium amperage shock in pulses of medium duration. This is ideal to manage shorthaired livestock in low weed conditions.
3. The low impedance technology charger
The low impedance technology charger is considered as a state-of-art model that has lower electrical resistance in the charger. This means it allows more power to go through the wire. This characteristic makes it the best choice in weed conditions and in other situations as well.
Read More: Best Electric Fence Chargers for Cattle. We tested the top electric fence chargers on the market and here's how they held up!
Where to place the solar fence charger?
Solar electric fence chargers are manufactured to stand up to rugged weather conditions under the storm, rain or snow. Hence, your nerves should not be on edge due to the weather change.
However, a critical requirement for the solar panels to function at its best is that they need to obtain direct sunlight to convert the energy at maximum and speed up the charging process. Install the charger where no trees or shade covers the product or block the sun.
Furthermore, you should put the solar fence charger out of sight and out of touch with animals to prevent it from being damaged and destroyed by the animals.
It is advised that you should locate the solar charger close to the ground rods you have set up. The closer the better. It is to enhance efficacy by minimizing the resistive path back to the solar charger.
The solar fence charger should be located in the middle of the fence, rather than too close to one side of the two. Its purpose is to ensure that the voltage across the fence is evenly maintained and there is no substantial voltage drop throughout the fence.
There are different models similar to solar phone chargers which can be moved and transported with ease. You can use those to try several configurations to achieve the wanted voltage drop effortlessly.
How to use a solar fence charger?
You don't need to be an expert to be able to use it. Following some steps below can be of some help.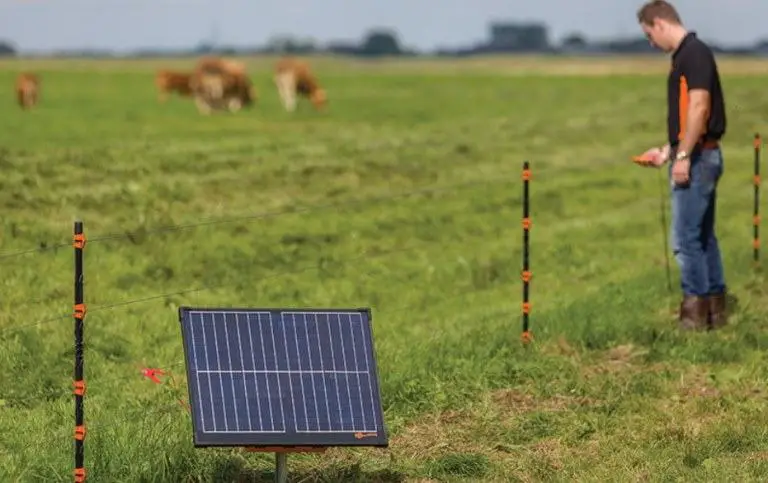 1. Unbox and Charge
You need to charge the battery prior to the installation for at least 2 – 3 days to maximize the lifespan of the equipment. Normally, a fully-charged device can run free within 2 weeks without sunlight.
2. Mount the solar fencer
Most solar fencer chargers are accompanied by the built-in mounting brackets to suit different types of post. Look for a convenient place to mount the charger off from the ground. The place should be free from shades or big trees and the solar panel can have direct access to sunshine.
3. Connect the fence to the charger
Then, connect the wire to the terminal hook of the fence charger. Next, connect the wire to a ground rod system. Continue to connect the fence write to the fence terminal of the charger to transmit the current.
4. Activate the charger
Once all connections are done, you can activate the charger and perform some tests that will be discussed down below.
5. Clean the solar panel
The solar panel should be checked and cleaned on a yearly basis to make sure it functions well. The wastage built up after months by dust or debris or the weed growing over the fence might affect the amount of sunlight the solar panel receives.
How to operate an electric fence?
It is essential to know how to operate an electric fence safely and successfully as it is actually a dangerous device designed to create a shock or damage. There are some key ideas that help you do some trials to get used to it.
Before starting the solar fence charger installation, make sure the device is not working or else you will suffer an unexpected electric shock. The battery inside the product may still have some energy left.
Once you have finished, allow them at least 3-4 days to obtain some direct sunlight. The solar panels now will recharge the DC battery. Afterward, the solar-powered electric fence must be turned on and run some tests with a performance meter or indicator light.
The first test is to check whether the meter works. The meter should be able to show the increase or decrease in voltage quickly and smoothly.
The second test is about verifying the state of charge of the battery by which you know how much energy remains inside the battery in regard to the maximum capacity.
The last test should be performed to check the voltage output of the solar electric fence under normal circumstances. A voltage tested can be used to test the voltage output across the fence. Note that a good grounding system is a critical requirement to maintain the fence system in good condition and safe operation. Also, the electrical current can navigate the shortest path back to the fence charger with ease.
Conclusion
To me, it's undeniable that the best solar fence charger crown should be given to Parmak Magnum Solar-Pak 12. This is the most powerful and efficient option among the 7. It covers a very large area while still maintaining an intimidating output around 1.1 – 3.1 joules.
The price is quite fair when compared to the quality and efficiency it offers. Having no operating cost as it's sun-powered makes this thing truly a "buy it and forget it" equipment.