Horses are flight animals and they need proper fencing to keep them on your property. Electric fence is an inexpensive and safe fencing solution for modern landowners and horse owners. The best electric fence for horses serves both as a physical and psychological presence to deter horses from escaping.
In this article, I will break down 6 top-rated electric fence models so that you will make the best purchase for your demands.
*This post may have affiliate links, which means I may receive commissions if you choose to purchase through links I provide (at no extra cost to you). As an Amazon Associate I earn from qualifying purchases. Please read my disclaimer for additional details.
Top 6 Best Electric Fence For Horses 2022
In-depth 6 Top Rated Electric Fences For Horses Reviews
Check Latest Price
ElectroBraid PRBC1000W2-EB is the best electric fence model to keep your horse safe on your property. The exceptional strength of this 1000-feet fence results from three following main factors.
First, its braided structure with 3-4 strands of Electribraids makes it more resilient than monofilament.
Second, this electric fence consists of a polypropylene core and a polyester fiber cover, making it more long-lasting under UV exposure or frequent stretches.
Third, this braided fencing has a high break weight of 1,300 pounds, making it appropriate even for large, aggressive horses or a stampeding stallion. Thus, you don't have to waste maintenance effort and cost.
This electric fence can last for 25 years with no rust, no-lose strength, no rot when permanently installed.
But the most amazing part lies in its double helix copper wire, woven into the poly fiber jacket. Pure copper wire transmits electricity faster and better than alloy. By using copper for providing electricity, this ElectroBraid fence is more sensitive to horses' movements and makes them better respected.
Pros
Cons

25-year performance warranty
Extreme strength under UV ray exposure and frequent stretches
Check patterns, easy to notice
Check Latest Price
A cheap portable electric fence for horse like Zareba PT656W1-Z is not only to be used as a temporary solution for landscaping projects. It can also act as permanent inside fencing to keep your horses from specific areas with sinkholes, dirty water sources, eroded areas, or rocky terrain.
An item has a length of only 656 feet. So, you should get 2 packs of this item for a better price.
This Zareba poly tape offers the highest visibility among electric fence poly products. This tape-shaped has a thickness of 1 inch. Your horse can quickly notice the presence of the electric barrier, thus avoiding injuries resulting from touching or scratching it.
Since this electric fence is in white, you can use it in areas with colors. However, if you live in snowy areas, you should explore other alternatives in orange or red. You should check the surrounding of your paddock to pick up an appropriate color choice.
This polytape fence can't be used alone, as advised by the manufacturer. It should combine with a solid, permanent wall for extra security and endurance.
Pros
Cons

Affordable price; cheaper when buying 2 packs
Lightweight, easy to install
Has the highest visibility

Not as solid as permanent fences
Should work with permanent fencing for added security
Hard to use in snowy weather
Check Latest Price
Zareba HDW1320YA-Z is an affordable yet sturdy temporary fencing option to keep horses, goats, and other cattle safe from the surroundings of an enclosure.
This sturdy Zareba polywire can withstand an average horse electric fence voltage ranging from 2,000 to 3,000 Voltages.
Aluminum is 20 times more powerful in power than stainless steel. Yet, the 6 strands of this top-rated electrical conductor deliver a mild shock to the horses in the enclosure.
Besides, the Sure Shock technology makes it easy to install, repair, or splice while on the farm.
Besides its high performance, this electric fence also offers low maintenance effort. The PVC-coat fiberglass extends its shell life for several years. This barrier weighs 6.05 pounds, making it easy to assemble and disassemble the entire fencing unit.
Most of the HDW1320YA-Z's metallic parts are aluminum – the best electric fencing material for horses and cattle compared to stainless steel.
First, aluminum can be effortlessly recycled when not in use compared to steel items. Second, aluminum wires conduct electricity 4 times better than stainless steel wires. Third, it is more robust, rust-proof, and hard to break.
Pros
Cons

Top-rated Aluminum part for extra performance and durability
1,320 feet in length for maximum coverage
5-year warranty

Should be in white color for better visibility
Check Latest Price
Despite steel fencing being not lightweight, it is the most reliable protection option for your livestock. Gallagher poly wire is a value pack for farmers who prioritize both security and appearance. Along with the provided 1,313 feet of fencing, you will get a free extra 328-feet roll.
You can install this Gallagher poly wire easily with no expert help. You can use electric fencing reels of Gallagher or other brands to wind your fence in and out.
Another reason that makes this electric horse fence a cost-effective option is that it can be used again with no brittle through years of continuous use.
This poly wire consists of 6 strands of premium stainless steel with a diameter of 1/16 inches. This metal electric fence is more durable than aluminum fences and will not rust in years of use. It also delivers more consistent performance over time.
This poly wire roll can deliver a trustworthy conductivity and lower resistance for a maximum of 656 feet. If you have a larger paddock, you should use Gallagher Turbo Wire.
Pros
Cons

Cost-effective option for a paddock of 656 feet
Made of premium stainless steel, UV-resistant, and no rust

Heavy
Limited to use for a paddock of 656 feet
Check Latest Price
I love the idea of this temporary electric fence for horse because it is easy to move thanks to its portability. You can set up a temporary livestock pasture or rotational grazing wherever you like with ease.
The unique plus of this Farmily braided polywire is you don't have to worry about corrosion like other metal-exposed systems. This fencing features 6 strands of conductor wires, offering a good conductivity for up to 1,312 feet.
The yellow-black pattern is highly visible so that you can avoid accidental contact with the fencing. Besides horses, you can use this fencing for various cattle and pets like dogs or goats.
When installing this fence, you should not put too much tension on it. You should use this electric fence with a permanent post system to get the best results.
Pros
Cons

No corrosion
High visibility
Suitable for various types of cattle and pets

Can't withstand extreme tension
Should use in conjunction with a permanent post system
Check Latest Price
Like the above Farmily item, this extended Farmily polywire pack is for a horse paddock of up to 1,312 feet. Instead of installing expensive permanent fencing, you can use this affordable choice for rotational grazing.
Most farm producers choose polywire over polytape because of its affordable price tag. Polywire costs half as much per foot as polytape. You can divide your property into smaller areas for specific groups of horses, depending on your demands.
If you plan to change your paddock size multiple times (often seen in rotational grazing), an electric fence for horses kit like Farmily Portable Polywire is easy to customize.
Horses are smart; they can learn to avoid the fence once they have touched it once. This polywire has high visibility with a black and yellow pattern, making it effective even for untrained livestock.
Pros
Cons

Affordable and easy to install for rotational grazing
High visibility

Doesn't provide an electrical conducting result as good as aluminum polywire
FAQs about Electric Fence for Horses
1. Is electric fence bad for horses?
Horses can get an electric shock from electric fences, but it is short-lived and does not hurt your horses physically.
Horses are a herd species, which means they follow a hierarchy. They will respect the nudge, kick, or bite of the alpha horse. In this situation, the electric jolt from the fence plays the role of the alpha bite and helps teach the horses to stay away from the fence.
2. How tall should an electric fence be for horses?
The height of an electric fence for horses should be at least 140cm (4.6 feet). Horses are powerful and can easily jump out any fence that is too low.
Although this height depends on many factors, the rule of thumb is: the taller it is, the better it protects your horses.
3. How many joules does an electric horse fence need?
A fence is efficient only when the joule, the power to shock the animal, is properly set for that specific herd. For horses, the output should be 3-5 joules.
You can also refer to the requirement for minimum voltage in this table below: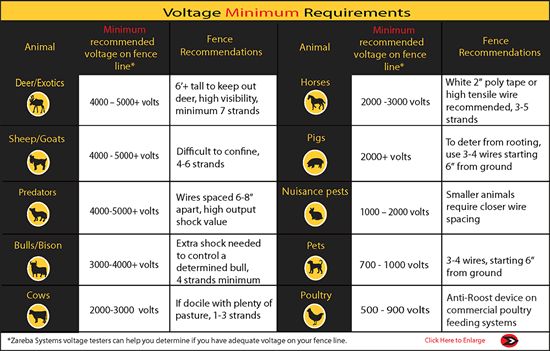 4. Is barbed wire fencing OK for horses?
Barbed fences are not suitable for horses as they might scratch themselves and get injured.
If you use the wire fence, it should be high-tensile, highly visible, and smooth. Wide tape might be a great choice but its conductor tends to be slightly poor. Coated-wire fencing will be better than uncoated as it is safer, more attractive, and more visible.
5. How to install an electric fence for horses?
You can follow these steps to install your electric horse fence.
Determine what you will need and have everything ready before starting: fence's posts, gates, and the energizer's (and where to locate them)
Install posts with a sledgehammer or steel T-post driver. Start from the end and corner posts, and then install inline posts with the intervals of 8-16 feet. For regions that have heavy snowfalls and wind, the space between 2 post should be no more than 12ft.
Attach the suitable insulators onto the posts. Space the insulators as per your needs (12" apart for example).
Attach poly tape or poly rope to one end of the fence line, then run it along the line. Clipping it onto the insulators when working along the line.
Pull the ropes through the tensioner, make sure it has no slack, then knot it off and cut. Burn the ends of the poly rope while cutting it to keep it from unraveling. Use protective gear to prevent potential injury.
Install the spring-loaded gate-breaker kits where needed.
Install metal ground rods to earth the circuit. If you use 2 or more rods, they must be connected with galvanized wire attached by brass clamps.
Install the electric fence charger. Then, let the fence rope connect with its positive connector clip. Then, connect the negative one to the ground rod to earth the fence.
Put warning signs where everyone can easily see them.
Turn on the energizer and use a fence tester or voltmeter to test the fence.
Read More: Best Electric Fence Chargers for Cattle. Get the best bang for your buck with these tested and ranked electric fence chargers for cattle!
My Top Pick
I hope my insight on the best electric fence for horses has helped you pick up a suitable item for your farm.
After years of experience in various fencing solutions, I think ElectroBraid PRBC1000W2-EB is the most fantastic choice for working on a rotary grazing project or building a reliable protection wall for your livestock. Despite its high price, this electric fence ensures lasting, robust performance and durability.