Tractor grapples are valuable equipment for farmers, builders and construction workers, or for ranches and homeowners with large wooded properties. With the right grapple installed on mini loaders and tractors, nearly any material available can be picked up.
Choosing a tractor attachment can be frustrating sometimes, finding the best tractor grapple could even be more confusing, particularly when you don't really know what you're looking for to suit the job you have.
The worry ends now. In this article, we have listed 7 best tractor grapples that are worth a look. Check them out.
*This post may have affiliate links, which means I may receive commissions if you choose to purchase through links I provide (at no extra cost to you). As an Amazon Associate I earn from qualifying purchases. Please read my disclaimer for additional details.
Top 7 Best Tractor Grapples on the Market 2022
In-depth 7 Top-rated Tractor Grapples Reviews
#1 Titan LW48BUCKET 48″ – Best Lightweight Grapple for Compact Tractors
Read More Reviews on Amazon.com
Features:
Universal skid steer style hookup – Greasable pins and bushings
Single 3,000 PSI cylinder
Weight: 450 lbs – Width: 48″ Opening
Height: 34″ – Side thickness: 3/8″ – Teeth Length: 24″ – Teeth Thickness: 3/8″
It is designed to be a lightweight grapple for compact tractors, more affordable as well. It's got six slats at the bottom, about 9 inches apart and 24 inches long. This build is optimized to pick up and carry things that aren't going to slip through, including 10 inches or irregular shaped rocks and logs.
This grapple is very durable with gusseted teeth and high-quality tubular steel cross-sections if applied correctly. With a weight at just 450 pounds, it is suitable for smaller skid steering tractors. Because of not having sides, its open-ended design allows you to carry loads that are longer than 48-inch width.
The single lid is made of 3/8-inch thick plastic, reinforced with bracelets. It is powered by a single 3,000 PSI cylinder and is opened to a height of 34 inches. As for a lightweight and quite compact design, this grapple is not suitable for commercial grade jobs or heavy tasks like uprooting trees, scraping rocks or roots from the ground.
This grapple can be mounted on tractors fitted with a universal skid steer mount. Hoses and flat-faced couplers are also included.
PROS:
CONS:

Universal fitting for tractors implemented with a skid steer mount
Sturdy and robust build
Good for operating in smaller yards
Easy to hook up and operate
Deep bucket for picking up debris

Smaller grapple size could take longer to clear large areas
Some users find the hoses are too long
Hoses should be protected by additional brackets
Not suitable for heavy tasks or commercial grad jobs
Read More Reviews on Amazon.com
Features:
Single 3,000 PSI cylinder
Weight: 450 lbs – Width: 48″
Opening Height: 34″
Side thickness: 1/2″
Teeth Length: 33″ – Teeth Thickness: 3/8″
This is the best tractor grapple for those who own a John Deere tractor. Specifically designed for John Deere style Quick-Tach tractors using pin set hookup and fitted even more tractors with 2 pin sets at the bottom, this grapple does not fit any loaders with a Global/Euro type mount or a universal Skid Steer mount. You can find more enlisted below:
Top pin set fits H120, H130, D120, 210, 200x, 200cx, 300cx, 300x, 305, 400x, 400cx, 410, 419, 420, 430, 440, & 460 series loaders.
Bottom pin set fits 500, 510, 520, 521, 540, 541, & 542 series Ag loaders
It weighs about 450 pounds. Six slats at the bottom are about 9 inches apart and 33 inches long. The tines are made of 3/8 inch steel flats. The opening height is 34 inches, which shouldn't be a problem for most works.
This grapple has a decent design with a solid square-tube cross-shaped on the back. The side thickness is 1/2 inch, the teeth are protected by sturdy braces welded to the round cross-section. It has no sides, as a result, items like logs that are larger than the 48-inch width of the grapple can be lifted comfortably.
The spring with a hoop at the top prevents the hydraulic hoses from pinching when used. Couplers that fit John Deere are included.
Lighter grade work such as moving surface litter, brush and small logs are recommended with this grapple. It is not built to dig and pull trees, rocks, or roots from the ground.
PROS:
CONS:

Fits with many John Deere tractors
Has no sides, allows to pick up items larger than its width
Sturdy & robust design
Good opening height
Hydraulic hoses are well-protected

Not recommended for heavy duties
Smaller grapple size could take longer to clear large areas
Read More Reviews on Amazon.com
Features:
Twin 3,000 PSI cylinder
Weight: 565 lb – Width: 60″
Opening Height: 25″
Teeth Length: 30.5″
Top Teeth Thickness: 1/2″ – Bottom Teeth Thickness: 2/5″
Another option from Titan, this is a larger root grapple for tractors like John Deere, which can be particularly helpful in pushing any big pile of brushes around your house.
It fits with John Deere Quick-Tach 200 – 500 series, and the compatibility is assured by two sets of pins at the top and bottom. The top pin set fits H120, D120, 210, 200x, 200cx, 300cx, 300x, 305, 400x, 400cx, 410, 419, 420, 430, 440, & 460 series loaders. The bottom pin set fits the 500, 510, 520, 521, 540, 541, & 542 series Ag loaders.
Similar to the previously mentioned 48-inch, it does not fit any loaders implemented with the Global/Euro style or universal Skid Steer style mount.
It's a reliable approach if you're looking for a grapple that can move brushes, debris and smaller logs. Independent grapples along with twin cylinders to control each grapple make it easy to move odd shapes and uneven loads. The serrated leading edge of the bottom tines helps for a better grip.
This grapple weighs 565 pounds, with a total width of 60 inches. There are eight teeth at the bottom with 8 1⁄2 inches apart and 37 inches long. The opening height is a little low, just 25 inches.
PROS:
CONS:

Fit with various John Deere tractors
Hoses and couplers are included
Ideal for property management tasks
Lightweight design won't overload your tractor's capacity
Can carry up to 3,000lbs

Not recommended for heavy-duty
Smaller opening width than some other models
Read More Reviews on Amazon.com
Features:
Twin 3,000 PSI cylinder
Width: 72″ – Weight: 1,080 lbs
Opening Height: 50″
Side Thickness: 1/2″
Teeth Length: 35.5″ – Teeth Thickness: 1/2″
This probably the best tractor grapple for clearing rocks, logs and various other odd-shaped debris.
This grapple fits with universal steer style hookup and has greasable pins and bushings. It has replaceable teeth which is a very cool feature since the grapple's life can be prolonged.
It's quite heavy with a weight of 1,080 pounds, manufactured from HD grade steel which can often be used in safety parts, structural components, bumpers, and rails.
It is 72 inches wide and the opening height is 50 inches. The sides are ½ inch thick. It operates with 2 cylinders. The 35.5-inch teeth length in combination with extra-wide open clamshell-style helps you to easily pick up all load styles, even a small car.
PROS:
CONS:

Handy enough to pick up odd shape loads
A good option for clearing rocks, logs
Fits on several different tractor brands (Ford 8n, 9n, Kubota, Kioti, or John Deere)
Replaceable teeth which prolong grapple's life

Not suitable for small items
Quite heavy for smaller tractors
Read More Reviews on Amazon.com
Features:
Frame built with 3 x 3 steel tubing
(2) 2.5" bore x 8" stroke hydraulic cylinders
Max Opening Height: 35.5″
Outside width: 74″ / Inside width: 73" / Length: 49″
Spacing between tines: 4″
Steel thickness: 1/2″
6 Cast Teeth
Weight: 1050 lbs
This is another well-built rock bucket grapple, skeleton loader with replaceable teeth. It's fit with steer style hookup. The rock bucket and grapple are both made from ½ inch steel. The rear cross-section parts are made of 3-inch steel tubes and are well mounted on the back.
The leading edge, with 6 replaceable cast teeth, is made of 1-inch flat steel. The bucket bottom has 15 ½ inch thick steel tines welded to the front crossbar.
The teeth are reinforced by another cross-section, about 12 inches back from the front teeth. The distance between the front teeth is 13 3⁄4 inches and the teeth are 4 inches apart.
It has 2 independent grapples that are both well built. Each of them is controlled by a 2.5" bore x 8" stroke hydraulic cylinder. Dual grapple design is ideal for grabbing odd-shaped objects. Hoses and flat-face couplings are also included.
Weight at 1,050 pounds along with robust design, it's ideally suited to heavy-duty work including grabbing and removing rocks and other debris while allowing valuable soil to sift through the tines of the rock bucket.
PROS:
CONS:

Good choice for a heavy-duty cleanup purpose
Can remove logs, rocks and debris without taking away dirt and soil
Can pull roots from the ground
Comes with teeth which can be easily replaced
Easy to attach

Hoses can be too long
Could be a heavier duty grapple than you need, depending on the task
Read More Reviews on Amazon.com
Features:
Frame built with 3 x 3 steel tubing
(2) 2.5" bore x 8" stroke hydraulic cylinders
Outside width: 83″ / Inside width: 82" / Length: 49″
Spacing between tines: 4″
Steel thickness: 1/2″
6 Cast Teeth
Weight: 1,200 lbs
This grapple shares a lot in common with the previous 72 inches. It's also well built with 6 replaceable 1-inch steel cast teeth. The rock bucket and grapple are both made from ½ inch steel. The rear cross-section parts are made of 3-inch steel tubes and are well mounted on the back.
This grapple also has dual 2.5 inches bore x 8 inches stroke hydraulic cylinders to control 2 independent lids. It has 17 half-inch thick steel tines at the bottom. The inside bucket width is 82 inches and the bucket is 14.5 inches deep from the top of the bucket to the top of the tines.
This grapple is made for really heavy duties. It offers the endurance required for the most challenging work, in the most stressful conditions. If you are looking for a similar build yet wider than the 72 inches, this one is right for you.
PROS:
CONS:

Dual grapple ideal for picking up uneven loads
Made for super heavy duties
Replaceable teeth
Robustly built
Larger grapple bucket for carrying even more loads

Could be more than you need for smaller tasks
Some complaints about the back frame quality
Read More Reviews on Amazon.com
Features:
Weight: 643 lbs
Width: 45 ⅞"
Depth: 18.5"
Frame: 4" x 4" x ¼" steel tubing
Cutting Edge: 1" x 15" with 3 cast teeth
1/2″ Steel Construction
This is a powerful, versatile attachment that can be used for numerous tasks. It is about 45 7/8-inches wide and 18.5 inches deep from the top of the frame to the bottom of the bucket. The cutting edge is 1 x 15 inches with 3 interchangeable steel cast teeth.
Bucket bottom is not slated, along with the high sides, this grapple is ideal for gathering and moving small logs, stumps, debris and other odd-shaped or hard-to-remove material. It can also remove buried rocks as well as dig out stubborn tree roots and stumps.
The bucket, the grapple and the serrated edges are made of heavy-duty 1/2-inch steel that is properly assembled. The lid can open up to 90 degrees. The grapple weighs about 640 pounds. This is a sturdy, lightweight design that is solid and is aimed to last longer.
PROS:
CONS:

Lightweight design
Durable build
Cast teeth are replaceable
Top lid can open up to 90 degrees

The cylinder is not well-protected
The couplers are quite easy to get rusty
Types of tractor grapples
There is a range of options of tractor grapples available in the market. Doing quick research and understanding each item's special features and function can make you a much wiser buyer.
1. Root grapple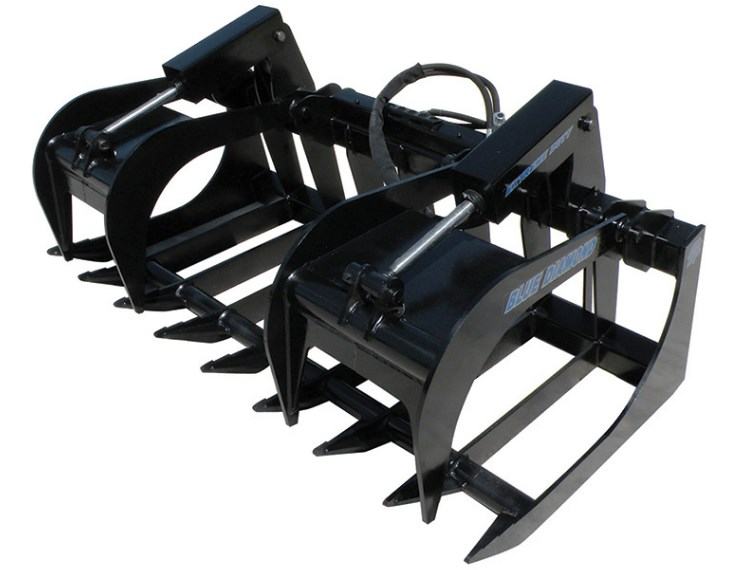 Tractor root grapples are more widely known than other types of tractor grapples among workers, farmers, builders, or homeowners. The reason is because of its main function which is to move broken branches that have fallen off or pruned from trees.
A very special feature of it is to have dual lids and the lids can work well individually. It means when one lid reaches this end and then stops, the other grapple lid can continue to go down until it arrives at the other end, to ensure an even load. There is an alternative with a single lid with the same lower part, however, you have to accept the possibility that it might not control uneven loads as well as the dual lid grapple.
Check more: Top 10 Attachment for Tractors should acquire first
2. Root rake grapple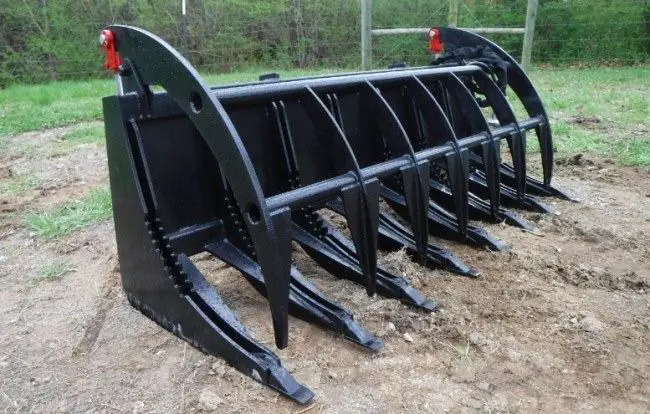 Root rake grapple is not equipped with a slatted floor like the root grapple. However, the Scarifier Shanks or tines are designed to be more robust and suit ground engagement.
It is a great choice for breaking roots into smaller pieces, cleaning broken or merely damaged ground, collecting and holding roots, limbs and debris against the Scarifier Tines with a grapple lid.
3. Grapple bucket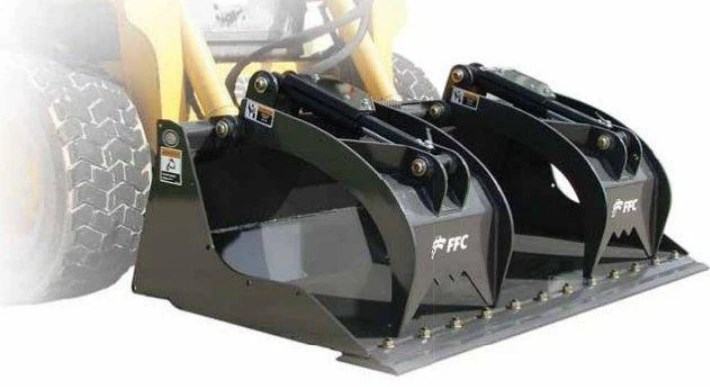 A Grapple bucket also known as Scrap Grapple is another version of the Root Grapple with some changes. It has a strong bottom and low cut sides which enable the single lid or dual lid options to secure items or objects that are bigger or wider than the bucket.
Scrap Grapple is the best choice if you look for something that can clean up trash and other debris without leaving any pieces with this solid bottom bucket.
You will need: 20+ Best Gift ideas for FARMERS
What to consider before buying a tractor grapple? 
1. How many arms do you need?
Tractor grapples usually consist of either a single or a dual-arm. So which one should you choose? It's obvious that a dual-arm grapple can do a better job collecting, handling, and clearing uneven loads.
If you have to transport a tree that is thin at one end but quite big at the other end, a dual-arm grapple can secure a firm grip. Given that, a single-arm grapple can still handle the most bush clearing jobs and is a more money-saving alternative.
2. What shape do you prefer?
There are two main shapes that you can take into consideration for buying. A clam-shape grapple is most suitable for clearing debris such as brush and picking up individual rocks, etc. In case you want to clear roots, you might need a flat bottomed grapple as it can provide you with greater versatility.
3. How is the tine spacing?
Think about the tines on the forks we use for eating. Different forks have different numbers of tines. While your dinner forks have four, your dessert ones have only three. That explains the number of tines your grapple should have matters.
When thinking about spacing you would like between the tines on your grapple, think about what your grapple is used for. If their function is to clear large loads such as logs, the spacing should be wide but if you just have to work with smaller objects, the advice is to have your tines to be closer to each other so the grapples can hold the debris better.
4. What is the grapple made of?
The materials of grapple are decided by what tasks they have to carry out. Most tractor grapples are made of steel to make sure that they don't break and buckle during their duties.
5. How much does it weigh?
The weight of the grapple should be compatible with their main job or main tasks. They need to be able to deal with transporting the required loads. But don't forget to consider the size and weight of your tractor and its load capacity. Or else you might be not able to add the extra weight of your load with such a heavy grapple.
6. How are hoses and couplers?
Whatever type of grapple that you opt for, hoses and couplers are still needed. Do check in advance whether these two go along with the tractor grapple and you don't have to order them separately.
7. Does it come with protection against wear and gear?
For sure no grapple can remain permanently intact as it opens and closes around what you are transporting. Make sure it has a greased hinge pin and a cylinder guard to shield them from wear and tear and lengthen its longevity. Some grapple options also are provided with replaceable tines.
Read more: Top 7 Best Tractor Tires you should use!
How to safely use a tractor grapple?
There might be some possible and potential dangers you might encounter when using a tractor grapple. Hence, it is important to equip yourself with some basic knowledge about safety guidelines. However, the first important thing you should keep in mind is that a loader with a grapple can be hazardous, so you should operate it with caution.
1. Only trained people are allowed to use
Only a trained person is allowed to operate this piece of equipment as it is used for heavy tasks and serious work. It is prohibited to load people on the loader or in the bucket.
2. Lower the bucket when moving
If you are moving something wedged in between tines, it is important to lower the bucket first. You should not continue to pass when the grapple is open, even if it is completely blocked or held firmly, accidents are possible.
When you move the grapple or change directions, consider the loader length and the extended grapple. Keep it low and not raised high so that you can see things on the front. Although the tractor grapple is heavy and strongly built, be careful when operating it, especially when you lower or lift items. Don't stop it abruptly as rapid, jerky actions will just shorten its life.
3. Be cautious of overhead obstacles
When you have to run a tractor grapple in built-up areas, you have to be alert of overhead obstacles such as piping, overhead construction, etc. When raising the bucket, be cautious of overhead wires and cables. In case you come in contact with electrical lines, it might lead to electrocution, or the grapples might get stuck between them and might ruin it.
4. Be cautious of obstacles on the road
Avoid moving the loader with a raised loaded bucket and ignore obstacles like loose fill, rocks, and holes in your way as they are not safe for loader operation or movement. When working on inclines, it is advisable to keep the grapple close to the ground to decrease the center of gravity.
5. Be cautious of the hydraulic fluid
The hydraulic fittings used to operate the grapple are under 3,000 psi pressure. In case there is a leak, don't sense the escaping fluid with your bare hands. Hydraulic fluid that is leaking under pressure can penetrate the skin. There is a high chance you have to go through surgery to avoid gangrene.
When you look for hydraulic leaks, put on eye protection, thick leather gloves, and hold a piece of cardboard or wood rather than your hands.
Only disconnect hydraulic lines only after you have relieved hydraulic pressure. Some people risk their lives by doing without putting on safety glasses. Never forget to wear safety glasses when running, checking or fixing machines.
When maintaining the grapple or replacing pins in cylinder ends, or fulcrum points and etc., never forget to use a brass drift and hammer to prevent accidents caused by flying fragments.
6. Keep people far away from the loader
Never let anyone get under the loader bucket or reach through the tines when the bucket is raised or a grapple is operated.
Also, children should be prohibited to operate the loader as they have no ideas about how to use them and the safety guidelines. It is your responsibility to be careful and look out for any children in the area of operation. In case there is any, stop working and moving them out of the danger area.
FAQs about Tractor Grapple
1. Why should I have a tractor grapple?
Clearing up and sorting logs and debris is really a time-consuming task. With the help of a tractor grapple, that work will be lighter and completed in a more efficient manner.
2. What jobs can a tractor grapple help with?
There are many things that a tractor grapple can help you with, including picking up and moving brush, logs, rocks, roots, and other debris.
3. What size of tractor grapple should I buy?
The size of your promising tractor grapple will depend on your tractor and the jobs you have to do. It's not always true to think that buying the biggest one is better.
Tasks can also be handled well with a small grapple. A larger grapple seems to be more suitable if you have to clear a large area with commercial debris to sort through.
4. What shape of the tractor grapple should I choose?
Normally, there are 2 main shapes of tractor grapple: a clam style, and a flatter bottom. What shape to choose is simply upon your personal preference. However, if you intend to pick individual things such as hay bale, or large rocks, the clam style might be better.
5. Will the tractor grapple come with the attachments I need?
When you buy a grapple, mostly, couplers and hoses will be included in your purchase. You are recommended to check it before buying, otherwise, you might have to pay a bit more for the unexpected expense.
Conclusion
Have you determined which one suits you the most? It's kind of easier now right?
For most people, buying a big bulky tractor is quite not a reasonable choice. Instead, we usually own a mid-size or compact tractor for many common tasks.
Titan LW48BUCKET 48″ Grapple Bucket which is the first mentioned should be the best tractor grapple in our view. It has a perfect balance between the size, the performance and the price.
It fits a number of skid steer mount tractors, in addition to the robust design, a deep bucket in a compact size, it can be operated in much smaller yards. The compact design also means lower stress to your tractor's engine, hence lower fuel cost.
See more: Top 7 Best Tractor Seat on the Market