Getting the best gifts for farmers, especially those who always say that have everything, won't take you hours of searching on the internet anymore.
Whether the gift is for your Mom or Dad, your husband or wife, your boyfriend or girlfriend, you can find it all in the continuously updated list below provided for all ranges of prices.
We understand that to both presenters and receivers, a gift is a priceless thing in which you put lots of love and care. That's why we did lots of research and carefully chose the latest, greatest, and best quality gifts.
Sincerely hope you can find your most satisfying farmer gift with our ideas below.
*This post may have affiliate links, which means I may receive commissions if you choose to purchase through links I provide (at no extra cost to you). As an Amazon Associate I earn from qualifying purchases. Please read my disclaimer for additional details.
30+ Best Farmer Gift Ideas
This Muck boot is absolutely an amazing gift for farmers, especially the woman whose feet often get tired after a long working day.
Made of the rubber sole, it provides super comfort, lightweight, flexible, waterproofing, and easy adjustment to any foot shape. These features make it become my first choice whenever buying a new boot for my family.
If you intend to buy something to protect your farmer's feet, don't hesitate to give this Muck boot a go!
Not only the feet but also the farmers' hands need protection. To farmers, gloves protect their hands from the soil, thorns, chemicals, and other sharp tools.
So, why is this Ironclad leather working glove on the list? Aside from the dexterity and premium material, this glove can be washed without shrinking or drying out which increases its longevity.
Indeed, this glove is born to protect the hands of real working heroes like your farmers!
#3 Farm Book
Farm Anatomy is one of my favorite books about farms and country life. It explains every basic information about farms such as the difference between a barrow and a farrow, or a weanling and a yearling.
You will not go wrong with this book as it has beautiful illustrations on every page.
This book is undoubtedly an interesting gift for both adults and children.
The Book of the Farm, written by Henry Stephens, used to be my "under-pillow" book when I was young.
Henry Stephens was a farmer, and then a writer on agriculture. Details of all aspects of farming are described meticulously from how to care and slaughter livestock, how to dairy to practices of irrigation and crop culture. All this information is sorted by season and explains what to do to get the highest yield in that weather.
So, yes, a useful book for all farmers!

This folding knife is a meaningful gift for farmers dad on Father's Day.
It is made of stainless steel which is durable and can easily cut everything that your farmer faces. The handle is made of rosewood which is fashionable and lightweight.
A nylon pouch with a belt loop is included ensures its safety whenever your farmer brings it along.
So, it is not only thoughtful but also a practical gift.
This Gempler's First Aid Kit is not just a normal one. It is specially designed for farmers as it meets all the agricultural first aid needs.
Weighing only 2.95 pounds, it can be easily taken to anywhere your farmers work.
This first aid kit can show a lot of your delicate care to your dear farmer.
A lunch cooler bag is one of the most necessary things for farmers. As your farmers have to spend a lot of time on tractors or outside, something cool to eat or drink such as ice cream or cold beverages, especially on hot days, can save their energy.
This Carhartt insulated cooler bag is one of the best-rated lunch bags on the market. For me, I have no doubt about this product's quality.
Driving tractors in the winter will get easier with this heated seat cushion, especially when your farmer has to travel long distances. It helps to warm your farmer's bottom, protect it from shocking and make him/her comfortable.
It has got lots of positive reviews for its high quality and good price. So, a worth-buying gift!
A solar-powered phone charger is another interesting gift that I'd like to mention here. I guess you all know about its benefits in storing energy accumulated from the sun, yes, no need for electrical cable.
To farmers, this portable and handy phone charger appear more useful as the place they work on (farm, garden or fields, etc) don't usually have easy-accessible electric outlets.
So, with this solar charger, no more worries about running out the battery!
This super-handy tool won't make any farmer down. This portable product will be with your farmer's side to everywhere from the house to the barn.
It can be used to cut rope or wood, tighten screws, cut wire, and so on. Let me count, well, more than 100 applications with this super tool!
So, all in one with this handy super tool!

This battery charger radio can bring lots of entertainment to your farmers whenever they work on site or in an environment where accessing the electrical outlet system is impossible.
Moreover, this jobsite radio is transportable, easy to operate and very durable. It can withstand harsh conditions and provide clear sound despite the heavy noise caused by the tractors.
Farming is heavily affected by the weather.
This weather alert radio helps your farmers to be kept informed about any potential life-threatening emergencies such as storm, flood, tornado, and so on.
Knowing what is about to happen, your farmers can have appropriate plans to protect their home, animal, and farming business.
When working, farmers might have to move the arms and shoulders a lot. Hence, they need a great jacket that allows the maximum range of movements. That's why I put this coat on the list – a coat with no doubt about its quality.
It has a mighty back bi-swing between 2 shoulders to let it recover instantly. There is also a flexed elbow to reduce restriction, and the freedom gusset under the coat's arms.
There are 3 color options to choose from black, brown, and dark brown.
Best Unique Gift Ideas for Farmers Who Have Everything
I'm sure this puzzle can bring lots of joy and fun to your farmer after a long tiring working day. For those farmers who enjoy the feeling of conquering something, this puzzle is absolutely for them.
Just imagine how happy they are when completing this puzzle, I believe you will give it a go right away!

Farmers love their job and are always proud to be a farmer.
To show your respect and appreciation to a farmer's work, this wall plaque sign "So God Made A Farmer" is no more than a good choice.
The antique beauty of this sign easily suits any house in the countryside, making it warmer and friendlier.
This salt and pepper shaker set is a super cute and unique gift for farmers, especially horse lovers.
It can be used to decorate the kitchen of your farmer's house or placed it on the dining table as well.
A straw hat can protect your farmer's hair and face from harsh sun rays, especially in summer. What is more, the material and the design of this hat give your farmer a retro glam to his/her look.
Although there is no chin strap on this model, it does not easily fall by a wind blow thanks to numerous tiny holes on it.
Presenting your farmer some prints to hang on is also a good idea, especially with this set of 4 farming prints.
Don't worry about the quality when you see its cheap price. It is printed on semi-matte Fuji Crystal Archive paper, which makes it durable for using a lifetime.
But please remember, it comes with no frame, just the 4 prints.
This is such a wonderful product in helping to relieve sore muscles for your farmer after working hard for a long day.
This pillow massager not only fits the area behind the neck but also other body parts such as the lower-upper back, abdomen, calf, and thigh areas.
A compact and ergonomic massager coming with a reasonable price makes this a perfect gift for your dear farmer ever.
With this sign, you can make a fantastic and unique gift for your farmer. Yes, it is unique and to be found nowhere else as you can customize it with whatever you want.
This personalized sign is made of aluminum so that it is able to be hung inside or outside.
You might be surprised when seeing this camera on this list and think this product makes no use for your farmer's job. Well, in fact, it can help your farmers a lot in controlling their spacious farms. This will a special gift for your farmer boyfriend!
This camera has a remote control distance of up to 4900 ft and can automatically fly back to where it takes off. So, your farmer can just stay at home, operate this camera, and use a mobile phone to watch live videos of things that are happening on the farm. And, no worries for losing the quadcopter.
4 Ideas of Birthday Gift for Farmer
A mug is a simple, classic, yet helpful gift for anyone pursuing a healthy lifestyle. It's great to see your farmer friend enjoy a cup of tea, hot coffee, or hot chocolate between two farm chores.
When it comes to gifting your farmer friend, you should choose the one with cool slogans related to farming, like "Best Farmer Ever" or "World's Best Farmer" or funny graphics related to agriculture.
Your friends will remember you every time they take a sip from an adorable coffee mug.
A mousetrap is a useful farming gift that every farmer needs. It helps prevent mice, insects (spiders, scorpions, roaches), and other household pests from invading and damaging cultivation crops without using toxic chemicals.
Another reason that makes a mousetrap one of the best gifts for farmers is that it is affordable and easy to get at online stores or any farm shop in your area.
Farm chores don't stop just because the winter has arrived, meaning that farmers and ranchers still have to get their jobs done outdoors under a hard snowfall or cold rainy day.
Among many great gifts for farmers, a small yet valuable birthday gift like a warm hat is an excellent add-up to their safe winter outfit.
A portable chainsaw is a practical birthday gift for farmers who have to trim wood or cut various materials on a daily basis.
Make sure that you choose one that uses a rechargeable battery since this item is lightweight and compact, easy to use, and doesn't rely on a constant power supply or being limited by the cord length/a cord extension like a corded one.
A farm chainsaw is also a versatile tool for farmers of all experience levels. It's great to see them use your gift every day to perform light-duty farm jobs without wasting their time on manual tools.
See more ideas of best birthday gifts for farmers here!
Mother's Day Gift for Farmer Mom
A denim bib overall for farmers is the top gift for your hard-working mother on her Mother's Day. It keeps her clothes clean when working with mud, soil, and dirt as an outer layer.
Great functionality to help farming work less messy. Some items even come with extra pockets to keep their mobile phones, money, cards, and tools safe and accessible at any time.
Also, it is machine-washed, so your mother can focus on her farm chores without worrying about maintenance and care for her bib.
Not only a fashion accessory, but a necklace helps your beloved mom feel grateful under challenging times. The graphics and the slogans on the necklace are meaningful for a woman who grows and raises chickens on a commercial farm.
A gifting necklace comes in a beautiful box with perfect small details, from the packaging and the greeting card.
After a long hard-working day on the farm, no one can neglect the aroma of scented candles.
A scented candle set is a perfect gifting idea for female farmers who pursuit yoga as a hobby or for those who love enjoying a soak in the bathroom to relieve stress as a therapy for the soul.
Make sure that your farmer moms don't be allergic to any ingredient in the gift!
This hat has a simple look, but it is designed to help rural living on harsh summer days easier. It is made of unique materials to protect the head, neck, and ears of your loved farmers from harmful UV rays.
You should choose a hat with adjustable bowtie straps and a back band. And don't forget to pick up the hat's color that your farmers love!
Father's Day Gift for Farmer Dad
Whether it's for the Thanksgivings, Father's Day, Christmas, or Halloween, a special roasted turkey hat will be a surprising gift for your farmer dad.
You should wrap this fantastic gift in a big rectangular box so that no one can guess what's in the box.
If your dad is a cattle farmer, let's add more excitement and cuteness on his Father's Day by gifting him a ceramic mug with cow-related graphics. People who often work on farms enjoy farmhouse décor items, and this mug should be one of those creative gifts.
Not only for decoration purposes, but this farming gift is also a friendly reminder to help your dad stay well-hydrated all day long.
Farmers are good at money-saving. A composting bin made of high-quality materials helps your dad recycle food waste, dead leaves, and anything he can find on his farm, to nourish his plants and flowers.
Not only does this gift help him save money on commercial fertilizers and save natural resources, but it also allows him to do farm work safely without contacting toxic substances.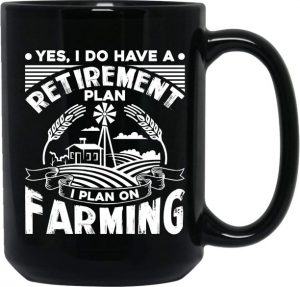 Yes, with a farmer, retirement is not staying at home and play bingo; with them, farming is their life. So this mug is a perfect gift for any retired farmer!
See more unique ideas of best gifts for farmer dad!
Farmer Valentine's Day Gift
If you run out of gift ideas for the upcoming Valentine's Day, why not consider getting a mug with a lovely slogan like "I Love You"? This classic gift is simple yet still meaningful for couples of all stages and times of the year. 
Choose the words you want to say, then send them as a message to your beloved one.
A unique and funny coffee mug can brighten up your wife's day or warm her heart on a cold winter day. Let's surprise your wife this Valentine's Day by giving her a with your chosen slogan. 
Show her how much you love her, and you will see the smile on her face.
If your boyfriend is a farmer, you can give him a funny slogan mug this Valentine's Day. 
Every time your farmer drinks water, he will remember you as the one who brings joy to him, and that's the sweetest moment in a romantic relationship. 
Best Christmas Gifts for Farmers
It's hard to find the best gifts for farmers, especially old farmers.
A soft pillow is an affordable yet meaningful gift choice for old people. And it can be perfect when there are both Christmas and farm-related graphics on the pillow.
This pillow is a great add-up to the living room or bedroom as it can help them relieve back pain or take a short rest in the middle of their working day.
Sometimes small gifts are the best gifts. A tractor ornament is a great home décor item that can be hung on the Christmas tree. After the holiday, your farmer friends can still keep it as a souvenir.
The best gifts for farmers at Christmas or at any time of the year are the items that they can use daily or for their farm work. An electrical tester is a great gifting example.
Your farmer friend can use this electrical tester to measure AC/DC volts when fixing farm vehicles or machinery. This tool can also be used to ensure the safe maintenance and assembly of electrical equipment.
For farm workers who often have to in low-light conditions, a handy LED spotlight flashlight is a meaningful gift. It helps them illuminate in the darkness, whether on a camping trip, at home, on a vehicle, or during an emergency case on the road.
Ensure that the flashlight is lightweight and has a handle for easy carrying. Besides, it should have a strong battery capacity that can be used for an extended period.
See more interesting ideas of best Christmas gifts for farmers here!
Conclusion
Have you found out any meaningful gift for your beloved farmer? If yes, congratulation! We're so happy that we have just done a good job to a "warm-heart" friend like you.
If still haven't, please just take 2 more minutes scrolling back to the list one more time, maybe your ideal gift is suddenly there.
We hope we can do lots of "good jobs" with this "best gifts for farmers" list.