Agriculture uses many large machines to plow, cultivate, sow, and harvest crops. The size of a machine is often considered proportional to its efficiency and the width of implements, which allows it to cover more ground in one pass.
Let's take a look at the biggest tractors in the world in our article.
*This post may have affiliate links, which means I may receive commissions if you choose to purchase through links I provide (at no extra cost to you). As an Amazon Associate I earn from qualifying purchases. Please read my disclaimer for additional details.
Top 10+ biggest tractors in the world
Following is a list of the top 10+ biggest tractors around the world, being compiled mainly based on their weight and horsepower.
#1 Big Bud 16V-747
Weight: 135,000 pounds
Horsepower: 1,100 hp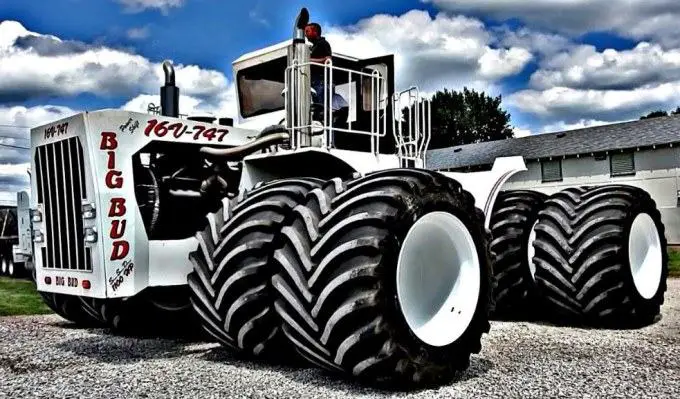 The Big Bud 16V-747 is powered by a 16-cylinder and a 2-cycle engine which can produce 1,100 horsepower. Its diesel fuel tank carries 1,000 gallons and its hydraulic fluid tank can contain 150 gallons.
With a weight of 135,000 pounds, the tractor is renowned as the world's heaviest tractor.
#2 AGCO Challenger MT975B
Weight: 60,000 pounds
Horsepower: 570 hp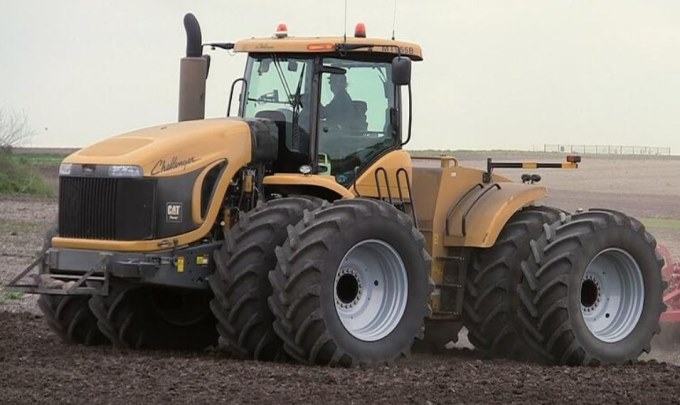 The frame of the AGCO Challenger MT975B is among the world's heaviest and widest frames, spanning 24 feet long and 16 feet wide.
The 4WD tractor is just above 12 feet tall and weighs 60,000 pounds. It's powered by a 6-cylinder diesel engine generating 570 horsepower and runs on a 390-gallon fuel tank.
#3 Buhler Versatile 610DT
Weight: 54,000 pounds
Horsepower: 650 hp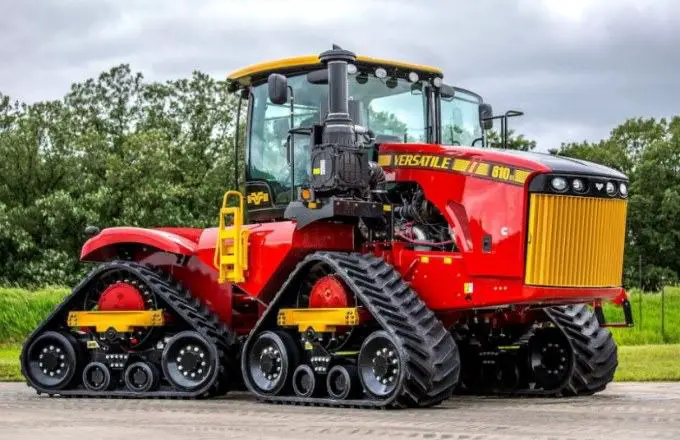 The Buhler Versatile 610DT is a 54,000-pound behemoth. It's powered by a 650-horsepower engined named Cummins QSX15 T4F. The tractor is available with either chains or wheels.
#4 Big Roy 8-WD Versatile Model 1080
Weight: 52,000 pounds
Horsepower: 600 HP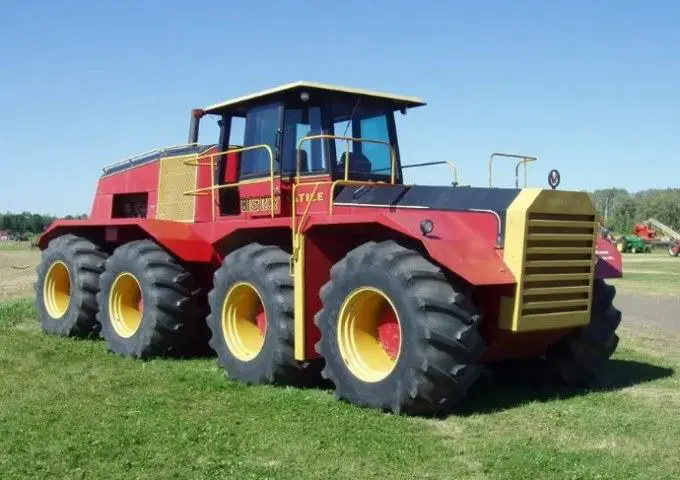 The Big Roy 8-WD Versatile Model 1080 weighs 52,000 pounds. It's an eight-wheel-drive tractor with 4 axles. Its engine is 30 feet long, 22 feet wide, and 11 feet tall.
The tractor is equipped with a 120-degree camera that is dust-proof to transmit photos of its drawbar to the cab's dashboard TV monitor.
The Big Roy tractor has a 550-gallon diesel fuel tank and is powered by a 6-cylinder engine that can generate 500 horsepower.
#5 New Holland T9.670
Weight: ~50,800 pounds
Horsepower: 648 hp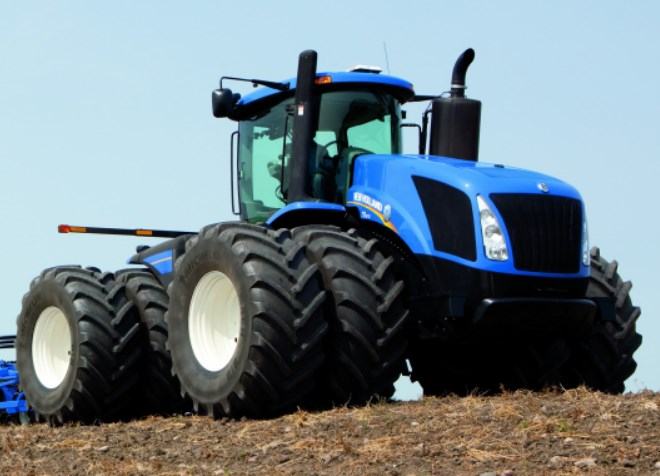 The New Holland T9.670 is a product of CNH Industrial, an American agricultural engineering group. It has a two-stage turbocharged engine.
As a result, the tractor has a maximum power of 648 horsepower and reaches about 50,800 pounds as its maximum weight.
The tractor is 25 feet long, 12.4 feet tall, and its frame is 3.7 feet wide.
#6 John Deere 9620RX
Weight: ~50,000 pounds
Horsepower: 670 hp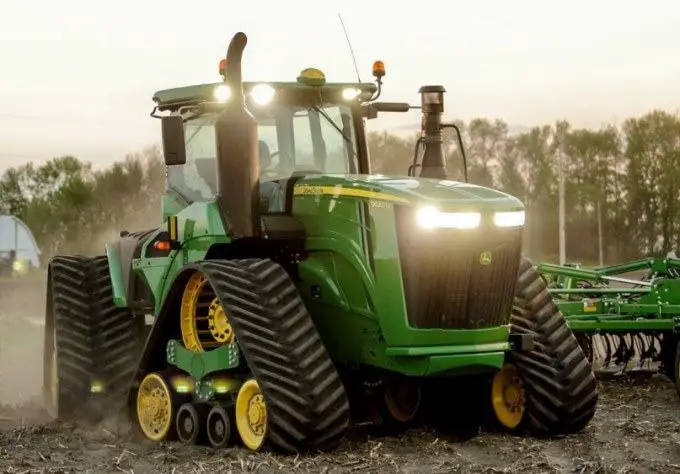 The Deery & Company tractor is powered by QSX15, a Cummins 6-cylinder in-line engine. This engine can produce 670 horsepower.
The unladen weight of John Deere 9620RX is roughly 50,000 pounds, which makes it the biggest John Deere tractor in the world. 
#7 Upton HT14/350 2WD
Weight: 50,000 pounds
Horsepower: 350 hp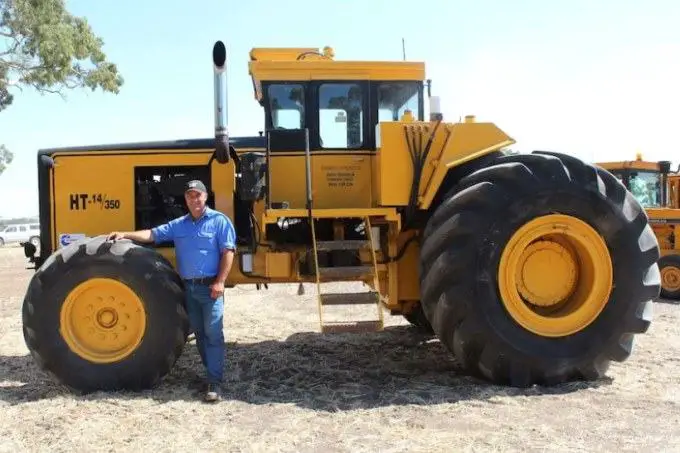 The Upton tractor is ranked as the most powerful 2WD tractor in the world thanks to its Cummins 14.0: 6-cylinder engine that generates 350 horsepower.
This beat weighs 50,000 pounds and has a 65,000-pound rear axle capacity.
#8 Case IH Steiger Quadtrac 620
Weight: 48,780 – 60145 pounds
Horsepower: 682 hp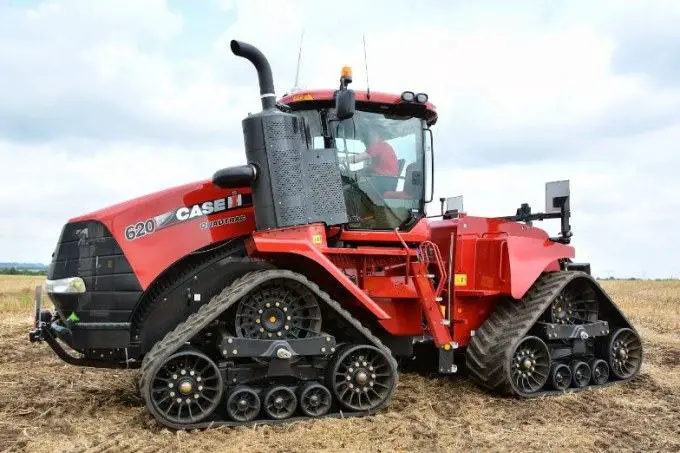 The Steiger Quadtrac 620, a tractor of CNH Industrial, has a maximum engine output of 682 horsepower. Its weight varies between 48,780 and 60,145 pounds.
The tractor has a max speed of about 23 miles/hour. Its four crawler drives are its distinguishing characteristic.
#9 Case IH Steiger Quadtrac 540 CVX
Weight: 47,780 pounds
Horsepower: 613 hp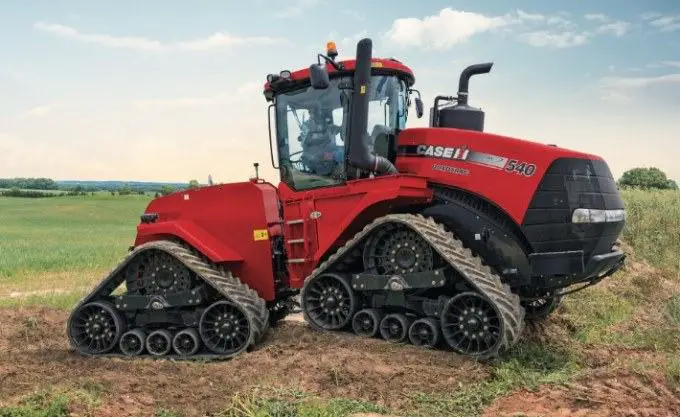 The Quadtrac 540 CVX has a CVXD transmission and a 6-cylinder engine that can be electronically controlled with a displacement of 12.9 liters. The tractor's maximum engine capacity is 613 horsepower.
Despite its weight of 47,780 pounds, the Quadtrac 540 CVS is the "first continuously variable articulated tractor" in the world capable of reaching a maximum speed of around 25 miles/hour from a standstill.
#10 Case IH Steiger Quadtrac 600
Weight: 44,000 pounds
Horsepower: 670 hp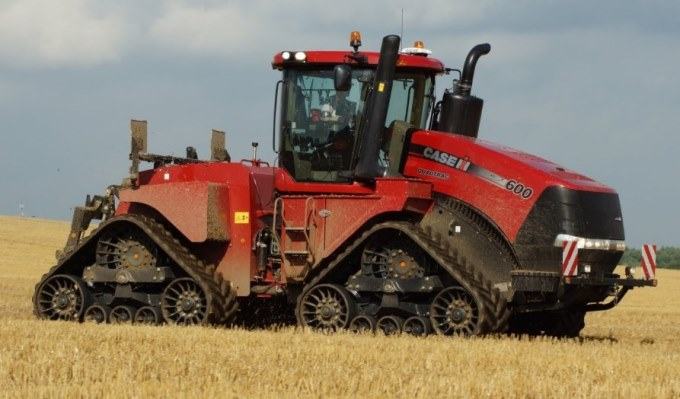 Another Case IH tractor that makes it to our list is the Quadtract 600. The top power that this tractor can reach is 670 horsepower. The Tier 4A engine that powers the Quadtrac 600 weighs 44,000 pounds.
#11 John Deere 9570 RT
Weight: 40,740 pounds
Horsepower: 627 hp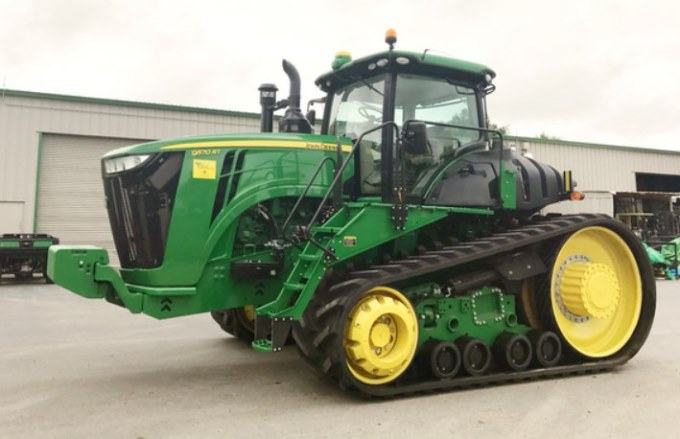 The 9579 RT crawler tractor is another tractor manufactured by Deere and Company. It produces 627 horsepower thanks to its Cummins 15.0 liter in-line engine.
The 9570 RT tractor, weighing 40,740 pounds, is part of the 9RT series that include 2 crawler tracks. There are 18 forward and 6 reverse gears on the 9570 RT tractors.
#12 New Holland T9.645
Weight: 40,000 pounds
Horsepower: 638 hp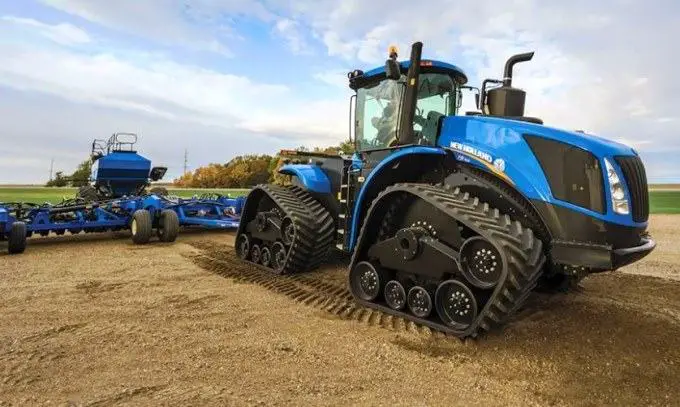 New Holland T9.645 is a tractor produced by the CNH Industrial. Its deadweight is 40,000 pounds.
The tractor is powered by a two-stage turbo engine that generates 638 horsepower. The T9.465 can also be used as a bulldozer that can move tons of soil daily.
So, what is the biggest tractor in the world?
From our list, the clear winner is the Big Bud 16V-747 tractor with a weight of 135,000 pounds which is more than double the weight of the second place, the AGCO Challenger MT975B.
The massive tractor is 28 feet long and 20 feet wide. The size of the tractor's Four-wheel Drive (4WD) wheels is 8 feet tall and they are placed on the Clark D-85840 axles.
Who makes the biggest tractor in the world?
The manufacturer of the Big Bud 16V-747, the biggest tractor in the world, is Northern Manufacturing Co. that is subsequently renamed Big Bud Tractors. Their headquarter is in Harve, Montana, America. The brand is specialized in producing articulated tractors.
Who owns the world's biggest tractor?
The current owner of the biggest tractor in the world is Williams Brothers farm in Montana.
The first owners of the Big Bud 747 tractor in 1977 were the Rossi Brothers in California. It was utilized there for 11 years. After being inactive for a while, the tractor was bought by Robert & Randy Williams, Montana in 1997.
The Big Bud 747 was stopped using on the farm in 2009 and moved to museums. Five years later, it was transferred to Heartland Museum, Iowa as Williams Brothers' indefinite loan.
In 2020, it was returned to Montana where the farm of Williams Brother is, and it continued working farm ground.
Final words
In general, bigger doesn't always come hand in hand with better. It's true for agricultural machines. The most powerful tractor in the world, the Big Bud 16V-747, also has the biggest size.
Besides the Big Bud tractor, we also provide information about the 10+ largest tractors in the world for you and hope that your curiosity has been satisfied.