An efficient hydrant is useful for the supply of water for animals, drainage, or watering of lawns and gardens.
When winter arrives, access to water should always be a matter of concern and made a priority.
Choosing the best frost-free hydrant allows you to have more time to take care of your responsibilities instead of worrying about water flow in freezing conditions.
*This post may have affiliate links, which means I may receive commissions if you choose to purchase through links I provide (at no extra cost to you). As an Amazon Associate I earn from qualifying purchases. Please read my disclaimer for additional details.
Best Frost Free Hydrant on the Market 2022
In-depth 7 Top-rated Frost Free Hydrants Reviews
Because having access to water year-round is crucial, you want to invest in a frost-free hydrant that is durable, easy to use, and effective.
We review the best yard hydrant on the market and found the 7 BEST ones, including products from Woodford, Simmons, Everbilt, and Merrill.
#1 Best Rated Frost Free Hydrant: Woodford Y34-4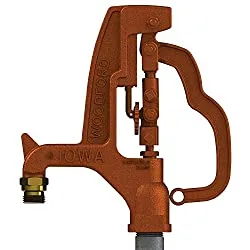 Read More Reviews on Amazon.com
Woodford is popular for a variety of world-class household plumbing equipment, particularly hydrants and faucets.
This Woodford frost-free hydrant can perform very well in a wide range of uses including washing facilities, watering farm animals, spray equipment filling, and garden and lawn maintenance.
Its length is 75.5 inches with a 3⁄4 inch pipe attachment and an adjustable linkage.
This is an instant running yard hydrant. Even under sub-zero temperatures, you are going to get an instant flow.
There is a rod guide providing a number of advantages like preventing side pull and reducing wear.
This hydrant also comes with a variable-flow plunger and a wide cushion form seal, which help to shut off immediately if any foreign particles are found in the device.
Its automated drain mechanism opens the drain to keep it from frosting and shuts in order to prevent any loss of water.
The flow finder and lock mechanism also aid in automatically setting the steady flow of water and lock when any unintended opening happens.
PROS:
CONS:

Automatic draining after shut off
Flow finder
Lock to prevent accidental opening
Immediate flowing in sub-zero conditions
Adjustment linkage
Multipurpose usage on gardens, lawns, fields, and irrigation systems

The packaging of the product can still be improved
The handle does require a bit of strength to operate
Body painting is not so durable
#2 Best Lead-Free Frost Proof Yard Hydrant: Simmons 4802LF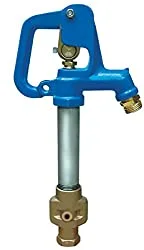 Read More Reviews on Amazon.com
Simmons Manufacturing is very famous for its household plumbing appliances. They produce a wide variety of products and all products are assured to be of good quality.
Just by pulling the handle, this product can help to irrigate lawns and gardens, provide water for animals, wash vehicles, etc.
The 4802LF model has a basic style, much like the other yard hydrants.
At 4 feet long, when mounted, the lower body is 2 feet below the ground frost line while the upper body can also stretch 2 feet after installation.
It is capable of handling any hard use of yard hydrants because of the heavy-duty material, it is no doubt the best hydrant for the most severe conditions.
It features a ¾-inch NPT female inlet that allows loads of water flow. However, there is a lack of one feature and that is that there is no flexible shut-off valve like the Woodford model.
PROS:
CONS:

Head and handle are made of cast iron
Body blue polyester powder coated finish
3/4 inch NPT Female Inlet
Very easy to install
Comes at an affordable price
Lead-free hydrant

No water flow adjustment shut-off valve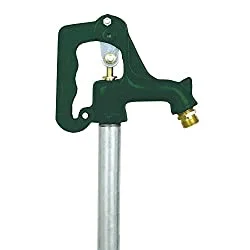 Read More Reviews on Amazon.com
This hydrant is certified as a frost-proof product and is made by the Everbilt brand.
It is also the best yard hydrant that is best for your budget while still offering you all the functionality you need.
This frost-proof yard hydrant is made of cast iron and the hydrant head consists of a nifty bucket hook for ease of use.
The standpipe is made of 1-inch galvanized steel, thereby making it tougher and able to stand for a long time while the rod is made of brass.
A hose connector is also equipped, which complements a double O-ring seal to guarantee a confident seal. The hydrant handle is also of the appropriate size for fast handling.
The six-foot stand makes sure it will bury deep, and the self-draining shut-off valve situated below the frost line is just right when you set it up.
PROS:
CONS:

Very affordable price
Frost-proof.
It has an adjustable self-draining shutoff valve.
Very easy to operate and handle.
It has a 6 feet tall stand that goes deep under the ground.
Made with a heavy-duty cast iron head with a perfect-sized cast iron handle.

Cast iron heads might damage if left uncovered in cold conditions for a very long time.
Up and down brass rod feels it is not well designed.

Read More Reviews on Amazon.com
This is the most durable hydrant on the list.
The head is made of cast iron and the extension rod is of galvanized stainless steel.
It also has a wide-seal style cushion and a single-piece variable flow plunger.
The rate of water flow can be controlled by the handwheel at the head. There is also a hole in the link to put on a lock to prevent unauthorized use.
You will have an NPT female inlet and a 3⁄4 " male hose thread outlet.
With an underground depth of 2 feet, this frost-proof hydrant is guaranteed to work hard during the winters to ensure a steady and reliable supply of water.
The kit includes an aluminum connector for the hose and a bronze silicone bypass valve.
PROS:
CONS:

Stainless steel extension rod.
Tamper-proof lock.
Automatic shut off.
Automatic drain off after closing.
Cast iron head material.
Most durable on the list

Hose pipe may expose to rust.
Has no O rings in the plunger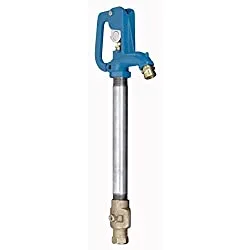 Read More Reviews on Amazon.com
To ensure durability, the hydrant head and handle are also made of cast iron and the extension rod is made from sturdy brass.
This frostless hydrant has a total length of 57 centimeters, the depth is 2 feet deep.
The binding straps come with Kevlar packaging and are made of hot-rolled steel.
It also has a one-unit plunger for the steady flow of water in the system and the oversized handle enables a good grip and it snaps lock in place.
In addition, the 3/4-inch inlet of the self-draining bleeder valve stops ice from developing on the hydrant head and the riser tubing.
The whole unit is anti-leak so there is no worry about unexpected leaks, making it the best lead-free hydrant on the list.
PROS:
CONS:

Constant water flows in icing colds.
Lead-free water.
Anti-leak design.
Easy maintenance or repair work above the ground.
Lock system to prevent unauthorized use.
Cast iron and solid brass materials for durability.

No automatic shut-off valve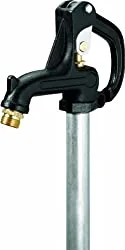 Read More Reviews on Amazon.com
This 6 feet hydrant has a 4 feet-long buried and a 2 feet lengthy handle.
The handle is made of cast iron and can be easily secured thanks to a lock hole and a leak-proof seal is in place.
Its plunger, rod, and connection are easy to change and can be quickly replaced if needed.
The standpipe is corrosion-resistant. Essentially, the kit consists of all the items you need to upgrade from the old one.
With the exception of a corrosion-resistant standpipe, all its elements are complained about cheaply made.
The reliability of this product is, therefore, a bit concerning as cheap components can have an effect on the functionality of the hydrant.
PROS:
CONS:

Corrosion-resistant standpipe.
Leakproof seal.
Easily replaceable rod, plunger, and linkage.
Easy lock handle.
Pocket-friendly.

Cheap components except for standpipe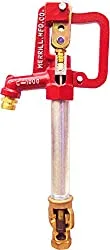 Read More Reviews on Amazon.com
The Merrill No Lead Frost Proof Yard Hydrant has a 1″ galvanized pipe and a 3/4″ link pipe.
The tubing has a total length of 68.5 inches and a buried depth of 3 feet.
Merrill has been delivering high-quality products for more than 65 years, and this frost free hydrant is no different.
You can rely on this farm spigot to provide very good water service and for it to be used for irrigation and working areas.
It's a lead-free product, with the inside portion a 1-inch galvanized with PVC pipe and the head and handle are made of cast iron.
This handle also consists of a double bypass valve body and a section of a plunger. These pieces can be replaced and ultimately, does not require a packaging gland.
PROS:
CONS:

It uses galvanized pipes, which are quite durable.
The plunger seal is replaceable.
It has a very simple design.
Uses heavy cast iron head with a simple high-flow design
It is lead-free.
No packing gland is required for it

No features like auto-shutoff.
The handle is too large
Installing A Frost-Free Hydrant
Before calling for installation service, installing a frost-free hydrant is easier than you think.
Follow four simple steps and you can install a water running system outside your house, saving a lot of money.
1. Determine The Location
First off, you need to define where you want your hydrant to locate.
To choose the best place to install, make sure it is convenient for many purposes and can avoid getting hit by a vehicle (snowplow, tractor, ATV, etc.).
You should also make sure to protect your hydrant from large stock, so it is recommended to place it away from the corral or pasture.
2. Find The Water Line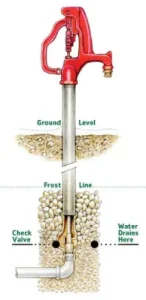 Once you have the location picked, you need to find the existing water line for your hydrant to connect to.
If you have not had an outdoor water line before, you will have to connect to the one inside your house.
The crucial point here is to make sure the new line drawing from your indoor water system is below the frost line.
Always refer to local official rules to count the depth required.
When you have already drawn out the routing for your hydrant, call 811 to check if there are any utilities buried where you want your water line.
Also, it is necessary to check the septic system map before digging.
3. Dig Out
Dig a trench that is safely below your frost line from the supply spot to the intended spot. You can use either a backhoe or a trencher.
When you reach the end, make a pit that is about 3 ft in diameter and 1 ft in depth from the trench.
Fill this pit with crushed stone or pea rock to form a small drain.
Place your feed line, ideally, PEX in ¾ inch diameter, connect it with the source and attach a fitted ball valve.
The ball valve should be able to cut off the outdoor line independently from the remaining of your water system.
Finish off by pressurizing the line to check that there will be no leaks.
Finally, after closing the valve, check that the water flows from the drain hole which is essential for the water to not be frozen in the future.
If you are living in extreme cold, it is suggested to run a couple of gallons of water to warm the standpipe enough so that the water will have time to drain before freezing.
The warmer the pipe you can get, the greater the chance the water can drain.
4. Backfill The Excavation
After you are done pressurizing and checking the drain function, now it is time to set the frost-free hydrant vertically, then backfill it with crushed rock.
Covering the drain by a few inches is needed. Some even apply a wooden or steel post around the hydrant for extra support.
Backfill the excavation using a loader and an angled or box blade which will make the work less heavy for you.
Fill the trench with soil and make an even surface.
You should also mark the path of the water line now so that in the future, finding the hydrant line for maintenance will be easier.
Product related: Best Oscillating Sprinkler on the Market
How does a Frost Free Hydrant work?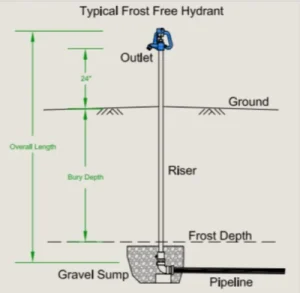 A water pipe has two parts: the riser pipe and the water supply.
The water supply is usually underground, maintaining a liquid form.
And the riser pipe is closer to the weather outside. This is the part that directly leads to the water pipe freezing.
A frost-free hydrant prevents the freezing process that happens to the pipe.
After you close the frost-free hydrant, all remaining water in the riser pipe will be drained out through a bleed-off valve.
As the tubes are empty of water, they cannot freeze.
Remember to close the handle tightly.
If it is not fully closed, the hydrant's water removal mechanism cannot take place ultimately.
Unless all the water is drained out, it will become ice!
How To Replace A Frost-Free Hydrant?
Needed tools and materials:
Pipe wrenches
Garden hose (for testing water leak)
Roll of thread-seal tape or pipe joint compound
Penetration oil (if needed)
Gravel (for drainage)
Instructions:
Remove the old hydrant: Lock the water, then dig a hole wide enough to ensure safety and convenience for work.
Remove the joints and the water pipe: In case the joints are rusty or too stiff, a little penetrating oil will help.
Install the new hydrant: Screw the riser onto the underground pipe and make sure everything fits snugly. Avoid overtightening the hose.
Check for a leak in the new frost-proof hydrant: After you lock the faucet – if excess water is discharged through the valve at the bottom of the pit, the hydrant works properly.
Fill the hole with soil and gravel tightly: Place the stones first until it reaches 3 inches above the drain valve to ensure that the water will be absorbed quickly.
How To Adjust A Frost-Free Yard Hydrant?
Here are 6 simple steps on how to adjust a frost-proof hydrant.
Disconnect the water supply to the faucet with the valve directly on the pipe or the main valve of the whole household.
Release the pressure inside the pipe by opening the hydrant. Then close it and loosen the linkage set screw on the head of the hydrant.
Re-open the frostless hydrant. Only open it at an angle of 30 degrees compared to the fully closed position.
Tighten the linkage set screw and close the hydrant head. Then, open the water supply valve.
Flow water through the hydrant to make sure it operates properly by flowing, shutting off, and draining water.If the shut-off function can't perform as you wish, repeat steps 1 through 4.If the hydrant cannot drain all the water, check for step 6.
A common reason for not all water being discharged is due to a drain hole blockage. Using a hose cap, or fitting a hose and correcting its position, will create pressure to unclog the drain hole.
Remember, by listening to the drain and placing your hand on the hose connection, you will know whether the hydrant is working.
The testing step is very crucial, so repeat step 5 until everything works.
Also, correct each problem one by one. Don't try to solve all the problems as this can have a negative effect on the tube.
FAQs About Frost-Free Yard Hydrants 
1. Can Frost Free hydrants freeze?
Yes, it can. Frozen hydrants can happen if the valve is adjusted improperly, the drainage bed is saturated, or the drain hole is plugged.
Being used improperly such as incompletely shutting off or constantly withdrawing a small amount of water, can also lead the hydrant to freeze.
2. How much does a frost-free faucet cost?
Normally, a frost-free faucet costs from $150 to $500.
3. How do I keep my outdoor yard hydrant from freezing?
To prevent your outdoor hydrant from freezing, follow the following 3 steps:
Disconnect your hose in the fall
Even when you turn the hose off, the connected hose still holds water inside. When the temperature plunges, the remained water can freeze causing the pipe to burst.
Use an outdoor faucet cover
Besides disconnecting the hose, you need a faucet cover to handle the problem. The cover made of Styrofoam can keep your faucet isolated and protected from the cold winter.
Remember to secure it snuggly in place and follow the manufacturer's instructions.
Install a frost-free faucet
Using a frost-free faucet is a permanent solution to this problem. As said in its name, a frost-free faucet, it can operate in freezing temperatures.
Still, you also need to disconnect the hose in the winter to prevent the trapped water in the head and pipe from breaking the faucet.
4. How do I stop my frost-free hydrant from leaking?
If your frost-free hydrant is leaking, check out our following steps to fix it.
Tighten the retaining nut. If it's still leaking, then look for other problems.
Remove the faucet stem. You can reinstall the handle temporarily to have something to grip. Turn the handle to unscrew the faucet stem.
Replace the washer assembly.
Remove the vacuum breaker cap to access the parts underneath.
Unscrew the retainer then take the vacuum breaker out. Clean the parts then reinstall them. If it still leaks, considers replacing those parts
5. How deep should a frost-free hydrant be?
Frost-free hydrants should be buried at least 24 inches deep to prevent the possibility of freezing.
6. How do you keep water from freezing without electricity?
Insulating your water in foam, burying the water line, and even using a bottle with a salt mixture of 3:1 salt to water can help keep the freezing at bay but only until -5 degrees Fahrenheit.
7. Are Woodford hydrants made in the USA?
Woodford hydrants are made in Iowa, USA.
Conclusion
It is quite difficult to choose the best frost-free hydrant out of these 7.
For me, the winner is #1 Woodford Y34-4 as it has a perfect balance of price and functionality.
It comes from a world-class manufacturing company whose expertise is hydrants and faucets.
And, it is made from highly durable materials. With an effective design, it is very hard to go wrong with this hydrant.