Which is the winner: Kubota vs John Deere? These two brands are both well-known in the farm machinery market. When it comes to qualities, many people think Kubota and John Deere are similar, while many others prefer to choose only one.
In this post, we will take a closer look at both pros and cons of these two big tractor brands.
*This post may have affiliate links, which means I may receive commissions if you choose to purchase through links I provide (at no extra cost to you). As an Amazon Associate I earn from qualifying purchases. Please read my disclaimer for additional details.
About Kubota
Kubota is a Japanese heavy equipment manufacturer, which was founded in 1890, over 131 years ago. The company has its headquarter based in Osaka, Japan, and opens a network of businesses in over 120 areas across the world.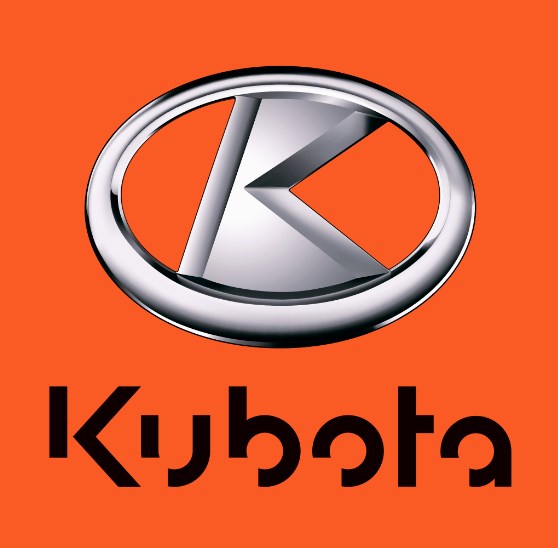 This huge corporation actually started as a casting metal company. Eventually, they have grown to broaden the business into a huge variety of products, from tractors, agricultural machinery to construction equipment and water treatment machines.
Kubota has an astonishing contribution to the production of heavy metal equipment in the world. There are 30 million units of engines under the name Kubota and the company is also the home of over 4.8 million tractors worldwide.
As a corporation, Kubota seems to show a strong commitment to coming up with solutions to global issues related to water, food, and the environment. In fact, 80% of Japan has used its technology for treating water in the country.
About John Deere
John Deere, headquartered in Moline, Illinois, is the brand name of Deere & Company. Like Kubota, it is also a long-standing company in the United States, founded 184 years ago. The company is named after its founder who started the business to sell the self-cleaning steel plow invented by himself, back in 1837.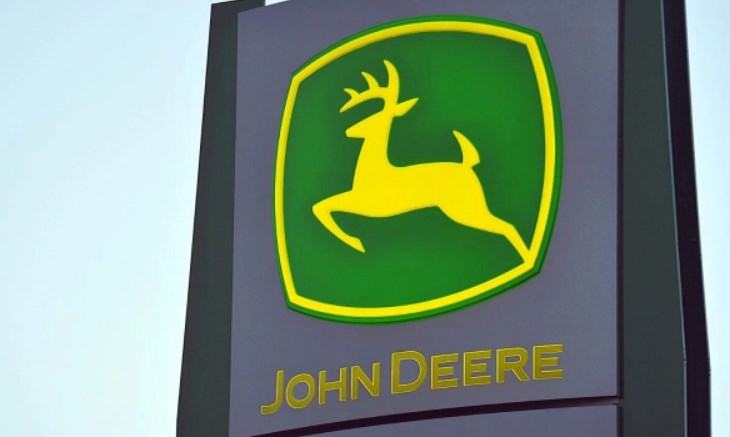 Deere & Company today owns a huge international market in more than 160 countries, manufacturing and distributing farm equipment and industrial machinery. The brand is also well-known for other big sectors like lawn care and forestry equipment.
John Deere is one of the oldest companies in the US and has been a leading manufacturer of agricultural machinery ever since it was founded. In 2020, the company is ranked #84 on the Fortune 500 list of the largest US corporations.
Kubota vs John Deere: Comparison
It seems both Kubota and John Deere are at the top of their game. Indeed, it's hard to pick a winner just by looking at how famous the two brands are. So, let's pair up one best-seller from each and see how they differ in features.
1. Kubota L Series vs John Deere 3E Series
The Front Loader
The Kubota L Series has an innovative design that brings about a quick and easy attaching/detaching of its front loader. Meanwhile, it may take more time and some extra tools to do so with the fixed-mount loader of the John Deere 3E Series.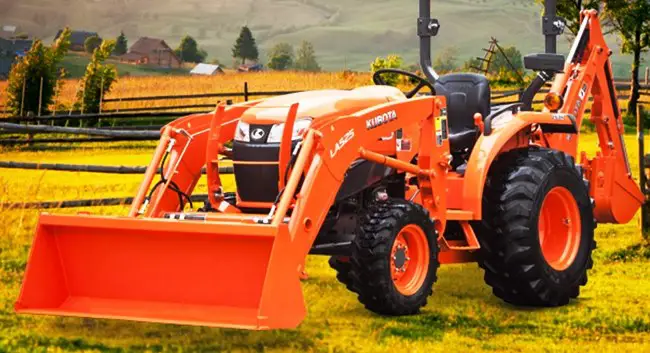 A faster attaching system allows farmers to easily switch between different tasks. The loader can also stand on its own when detached from the tractor.
Hydraulics System
The Kubota L Series compact tractors have a more advanced hydraulic system, which allows them to perform multiple tasks like raising, dumping, or curling the loader, all at the same time.
In comparison, the John Deere has a basic and less powerful hydraulic system. Therefore, it may have a hard time and experience start-and-stop motion while handling these tasks simultaneously.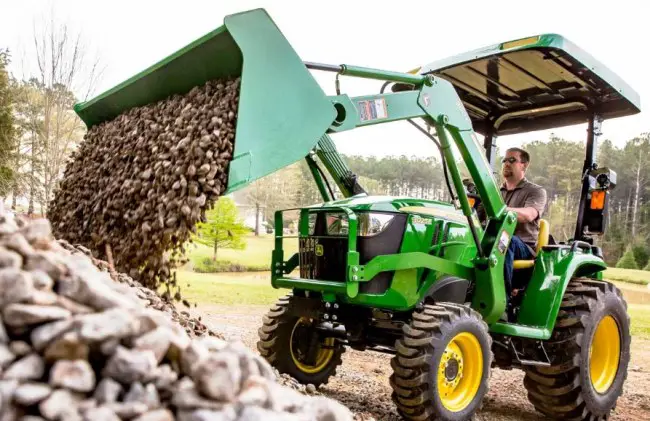 Material Quality 
Comparing in detail, the materials of these two tractor models, you can tell the Kubota L Series clearly has an absolute win. A great example is its metal, one-piece design hood, as opposed to plastic, two-piece of the John Deere 3E Series.
This specific design and better material is a key to easy engine access. In contrast, people have reported experiencing some difficulties opening the internal engine of the John Deere 3R Series, as well as putting its hood up in the beginning.
2. Kubota B50 vs John Deere 2 Family
Stability
If you are picking one from these two tractors based on stability, the John Deere 2 Family clearly has more advantages.
The total weight of the John Deere 2R is 2,436lbs, while that of its counterpart is only 1,874lbs, less than 30%. Being heavier is a clear benefit to working with heavy objects as it offers more stability standing on uneven ground.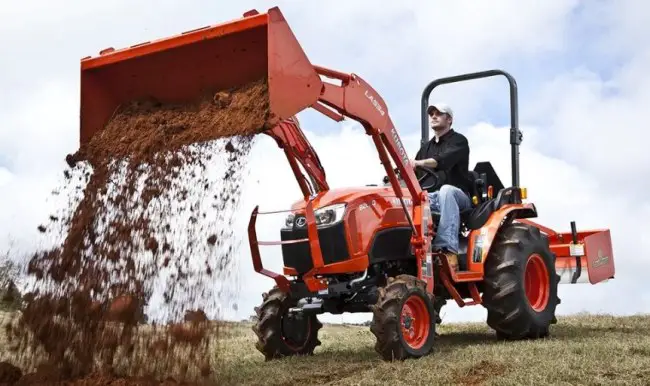 Plus, you can add 2.4" wheel spacers to the two sides of a JD 2R to increase the length of the rear tires. This makes the John Deere's tires 3 inches wider than those of Kubota, which results in more confidence in mowing on ditches or slopes.
Performance
The John Deere tractor has a better layout to operate and thus yields better performance overall.
While it may take more effort to control the machine with the design of Kubota, the John Deere allows riders to change both speed and direction much easier with its Twintouch pedals. There are also many reviews from users that Kubota's treble pedals are hard to use or to place feet on.
The design of John Deere 2R seems to offer more operator comfort, compared to that of Kubota. The large piece of rubber on the floor does great on absorbing vibration and noise, as well as bringing more room for shoes. The controls are also placed on the right side, with labels for easy access.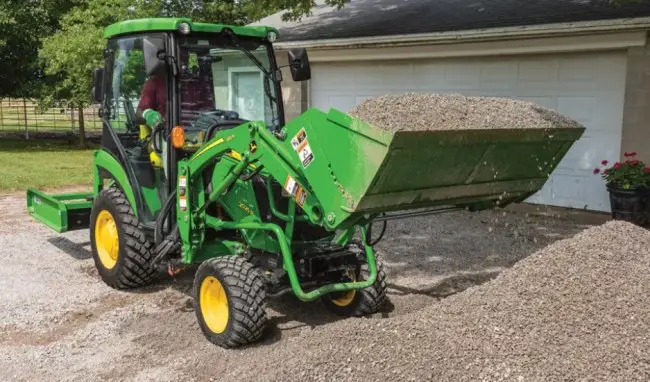 The model from John Deere is also highlighted by its ability to adjust the engine output to match different working conditions. Thanks to this, you don't have to throttle up the RPMs every time you want to change speed.
Light Systems
Working at night time seems unable to bother the John Deere 2R Series, because of its high-power LED bulbs. The B3350 from Kubota doesn't have any fender light, unfortunately, which is a huge drawback in this competition.
Loader
People tend to put more trust in the John Deere 2R's loader than the Kubota one, and they have clear reasons to do so. This loader is specially designed to handle heavy workloads at a steady pace. It has attached loops to better hold materials.
Farmers also really enjoy the quick park feature, which makes taking off the loader such a simple task. For this, Kubota's design seems to fall behind, as it requires more labor to detach the loader.
Mower Deck
Definitely one of the winning features of the John Deere 2R Series is its auto-connect mower deck. This is an innovation that surely helps reduce the workload for farmers. No more getting on and off your seat to attach a deck, in only a few small steps within a reach of your arm, you are good to go.
Following this advantage is another one that offers a consistent height to mow your lawn, which is essential for those who use lawn tractors regularly. You will have to adjust this manually for the Kubota tractor, including the PTO and levers. While for its competitor, the 2R, all you need to do is turn a knob, sit back and enjoy the ride!
The Backhoe
To install a backhoe, you only need to remove the top link for the 2R, while taking out all 3-point hitch is required for its competitor – Kubota BH77.
Backhoe hydraulic control also fits nicely with the seat of John Deere than the swivel seat of Kubota.
Regular Oil Check
Maintenance duty sometimes adds more burden to farmers. But the John Deere has done a good job relieving it, demanding less effort to check the oil. Until you have opened the hood and the panels to check the oil for the Kubota B50, you would wish to own a John Deere 2 Family.
Moreover, the Kubota needs more frequent oil replacement, after every 400 hours, while the John Deere 2R doesn't, until 1200 hours of usage. With a larger, 8.6-gallon fuel tank, the John Deere is also more beneficial in terms of capacity.
3. Kubota BX vs John Deere 1 Family
The Loader
Like its fellow John Deere 2, the John Deere 1 offers great benefits with its Quik-park loader. No need to make a small trip just to detach or attach your loader like the Kubota BX, the John Deere 1 tractor can get it done for you in a minute.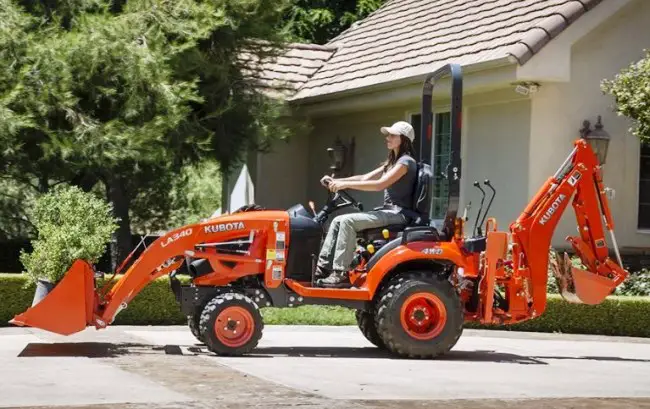 Composite Hood
While operating the tractor, heavy wood and gravel may accidentally fall out from the loader and damage the engine.
A composite hood offers better protection compared to a side-by-side metal hood. It is also more durable and rust-resistant. This is another advantage of the John Deere 1.
Mower Deck
To install a riding lawn mower deck in a Kubota BX, first, you will need to remove the loader, then set the four-gauge wheels to the lowest height and place the ramps in a driving way through the deck.
Once the deck is attached, you now need to latch the levers and pin the ramps in place.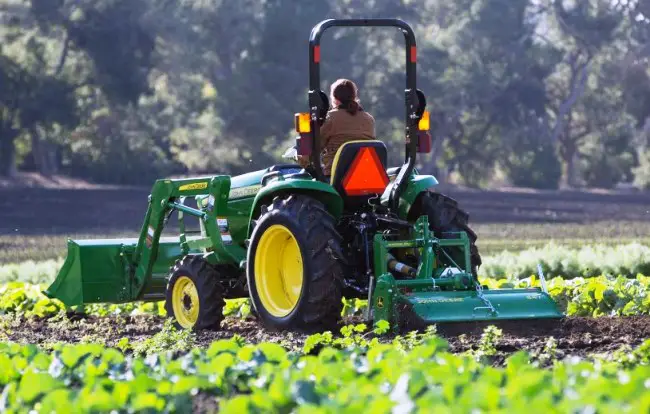 All of these hectic steps will be converted to only aligning with the guide rails and running over the deck. This is possible thanks to the AutoConnect drive-over feature from John Deere. You will also be notified when the PTO is connected, which is definitely effort-saving for many farmers.
Final Verdict: Is Kubota Or John Deere Better?  
In short, our key takeaway is that choosing one between Kubota vs John Deere depends on your own needs. Many will count on the strengths of Kubota while others prefer those of John Deere. We do hope you have had a winner of your own from this post!