On the US and European markets, John Deere is such a giant in the field of agricultural tractors. Throughout its long history since its establishment in 1837, the brand has manufactured a lot of high-quality tractors. This article will take a look at some of the biggest John Deere tractors in the world.
*This post may have affiliate links, which means I may receive commissions if you choose to purchase through links I provide (at no extra cost to you). As an Amazon Associate I earn from qualifying purchases. Please read my disclaimer for additional details.
Top 12 World's Biggest John Deere Tractors
Here are the top 12 biggest John Deere tractors throughout the brand's history. There will be a model that has been halted from production and models that are still available on the market.
12. John Deere 9630
Weight: 39,465 – 54,165 pounds
Power: 530 hp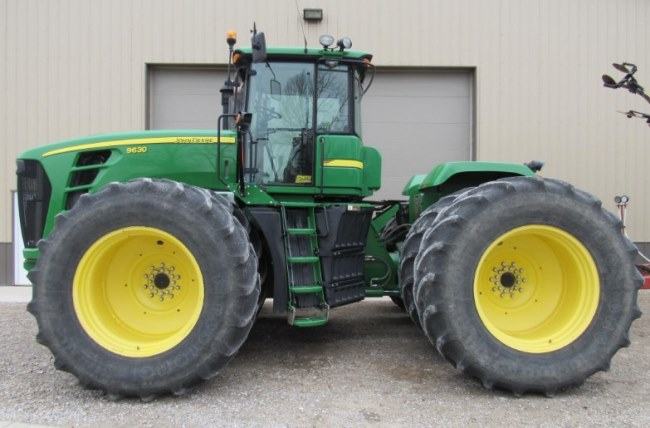 This was one of the biggest models ever produced by John Deere. Its production started in 2007 and ended in 2013. Currently, the John Deere 9630 price depends on the tractor's condition and version.
This tractor was equipped with a 530 hp engine and it could weigh from 39,465 to 54,165 lbs. It was an articulated tractor and eight similar-sized tires, duals in front and rear which were included upon its purchase.
The 9630 model was also available with rails instead of tires, which was the 9630T. The 9630T differs significantly from the 9630 and the biggest difference is that it is not articulated, resulting in a change in the design of 9630T.
11. John Deere 410 8R
Weight: 28,000 pounds
Power: 443 hp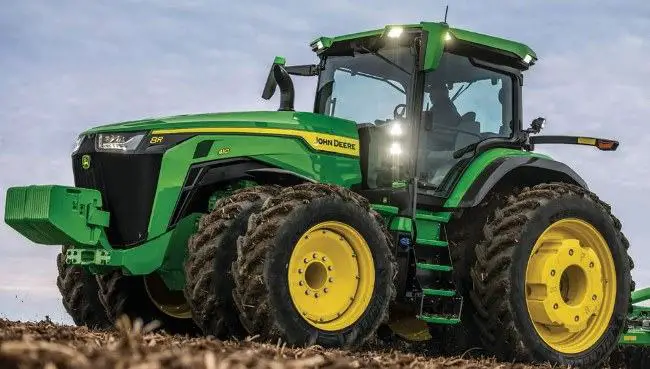 This model has one of the best well-equipped and spacious cabins. With a wheelbase of 121.3 inches and an overall length of 261.3 inches, the John Deere 410 8R weighs at least 28,000 lbs and its engine is 410 hp.
The tractor cabin carries a CommandARM control panel for complete control of auxiliary functions, climate control automatically, and a telescopic steering wheel with the driver's preferred position memory.
All of that will be included when you order with the special extra package.
10. John Deere 410 8RT
Weight: 34,400 pounds
Power: 443 hp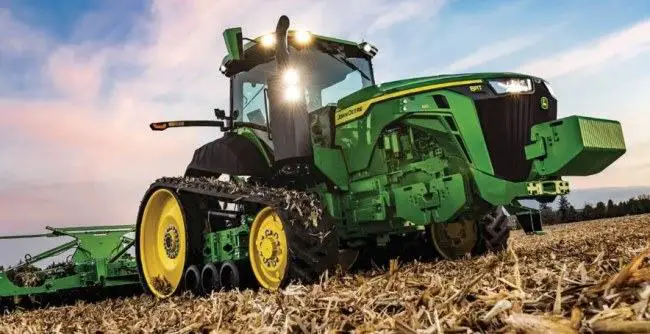 John Deere 410 8RT was released in 2010 and weighs 34,400 lbs. It comes with an 85 cc pump and this pump can be enhanced into a dual pump of 85 cc and 35 cc, which will improve its flow.
This dual-track model has a standard 6-cylinder 410 hp engine and 443 hp for maximum. Thanks to this, the driver can shift gears while running and under load.
By eliminating the need for a clutch, the Powershift transmission can make the most use of the multi-disc clutch to shift gears in a range (slow to fast).
9. John Deere 9470R – Scraper Special
Weight: 41,950 pounds
Power: 470 hp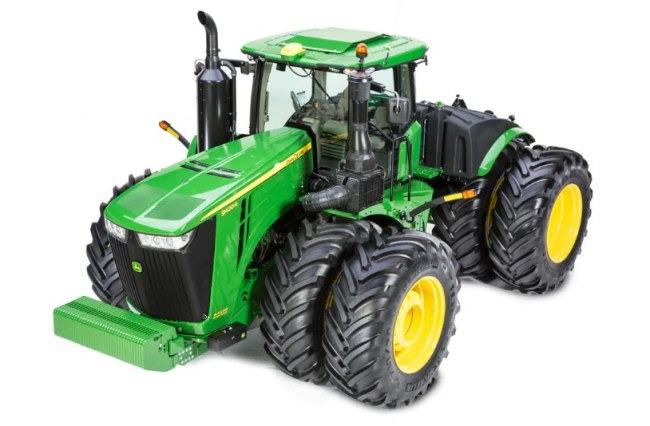 This model is powered by a PowerTech 470 hp John Deere engine. This diesel engine can churn out 2,100 rpm and circulate air through asymmetrical twin turbochargers: one has a fixed geometry and the other has a variable geometry and is post-cooling.
With a base machine weight of 41,950 lbs and a maximum ballast rating of 54,000 lbs, John Deere 9470R is a must-have on this list.
Moreover, it is equipped with a standard PowerShift transmission with 18 different speeds, which is capable of speeding up to 40 km/h.
8. John Deere 8RX 410 Four-Track Tractor
Weight: 43,300 pounds
Power: 443 hp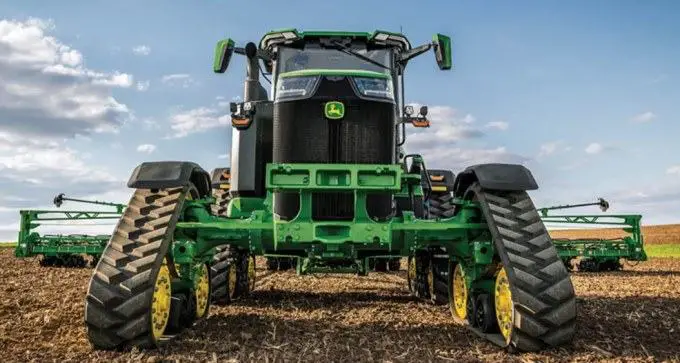 John Deere 8RX 410 is another big tractor of this brand. Along with its rated engine power of 410 hp and maximum engine power of 443 hp, this model also has a tank with a pump, which enables you to carry fertilizer while working.
The cab suspension and air seats are two other unique features of this tractor. They are specially designed to reduce the frequent vibrations on road transport, and inherently, enhance the driver's comfortability.
Its base machine weight is 43,300 lbs, with engine rated speed of 2,100 rpm.
7. John Deere 9570RT – Scraper Special
Weight: 45,000 pounds
Power: 570 hp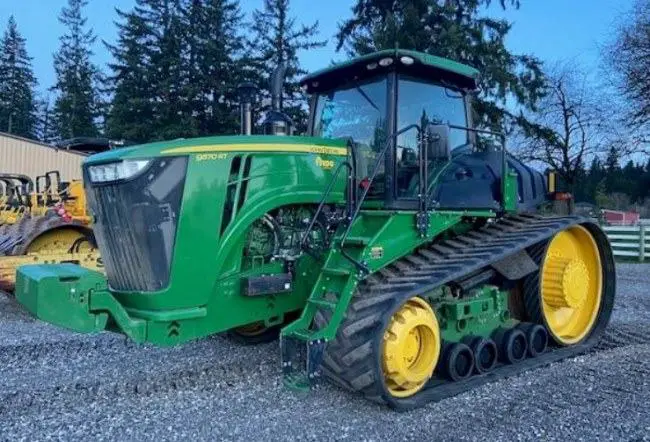 On this model, John Deere has installed the 15-liter Cummins X15 diesel engine instead of the regular in-house engine for better power and efficiency.
Paired with the already renowned 18-speed PowerShift transmission, this tractor fully utilizes its 570 hp engine to easily handle its task on the field.
John Deere 9570RT's base size is 19ft9" (overall length), 11ft4" (overall width), 11ft2" (height over cab). It weighs 45,000 pounds, making it one of the largest tractors that come from the John Deere brand.
6. John Deere 9RT 570
Weight: 45,375 pounds
Power: 627 hp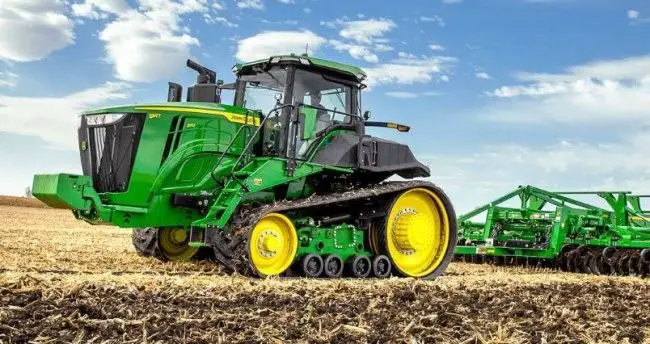 John Deere 9RT 570 weighs 45,375 lbs and is equipped with a rated engine power of 570 hp and maximum engine power of 627 hp. Hence, it can easily tackle regular tasks on the field.
Moreover, John Deere gives you easy access to an entire collection of connected apps through a receiver and a display screen. This offers you scalable and precise guidance for stress-free operation in almost any condition.
It is also equipped with the Ultimate Visibility package for better vision at night.
5. John Deere 9R 540
Weight: 45,980 pounds
Power: 594 hp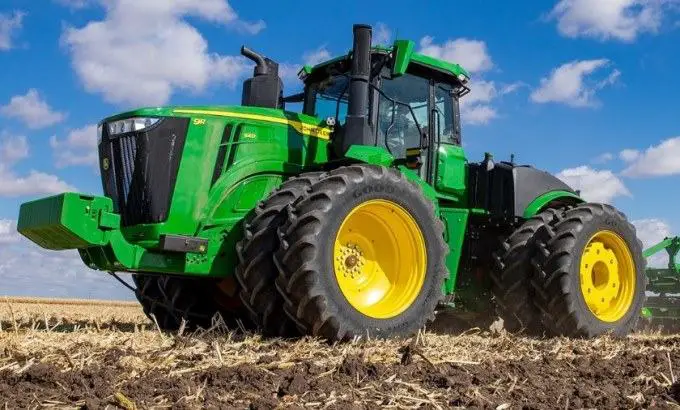 For this tractor, you will have 3 different options for the cabin and visibility packages: Select, Premium, and Ultimate. Each one has its features with different prices.
This model also has the access to connected apps through a receiver and display screen so that you can know the tractor's status and have a more accurate operation.
John Deere 9R 540 has an engine of 540 hp at rated power and 594 hp at maximum power. Its base machine weight is 45,980 lbs, making this model among the largest tractors that John Deere has ever manufactured.
4. John Deere 9R 590
Weight: 45,980 pounds
Power: 649 hp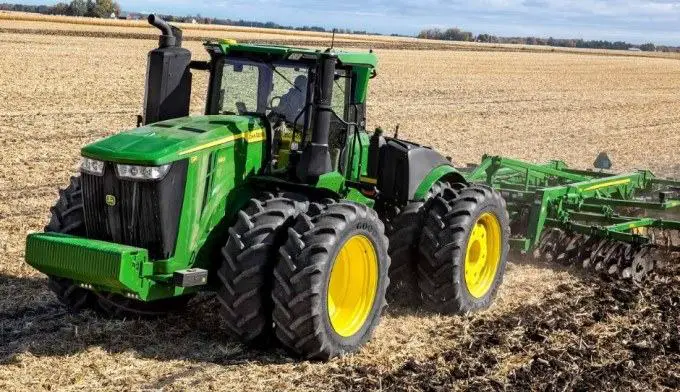 This tractor is powered by a 649 hp engine at max power with a hydraulic pump that has the rated output of 55 GPM, 208 L/min at standard, and 110 GPM, 416 L/min. This model weighs 45,980 lbs.
All of these specifications prove that it can tackle heavy tasks on the farm pretty easily.
As it belongs to The 9 Series, John Deere 9R 590 also has advanced features similar to the other tractors in this series.
For example, purchasers can choose one among the Select, Premium, and Ultimate for the Visibility package, which improves the working condition at nighttime. Or, the StarFire™ receiver, Gen 4 display screen, and the AutoTrac™ for better operation and status updating.
3. John Deere 9RX 590 – Scraper Special
Weight: 56,320 pounds
Power: 649 hp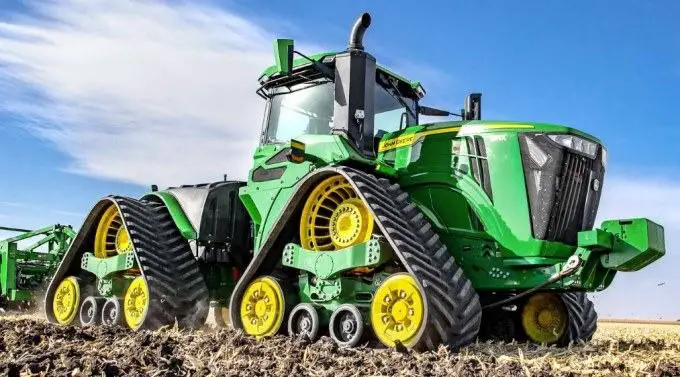 This model has quite similar specifications to its counterpart – John Deere 9RX 640. Its base machine weight is also 56,320 lbs, which is the second heaviest from the John Deere brand.
However, the engine of John Deere 9RX 590 is 649 hp at maximum power and 590 hp for rated power.
Similar to the tractors in The 9 Series, you can purchase the Ultimate Visibility package for a better working vision at night, as it will provide a 360-degree LED lighting system.
Also, the Ultimate Comfort and Convenience is advisable as it will ease the problem of advanced controls over your tractor.
Check more: Top 10 Biggest Tractor in the World
2. John Deere 9RX 640
Weight: 56,320 pounds
Power: 691 hp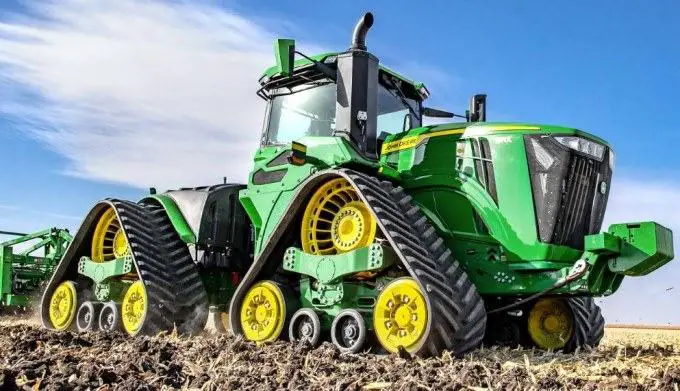 John Deere 9RX 640 is the model powered with the biggest John Deere tractor horsepower – 640 hp for the rated engine power and 691 hp for maximum engine power. If you need to work a lot at night, this model is ideal with the Ultimate Visibility package.
Just like its counterparts in The 9 Series, when you purchase the tractor with the package "Ultimate Comfort and Convenience", a CommandARM control panel will be included and this will help you manage advanced controls of the tractor.
The John Deere 9RX's base machine weight is 56,320 lbs, making it the second biggest model from this brand.
1. John Deere 9620RX
Weight: 54,000 pounds
Power: 620 hp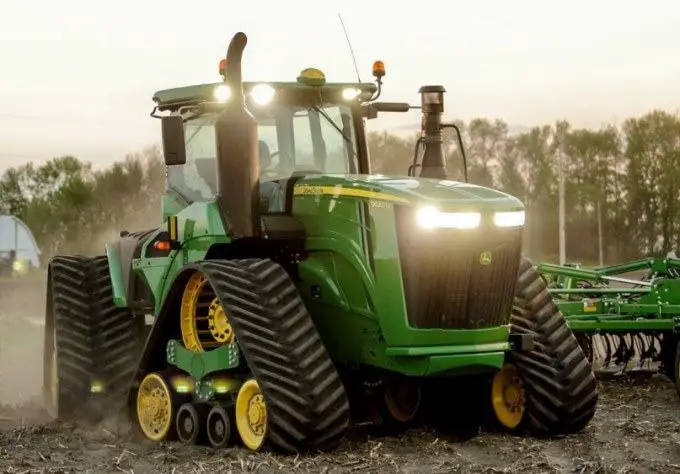 This model is the biggest tractor that John Deere has ever produced. It sets the standard in terms of size, power, and performance for every other John Deere tractor. That is why John Deere 9620RX price is quite high, from at least $574,786.
With the Cummins QSX15, B20 engines, this tractor pushes an incredible 620 hp of power to its wheels and track for a top speed of 25mph.
In addition, with a base weight of 54,000 lbs and a maximum ballast level of 62,000 lbs, this is the heaviest model currently offered by John Deere.
Read More: How Much Does a Tractor Cost for Farming? We explore the price ranges of common tractor types and the average cost of new and used tractors!
Final Words
We do hope that after reading this article, you will have more knowledge about the world's largest John Deere tractors. All of the 12 models that we put into this list are very famous for their efficiency and millions of users have trusted and used them for their farm works worldwide.
If you know other John Deere tractors worthy of this list, please do not hesitate to leave a comment.