It's undeniable that John Deere is an icon of quality in tractors and agricultural machines in America and worldwide. But where are John Deere tractors made? Are all of them made in the USA? 
Let's explore the brand history of this company and its tractor models to learn more about this worldwide market leader.
*This post may have affiliate links, which means I may receive commissions if you choose to purchase through links I provide (at no extra cost to you). As an Amazon Associate I earn from qualifying purchases. Please read my disclaimer for additional details.
Brand Overview Of John Deere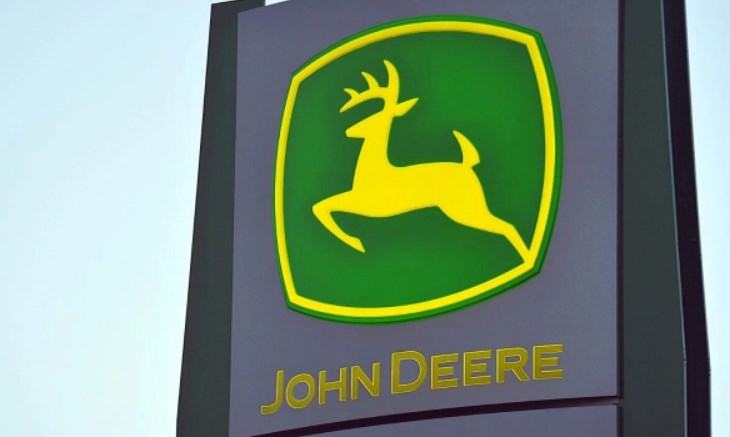 John Deere is a subsidiary of Deer Company, an American corporation in construction, agricultural, forestry machines, etc. Besides manufacturing, this company also provides financial services and other activities related to agriculture and construction.
This company was founded in 1837 in Grand Detour, Illinois, by John Deere, an American blacksmith and an inventor of agricultural equipment. John and his family moved from Vermont to Illinois to expand their business by introducing the creative steel plow, which became a remarkable success for Deere Company.
John Deere first entered the tractor industry in 1918 with 2 lawn tractors – Waterloo Boy and John Deere Tractor, and the "DI" as the first industrial-grade tractor in 1935. Nowadays, there are 5 tractor series on the market, including D-series, E-series, specialty tractors, super heavy-duty tractors, and JDLink.
Over 180 years of development, the company has earned a reputation for its superior quality, durability, and excellent customer service. In 2020, it was ranked 84th on the Fortune 500's list of largest American corporations.
This company also received many awards for its continuous improvements, including Gold and silver medals at Agritechnica (2019), the 2020 Design Award in the Product discipline by the iF World Design Guide (2020), and so on.
Where Are John Deere Tractors Made?
The first tractors of John Deere are made in its world headquarter in Moline, Illinois, USA. Then, this company continued reaching its manufacturing activities to many other states of the USA, including Georgia, Tennessee, Iowa, and Wisconsin.
From the 1950s, it continued opening new factories in South America and Europe, like Germany, Spain, Mexico.
All tractor series of John Deere have been rooted in the USA for over 100 years. Nowadays, its tractor engines and parts are manufactured across 104 factories in many countries around the world, 43 of which are in the US.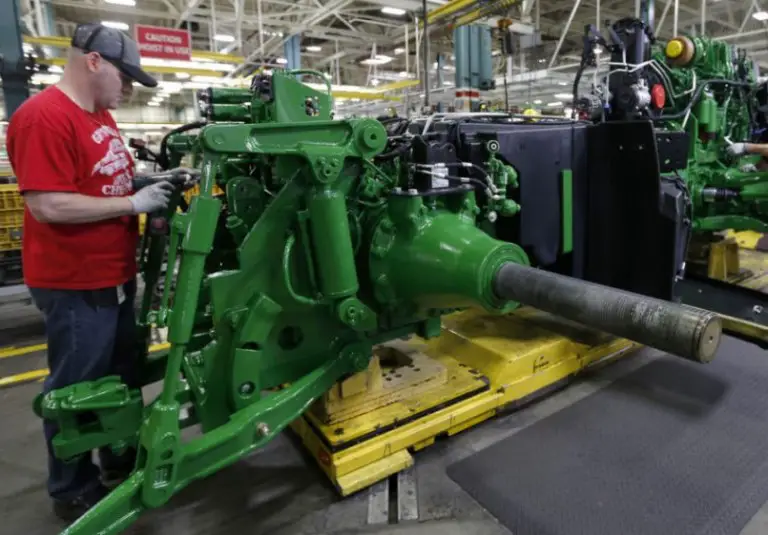 Each factory is in charge of making specific tractor types. For example, you can only purchase a compact tractor or utility tractor made in Augusta, Georgia, USA. Ag tractors are different. They can be produced in various locations, including Rosario (Argentina), Harbin, Tianjin, and Ningbo (China), Pune (India), Saltillo (Mexico), and so on.
More information:

The first John Deere tractor is called Waterloo Boy. First introduced in 1906, this was the first one using gasoline or kerosene for operation. At that time, this tractor had remarkable horsepower, from 2HP to 16 HP. Waterloo Boy is also the tractor that marked John Deere brand name's entering the tractor industry.
More About John Deere Tractors
Types
Over 100 years of development, John Deere has offered 700 tractor models for many customer types, from homeowners to professional farmers or landscapers. They have 7 tractor types:
4WD tractors (up to 560HP): the most powerful tractor type of John Deere for big farm planting purposes;
Row-crop tractors (up to 360HP): for planting crops;
Specialty tractors: designed for odd-shaped spaces, like mowing under trees in an orchard field or mowing through a vineyard;
Track tractors: are available in 8RT and 9RT series;
Utility tractors (up to 250HP): come with many attachments for various purposes, like hauling, boiling, or mowing;
Compact utility tractors (up to 66HP): for mowing, loading, plowing, digging, or landscaping;
Sub-compact tractors: the smallest tractor type of John Deere, aiming to do small jobs around a homeowner's property, like mowing.
Price Ranges
The tractor's price range of John Deere varies just like its tractor types. Its price depends on the machine's power, covering capability, and some other specific requirements.
Lawn tractors: starting at around $1,600
Compact tractors: can be available from $16,000-$25,000
The 5 Family utility tractors: range from $20,000 to $100,000.
The 6 Family utility tractors: range from $90,000 to $265,000 (many row-crop tractors has the starting price of $360,000)
Specialty tractors: might vary from $50,000 to $180,000.
The 7 Series: range from $235,000 to #325,000
The 8 Series: range from $275,000 to $560,000
The 4WD and 9 Series tractors: these two most expensive tractor types have a starting price of $360,000. The most premium models can have a price of around $645,000.
Please notice that your final purchase price might change depends on some conditions, like whether the tractor is new or used, special offers from local dealers, and so on.
Read more: Compare John Deere vs Kubota Tractors
FAQs
1. Where Are John Deere 5075e Tractors Made?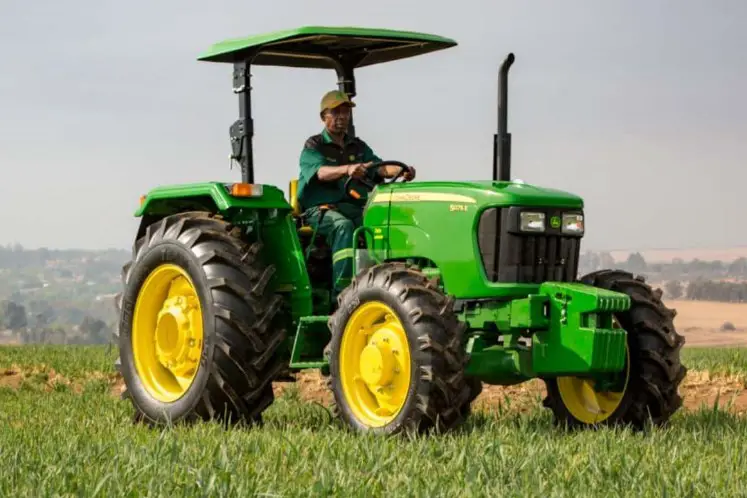 John Deere 5075E is a 73HP-utility tractor in the 5 Family series made in Pune, India. First appeared on the market in 2008, this utility tractor has received many praises for its outstanding maneuverability and performance in harsh working conditions.
First, its adjustable 2WD front-axle is made of heavy-duty steel to cope with harsh surfaces for various applications. Besides, this tractor model has many improvements compared to others in the 5E 3-Cylinder series, like a right-handed console to simplify operation and the 9F/3R SyncShuttle transmission to save time and effort for the operator.
2. Where Are John Deere 1023e Tractors Made?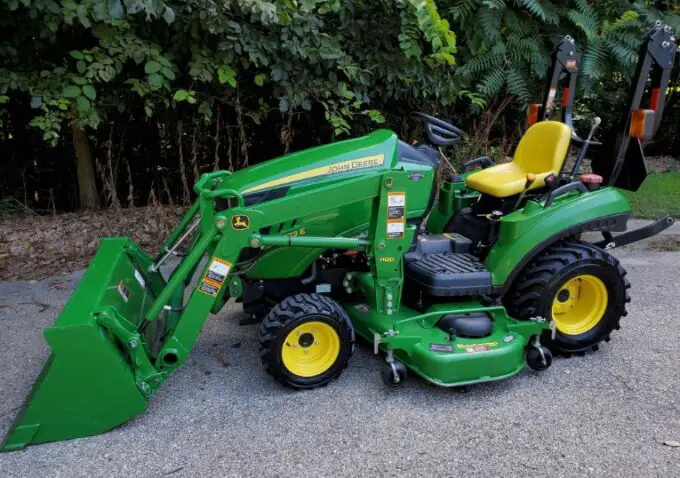 John Deere 1023E is a sub-compact tractor in the Family 1 Series that's made in Augusta, Georgia, USA. This American-made tractor has a horsepower of 21.5HP, and it runs on a Final Tier-4 compliant diesel engine.
From 2011, this tractor offers the signature characteristics of tractor models in the Family 1 Series. It enables operators to instantly switch between different attachments to serve many farming tasks.
It's equipped with the Auto-Connect Deck System, iMatch front hitch, Quik-Park loader, Quik-Tatch front hitch, etc. Besides, the standard 4WD and power steering allow operators to have a robust, flexible control of their vehicles.
3. Where Are John Deere 1025r Tractors Made?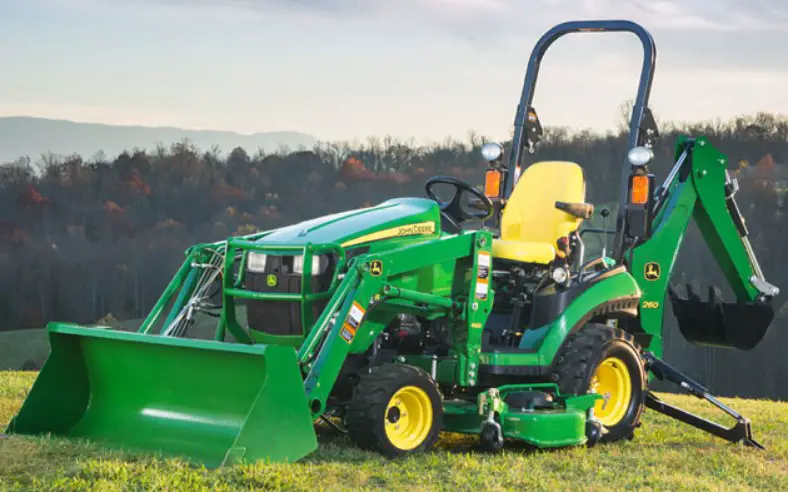 John Deere 1025R is a sub-compact tractor in the Family 1 Series, and it's made in Augusta, Georgia, USA. This tractor has been available on the market since 2013, with its original price being $13,361 (in 2013) and $14,361 (in 2019).
This 17.2HP tractor is designed with the operator's comfort in mind all year round. Not only can you quickly mount or unmount attachments for various applications, but you can also adjust the vehicle's speed and direction with Twin Touch foot controls and Hydrostatic transmission.
Additionally, its open operation station offers excellent visibility and comfort, even for an extended period.
4. Where Are John Deere 4 Series Tractors Made?
All compact utility tractors in the John Deere 4 Series are made in Augusta, Georgia, USA. These tractors run on either naturally aspirated or turbocharged diesel engines of Yanmar Marine International – an international provider of marine diesel engines.
The John Deere 4 Series tractors are designed to assist farmers in serious farming or landscaping projects. Depending on your requirements, you can pick up a tractor model in the 4 Series, including 4044M, 4052M, 4066M, 4044R, 4052R, 4066R.
What does the last character in each model name mean?
The small 4Ms offer handy open stations for small farms;
The 4Rs have an optional cab with heat and AC for 4-season operation comfort;
The M Heavy Duty (HD) models are for large poultry houses and cattle operations.
The 4044R and 4044AM are made in Augusta, Georgia, USA.
You will love: Top 10 World's Biggest John Deere Tractors
Final Words 
When it comes to tractors, John Deere is a golden of choice in quality but also a serious investment for any farmer or landscaper. Knowing where John Deere tractors are made gives you more confidence and information to pick up a tractor model that best suits your work demands and budget.