Growing vegetables in your backyard is healthy for your physical and mental health and more sustainable for the environment. Whether you love enjoying fresh veggies on the table or love taking care of tiny plants, the best greenhouse kits will help you start this hobby with more joy and less wasted budget than hiring a gardening service to do this installation for you.
Need some clues to start? Let's explore the top 7 favorite greenhouse kits that millions of gardeners worldwide are using.
*This post may have affiliate links, which means I may receive commissions if you choose to purchase through links I provide (at no extra cost to you). As an Amazon Associate I earn from qualifying purchases. Please read my disclaimer for additional details.
Top 7 Best Greenhouse Kits 2022
In-depth 7 Top Rated Greenhouse Kits Reviews
I don't include any wooden greenhouse kits in this list due to their minus points. For example, rot potential, maintenance effort, high attractiveness to insects and harmful bugs, etc.
Check Latest Price
Quictent Upgraded is the best commercial greenhouse kit for serious gardeners. This greenhouse is suitable for growing big plants and vegetables with spacious dimensions of 20 x 10 x 7 feet.
This portable greenhouse is designed with utmost durability for your permanent planting purpose. The main frame is made of powder-coated galvanized steel and reinforced with middle rails, allowing it to stand against all harsh weather conditions. Besides, it has 10 bases and 20 stakes to keep the tent strong-resistant against snowstorms and big winds.
Why I rated this Quictent Upgrade greenhouse your #1 choice for winter? Because you can protect your veggies from cold water and snow while allowing the natural sunlight inside for their optimum growth.
First, the two-layered polyethylene cover protects your crops against weather elements. Since it is tear-resistant, you can use it outdoors for years with no extra budget for replacement.
Second, on the greenhouse's roof, there are 3 rows of round crossbars to prevent the accumulation of ice, snow, and water.
Third, U-shaped stakes are on the ground to keep the greenhouse stand firmly and lessen the wind obstruction.
On summer days when the outer temperature is high, can your plants grow happily inside this tent? Absolutely YES! The greenhouse cover has a reinforced transparent mesh layer inside to allow 85% sunlight to come in while preventing bugs and insects.
This mesh also helps maintain good ventilation for the garden. On two sides of the greenhouse, there are 10 exhaust windows with all-sided Velcro to keep the inner temperature warm in winter.
You can enter the house from either the front or the rear roll-up doors. Both these two doors have a two-sided zipper and a mesh vent for air circulation. You can close these doors on humid days (for example, long rainy days) to not affect your plant transpiration.
This greenhouse kit comes ready to assemble with all the essential parts and a user manual. However, you might need the help of your friend or a family member to set it up due to its large size.
Pros
Cons

Suitable for commercial planting purposes
Spacious for big plants
Two-layered PP cover with mesh for excellent protection and ventilation
Two-sided zipped entrances

Expensive
Need help on installation
Check Latest Price
Temperature and humidity control are two common mistakes of many gardening starters. This small greenhouse kit from King Bird will help you maintain a perfect mini-ecosystem for your plants.
Two reasons that make this greenhouse appropriate for people with little to no experience in gardening are its price tag and size.
This greenhouse has a smaller size of 10 x 6.6 x 6.6 feet, and is much more affordable than the above commercial one. Yet, it is spacious enough to grow some simple plants like radishes, tomatoes, strawberries, lettuce, potatoes. So, you can start growing fresh veggies for family dinners without spending too much.
Small as it might seem, this KING BIRD greenhouse offers a similar shape and construction to the premium Quictent Upgraded greenhouse. Apart from the sturdy 0.7mm galvanized steel frame, there are 8 poles at the bottom, 18 stakes, and 4 ropes to reinforce the entire house's structure against strong winds.
Controlling temperature and humidity makes it effortless, thanks to its clever design. Each entrance door has two layers – 1 PE door and 1 screen door with tear-resistant seams and independent zippers. Besides, there are 6 roll-up screen windows with Velcro and ties.
On hot summer days, you can open several or all these doors and windows for maximum ventilation. The mesh layer will protect your lovely plants from uninvited guests like pets, wild animals, insects.
Another notable plus of this portable greenhouse is that it comes with a waterproof 140g/m2 PE grid cover with UV protection level 6. While most UV covers only last from 3 to 6 months and have UV protection level 3, this cover from King Bird can last for one year under continuous use.
This cover also has a PE insulated layer to avoid heat loss at lower temperatures. The cover's size perfectly fits the main frame for enhanced wind resistance, making this greenhouse ideal for winter days.
Pros
Cons

Affordable for starters
Sturdy construction to withstand all harsh weather conditions
Waterproof 140g/m2 PE grid cover with UV protection level 6
Check Latest Price
A polycarbonate greenhouse like Palram HG5510 is a great idea to show the beauty of your plants and flowers while protecting them from weather elements.
Each greenhouse kit comes ready for assembly, including an adjustable roof vent, aluminum frame, lockable hinged door with magnetic catch, rain gutters, polycarbonate panels, and a galvanized steel base.
With more than 30 years in manufacturing polycarbonate panels, Palram greenhouse kits like HG5510 are a reliable choice for protecting and maintaining healthy growth for your plants while maintaining a crystal-clear appearance for years.
Its lightweight aluminum frame provides solid support for the whole house while firmly standing against the test of time and humidity with excellent rust resistance. Depending on your greenhouse's height, you can extend this base from 6 feet to 10 inches from the ground to the roof.
Furthermore, the 4mm twin-wall roof is made of high-grade polycarbonate, which is unbreakable. This greenhouse can withstand winds up to 56mph when going with the Nature Series anchor kit from Palram. It can support a maximum snow load of 15.4 pounds per square foot.
Not merely for decorating purposes, the crystal look of this greenhouse also plays a vital part in the optimal growth of your greenies. The side panels allow up to 90% light transmission, while the roof allows up to 70% light transmission to your plants while protecting them from 99,9% harmful UV rays.
Thus, your plants can always absorb enough light while avoiding damages from the ultraviolet rays of the Sun.
Pros
Cons

Withstand winds up to 56 mph
The aluminum frame can extend from 6 feet to 10 inches

Need at least 2 people to install it
Check Latest Price
When picking up the best quality greenhouse kit for your backyard, glass greenhouses like Exaco Junior Victorian are more expensive and heavier but more durable and beautiful than cheap plastic ones. Therefore, you can install it one time and use it for a lifetime. This greenhouse offers you a planting area of 96 square feet.
This Junior Victorian, as well as the Junior Orangerie greenhouse, are in the Helios product line of Janssens, a high-end Belgium glass greenhouse manufacturer with over 30 years of experience. Janssens is also a well-known provider of luxury greenhouses in Europe.
This first-class glass greenhouse is not only fashionable but also one of the most sturdy and reliable houses for your plants. The 4mm safety glass and the 3-inch high-foundation aluminum frame bring old-fashioned English style to your flowers and plants while protecting them from damages.
As stated by the manufacturer, its aluminum profiles are thicker, more extensive, and sturdier than cheap conventional competitors on the market. Its two roof windows are held in place with rubber seals for better insulation while others only use cheap metal clips.
A minor drawback of the Junior Victorian, as well as other glass greenhouses, is its weight. This greenhouse weighs 807.4 pounds. Thus, it is hard to install it at first.
Pros
Cons

Excellent design from Belgium
Glass panels provide better insulation than plastic ones
Two roof windows with premium rubber seals
Check Latest Price
Budgeting is a common problem for first-time gardeners. This heavy-duty greenhouse kit includes everything you need in larger commercial plant houses but at a smaller size and a more reasonable price tag.
The 4mm twin-wall roof and 6mm twin-wall side panels of this Rion EcoGrow greenhouse are designed to provide your plants with 100% protection from harmful UV rays.
Plus, they also offer your newly-grown plants superior safety, light diffusion, and excellent heat insulation. Its main frame is manufactured with resin – a versatile substance that is often used for making castings, floorings, countertops, etc.
This greenhouse kit comes with detailed instructions, so you can assemble it with a pin and lock connector without hiring professionals or special tools. However, there are only diagrams and no words in the instruction. If it is your first time assembling a greenhouse, you will need to spend more time making every step clear.
Pros
Cons

Durable resin frame, roof, and side panels
Budget-friendly
Easy assembly

The instruction has only diagrams and no explanation in words
Check Latest Price
There are three important benefits of a home-attached greenhouse like this item from EAGLE PEAK.
First, your plants can easily access water and power for healthy growth.
Second, you can extend their growing season while enjoying the green view from inside.
Third, this greenhouse is cheaper than an independent one, making it the best greenhouse for home use.
This mini lean-to greenhouse kit has a durable powder-coated steel frame and an extended UV and water-resistant PE shelter. You can add soil and rocks on the cover's edges to improve its stability.
You can walk into the house to take care of your plants daily from either of its two roll-up zipper doors. Apart from its entrance purpose, these doors can also help you control air circulation and humidity for the inside plants or keep them away from insects and bugs.
Another reason that made me include this kit in my favorite list is because it comes with a 3-tier flower rack for no extra cost. If you are a flower addict, you might love this freebie.
Pros
Cons

Easily attached to your house/garage
Lightweight; easy assembly
Free 3-tier flower rack

Need to prepare an additional heater to protect your plants in subzero weather
Too small for big plants
Check Latest Price
Whether you only need a mini space to grow small plants or need a low-budget decoration corner inside your house, this 5-tier mini greenhouse from Worth won't disappoint you.
This mini rack weighs only 11.92 pounds and has dimensions of only 75 x 27 x 19 inches. Thus, you can assemble it in a few minutes with no extra tools or devices. You can put all your favorite plants on this rack without taking much space in your house. When not in use, you can fold it up and store it in your basement or garage.
Although it is an indoor greenhouse kit, you can put it outdoors on your balcony, patio, deck, or encased porch. This rack is manufactured of a rust-resistant steel frame with a 0.12mm PVC cover for maximum protection on rainy or sunny days. Each tier supports a maximum weight capacity of 23.4 pounds.
Pros
Cons

Lightweight and compact
Foldable for easy storage
Can be used indoor or outdoor

Not provide enough plant protection for serious gardeners
How to Choose the Best Greenhouse Kits?
Your Available Space
Arguably, the most important thing that you need to consider when you buy a new greenhouse kit is how much space you have available. If you only have a small garden, a kit that's too large will be wasteful. Conversely, if your kit is too small while your garden can handle something bigger, you won't get as much bang for your bucks.
So, before you order anything, draw out some plans, first. Measure carefully the dimensions of your yard. Then, plot out exactly how large you want your greenhouse to be on paper. You don't necessarily have to totally fill up your yard, just enough to suit your needs.
Once you get the measurements on paper down, you can walk around the yard and mark off the area with zoning tapes. Doing this will make it easier for you to visualize the structure in real life.
Plants' Growing Space
After you've plotted out the size of your greenhouse, it's time to consider the space that your plants actually need to grow.
If you don't plan to grow so many plants, try a 4×4 feet model. If you're planning a lot of plants all at once, consider a 10×12 feet model.
Plan it so that every single nook and cranny of your greenhouse is filled, though. Having a big greenhouse that's half empty isn't just going to look bad, but also wasteful.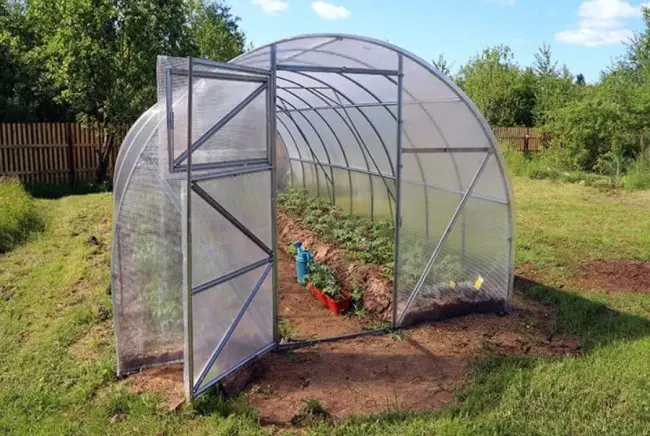 Greenhouse Shape
There are many different ways to construct a greenhouse, but there are 3 popular structural shapes: traditional, lean-to, and octagonal. If you want, other shapes such as geodesic domes are also available.
A lean-to-style greenhouse is great if you already have a structural brick wall available. Basically, the greenhouse is "leaned" against the wall, which serves as a load-bearing structure. If the wall is positioned correctly, it may even serve as a sunshade to protect the plants from direct heat.
Other shapes, such as a geodesic dome structure, should be taken into consideration if you have awkward yard space.
Wood or Metal?
The frame is the skeleton of your greenhouse. There are 2 materials that you can build it from, wood or metal. Each type has its own set of advantages and disadvantages.
For wood, it is a very beautiful and natural material that can make your yard shine. It can be customized to suit the general aesthetic of your home. For example, you can paint it, add patterns onto it, and so on.
You're also not limited to a single type of wood. From oak to maple, pine, and cedar, possibilities are nearly endless. Each kind of wood will have different wood patterns and color ranges, giving your greenhouse a unique look depending on the kind of wood you chose.
On the other hand, wood can rot, develop mold, and be besieged by insects. Builders use chemically-treated lumber to protect the wood from all of these problems. It's worth keeping in mind when you buy the materials to build the frame of your new greenhouse.
The longevity of a wood-frame greenhouse is also quite short. You have to repaint and maintain the wood frame regularly to keep it from degrading. However, if you put in the time and maintain it well, a wooden greenhouse will make for a beautiful sight in your backyard.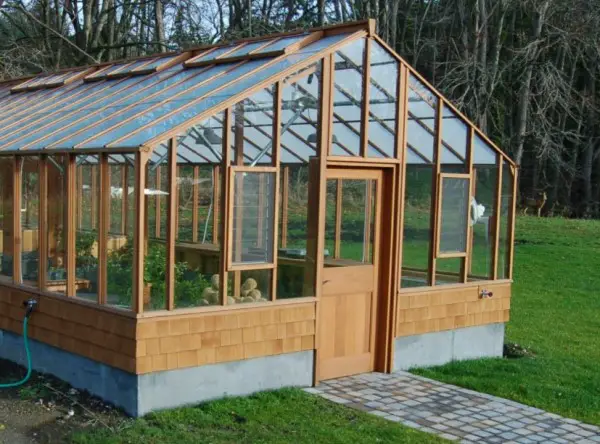 The alternative to a wooden frame is a metal frame. You can choose from a variety of different materials, ranging from steel to aluminum. Whatever the case, metal is definitely stronger, harder, and lasts longer than wood. It's also a lot cheaper and can be painted in a variety of colors.
Be careful of rust, though. This is the biggest problem that you'll have to deal with if you decide to choose metal.
Check more: Top 7 Best Grow Lights For Greenhouse Reviews
Polycarbonate or Glass?
After you have sorted out the question about the material for the framing, it's time to consider the next piece: the paneling. They admit light and trap heat inside, spurring plants to grow.
Greenhouse paneling is often made out of either polycarbonate or glass.
Polycarbonate paneling is prized not just for its affordability, but also for its sturdiness. Unlike glass, they don't crack or shatter against rough impacts or when they're stressed. You can hit them with heavy balls again and again and they will still hold up just fine.
With a light transmission rate of 88%, polycarbonate paneling does a decent job at admitting light. Once the light's in, the high insulation ability of the paneling will also keep the inside of the greenhouse cozy.
Certain brands of polycarbonate paneling also protect the plants from harmful UV light. A layer of light diffusing material can also be installed so that the paneling will only admit lights that benefit plants. This special paneling can improve the growth rate of your plants significantly (Solexx polycarbonate panels, for example).
It's got a few notable issues, though.
Compared to glass panels, polycarbonate panels don't look nearly as nice. From the outside, it has an opaque look, so you won't be able to replicate the classic "greenhouse look" as you've seen in the movies and pictures.
Polycarbonate panels are more prone to scratching overall. Once the panels are scratched, you cannot repair them and they must be replaced.
Glass is the traditional paneling option for greenhouses.
You can see through them, which makes them the more aesthetically-pleasing option out of the two. And because it's transparent, glass also admits a lot more natural light, which is beneficial for plants. They're cheap, easy to replace, last a long time, and are a natural material (polycarbonate isn't).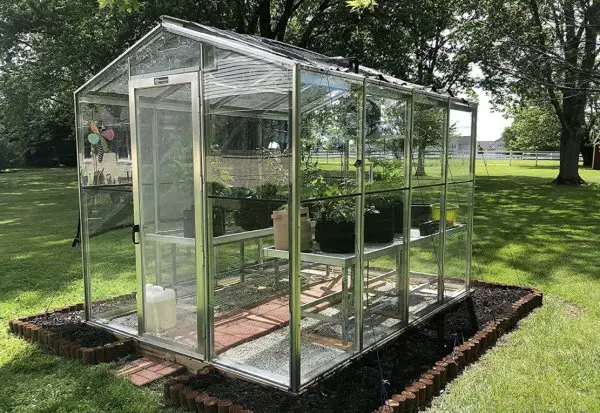 However, glass panels have many drawbacks. Some of which have pushed people toward using polycarbonate paneling.
Glass panels are generally more expensive than polycarbonate panels.
Glass doesn't offer protection against the sun's direct heat or diffuse harsh light. If you live in a hot or tropical country, so much direct sunlight can kill your plants. In that case, you will have to install shade cloths or similar kinds of sunshades to protect your plants. They don't offer a lot of insulation, either.
These panelings are prone to shatter and crack, which is a definite concern. If they break while you're working in the greenhouse, the pieces could cause serious injuries. As a result, we highly recommend using tempered glass instead of the normal sort.
Ventilation
Good ventilation is important for plants to grow, especially in the summer. If your greenhouse has poor air circulation, plants won't grow well and could even die.
When it comes to ventilation, there are two types you need to know: passive and active ventilation.
It involves vents that draw air naturally from the outside and into the greenhouse. This is the most common type of ventilation in greenhouses.
For a 6×8 feet greenhouse, ideally, you will need two hinged roof vents along with a side vent. They will admit fresh air from outside into the greenhouse, allowing your plants to breathe.
On the other hand, active ventilation involves big fans to force air into the greenhouse. These are a lot more complicated and expensive to install. Plus, they're more common in massive greenhouses used for commercial or industrial purposes. Small, residential greenhouses rarely use active ventilation.
Budget
A small greenhouse kit will cost you less than $100 to set up. However, a more serious, semi-professional kit may require you to invest up to $10,000.
Pick carefully depending on your budget and your needs. Take a few other things into consideration, also, such as how polycarbonate greenhouse kits will be cheaper than a glass kit.
Local Climate
If you live in an area with a cold climate, build your greenhouse with ample insulation. This is very important. If the cold seeps into your greenhouse, your plants could die.
Be flexible if you live in an area with fluctuating weather. Install hinged roof vents, which will allow you to control the greenhouse's temperature at will.
For those who live in areas with stormy weather, it's a good idea to build a greenhouse that's set to collapse. It's a lot better for the structure to fold in on itself, for high winds can knock it over. That could cause damage to surrounding houses and possibly even injure people.
Read more: Top 7 Best Greenhouses For Winter Reviews
FAQs
1. Is it cheaper to buy or build a greenhouse?
A kit is typically more expensive than just building a greenhouse from scratch. Building means you can control what kind of material to use and how to shape the structure. That way, you can cut a lot of unnecessary costs.
However, this will require you to be semi-fluent in engineering and construction. If you don't, use greenhouse kits.
2. Are greenhouse kits worth it?
Absolutely. Like we said earlier, if you don't have the engineering or construction expertise to craft a greenhouse from scratch, a kit can be a quick, easy way to have a greenhouse in your backyard.
If you're worried about the cost, there are many kits on the market that are quite budget-friendly, too.
3. Are wooden greenhouses better?
That depends.
Wooden greenhouses look a lot better than metal ones thanks to their natural, rustic look. However, they don't last as long as greenhouses with metal frames, are more expensive, and fussier to maintain.
4. Is glass or plastic better for a greenhouse?
Once again, it depends. Both greenhouse materials have their pros and cons.
Glass is prettier since they are see-through. They also admit a lot more natural light than plastic (polycarbonate) paneling, which is good for plants. However, polycarbonate panelings can do the same thing, plus a few other features like heat insulation, UV-protection, and light diffusion. They're a lot cheaper to boot.
So, if you prefer a good-looking greenhouse, go for glass. If you want a cheap, highly-efficient greenhouse, polycarbonate is your friend.
5. How thick should polycarbonate be for a greenhouse?
For the average greenhouse, polycarbonate sheets should have a minimum gauge of 3mm. This thickness will give them better rigidity. A thinner, 2mm sheet can flex and bend, making them more prone to cracking and damage.
6. What direction should a greenhouse face?
The longer dimension (length) of the greenhouse should face south if you're living in the northern hemisphere. This is where most sunlight will come from, so you'll want to collect as much of it as possible.
If your area is south of the equator, point the length of the greenhouse to the north.
7. Can you put a greenhouse on grass?
It's best not to put your greenhouse on grass. Dig out any weeds and grass before you build your greenhouse. All of the weeds can interfere with the growth of your plants.
8. What is a good size for a greenhouse?
This will depend on the size of your yard, however, we recommend not going any smaller than 6 feet wide. This is a decent size for a greenhouse. But, if you have a larger yard and want to grow more plants all at once, you can expand to 8 feet or more.
9. How long do polycarbonate greenhouses last?
When properly taken care of, a polycarbonate greenhouse (with UV protectant) can last for up to 10 years.
My Top Pick 
It's hard to define a winner among these 7 best greenhouse kits since you and I might have a different opinion of our dream greenhouses. You can pick up a greenhouse depending on your usable area, your local area's regulations, whether you are growing plants from seeds or mature plants, your budget, and some other factors.
As a general comparison, Quictent Upgraded Portable Greenhouse is my best choice for all-year gardening. Although it is mentioned for professional gardeners, it provides exceptional protection for your beloved flowers, fruits, and vegetables inside.