Owning an optimal and efficient chainsaw will save a great deal of effort for those who need to handle the heavy workload of tree pruning, felling, limbing, and so on. But which one to choose among hundreds of chainsaws available out there? Scroll down to check out our Husqvarna 120 Mark II review to get better help.
Check Latest Price
*This post may have affiliate links, which means I may receive commissions if you choose to purchase through links I provide (at no extra cost to you). As an Amazon Associate I earn from qualifying purchases. Please read my disclaimer for additional details.
Specifications
Product Dimensions (LxWxH): 32" x 9.25" x 4.21"
Bar length: 16 inches
Recommended bar length max.: 18 inches
Weight: 4.22 pounds (4.85 kg)
Power Output: 1.4 kW
Fuel consumption: 428 g/ kWh
About the Husqvarna brand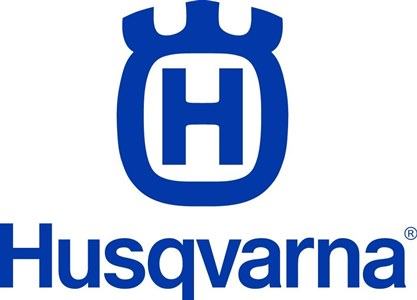 Initially operated as a musket manufacturer in Sweden in the 1690s, Husqvarna has now held a long-lasting position as the world's largest and oldest manufacturer of power tools. The brand was named after a Swedish town where it was firstly located and has been producing quality chainsaws since 1959.
Husqvarna's chainsaws are well-known to be substantially fast, durable, and fuel-efficient with less gasoline emission. Honorably, this brand tends to be the top choice among professionals around the world.
Husqvarna 120 Mark II Reviews: Highlighted features
Husqvarna 120 Mark II is an excellent choice for both homeowners and professionals, especially for limbing and pruning fallen trees. The most highlighted features of this model are: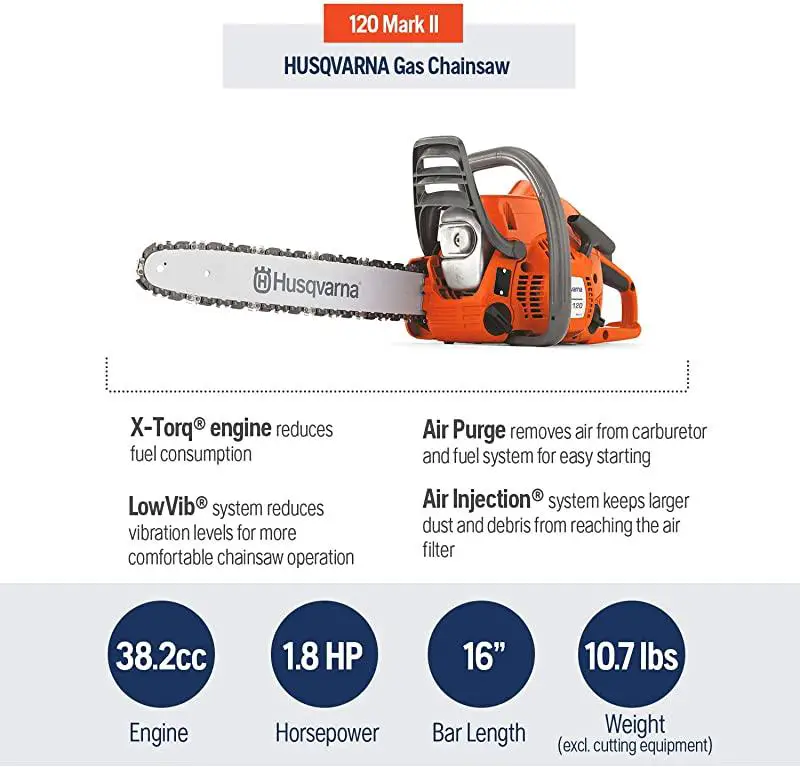 Better maintenance
Air injection, a special air cleaning system, is added to the chainsaw to prevent larger dust and debris particles before they reach the air filter. Because of this, the air filter has less to clean and as a result, the power engine is better maintained.
Less fuel consumption
X-Torq engine is highlighted by its ability to reduce both fuel consumption and gasoline emissions, which helps this chainsaw operate in compliance with the world's strictest environmental regulations.
Easy start
The combined choke/stop control allows the device to start its engine easily and avoid engine flooding.
Low vibration
Hands and wrists getting tired during duty which is mainly caused by the chainsaw's constant vibration is a serious discomfort. The good news is that the Husqvarna 120 Mark II has improved its anti-vibration mechanism by adding a series of springs, washers, and rubber dampers to help isolate the engine's vibration much effectively.
More safety
Besides other safety features such as internal chain brake, chain catcher, and throttle lock off, the chainsaw is also equipped with a ⅜'' pitch 16'' low kickback bar, including a built-in safety break, which helps reduces risk during operation.
Read More Reviews on Amazon.com
Husqvarna 120 Mark II Chainsaw Review w/ Pros & Cons
What I like?
To me, thanks to the lightweight construction (only around 17 pounds) once fully assembled, the Husqvarna 120 Mark II chainsaw is definitely the best choice for homeowners who are more likely to carry on light-duty work. If you are looking for "your wingman" for cutting overgrown branches in your garden or slicing through small cubes of wood, this is what you want.
Another strong point this chainsaw has is its larger gas tank. The 0.073 tanks compared to the 0.0175 one from the previous model – Husqvarna 240, results in a nearly 321% increase in fuel capacity and allows this engine to run much longer. Though both models run with the same X-Torq engine, it is absolutely not a big worry for you to carry the Husqvarna 120 Mark II out of your backyard into the woods without some extra gasoline.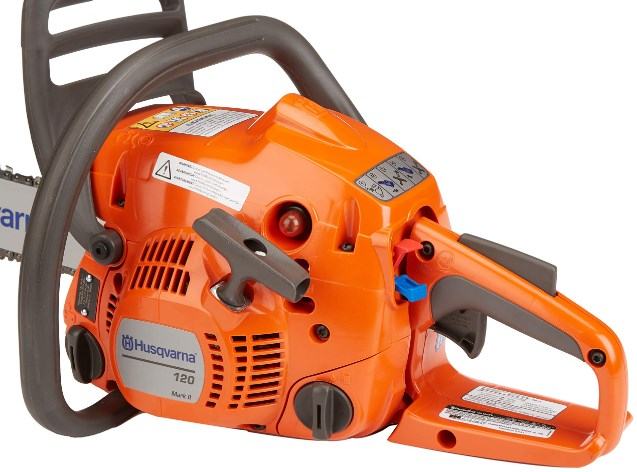 The 120 Mark II is pretty easy to start, even when the engine is cold, as compared with other gas-powered chainsaws. This is possible because of the special "Air Purge" system – a simple primer bulb that can remove air from the fuel system. Once the air is not inside the carburetor and fuel lines, fuel and air mixture can be pumped into the cylinder in a correct amount every time you pull the cord, which makes it start way easier.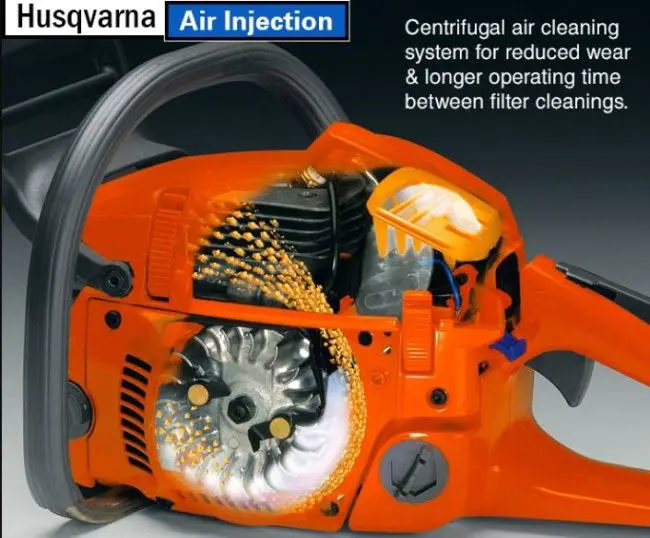 Lastly, probably the feature everyone would care for when buying a chainsaw is its cutting performance. The 120 Mark II has a slight increase in the chain speed – 55ft/s over 53.48 ft/s of the previous 240 models of Husqvarna. This 2.8% difference in speed wouldn't probably be that big of a deal if you are just using this machine for cutting a few branches once in a while. But for a much heavier workload, this chainsaw can definitely last longer compared to its older counterpart.
Read More Reviews on Amazon.com
What to improve?
Although the 120 Mark II model of Husqvarna has an edge in its starting, seeming to deal effectively with one of the most easy-to-cause-frustration parts of any chainsaw, there are still numbers of reports from users about their unpleasant experience starting this device.
It is a good saw for the price but might be hard to start when dirty. For an easy fire-up, you might need to remove the gunk from the chain cover often, but it's not really a big deal.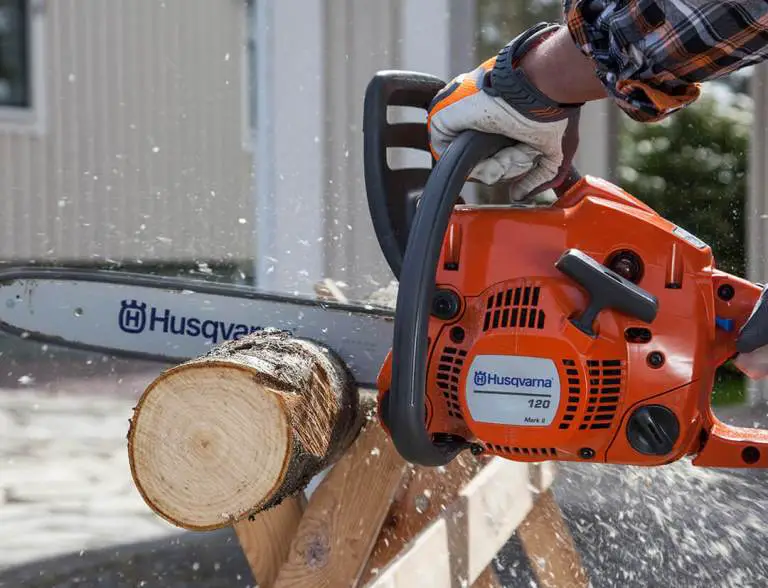 What is more, if you run this saw continuously for a while, it might get hot and then won't work for the rest of the day. To prevent this scenario, you should spread out your job over a few days or take time to let the saw "rest".
Lastly, the saw's engine isn't quite powerful, hence, only suitable for smaller projects. If you are doing heavy-duty jobs, check out other models such as Husqvarna 455 Rancher or Husqvarna 460 rancher.
Read More Reviews on Amazon.com
Last Words
Getting a proper, smoothly-running chainsaw is a win for your woodwork. It can be both easy to decide and risky at the same time to come to choose which chainsaw model to go for. But most importantly, focus on your own requirements or specific types of work you are handling, and you can always reach out for consultancy from experts if you are lost. We do hope you find this Husqvarna 120 Mark II review helpful to your decision.