When asking industry forestry pros about their favorite equipment, the 2 top in mind are Husqvarna and Stihl. In this Husqvarna 455 Rancher review, I will take a detailed sharing on Husqvarna 455 chainsaw – one of Husqvarna's best-selling chainsaws for homeowners.
You can choose between the 18-inch or 20-inch version of Husqvarna 455. With the 20-inch option, you can pick up the chainsaw only, or the chainsaw with an accessory – a case, a 20-inch chain, a 20-inch chain (H-80), or chain oil.
*This post may have affiliate links, which means I may receive commissions if you choose to purchase through links I provide (at no extra cost to you). As an Amazon Associate I earn from qualifying purchases. Please read my disclaimer for additional details.
Specifications
Husqvarna 455 Rancher 18-inch

Husqvarna 455 Rancher 20-inch

Dimensions (LxWxH): 41" x 10" x 14"
Weight: 20 pounds
Horsepower: 3.49hp
Power source: gas-powered
Cylinder displacement: 55.5 cm3

Dimensions (LxWxH): 20" x 9.5" x 14"
Weight: 12.8 pounds
Horsepower: 3.5hp
Bar length: 20 inches
Power output: 2.6kW
Engine: 55.5cc 2 stroke gas
Maximum power speed: 9000 rpm
Husqvarna 455 Rancher Reviews: Highlighted features
What I like?
Safety and comfort are 2 top priorities of a great chainsaw. Husqvarna 455 Rancher is a great combination between user-centric design and technology.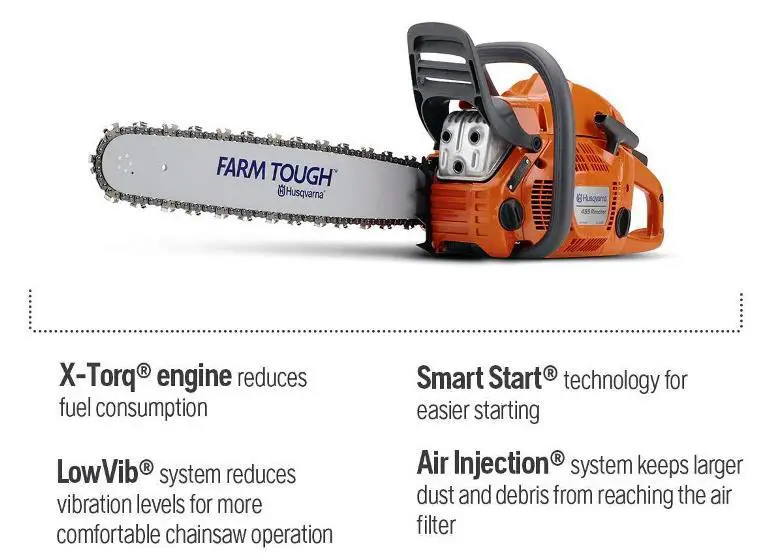 First, this chainsaw has a solid construction, which makes it able to deal with the longest, toughest task. It is made of stainless steel and hard plastic, which can last for years with minimum maintenance effort. The durable three-piece crankshaft allows it to deal with demanding tasks. Plus, you can easily grip the chain for hours thanks to the half wrap front handle and a 7o offset.
Second, this Husqvarna chainsaw goes with LowVib technology. This original Husqvarna technology minimizes any vibration when cutting wood. With LowVib, you can use this saw for hours without fatigue or soreness. To reduce vibration, you can wear anti-vibration gloves to enhance the LowVib.
Furthermore, Husqvarna 455 is suitable to handle heavy work. Equipped with a super 3.5hp 55.5cc motor, it can cut through the hardest wood at 9000rpm. To support this superpower, Husqvarna 455 goes with Smart Start, as I have mentioned above in this Husqvarna 455 Rancher review. Smart Start, in combination with an X-Torq engine, minimizes gas and energy waste while making it easier to start and grip.
Read More Reviews on Amazon.com
What to improve?
Despite the above advantages, this chainsaw remains some pitfalls as I am going to mention in this Husqvarna 455 Rancher review.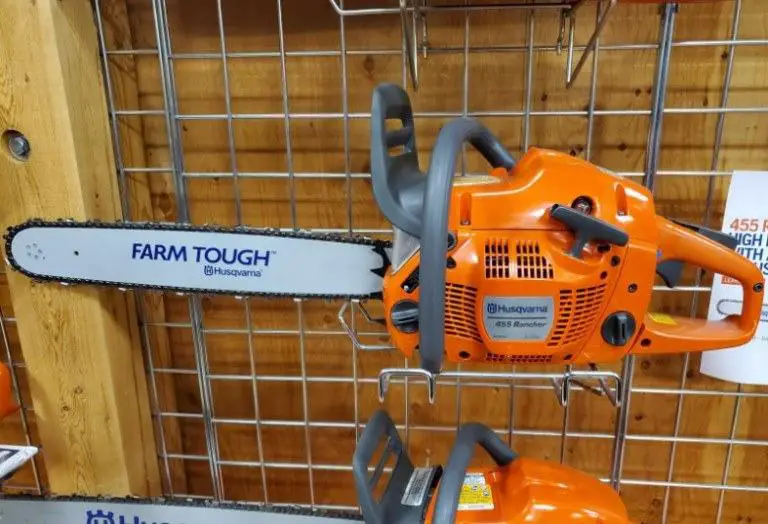 First, this Husqvarna chainsaw seems to be quite sensitive to oil/gas mixture. Unlike a four-stroke chainsaw, two-stroke engines like Husqvarna 465 or Husqvarna 455 require a predetermined ratio to ensure sufficient lubrication during operation.
The exact ratio is 50:1, which means that the mixture should contain 2 ½ fluid ounces of two-stroke engine oil for every 1 gallon of gasoline. You should choose unleaded gasoline with a minimum octane rating of 87. When performing arduous tasks that require continuous high revs, choose gasoline with a higher grade. And never use the oil designed for water-cooled or four-stroke engines.
Another drawback of this Husqvarna chainsaw is its weight. At about 19-20 pounds with fluids or cutting equipment, this chainsaw might lead to fatigue or soreness if you do a lot of extending work. If you are doing hard work like "limbing" (removing the branches from the stem of a fallen tree), you might choose a lighter alternative like the Husqvarna 440e.
Third, due to its superpower, it might be noisy during operation. This problem happens for nearly all two-stroke powered tools. Despite modern design improvements, the noise still reaches around 104dB(A) at the operator's ear. Therefore, you should wear ear defenders at all times to avoid any hearing damages.
Read More Reviews on Amazon.com
FAQs about Husqvarna 455 Rancher Chain Saw
1. What size chain does a Husqvarna 455 Rancher take?
There are two size chain options for Husqvarna 455 Rancher – 18 inches and 20 inches.
2. Where is the Husqvarna 455 Rancher made?
Husqvarna 455 Rancher is made mostly in Sweden. The powerhead is designed in Sweden then shipped to the US to fit with a locally manufactured Oregon bar. Some other components are constructed in China or Brazil, then delivered to the European or US plants for assembling.
3. Can I put a 24 bar on a Husqvarna 455 Rancher?
When working with big wood (3' red oak), you can run a 24-inch bar on a Husqvarna 455 Rancher.
4. What is the difference between Husqvarna 455 and 450 Rancher?
Compared to the 450 Rancher, The Husqvarna 455 Rancher has a larger and more powerful engine. Therefore, it can easily handle demanding jobs than the 450.
5. How many cc's is a Husqvarna 455 Rancher?
Husqvarna 455 Rancher is 55.5cc for the 18-inch and 20-inch versions.
Read More Reviews on Amazon.com
Last Words,
In sum, I hope this Husqvarna 455 Rancher Review has thoroughly gone through all aspects of this chainsaw.
If you have a small property, it is a waste since you cannot use this chainsaw to its full capacity. But if you are a farmer, a homeowner, or a rancher who needs to cut large trees or a lot of firewood, it is one of the best options you can get at a reasonable price.