Unwanted weed growth is a common problem for every gardener. While it can damage the beauty of your lawn, it's challenging to get rid of it. The best weed barrier will help you take the strain out of his back-breaking chore while maintaining a lush, weed-free lawn.
Let's explore my 7 best-rated weed barrier reviews before making your final decision.
*This post may have affiliate links, which means I may receive commissions if you choose to purchase through links I provide (at no extra cost to you). As an Amazon Associate I earn from qualifying purchases. Please read my disclaimer for additional details.
Top 7 Best Weed Barriers On The Market 2022
In-depth 7 Top Rated Weed Barrier Reviews
Check Latest Price
Dewitt weed barrier is the first item on this list that I have used for my lawns for more than 5 years. This item is to be installed in gardens or lawns in high temperatures or greenhouses. Each role can cover an area of 4 x 300 feet, making it a good fit for commercial yards.
This weed barrier is made of high-quality polypropylene (PP) and UV-stabilized, so it can be left uncovered under the Sun while allowing air and water to penetrate. It can last 5 years in direct sunlight as a warranty from the manufacturer.
However, this DeWitt barrier isn't the best choice for plants that need much water, like strawberries. Instead, you can use a garden mulch layer on top of the cover to hold water before it drains away.
DeWitt SBLT4300 is also easy to install. You can use a sharp knife or scissors to cut through it. If you want to put straight edges around your lawn, the printed yellow striped lines every 12 inches make it easy to check if you are laying it straight.
Pros
Cons

Suitable for commercial planting
UV-resistant with 5-year manufacturer warranty
Yellow guidelines in bright yellow color

Hard to use alone for plants that need much water
Check Latest Price
Its extreme strength and high permeability make this Ecogardener weed barrier a practical choice for every gardener. This landscape fabric promises to provide unparalleled weed suppression for your raised flower beds and in-ground gardens.
First, it comprises two layers of heavy-duty materials, including a woven layer and a needle-punch perforated layer. This two-layer construction allows the mat to last long and won't shred on all harsh outdoor conditions. Not only can it block the growth of unwanted weed, but it also lets water and nutrition absorb quickly into the soil.
Besides, this material also won't rip easily if contact with sharp objects like stones or tenacious plant roots. That makes it an excellent choice if you want to put a layer of gravel or bark on it.
Second, this sturdy weed blocking mat is easy to assemble in a few minutes. Each roll can cover an area of 3 x 50 feet and weighs only 5.19 pounds.
You can roll it out using a sharp knife or cut it to fit in any odd-shaped spaces on your lawn. If you have a more extensive property, consider getting a roll with greater width and length for a better price.
Pros
Cons

Heavy-duty dual layers
Lightweight and easy to assemble
For gardeners of all levels
Not block air, water, and nutrition

Might be degraded if left uncovered under the Sun for an extended period
Check Latest Price
Instead of using toxic chemicals to kill weeds like herbicides, you can choose a safe and durable weed suppression solution like this heavy-duty weed barrier from Scotts. Scotts claims this item can last for 25 years, so I have included it on my top list.
Its versatility is why this weed barrier is a favorite item for many gardeners and homeowners. In your home landscaping projects, you can use it from your walkways, patio, and retaining walls.
But it's most suitable for annual or perennial flower beds, thanks to its lightweight. It's light and thin enough to cut into your desired shapes without much effort.
On the other hand, the weight of this fabric can also be an issue. This Scotts barrier isn't the thickest one on my list, so exposing it directly under the Sun throughout summer can damage or tear it down.
Instead, you should staple it firmly and cover it with a layer of gravel and mulch to make it last longer. There are also no printed lines on this mat, so you should make your guide if you plan to use it to cover a straight edge.
Pros
Cons

25-year warranty
Thin and lightweight for effortless maneuverability

No printed guidelines
Easy to tear down if left exposed under the Sun
Check Latest Price
When thinking about a weed barrier for commercial gardens, you should choose a long-lasting item to lessen your maintenance cost in the long run. This 30-year weed barrier from Weed Armor Pro ensures to keep your plants well-hydrated while blocking weed from damaging your garden's beauty.
Why should you choose Weed Armor Pro fabric as a permanent weed barrier for your landscaping or Xeriscaping project?
First, it has a high UV rating to withstand harsh summer days. You can leave it exposed under the Sun without spending extra spending on gravel. This mat is made of needle punch, allowing the soil and plant roots on minor slope terrains to absorb enough water before evaporating.
Second, its high puncture rating means that you can put it under hard rocks or mulch for decoration without damage.
If residential barrier choices come with only a straight line, this landscape fabric offers you equally spaced lines for a neat planting alignment. A mat roll can cover an area of 3 x 100 feet, which can be too much for a short path or your small home garden.
Pros
Cons

Professional-grade; can last for 30 years
High UV rating and high puncture rating
Equally-spaced lines
Check Latest Price
Apart from the 4 x 300-feet option, this Amagabeli weed-barrier cloth offers 5 other size choices for artificial grass, vegetable gardens, flower bed, ground cover, etc.
You should check your plot size before getting this item. For example, if you only need to cover a short path, a 100-feet roll is sufficient. However, if you have a large-scale garden, you should get a broader width and length option for economical use.
This 5.8oz garden fabric consists of two layers for added durability – high-density woven needle punched and professional-grade polypropylene.
If you live in areas with the sunniest days in the U.S, like Phoenix, Arizona, with 211 days per year, you should keep the needle nonwoven layer up. By doing that, you can protect the plants' roots from harmful UV rays.
Pros
Cons

Various size choices
Can be used for multiple gardening/landscaping purposes
Green stripes for easy plant alignment

Need the debris off the top materials to prevent weed growth on the barrier
The 300 feet wide option is too heavy (45 pounds) to handle by one person
Check Latest Price
The HOOPLE Garden Landscape Fabric is a reliable choice to block unwanted weeds without chemicals or strain your back muscles. It comes with a sturdy construction thickness of 300g, meaning 2 to 3 times thicker than other traditional landscape fabrics.
Thanks to its incredible thickness and flexible nonwoven material, this HOOPLE Garden barrier can be installed on areas that often experience frequent heavy loads like walkways. You can also use it for playgrounds, flower/plant beds, yard landscapes, etc.
A common worry of gardeners when using weed barriers is that it can disrupt natural processes like earthworms or the decomposition of natural mulches. Since this fabric has a high water permeability, it allows water and air to pass through it, resulting in better growth.
In the meantime, the chemical-free construction of this fabric makes it an eco-friendly product for your garden. It helps maintain a lush green look for your yard with no damages to its ecosystem.
This HOPPLE Garden fabric is easy to roll out or fix by one person without hiring experts with a weight of just 7.13 pounds. This weight also lets it stick firmly onto the ground.
Pros
Cons

Environment-friendly
2 to 3 times thicker than traditional landscape fabrics
Water-permeable, not affect natural processes
Check Latest Price
A small crack on your driveways or pavements can become a doorway for stubborn grass and weed to sprout up if you don't notice.
An effective commercial weed barrier from ArmorLay can quickly solve that never-ending problem without breaking your bank account. This chemical-free solution also brings no harmful effects to humans, pets, kids, and the environment.
This ArmorLay fabric is designed with an absorbent textile to better control erosion and boost the surface's stability. Hence, you can use it as an underlayment option for areas with the heaviest vehicles and harshest environments. Some of them are temporary entrances, patios, watering troughs, animal stables, under stone pavers.
As stated by the manufacturer, you can keep this synthetic mat in one place with 6-inch Weed Armor Landscape Pins. However, these pins are not included in the product package.
Pros
Cons

Perfect chemical-free weed control solution for driveways, patios, home entrances, etc.
Can be installed easily with pins

No landscape pins in the product package
How to Choose the Best Quality Weed Barrier?
Material
Weed barriers can be made from a variety of different materials, but they're often separated into just two groups: woven or nonwoven.
Woven barriers are made from textiles like burlap and polypropylene (PP). Meanwhile, nonwoven barriers are cast from plastic or synthetic materials, which are commonly PP or polyester.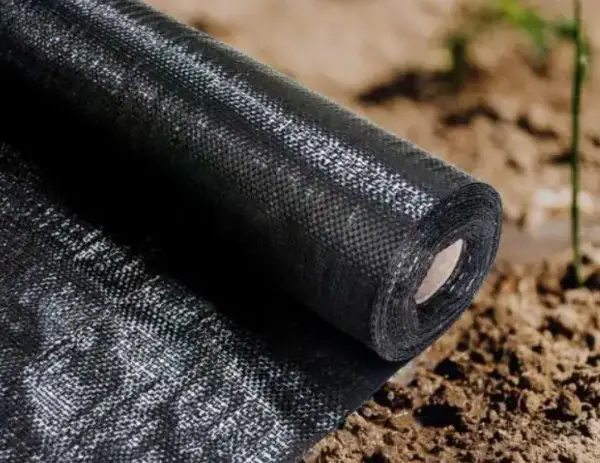 They are basically a mesh made from burlap. Some are also woven from polypropylene.
High-quality woven barriers can do a good job at blocking out sunlight and preventing the growth of weeds. However, what sets them apart from the unwoven variant is that they are permeable and breathable.
The weaving process creates tiny spaces between each strand of material, allowing air and water to pass through. This helps your plant grow, which makes this type very popular in small gardens.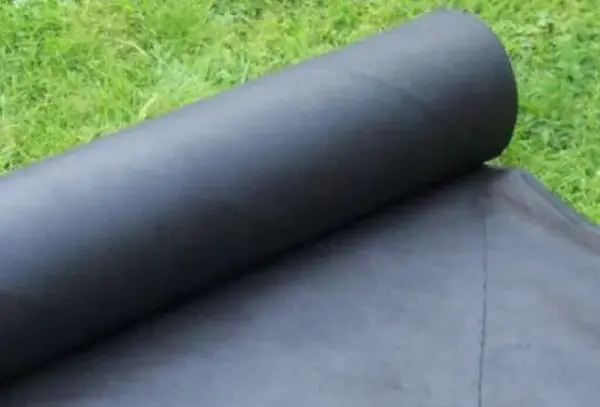 Unlike textiles, unwoven barriers aren't naturally permeable or breathable. They're typically made from a sheet of densely-woven polypropylene or polyester. Since they're so tightly woven, air and water can't pass through as easily as woven barriers.
This is the reason why such barriers aren't recommended for use in garden beds. They would kill your plant alongside the weed, too. This type is a far better choice for places where you don't want any kind of plant to grow, such as your driveway.
Durability
High-quality weed barriers are tough. At worst, it should be able to last for around 5 years before giving out. However, for the best ones on the market, they can last for up to two decades or more.
All weed barriers are built so that they could survive daily wear and tear as well as withstand harsh weather. Pick one up and try to tear it, slam it, or step on it, it's unlikely that you'd even see a tear or scratch on the material. They're also treated with chemicals to ensure that they don't break down from the weather.
Durability is decided not just by the material that the barrier is made of, but also by its thickness. The stronger the material and the thicker the barrier, the longer it's going to last.
As an example, if you have a thick barrier made from polypropylene, which is an extremely durable synthetic material, it can take decades for the barrier to fail. Woven materials like burlap don't last as long. Nevertheless, that doesn't mean a burlap barrier is bad. Even these can last for half a decade or more.
While we're on the topic of thickness, make sure that when you buy, the thickness of the barrier is appropriate for the job.
If you're going to lay the barrier along a gravel path, make sure that it's thick and durable. On the other hand, if you're going to use it to protect a flower bed, a thinner barrier is going to be more desirable. They admit more air and water, helping your flowers to grow.
Size of Weed Barrier Roll
When you purchase a weed barrier, they will come in the form of a roll, making it quite easy to deploy and transport.
There will be a label on the roll telling you exactly the size. You can use the number to calculate the amount of ground that the roll of barrier can cover at once. While you're calculating, take into consideration an 8-inch overlap for certain areas that require the use of more than one roll.
Usually, a single weed barrier is around 3 to 6 feet wide. Depending on the one you purchase, they can be as short as 50 feet or as long as 200 feet in length. If you need to cover up a wide area, pick the widest barrier that you can find.
If you have to choose between two or more barriers, consider their size and thickness. Larger, thicker, and heavier rolls will last longer and will be more effective against weed. It's also a good sign that the barrier is well-made.
Check more: Top 7 Best Weed Eater For The Money
UV Resistance
A weed barrier is going to spend all day out in the sun and showered with UV light. UV breaks down the material of the barrier over time and eventually will cause it to fail. Because of this, if you want your weed barrier to last for as long as possible, look for those that are UV-resistant.
Note that not all weed barriers are rated as UV-resistant, including many high-quality ones. These are simply made from better materials that can last for up to 5 years before having to be replaced.
For those kinds of barriers, you can reduce the impact of UV by covering them up with mulch, gravel, or rock. They will shield the material from UV and improve their longevity.
For weed barriers that are UV-rated, there are two kinds: UV-resistant and UV-stabilized.
A UV-resistant weed barrier is made from a material that is naturally resistant to UV.
If you find a roll of barrier that says "UV-stabilized", it means that the barrier is treated with a chemical that reduces UV damage.
Eco-friendliness
The most popular weed barriers on the market at the moment are either made from polypropylene or polyester. While they're effective and highly durable, they're not very environmentally friendly.
If you want to do your part for the Earth, you can check out barriers made from natural materials such as burlap or linen. Although they break down more quickly than synthetic plastic materials, these are sustainable materials.
But we're not trying to shame you into not using barriers made from plastic. If you do, make sure that the one you purchase is durable and can last for a long time. The longer, the better. Once it's done its service, ensure that it's correctly disposed of.
When you do all of those steps, you will be able to reduce the overall impact on the environment greatly.
If you truly are environmentally conscious, try using natural weed barriers made from mulch, straw, moss, and other organic matters. They're a lot more difficult to use and will require you to put in some time and effort. However, because they're biodegradable, they are a lot better for the environment.
Breathability & Permeability
Breathability indicates how well a material allows air to pass through it. Permeability is the same but applies to water instead of air (how well the material admits water).
If a barrier lacks breathability and permeability, it's going to be detrimental to plants' growth. They will do an excellent job at curtailing the growth of weed, though. So, if you put such barriers around trees, the barriers are going to smother and kill them in the process, as well.
If you're going to set up barriers around your garden, find breathable and permeable barriers.
If you want to exterminate all of the weeds in an area, use non-breathable and impermeable barriers. For example, these stiff barriers can be set up to protect driveways, gravel paths, and rock landscaping from an invasion by weeds.
Best Way to Install Weed Barrier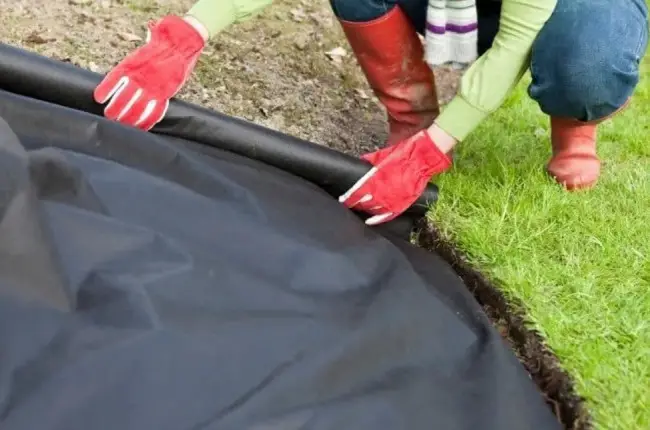 Deploying weed barriers is a pretty simple task.
The first thing to do is to measure the area where you're going to set up the barriers. You should do this before you buy the rolls. Once you get the number down, it's going to be easier to project how many rolls you will need to cover up the area. When you do go out shopping, make sure to buy an extra roll or two — just in case.
Next, pick the type of barrier that you're going to get. If you're covering up a garden and have plants to take into account, choose thin, breathable, and permeable barriers. Conversely, if you're simply covering up your driveway and gravel paths, choose thicker and less breathable ones.
After you've finished your shopping and got the barriers ready to deploy, you should prepare the garden first. Clear all of the weeds and unwanted vegetation in the area. Apply soil amendments to the ground underneath the barrier, then level out the soil with a rake.
At this point, you can begin to deploy the barriers. Read the manufacturer's instructions. To strengthen the barriers, use garden staples every couple of feet. If you don't have garden staples, you may also use sandbags or rocks.
If the barrier you chose is neither UV-resistant nor UV-stabilized, you can put a layer of mulch or rock on top of it to protect it from UV. The barrier's going to look a lot more aesthetically pleasing, too!
Read my related article on the BEST Trimmer Lines! I put the top trimmer lines to the test against tough weeds, grass, shrubs, and more. Here's what I discovered and recommend.
FAQs About Weed Barriers
1. Is sand a good weed barrier?
No, sand is not a good material to use as a weed barrier. Although sand doesn't hold any water or nutrients, remember that weeds are extremely hardy. They can push through the sand and spread their roots down to the more nutritious soil underneath the sand without a problem.
2. Is weed barrier necessary under gravel?
Not necessary, but if you want to keep your gravel path or landscaping weed-free, you should install a layer of weed barrier underneath. It won't stop the weed from growing, mind you. However, it will do a good job at minimizing their growth by preventing the roots from reaching into the soil beneath.
3. Can I put a weed barrier over weeds?
Nothing is stopping you from placing your weed barrier over mature weeds. It's best, though, that you remove all of the weeds underneath before you install your barrier. This will prevent them from growing and spreading all over the ground.
4. Does weed mat let water through?
It depends on the type of weed membrane or mat.
Some types are more breathable and permeable than others, so they let air and water through more easily. Others aren't.
5. Are weed barriers toxic?
Weed barriers — even the ones made from synthetic materials — aren't toxic.
6. Do you have to pull weeds before putting down the weed barrier?
It's best that you do. Remove all of the weed from the area before you lay down the barrier. You should also perform a light weeding session after you install to ensure that everything is properly cleaned out, too. If traces of weed are still in the ground, they can sprout and spread to other areas of your property.
My Top Pick
To pick up the best weed barrier for your garden and lawn, you should check some essential criteria, including your plot size, the local temperature, weather, covering shape (straight or curve), plant types.
My top pick is DeWitt SBLT4300. It's versatile, usable on hot areas, UV-resistant, and has bright-colored lines for hassle-free plant alignment.