New Holland is one of the best tractor brands in the U.S and Australia. New Holland tractor models are appraised to be more affordable than John Deere tractors. So where are New Holland tractors made? Does New Holland only manufacture tractors?
*This post may have affiliate links, which means I may receive commissions if you choose to purchase through links I provide (at no extra cost to you). As an Amazon Associate I earn from qualifying purchases. Please read my disclaimer for additional details.
Brand Overview Of New Holland
New Holland (or New Holland Machine Company) is a multinational brand of agricultural machinery by CNH Industrial Company. It specializes in producing and distributing various agricultural products, including tractors, balers, combine harvesters, haying tools, seeding equipment, etc.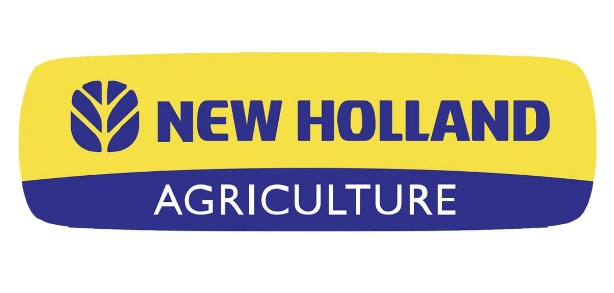 New Holland was established in 1895 by Abe Zimmerman in New Holland, Pennsylvania, with feed mills as its first products.
The history of New Holland is the sum and integration of 4 agricultural brands – Sperry Corporation (acquired in 1947), Ford Motor Company (acquired in 1986), Fiat Agriculture (acquired in 1991), and CNH Industrial (acquired in 1999).
Besides, New Holland also partnered with Claeys – a Belgian mechanic firm – to produce harvesting products.
In 1999, New Holland became a subsidiary of CNH Industrial, but the majority of this brand was owned by Fiat Industrial. Not until September 2013, CNH Global N.V. and Fiat S.p.A. merged into CNH Industrial N.V. and are located in the Netherlands.
Where Are New Holland Tractors Made?
New Holland tractors are manufactured all around the world. Administrative headquarters in Turin, Italy. Its headquarters in New Holland, Pennsylvania, acts as the representative center for the North American area. It's also the largest production center of hay tools for the worldwide market.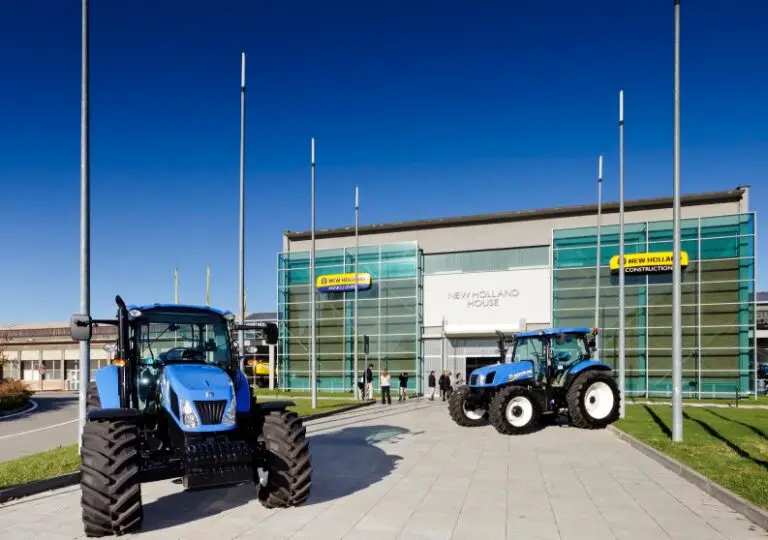 Up till now, New Holland has appeared in 170 countries worldwide. There are many plants of this corporation spreading in many countries. Besides, there are 6 joint ventures of it in the Americas, Asia, Europe area.
Below is the list of New Holland plants region by region. Each plant is in charge of producing one or several product lines of New Holland.
In North America
There are 7 plants of New Holland in North America:
New Holland, Pennsylvania: is the birthplace of the New Holland brand since 1895 and the regional headquarters for North America. This plant is also the center of excellence for hay and forage applications.
Fargo, North Dakota: produces articulated tractors. This plant is also the home of the 670 HP T9 Series tractors.
Grand Island, Nebraska: produces harvesting machines. This plant has been the home of the Twin Rotor technology for more than 35 years, and the CR combine tractor series.
Racine, Wisconsin: produces high horsepower tractors. This plant is also the home of T8 Series tractors and components.
Wichita, Kansas: produces skid-steer loaders and compact track loaders.
Saskatoon, Canada: produces heavy-duty planting and seeding equipment.
Queretaro, Mexico: produces tractors and components. This plant also works as a joint venture.
Read more: Where are John Deere Tractors made?
In South America
There are 4 plants of New Holland in South America:
Curitiba, Brazil: is the center of excellence for tractors and acts as the regional headquarters of the Latin America area. This plant produces tractors (including the New Holland T8 tractors) and harvesting equipment for the Latin American market.
Cordoba, Argentina: produces CR combine tractors and specialty tractors for the Argentina market.
Sorocaba, Brazil: produces CR combines for the Latin America market.
Piracicaba, Brazil: produces Defensor sprayers for the Latin America market.
In Asia
There are 5 plants of New Holland in Asia:
Harbin, China: produces tractors for the Chinese market.
Naberezhnye Chelny, Russia: is a joint venture and a production center for tractors and combines for the Russian and international market.
New Delhi, India: produces tractors for the Indian and international market. This plant also exports tractors to over 50 countries, and it has produced over 500,000 tractors.
Shanghai, China: produces tractors for the China market and for exporting to Asia, Africa, and the Middle East.
Tashkent, Uzbekistan: produces and exports tractors to Central Asian markets. This plant also acts as a joint venture of New Holland.
In Europe
There are 12 plants of New Holland in Europe:
Turin, Italy: is the global headquarters of New Holland and also the regional headquarters of New Holland in Europe.
Antwerp, Belgium: produces farming components. This plant is also the manufacturing center for the New Holland T5 Auto Command CVT.
Basildon, UK: produces medium and high horsepower tractors. This plant is also the place where famous T7 tractors are made.
Coex, France: is the center of excellence and the manufacturing center for grape harvesters (including the famous BRAUD grape harvesters).
Croix, France: produces farm machine components, including the Horizon Cab.
Jesi, Italy: produces specialty and low horsepower tractors.
Lecce, Italy: produces telehandlers.
Moderna, Italy: produces farm machine components
Plock, Poland: produces combines, headers, and round balers.
Zedelgem, Belgium: is the center of excellence and the flagship center for harvesting products (including the CR Series of Tier 4B Twin Rotor combines, the FR forage harvesters, CX conventional combines, and the BigBaler Series of large square balers).
 Lugano, Switzerland: is the regional headquarters for the international market.
 Ankara, Turkey: produces tractors for the international market. This plant has produced over 600,000 tractors. Besides, it is also a joint venture of New Holland.
Who Makes New Holland Tractor Engines?
New Holland tractors are manufactured in their plants in 170 countries all around the world. Its brand headquarters in New Holland, Pennsylvania, is the biggest production center for hay tools for the international market.
Besides, there are some specific tractor engines made by other companies. For example, Shibaura engineered the engine for the boomer tractors. FIAT is the owner of the engine of the Cast DX Serial tractors.
Best Features Of New Holland Tractors
Hydrogen-powered Tractors
New Holland initiates the Energy Independent Farm model, where all farmers can generate their free and clean energy instead of using nonrenewable energy sources like diesel or oil.
First introduced to the worldwide market in 2011, these hydrogen-powered tractors of New Holland have been praised by farmers worldwide for their high performance, cost-efficiency, and eco-friendliness.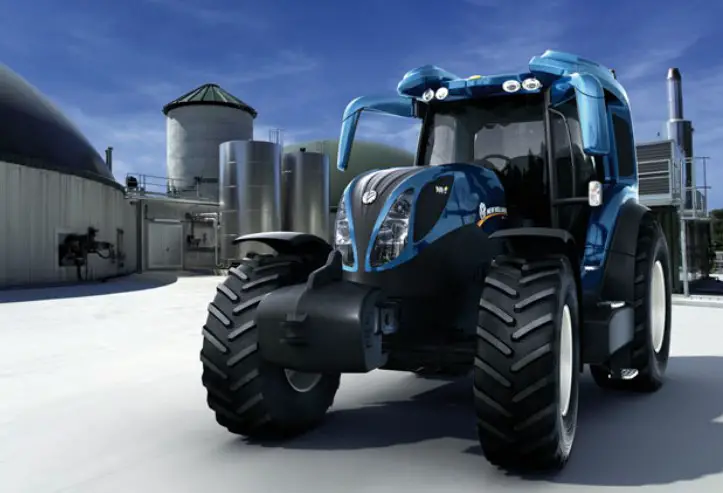 So, how can farmers generate hydrogen energy?
Electricity is first generated from a renewal source depending on the farm conditions, like wind, solar, waste of biomass, etc. This electricity is then converted into hydrogen using an electrolyzer and stored in high-pressure tanks. Farmers can use hydrogen for running their farm machines or for power generation.
NH2 Series, a well-known New Holland tractor model that runs on this renewable energy, is as powerful as the biodiesel T6000 Series. An NH2 tractor has a horsepower of 106 HP, and it can handle all jobs as a T6000 one. Moreover, it operates silently and emits only heat, vapor, and water.
100% Biodiesel
Besides hydrogen, New Holland tractors also run on Biodiesel – a non-toxic, affordable, and renewable energy.
New Holland started using Biodiesel in its tractor and farm machinery products in 2016. It used 20% Biodiesel (B20) in all equipment running on New Holland engines (for example, New Holland T4 tractors or PowerStarz tractors).
In 2007, New Holland established tractors run on 100% Biodiesel (B100) for its Tier 3 engines.
Besides, all Tier 4A ECOBlue SCR tractor engines of New Holland can run on 20% Biodiesel (B20), provided that the biodiesel blend follows the fuel specification EN14214:2009.
ABS SuperSteer
New Holland isn't only a market leader in using clean energy. Still, it's also known for innovating its tractor designs to help users operate their vehicles with enhanced safety and comfort.
Its tractors use the ABS SuperSteer System (also called the Advanced Braking System). This pioneering technology was first introduced in the UK in 2012 and it was used on T7 Series flagship tractors (T7.220 to T7.270). Before that, this technology won a silver award in AgriTechnica in 2009.
New Holland inherited the original technology from the Iveco, a commercial vehicle partner of FIAT Industrial, and made some adjustments to make it fit with its tractor models. This technology is currently assembled at the Basildon plant of New Holland in the UK.
The ABS SuperSteer System helps drivers have full control of their vehicle, especially on rough or steep surfaces, with ease and high maneuverability. This system works in two modes:
Steering Wheel Mode: When the driver turns, the inside wheel brake will be automatically adjusted using a sensor to ensure the wheels are constantly rotating and thus avoid soil damages.
Brake Pedal Mode: the driver activates independent braking by pressing the wings on the brake's pedal. The wheel rotation and the brake pressure will be automatically adjusted to avoid wheel lock-up.
Opti-Fan system
Most New Holland combines are equipped with the Opti-Fan system for continuous movement uphill or downhill. This system received a silver medal at AgriTechnica in 2009.
The Opti-Fan system uses the fan speed to automatically balance the gravitational effects on crop materials when driving uphill or downhill to maintain cleaning performance.
When going upward, the fan slows down to avoid crop losses. And when going downward, the fan speeds up to prevent thick material build-ups.
This system requires no effort from the driver. Thus, it helps the driver achieve a fruitful harvesting season while reducing crop losses.
Final Words 
After knowing where New Holland tractors are made, we all understand that New Holland is a reliable brand name for tractors and other agricultural machines and tools.
Next time, when considering getting a New Holland tractor, please ask yourself what specific jobs you need this tractor to perform. You will pick up a tractor model that perfectly suits your work demands.