Zero-turn mowers are basically the best that you can get for the money. Compared to standard riding mowers, zero-turn ones are easier to use, more efficient, and can work faster.
However, since there are over 30 best zero turn mower brands in the US, it could be hard to choose one. To make it easier for you, we'll explore 10 brands at the top in today's article. Reputable and reliable, products purchased from them can last for years!
*This post may have affiliate links, which means I may receive commissions if you choose to purchase through links I provide (at no extra cost to you). As an Amazon Associate I earn from qualifying purchases. Please read my disclaimer for additional details.
Top 10 Best Zero Turn Mower Brands to Get for Your Yard and Garden
1. John Deere (1837) – The most reliable brand for zero-turn riding mowers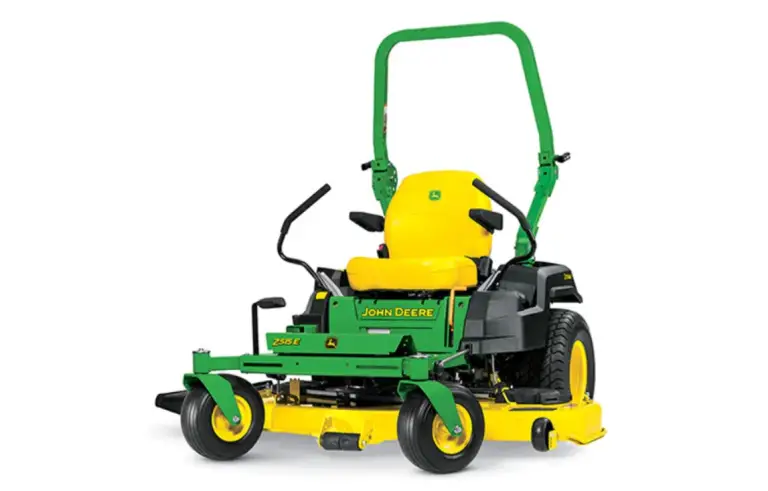 Check John Deere's Lawnmower Price on Amazon
Not many brands can match up to John Deere when it comes to outdoor power tools and equipment. The fact that it was founded in 1837 and still remains to this day – still as strong and popular as ever – says quite a lot about the quality of its products.
Among their product offerings are several models of Z-turn mowers. Although John Deere's mowers don't have the strongest, largest, or most comfortable frames on the market, their performance more than makes up for it.
Specifically, the company's mowers are designed with deep stamp decks, which allows for better airflow underneath. This results in a more even cut and smoother evacuation of grass bits from the underside of the mower.
The best part, though? For the level of performance they offer, John Deere's mowers are priced quite competitively. You won't find many mowers in the same price range that offer the same kind of performance.
Read more: Where are John Deere's tractor made?
2. Craftsman (1927)
Check Craftsman's Lawnmower Price on Amazon
Originally, Craftsman was a sub-brand created by Sears to sell power tools and lawn equipment. It was officially introduced to the market in 1927.
A lot has happened to the brand over the years. In 2017, Stanley Black & Decker bought Craftsman from Sears and established an off-shoot named "Craftsman SBD". However, the puzzling part is that Sears still retains a limited license for the Craftsman brand. So, some Craftsman-branded products are still sold at Sears.
Essentially, there are two different Craftsman brands on the market at the moment.
You would have a hard time finding any Craftsman zero turn mower from Sears, though. Most are currently listed as "out-of-stock". Instead, head to Craftsman SBD.
Craftsman zero-turn mowers have a reputation for their excellent durability. If given proper maintenance, their mowers can serve you faithfully for years.
3. Ariens (1933)
Check Ariens's Lawnmower Price on Amazon
Though founded in 1933, it took Ariens over two decades to enter the lawn and garden market segment. The company introduced the Ariens Imperial in 1958. It proved to be immensely popular. Popular enough that only five years later, the company committed to building a 23,000 square foot factory to keep up with demand.
Fun trivia: the lawn of the White House was once taken care of by Ariens' mowers.
Ariens' offerings are diverse. You can purchase anything ranging from affordable, compact mowers to heavy-duty, commercial-grade mowers through their catalog. So long as you got a lawn, they got the best-rated mower that can suit your needs.
Their warranty policies are a bright spot. You can purchase an Ariens mower anywhere. Then, if it ever runs into trouble, just bring it to an Ariens dealer and they'll handle the repairs. They'll also perform maintenance tasks for you, too.
4. Husqvarna (1969) – A Good Residential Zero Turn Mower Brand
Check Husqvarna's Lawnmower Price on Amazon
The highlight of the Husqvarna brand is the variety of affordable mowers that they offer. If you need to buy a mower on a limited budget, they got your back.
Despite the affordable price tag, Husqvarna's products match up to description and expectations most of the time. You've got their innovative ClearCut® design to thank. It is a new, patented deck design that can increase airflow to improve cutting performance. There is also a special baffle system to keep the grass blades upright for cleaner, more even cut.
Husqvarna has a history that's almost ancient. Founded in 1689 in Sweden in the town of "Huskvarna", hence the name.
Read more: Top 7 Best Garden Tractor on the Market
5. Toro (1914)
Check Toro's Lawnmower Price on Amazon
Based in Minneapolis, Toro has been around since 1914. The company first started off producing agricultural equipment like tractor trailers.
In 1924, the company produced its first powered lawnmower. For the rest of the century, Toro grew to become a key player in the power mower market.
In the 21st century, Toro has put many modern zero-turn mowers on sale. The best part about them is that they're very comfortable. Their suspension system and padded seat make the riding experience on their mowers extremely pleasant. No matter what model you purchase, the riding experience will almost always be better than competitors.
Their small, residential mowers are often in high demand. If you ever need a commercial-grade mower, they got that covered, as well.
6. Troy Bilt (1937)
Check Troy Bilt's Lawnmower Price on Amazon
Since 1937, Troy Bilt has been pumping out outdoor power equipment like snow blowers, tillers, cultivators, and of course, mowers from their headquarters in Valley City, Ohio. It is a great brand to turn to if you're looking for an economical zero turn mower.
The company specializes in making affordable residential mowers. Quality is great for the money. Notably, you won't find a commercial mower in their portfolio. That's not the company's business: Troy Bilt is all in on the residential market segment.
Troy Bilt zero turn mowers are fairly cheap and reliable. They can last for several years with ample maintenance. Last but not least, the working range of their mowers is up to 3 acres. All of this makes Troy Bilt the perfect brand for first-time owners.
7. Swisher (1949) – Best Commercial Zero Turn Mower Brand
Check Swisher's Lawnmower Price on Amazon
Swisher is most known for being the first brand that brought to the market the first zero-turn mower in 1949 – the Ride King. Ever since then, the company has continuously built upon the original recipe.
Swisher is the polar opposite of Troy Bilt. Instead of catering to consumers, Swisher is all for the pro. The proof is their Response-series commercial grade zero turn mowers. Built with heavy-duty engines, plus all of the latest tech and innovation, it's a go-to ride for professional landscapers.
Certainly, that means Swisher's pricing is quite steep. If you're merely looking for a mower to tidy up your lawn, it's better to try a different brand.
8. Cub Cadet (1960)
Check Cub Cadet's Lawnmower Price on Amazon
Established in 1960, Cub Cadet is a relatively young brand. Nevertheless, it has grown to become one of the largest manufacturers of zero-turn mowers today.
Cub Cadet offers more than 20 different residential-grade zero turn mowers, with pricing going from $2,000 to as high as $8,000. All models have very consistent ratings and reviews from customers & professional reviewers alike.
You can count on a Cub Cadet to cut your grass evenly and efficiently. Each mower has a highly balanced design and is equipped with powerful engines.
9. Snapper (1894)
Check Snapper's Lawnmower Price on Amazon
Snapper markets a few budget zero-turn mowers that you can get for a pittance. There's a reason for the price, though. Unfortunately, the company's designs are often rated quite low.
Ever since it was acquired by Briggs & Stratton in 2004, the company has gone through many financial issues. Sadly, it reflects in the quality of their products.
Newer models tend to have low ratings, but their old ones are great. There have been many reports of old Snapper mowers lasting for decades and still run well. But if you can't find a used Snapper, you're better off going to a different brand.
10. Ryobi (1943)
Check Ryobi's Lawnmower Price on Amazon
Ryobi is like the Tesla of lawnmowers. They're one of the very few brands on the market that builds electric lawnmowers. Due to being electric, it doesn't have a lot of cutting power. So, don't expect to use Ryobi mowers for pro-level jobs. It should be fine for small-scale yards or gardens between ½ to 2-acre.
As far as performance goes, Ryobi's lawn mowers are great. The cut is even, the structure is sound and comfortable to ride on.
But we know what you're wondering: how's the battery life? Well, the largest 54-inch mower can work through a 3-acre lawn on a single charge. That's plenty good.
Ryobi was founded in 1943 in Japan.
Check more: Top 10 Japanese tractor brands
Final Words
A zero-turn mower is a pretty big investment. Nonetheless, if you have a lawn or garden, that investment will pay off in the long run.
No need to pay big bucks to hire professionals to take care of your lawn or torture your back with a push mower. Just hop on a mower from one of these best brands of zero turn mowers and you'll have a neatly cut lawn in a bit.
Like any of these brands? Tell us in the comment!