Cowgirl boots are very popular items among fashionistas in western countries. You don't have to be a cool girl to have a pair of this footwear, it is merely a perfect addition to upgrade your casual outfits, especially with one coming from these 10 cowgirl boot brands.
Let's check out the list of the top ten famous brands of cowgirl boots that will change your look dramatically.
*This post may have affiliate links, which means I may receive commissions if you choose to purchase through links I provide (at no extra cost to you). As an Amazon Associate I earn from qualifying purchases. Please read my disclaimer for additional details.
Top 10 Best Cowgirl Boot Brands On The Market
1. Lucchese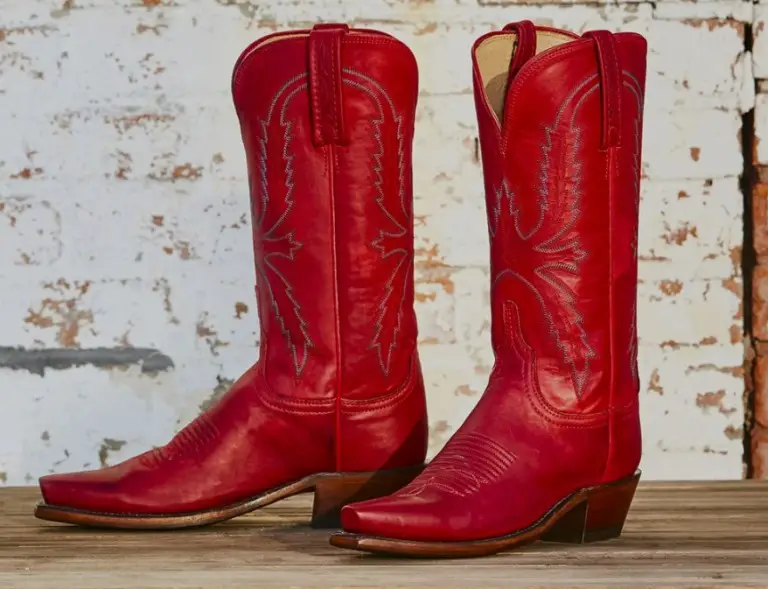 Check Lucchese Cowgirl Boots's Price on Amazon
Inheriting the well-established Italian legacy of superior craftsmanship and aesthetics but made in the USA, when it comes to performance and design, Lucchese perfects them and shows you what real cowboy boots are like.
Their boots are a symbol of quality and reliability. They have been given as gifts to high-profile people all over the world including presidents and dignitaries.
Starting with handcrafting cowboy boots in 1883, Lucchese has restlessly dedicated to putting in store its best quality boots that are made with great care, exotic materials, and the finest parts.
They are available for both men and women and come in a variety of styles from vintage pointed tip boots to modern square-toed boots. The materials to make them are also diverse such as caiman, calf, kangaroo, and crocodile skin.
Despite being sold at high prices, the expensive Lucchese cowgirl boots surely get your money's worth.
You will love: Best Work Boot Brands: List Of Top 15
2. Tony Lama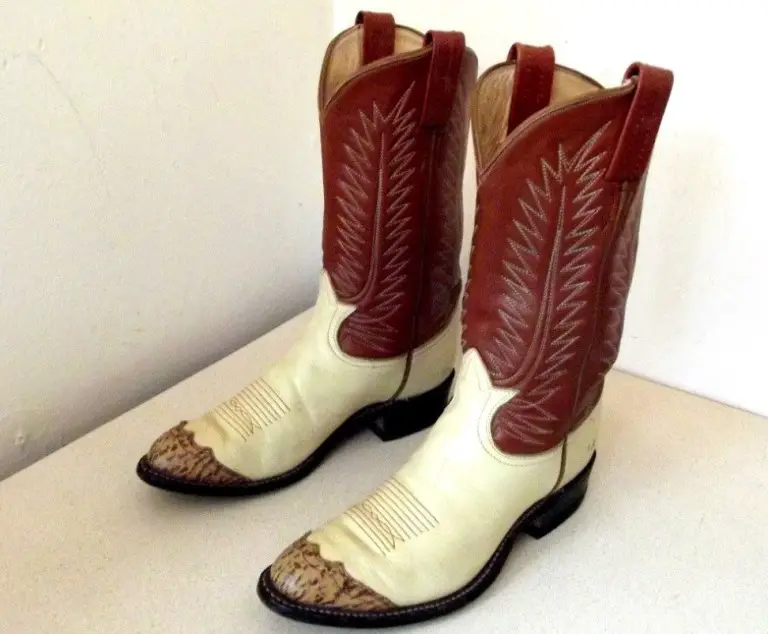 Check Tony Lama Cowgirl Boots's Price on Amazon
Widely regarded as the world's most legendary western boot brand, Tony Lama has won the trust and hearts of worldwide boot lovers and boot connoisseurs since its beginning in 1911.
Each Tony Lama pair of boots has to undergo over 130 steps starting with hand-cutting leathers before being ready to be sold. Every step involves a lot of human labor and meticulosity to ensure the authenticity of the boots.
Thus, the quality of these made in America boots is undoubtedly exceptional. Notably, to make sure that materials used when crafting boots are of the highest quality, they are carefully sourced from exclusive material and leather vendors around the world.
Premium leather collection consists of ostrich skin for maximum durability and comfort, full quill skin for style and breathability, American alligator skin, goatskin, or snakeskin for aesthetics.
3. Corral Boots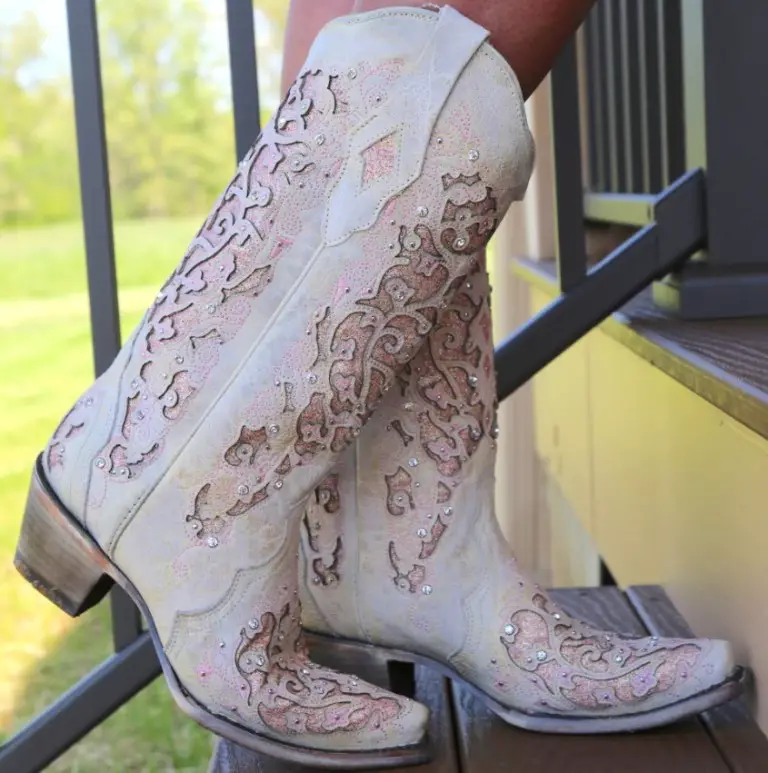 Check Corral Boots Cowgirl Boots's Price on Amazon
Whether what you are looking for is a pair of women's boots with any particular color, shape, or style, Corral has got you covered. Stating its mission to redefine western fashion, the company has tried its best to handcraft the most comfortable, distinctive, durable, and stylish boots within its capability since day one.
Corral is one of the most popular cowgirl boot brands among western fashionistas. Each of their boots is handmade by highly experienced leather craftsmen with superb-quality exotic leather since 1999, hence, beautifully detailed, unique in design, and incomparable in quality.
That's why Corral can maintain its solid reputation in the western boot world and even on a global scale for so many years.
4. Roper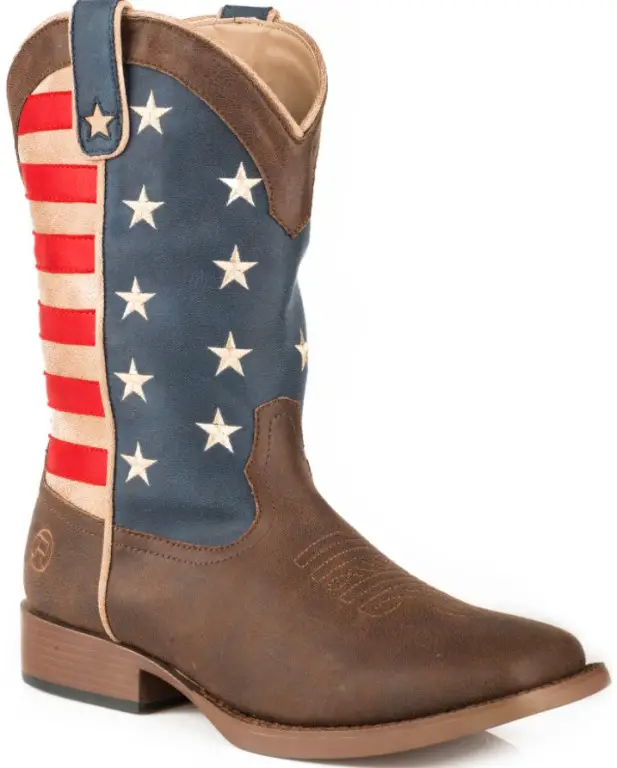 Check Roper Cowgirl Boots's Price on Amazon
Roper boots are what's right for those interested in anything from farm work to fashion. It is a flagship brand of Karman Inc, which is the largest manufacturer of western apparel and footwear for men, women, and children founded in 1948 by Sam Mandelbaum.
With over 100 years of experience, the brand has set a new culmination of fashion and function for the western footwear industry via its revolutionary innovations. Quality products and competitive prices are two things that Roper can claim with confidence.
At Roper, you can find a cheap yet beautifully designed and rugged pair of short cowgirl boots made from the finest quality materials for work purposes. Each boot is masterfully handcrafted to offer long-lasting durability, superior comfort, and high-quality construction for the modern cowgirls.
5. Ferrini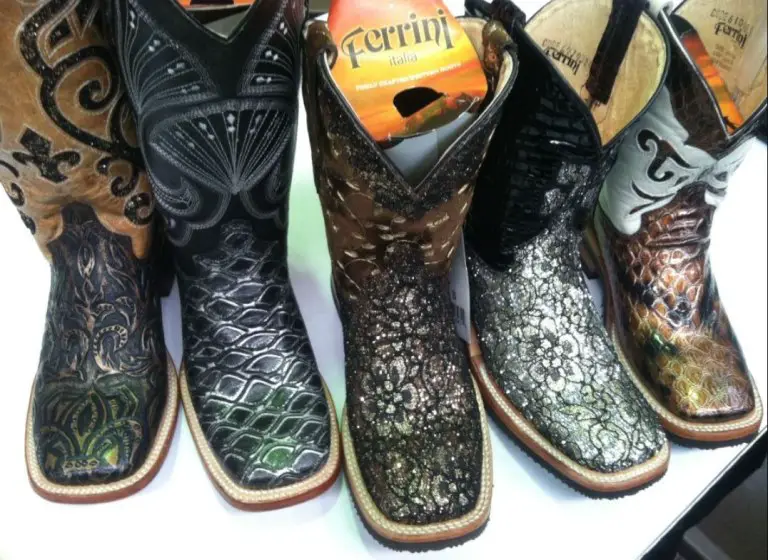 Check Ferrini Cowgirl Boots's Price on Amazon
Ferrini is an Italian family-owned company that has been making fine quality boots for three generations. Their boots are well known for their durability and comfort. With Ferrini's assistance, your dream of purchasing an exotic leather pair of boots at an affordable price can come true.
Pure craftsmanship, true quality, painstaking hard work, and a real sense of style are the guides to every step of the boot-making process. The natural leathers used to make the boots are hand-selected all over the world and then tanned by the Ferrini's staff themselves.
In addition, the thread that is used to hand-stitch the boots has also been carefully selected to ensure that the finished products will exceed your expectations.
From the premium leather soles to the rich leather uppers are all the best Ferrini can give you. If you enjoy the admiration and curious eyes of others then go with this reputable cowgirl boot company. Their products surely feature bright, fun, and intricate designs that will attract attention anywhere you go.
6. Ariat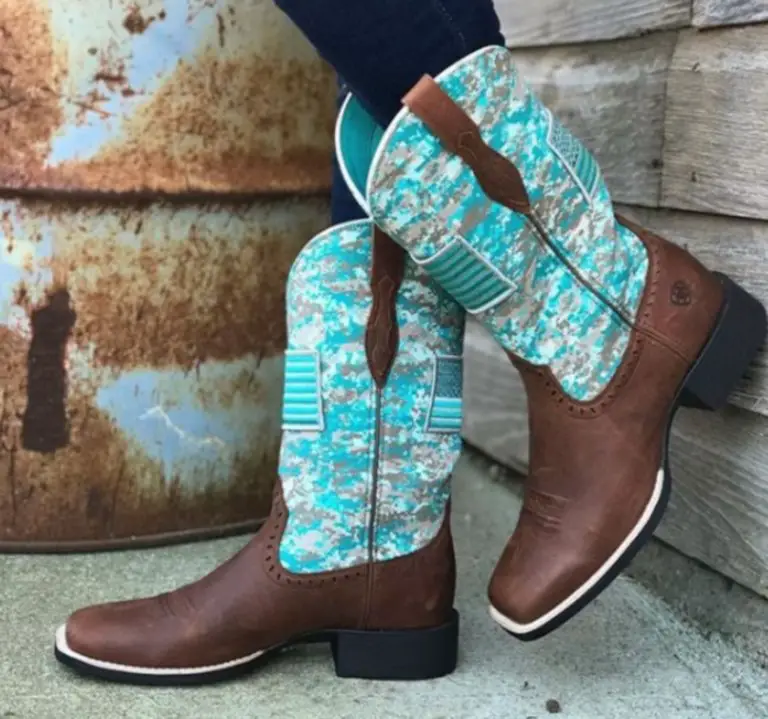 Check Ariat Cowgirl Boots's Price on Amazon
Wherever you go, the Ariat cowgirl boots are sure to be your reliable companion. Excellent durability, great comfort, and stylish design are what you can find in a pair of Ariat boots.
As the leading footwear industry brand, Ariat has consistently strived to deliver top-notch boots to those placing their trust in the brand.
Made by highly-skilled bootmakers who obsess over each detail,  Ariat cowgirl boots outperform in various demanding environments via real-life tests. They come in a wide selection of toe shapes ranging from the rounded U toe to the pointed J toe.
In addition to being in partnership with the world-renowned suppliers of materials, the brand also collaborates with top-ranking biomechanical testing labs and research groups with the target of crafting its boots to perfection regarding performance, functionality, durability, and comfort.
7. Tecovas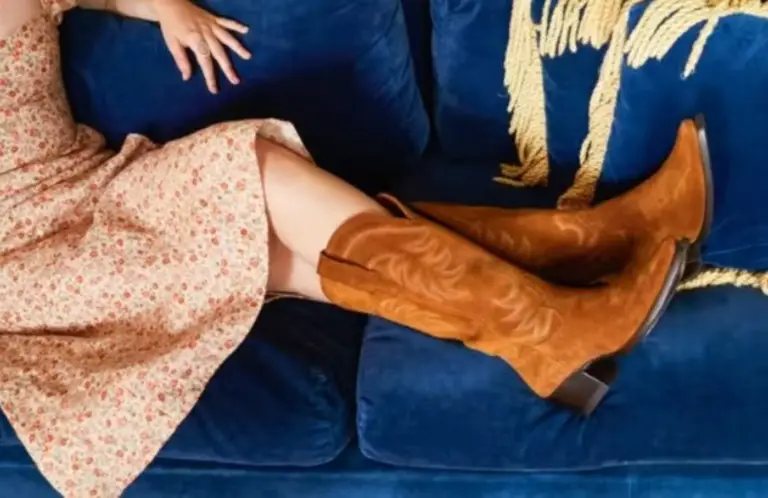 Check Tecovas Cowgirl Boots's Price on Amazon
Offering a sophisticated look and unrivaled artisanship, Tecovas boots are the perfect addition to your cowgirl wardrobe. Each of them is meticulously handcrafted by experienced experts and made with soft premium leather, quality construction, hand-laid cording, and universally appealing designs.
The average price for each pair is around $200, which is remarkably reasonable considering its outstanding quality. Tecovas boot-making process includes more than 200 steps, which ensures the boots will uphold their strict standard for quality, fit, comfort and style.
What this made in Mexico brand always desires is to deliver timeless and durable western boots that look great and fit right to its customers.
8. Soto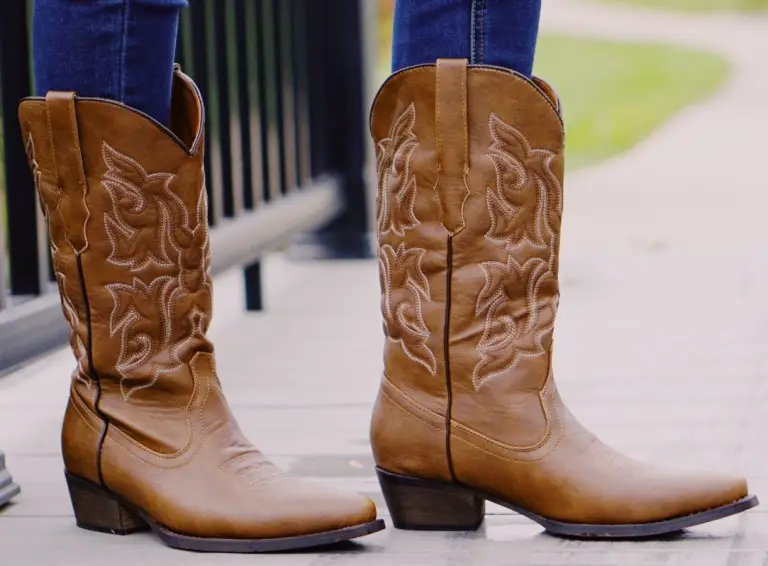 Check Soto Cowgirl Boots's Price on Amazon
If budget is what you are concerned about, Soto can help you. Founded in 2001, Soto is a reputable footwear brand that specializes in making premium quality yet affordable handcrafted cowboy boots. Many pairs in the Soto collection are priced under $150.
Each boot is made with great attention to detail and with only high-quality leather and materials. Furthermore, workers making the boots are among the best artisan bootmakers in the world.
Aside from the classic collection for country girls, Soto also offers eye-catching embroidered western boots at reasonable prices. With a broad selection of boot styles and sizes, feel free to find a pair most suited to your taste for any event.
9. Old Gringo Boots
Check Old Gringo Cowgirl Boots's Price on Amazon
The aesthetics of Old Gringo boots is the pivotal factor that advances the company from a boot manufacturer to a lifestyle brand.
Their embellishments vary from delicate embroidery, studs to Swarovski crystals, which make them real eye-catchers. Besides beautiful Latinx-inspired designs, they also feature exclusive leather finishes, intricate stitch patterns, and rare exotic skins.
Whether it is Vintage, Rock Star, European and Contemporary styled cowboy boots, you will find one at Old Gringo. 275 steps in total go into the construction of the boots with boot-making experts meticulously building and verifying the quality of every component.
Therefore, they offer the highest quality of performance, comfort, and durability, which come with a fair price point range from $250-$500.
10. Justin
Check Justin Cowgirl Boots's Price on Amazon
Justin Boots has been an iconic western footwear brand since 1879. With over 140 years in operation, the company has produced numerous pairs of handmade cowgirl boots with a central focus on quality.
Built with premium materials and state-of-the-art technology, Justin Boots are claimed to have no contenders on the market when it comes to craftsmanship.
Each pair of handcrafted boots is the result of a more-than-200-step boot-making process. All materials and components are purchased from world-class suppliers to ensure the highest quality.
Justin cowgirl boots come in two types of heels. One is the riding heel and the other is the walking heel. The lineup features three toe types: round toe boots, pointed-toe boots, and square toe boots.
Final Words
These 10 best cowgirl boot brands will give you the best within their capabilities. Whatever you prioritize, whether it is quality, design, functionality, durability, or all, they can nail it. Give them a chance and see how a real pair of cowgirl boots will change your style forever.