Nowadays, cowboy boots are not only outdoor work accessories but have also become a must-have fashion item for people of all ages and genders.
Since not all of us can experience boots from all brands, I will introduce the 10 best cowboy boot brands that you should consider before purchasing a new pair of work boots.
Each brand shoutout will include a short brand introduction, its product ranges, and any highlighted characteristics in its cowboy boot models. Let's go!
*This post may have affiliate links, which means I may receive commissions if you choose to purchase through links I provide (at no extra cost to you). As an Amazon Associate I earn from qualifying purchases. Please read my disclaimer for additional details.
10 Best Cowboy Boot Brands
We found the top-rated cowboy boots on the market that range from affordable to top-of-the-line and everything in between. We looked at durability, comfortability, and quality.
And that is how we compiled this list of cowboy boot companies from Ariat to Lucchese, from Justin to Durango, and Old Gringo just to name a few.
1. Ariat – Brand of High-quality Cowboy Boots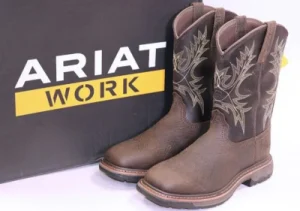 Check Ariat cowboy boots' Price on Amazon
Among the best cowboy boot brands, Ariat is the pioneer in technology and innovation.
Founded in 1993 by Beth Cross and Pam Parker and located in Union City (California), Ariat has been praised by many professional workers worldwide for its high product diversity and quality.
This American cowboy boot brand has a huge inventory of boots for people of all ages and genders.
Besides, Ariat cowboy boots serve many purposes with high diversity in heels, toe shapes, materials, designs, etc.
Most noticeably, it has a product line of work boots with steel toes for working in the construction industry or in dangerous working conditions.
These work boots of Ariat have a wide price range, allowing you to pick up a model that best suits your demands.
You can choose from the cheapest ones to the most premium, expensive ones depending on your purpose and budget.
2. Lucchese – Best Vintage Cowboy Boot Brand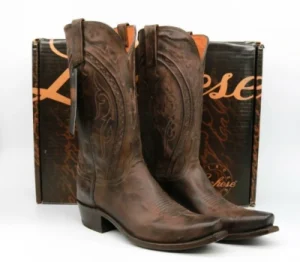 Check Lucchese cowboy boots' Price on Amazon
Since 1883, Lucchese Boot Company (previously Lucchese Bros. Boots & Shoes) has been providing handmade cowboy boots with exceptional craftsmanship, high-quality components, and vintage details.
This company was founded in San Antonio, Texas, by Salvatore Lucchese and his immigrant brothers from Sicily (Italy).
These Lucchese boots were first made to serve various notable politicians in the US Army, then become a new standard in the cowboy boot industry.
All cowboy boot models of this Texas brand reflect true Italian perfection in shoes and boot craftsmanship.
All leather parts of Lucchese cowboy boots are manually stitched together by Lucchese artisans, leaving beautiful stitch patterns for your footwear.
Besides, Lucchese uses brass and lemonwood pegs to attach the outsole to other parts of the boots. This pegging not only helps maintain the integrity of the boots but also extends their lives.
Although Lucchese boots are not cheap, they can last for years in good condition, allowing you to stay comfortable and safe in any harsh working environment.
3. Abilene – An American Cowboy Boot Brand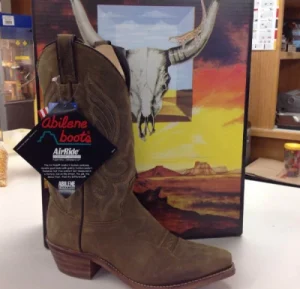 Check Abilene cowboy boots' Price on Amazon
Origin: USA
Price: medium
Abilene is one of the few American boot companies that has been producing high-quality cowboy boots for more than 30 years.
Since 1980, Abilene has committed to manufacturing affordable yet comfortable and durable boot models.
This company offers a few men's cowboy boots and women's cowboy boot models, including classic boots, Sage, Rawhide, and Silverado.
All of these product lines come with top-quality leather and reliable construction.
Abilene boots are made of full-grain leather, which is thick, tough, and built to last with regular maintenance. They have rubber or composite outsoles with cushions within them for maximum traction and comfort.
These cowboy boots also feature a Dri-Lex internal liner to keep your feet comfortable and dry while working outdoors.
4. Justin – Classic mix Modern Cowboy Boot Brand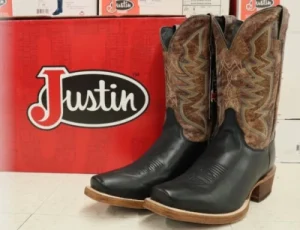 Check Justin cowboy boots' Price on Amazon
Justin Boots is another well-known brand name in the western wear industry founded by H.J.Justin then led by his sons.
This company has provided equestrian boots and cowboy boots since 1879, with its first location in Gainesville, Texas.
There are several popular brands under the Justin Boots brand, including Tony Lama boots, Nocona boots, Chippewa boots, and so on.
Justin Boots offer anything and everything that a real cowboy might need, from work boots (with steel toes), working ranch cowboy boots, dress boots, kids' work boots, apparel, and accessories.
You can find a pair of Justin boots anywhere, from college campuses to the ranch, to executive boardrooms.
An interesting fact that you should know about this boot brand – Justin boots are currently chosen as the official footwear of the American Quarter Horse Association (AQHA) and the Professional Rodeo Cowboys Association (PRCA).
Although not all Justin boot models are made in the USA, they inherit the Western culture with a focus on value, quality, and integrity.
Each Justin boot is handcrafted by skillful artisans using the finest leather and materials.
With more than 140 years of development, Justin Boots has become an essential part of the daily life of Western people.
5. Durango – Brand of Fashionable Boots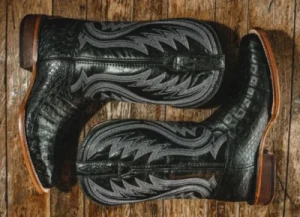 Check Durango cowboy boots' Price on Amazon
Durango is a brand of fashionable cowboy boots with a history of more than 50 years.
In 1966, Georgia Boot opened a new Western-inspired footwear collection to complement its line of work boots called "Durango."
Durango and Georgia Boot were then purchased by Rocky Brands, Inc. in 2004.
Since then, Durango continuously innovates its boot models with new western and fashion-oriented styles.
This endless working effort of Durango helped Rocky Brands, Inc. become a global market leader in footwear and apparel.
Unlike traditional cowboy boots, the design of Durango boots is a hybrid between cowboy boots and work boots.
Their energetic and charismatic appearance is inspired by the Old West's spirit and adventure.
Besides their designs, Durango boots also treat you with their extreme durability. A good pair of Durango boots can last for 10 years if well-preserved with proper maintenance.
It's hard for ordinary shoes to pass this time limit, even when cowboy boots are used to do physically demanding jobs.
6. Tony Lama – Exotic Cowboy Boot Brand

Check Tony Lama cowboy boots' Price on Amazon
If you haven't tried on Tony Lama boots, you have missed a notable brand name in the cowboy boot industry.
Tony Lama is a western boot brand founded by Anthony Lama – a son of Italian immigrant parents.
It was first a small shoe and boot repair shop in the nearby town of El Paso and started producing boots in greater quantities in the 1930s.
In 1990, Tony Lama company became a part of the Justin Boot, and this parent company has set the standard for craftsmanship and quality worldwide.
Tony Lama boots incorporate traditional craftsmanship with modern comfort and durability technologies, making it the world's most recognized western boot brand.
Each pair of Tony Lama boots require 100 steps to finish and are manufactured with user comfort in mind.
Whether the classic Western boots, the TLX series, or the Handcrafted series, Tony Lama offers a wide choice for both male and female workers in any harsh working environment.
In terms of technology, the two Tony Lama's original Lama Comfort and Cushion Comfort technologies aim to maximize your comfort and dryness while protecting you from any possible shocks or injuries while working.
Depending on your working demands, you can pick up the steel-toe, composite-toe, or square-toe version of Tony Lama boots.
7. Ferrini – Premium Leather Cowboy Boot Brand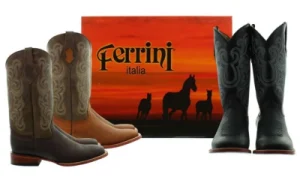 Check Ferrini cowboy boots' Price on Amazon
For centuries, Ferrini boots have been highly praised for their top-notch Italian quality in the boot-making business.
This Texas-based footwear company is operated by an Italian family business that shares its name.
Ferrini boots are well-known for their ultimate precision in design and unique patterns, and premium material.
Professional boot-makers of Ferrini handpick and finish the best hides and exotic natural skins to guarantee the most delicate leather quality of each cowboy boot.
As a result, each pair of Ferrini boots is a bold statement to your daily or work outfits.
Ferrini boots are also built to last. All the leather parts are carefully trimmed and hand-stitched to bring all-day comfort for customers in every movement. Even the soles with lemonwood pegs are hammered by hand.
Although they are not cheap, they are worth your investment if all you need is a premium pair of boots to use for years.
8. Old Gringo – Best Handmade Cowboy Boot Brand

Check Old Gringo cowboy boots' Price on Amazon
Old Gringo is the youngest and also a fast-growing boot brand on this list. It was founded in 2000 by Ernie Tarut and Yan Ferry.
The collaboration between Tarut with 30 years of experience in leather manufacturing and Ferry with 30 years of European design and bootmaking knowledge creates a lifestyle brand with a unique style and exceptional quality.
Old Gringo has boot models for all fashion styles, including Vintage, Contemporary, Rock Star, and European Styles.
Each pair of Old Gringo boots is handcrafted by 250 professional bootmakers in Leon, Mexico.
This Mexican cowboy boot brand is a perfect balance between fashion and western – a challenge that not many boot brands can succeed at.
You can easily recognize Old Gringo boots while walking on the street by their vintage charm and contemporary style.
These boots are not merely used for protecting your shoes and easing your movements, they are real masterpieces!
9. Anderson Bean – Brand of Eye-catching Boots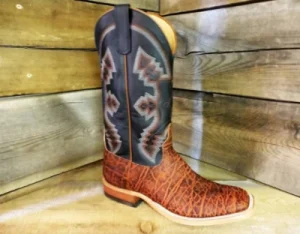 Check Anderson Bean cowboy boots' Price on Amazon
Anderson Bean is a cowboy boot brand made in the USA that follows the Texas boot-making tradition.
This company was founded in 1989 by the owners of Rios of Mercedes boots, offering all-leather cowboy boots in a medium price range.
With 30 years of continuous innovation, Anderson Bean has exclusive customized boots and a full line of stock boots for women, men, kids, and babies.
Since this boot brand positioned itself as "made in the USA," all boot parts originated in its factory in Mercedes, USA. Each skillful craftsman takes a specific role in the boot-making process.
Anderson Bean believes that only a manual process involving various boot experts and using no shortcuts or factory tricks can form a perfect pair of boots.
Besides, AB boots are made of 100% leather to bring the most comfort for your all-day working.
Their bodies are made of the most premium leather, like crocodiles, Amazon bass, and ostrich. The soles are made from sturdy leather with many cushioned rubber pads for extra movement and stability.
10. Dan Post – An Iconic Western Boot Brand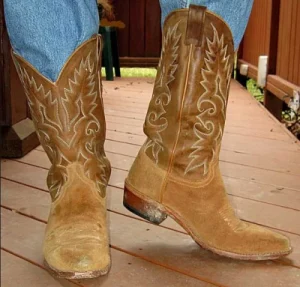 Check Dan Post cowboy boots' Price on Amazon
First appearing in the mid-1960s in Clarksville, Tennessee, Dan Post boots soon became a staple in the cowboy boot industry.
With a strong focus on movement support, boots of Dan Post ensure to be superior fit and comfort with design innovations.
Dan Post boots are a little bit stiff at first, but they are easy to wear with the help of boot hooks. The moment you are in these boots, you will feel safe and comfortable performing any demanding jobs or outdoor activities.
You can pick up your most appropriate pair of Dan Post boots that meet your work requirements. If you are new to work boots, you can pick up a regular work boot model.
You can also choose ones with special toes like steel-toe or composite-toe versions or ones that are designed for specific environments like heat-resistant, oil-resistant, or waterproof models.
How To Choose The Best Cowboy Boots?
Function Or Fashion
Before purchasing a pair of cowboy boots, you should predefine your purpose of using it – i.e. whether you will use it only as a fashion item or as safety gear in your daily farm chores.
If this boot model serves as your safety gear, make sure that it is comfortable and durable enough to withstand harsh working conditions and weather elements.
If this boot model serves as a fashion item to complement your wardrobe, get the one that calls to you.
Weather Conditions
You should pick up a pair of boots that is suitable for your local weather conditions.
Heavy boots with high knees are the best-insulated pick for subfreezing days of winter.
But in summer, you might need boots with a shorter shaft with a cooling mesh to keep your feet breathable.
Leather type
There are two types of leather – non-exotic and exotic. These types differ from each other by price range, texture, and durability.
Non-exotic leather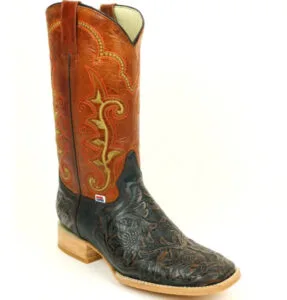 This type is more affordable and you can choose between cowhide (the most popular), calf/goat (with a buttery feel), bison, bull, and pig.
Goat leather is the classic, all-purpose leather with no texture or pattern. And this leather is also durable and becomes soft within a few wears.
Exotic leather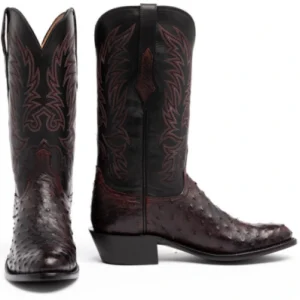 Unlike non-exotic ones, cowboy boots made from exotic leather can cost you hundreds to thousands of dollars. Below are the most common types of exotic leather for cowboy boots.
Ostrich leather: This is the most durable, breathable, and soft leather type. This leather looks like a snakeskin because it has snake patterns. It also brings a soft feeling from the very first wear.
Full quill with pins.
Smooth ostrich leather with no pins from the ostrich's stomach.
Ostrich leg (looks like reptilian).
Ostrich neck (combined of quill and smooth).
Lizard: This leather brings a glossy and fashionable look to its users and is often used to make boots for formal occasions and often mixed with business attire.Due to its stiffness, lizard leather can keep its shape for an extended period, but it isn't as soft as ostrich leather and also requires regular maintenance and conditioning to retain its appealing look.
American alligator
Caiman: This leather is tough and durable and can also keep its shape for a long time and become softer after a few wears. However, caiman leather has smaller and less uniform tiles.
Snakeskin: Cowboy boots made from snake leather (like a rattlesnake) are fashionable.However, these boots also require the most maintenance and care to prevent them from cracks or damage. You can use a leather conditioner to take care of them regularly.
Python
Stingray: This leather can keep its shape for a long time since it won't stretch.
Pirarucu: This new leather type is from a big freshwater fish with diamond-shaped patterns.
Fit
Fitting is a vital criterion you should be aware of when looking for safety footwear.
Too tight of footwear can result in many health issues like blisters, corns, ingrown toenails, etc. On the other hand, too loose footwear cannot promise to protect you from physical forces on your worksite.
The fit of cowboy boots can vary by many factors like leather, style, pull option, maker, toe cap material, etc.
You should try on many pairs before deciding which one is the most comfortable for you.
A perfect fit means that your toes have enough room to move inside the boots, and the leather should fit with the broadest part of your foot. Besides, your heel should be slightly lifted.
According to ISHN, you should check these tips to get the best comfortable cowboy boots for you:
Try on the shoes at 2 times of the day – in the afternoon and evening – because your feet tend to be wider at the end of the day.
When trying on the boots, you should wear the same socks that you often use on your job.
Boot Parts
Toe
You can pick up a toe style based on its shape and material.
Toe shapes: A boot's toe can have 3 shape options – pointed, round, or square.
Round toe: Round toe comes in a wide variety of roundness and is the classic choice for everyday wear for ranchers and businessmen/businesswomen. If this is your first cowboy boots, opt for round with narrow toes.
Pointy toe (or roach killers): This type is preferred by fashionistas, rockers, or those who pursue an impressive fashion style. There are also snip toes whose pointy toe tips have been slightly squared off.
Square toe: This toe shape has become more prevalent in 15 years recently. There are various levels of squareness, from narrow box toes (or John Wayne toe, punchy toe) to broad square toes.
Toe materials: You should choose the toe's material based on your working conditions.
Steel toe: If you often have to handle heavy objects or farm machinery, boots with steel toes will protect you from falling objects.However, this toe material can contribute to the footwear's total weight, and heavier boots can be uncomfortable for all-day walking or standing.
Rubber toe: Boots with rubber toes are lighter and more comfortable if you have to be on your feet all day.
Sole
You can choose between two sole materials – rubber and leather.
Rubber soles are more comfortable and durable and can protect your toes and nails from brutal physical forces or prevent electrical shocks while working on a wet surface.This sole material also gives you better traction and avoids slipping. However, a rubber sole is less fashionable than a leather sole.
Leather is the traditional sole material and is often preferred for dancing purposes. Although it can be slippery at first wear, it provides a better fit to your feet and will give you more traction in time.
Check now: Top 10 Best Rubber Boots for Farm Work
Shaft length
Shaft length (or shaft height) determines the boot's protection level.
The higher shaft provides better protection and should be used when hunting, riding, or working in a field of tall and sharp grass.
Conversely, boots with a lower shaft are more versatile and comfortable and are often used while walking.
You can choose between three shaft lengths: knee-high, traditional, or ankle.
Heel length
The heel of cowboy boots is divided into two groups based on its length: riding heel and walking heel
Riding heel: A riding-heel pair of cowboy boots can easily hook on the stirrups, but it can be challenging for walking purposes.
Walking heel: This heel is shorter and broader than the riding heel, making it more comfortable for walking.
Pull style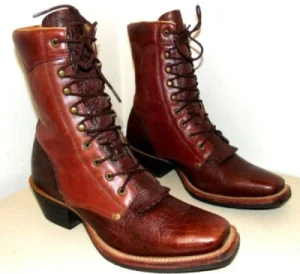 There are two main pull styles for cowboy boots: pull-on and lace-up.
Lace-up: This is the classic choice of professional workers across many centuries.A lace-up boot is tightened with many strap loops and provides a high support level for your ankles, proper fit to your feet, and stays in shape for a long time.However, they take more time to tie since you have to kneel or bend to do that. Sometimes the loose laces pose risks of slipping, falling, or tripping.
Pull-on boots are easy to wear on or pull off, but they might lose shape with time.Since there is no lace, these boots provide better traction for you, especially when working on a wet surface. However, they don't offer any support to your ankles.
Inlays or Stitching
The choice between inlays or stitching depends on the decorating patterns you want to appear on your cowboy boots.
Traditional stitching has been applied since the late 1980s to keep the shaft standing upright.
Modern stitching was born later and is becoming more popular than traditional stitching, thanks to its wide pattern choice. You can stitch crosses, flowers, your cat, presidential insignia, etc., nearly everything on your boots.
If any pattern cannot be stitched, the shoemaker will choose inlays – a preprinted design or image – to stick on your boots.
Zippers
While zippers do not frequently appear on classic, authentic cowboy boots, some boot models have these details as an add-on.
Zippers on high-shaft boots are helpful for those who have wide feet or higher instep.
FAQs (Frequently Asked Questions)
1. What are cowboy boots meant for?
Cowboy boots are a special riding boot style with a high heel and a high shaft hugging your calf.
First worn by cowboys, nowadays these boots are by workers, farmers, and ranchers who need safety footwear for protection and the ability to keep the foot firmly while doing heavy-duty jobs.
2. Why are cowboy boots pointed toe?
Cowboy boots, especially the traditional models, are pointed toes because this toe style makes them easier to keep your feet into the stirrups and keep your heel in place while riding a horse.
3. How high is a cowboy heel?
The height of a cowboy heel depends on whether it is used for walking or horse-riding purpose. A walking heel has a height of 1 inch, while a riding heel has a maximum height of 2 inches.
4. What is the difference between a roper boot and a cowboy boot?
The main difference between a cowboy boot and a roper boot is its design.
A classic cowboy boot has a tall shaft reaching mid-calf or higher and an angled heel of up to 2 inches.
On the other hand, a roper boot has a short and square heel, a round toe, and a shorter shaft and tighter fit around your ankle.
Wrapping Up
I hope the above information is useful for you when looking for the best cowboy boot brands.
Since these 10 mentioned boot brands are positively rated on the worldwide cowboy boot market, you are sure to find your favorite one that matches your sizing, budget, and style needs.