When people think of the Old West, the first image that appears in their heads is the iconic cowboy hat.
Some may think that it is corny and old-fashioned, but cowboy hats have blown up in popularity recently.
We compiled a list of the top 10 BEST cowboy hat brands that prove without a doubt that this old headwear is, stylish, comfortable, and modern.
*This post may have affiliate links, which means I may receive commissions if you choose to purchase through links I provide (at no extra cost to you). As an Amazon Associate I earn from qualifying purchases. Please read my disclaimer for additional details.
Top 10 BEST Cowboy Hat Brands Worth Checking Out
There is a wide selection of cowboy hat brands available, but we looked at brands like Ariat, Stetson, JW Brooks, and Resistol, which all produce high-quality, comfortable hats.
1. Stetson (1865)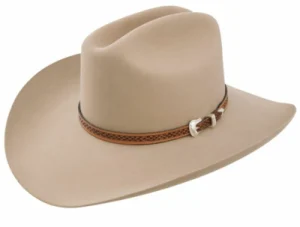 When you think cowboy hats, Stetson is usually the first brand to pop up, and rightfully so as they are the go-to brand for western wear.
Established well over 150 years ago in Philadelphia, Pennsylvania by John B. Stetson, the reputation of this historic company is almost legendary.
It was the hatmaker behind one of the most popular and iconic headwear in the Old West — the Boss of the Plains, a lightweight, all-weather hat.
The Boss of the Plains, although it doesn't have the traditional cowboy shape, was so famous that it's still in production today.
However, if you want the classic cowboy hat with a curved-up brim, Stetson has that on offer, too.
With well over a century of experience, the quality of Stetson hats is among the best in the industry.
Besides hats, the company also makes other western-wear products like boots, outerwear, and accessories.
Stetson is basically a one-stop-shop if you want to suit up in full, made-in-USA Western-style regalia!
Check more: Top 10 best Cowboy boot brands
2. Sheplers (1899)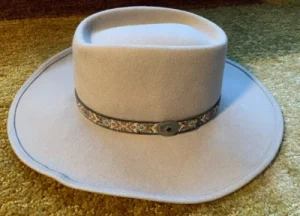 Similar to Stetson, Sheplers has over 100 years of experience.
The company was founded in 1899 by J.W. Gibson as "Gibson Harness Co." in Wichita, Kansas.
In 1946, Harry Shepler bought the company and renamed it "Harry Sheplers Saddle and Leather Company".
From making saddles and harnessing, the company evolved to produce riding gear, leather goods, as well as Western-style clothing.
And, of course, "Western-style clothing" also includes cowboy hats.
The quality of their hats is high, but the price is surprisingly affordable.
Additionally, they also have an extensive catalog, which includes many different designs, colors, and materials.
Like every other modern clothing company, they offer products for men, women, and children alike.
No matter who you are, as long as you like to don a Western-inspired outfit, you can count on Sheplers to ring you up.
3. Resistol (1927) – Best Felt Cowboy Hat Brand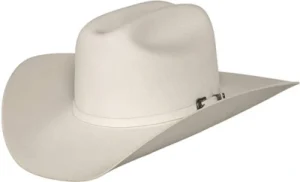 Resistol began in 1927 as a venture between the millionaire E.R. Byer and Harry Rolnick, who was a hatter.
Initially, this hat company produced dress hats with a headband that held the hat's body from the head to resist scalp oil, thus the name "Resistol".
Back then and even now, Resistol is known for making good quality hats that are worn by cattlemen everywhere to keep the sweat away while herding cattle.
Though the company offers hats made from a wide variety of materials, they are best known for its felt cowboy hats.
Resistol is the only company in the US to operate the entire felt hat-making process, which includes over 200 steps, without outsourcing.
If you fancy yourself a new cowboy hat, check out their collections. You will find some excellent Resistol hats to ogle and consider buying in no time!
4. American Hat Company (1915) – Best Straw Cowboy Hat Brand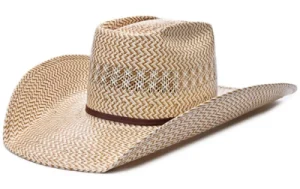 Known for their water-resistant straw cowboy hats, the American Hat Company was founded in 1915 by a Russian immigrant named Sam Silver.
Though it is younger than some of its competitors like Stetson or Sheplers, the American Hat Company is still a famous name in the cowboy hat industry.
In the 21st century, the American Hat Company became the go-to brand if you need something that's not just stylish, but also functional.
Case in point, it is still the only company that produces water-resistant straw hats today, which is perfect for ranch work.
Their products have excellent quality and durability as each hat is double-lacquered and double-pressed.
For felt hats, the felt is finished by hand. As a result of this meticulous attention to detail, the company makes some of the longest-lasting hats on the market.
5. Burns (1876)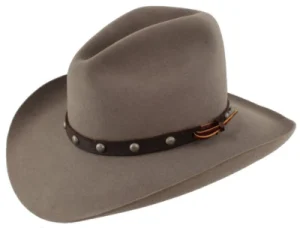 Burns 1876 (just "Burns", for short) is the oldest western attire brand that's still owned by the same family that founded the company over a century ago, in 1876.
Its founder — Miles Lamonie Burns — envisioned the "Burns" name to be known by all cowboys in the US.
Although cowboys are far less influential in the 21st century, their culture remains and the Burns family-run business continues to stay in style.
Through six generations of ownership, Burns 1876 has and still produces some of the best cowboy hats to ever exist.
Each hat has excellent craftsmanship and is built rugged enough to last for a lifetime.
The hundred-year genuine American heritage legacy associated with this go-to brand is going to make you feel like a true cowboy.
6. JW Brooks Custom Hat Co. (1991)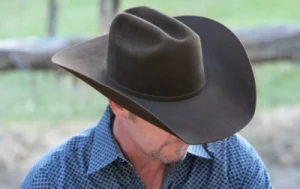 While a lot younger than other brands on this list, JW Brooks Custom Hat Co. with headquarters in Lipan, Texas, began to put out custom cowboy hats in 1991..
The best part about JW Brooks is that it allows the customer to directly participate in the hat-making process.
You can order the hat to be fitted to your exact specifications so customers will get their own custom, handcrafted cowboy hats.
From color, crown shape, and brim shape, to the material of the hat, just tell their designers and they will work it out for you.
Then, in a few working days, you will have a bespoke cowboy hat waiting in a package at your front door!
For this exact reason, JW Brooks is definitely one of the best cowboy hat companies out there. Not even legendary brands like Stetson give you this many options and freedom.
7. Watson's Hat Shop (2001)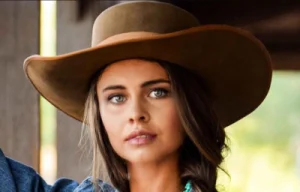 Though Watson's Hat Shop has only been around since 2001, there is a lot of history at the company's store in Cave Creek, Arizona.
Some of the tools that they use date back to the 1860s.
The hat-making techniques that they employ to pump out beautiful cowboy hats are all traditional as well.
Plus, one of the many staples of the Watson brand is that it uses 100% beaver fur in the tailoring process of its felt hats.
Similar to JW Brooks, at Watson's Hat Shop, you will be treated to a tailored experience.
Depending on what you fancy, when you order a hat, you get to pick from among 29 different colors and 80 different types of ribbons.
You may also choose your own hat band and gemstones.
Not sure what you want? The expert hatters at the store will guide you through the process.
8. ARIAT (1993) – Best Cheap Cowboy Hat Brand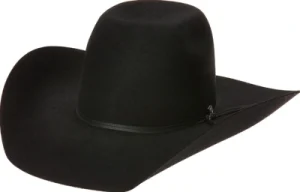 ARIAT was founded in 1993 by Beth Cross and Pam Parker.
The name "ARIAT" was derived from the last five syllables of an award-winning racehorse named "Secretariat".
This cowboy hat company specializes in making riding apparel and is known in the equestrian world for its affordable riding boots, breeches, and outerwear.
And, you guessed it, since it's on this list, ARIAT also makes some wicked cowboy hats, too.
ARIAT hats are typically cheap. Despite the fact that it's not a veteran player in the cowboy hat-making business, the quality of their hats is fairly decent for the price.
Unfortunately, you will not be able to find ARIAT cowboy hats online on their front page.
Instead, you will have a better chance of finding them at your local western-wear retailers and third-party online shops.
You will love: Top 7 best Ariat Cowboy boots
9. Outback Trading Co. (1983)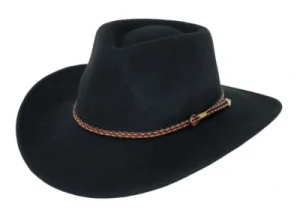 Outback Trading Co. is a western-wear company that makes excellent apparel for anyone who likes to spend time in the great outdoors, be it for fun or for work.
Founded in 1983 by Wilson King, they produce traditional cowboy hats as well as clothing and accessories.
Outback's hats are in the mid-range in terms of pricing, but fortunately, the quality of their hats rivals many larger, more premium cowboy hat makers.
Definitely check out the brand if you are looking for a value cowboy hat that is still high quality.
10. American Hat Makers (1972) – Best Handmade Leather Cowboy Hat Brand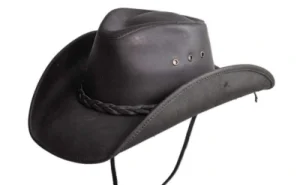 With over 40 years of experience, American Hat Makers is one of the best hat-making businesses in the country.
The company's particularly known for its leather hats, all of which are handmade.
In addition to leather hats, they also offer felt and straw hats in a number of styles. Certainly, among these styles is the cowboy style.
Since every hat is handmade, the quality and craftsmanship are superior to mass-produced brands.
Pricing reflects quality, so you will have to spend quite a lot to get yourself one of their hats.
But, nonetheless, the investment is worth it if you are looking for a high-quality hat to wear for years to come.
FAQs
1. What is the most popular cowboy hat style?
The Cattleman is the traditional cowboy hat that can be seen all over Hollywood and ranches alike. It has three creases in the crown and a slightly curved brim.
2. What brand hats do they wear in Yellowstone?
Greeley Hat Works created all the hats for the show Yellowstone. The cast all wore handmade and personalized cowboy hats
3. What does a black cowboy hat mean?
Typically, a black hat is used when referring to a villain or a bad person. This was common symbolism in old Hollywood but is now considered a popular cowboy hat color.
4. Are Stetson and Resistol the same company?
In today's market, Stetson and Resistol factories are operated by the same parent company – HatCo, Inc.
5. What brand of cowboy hat does Tim McGraw wear?
Tim McGraw wears a black Bullhide McGraw straw cowboy hat that is shapeable and stylish.
6. What brand of hat did John Wayne wear?
John Wayne wore Stetson hats almost exclusively. He even brought his own hats to wear in movies instead of relying on the costume department.
Final Words
Cowboy hats don't have to be stuffy and old-fashioned.
They can be immensely stylish, fun, and personable, too and this list proves that.
So, if you want to get one for yourself, these 10 famous cowboy hat brands have got you covered.
What's your favorite western hat brand among these 10 names? Tell us your thoughts in the comment section!