Tekton has been well-known on the market by offering high-quality tools at a reasonable price. In this Tekton tools review, we will take a look at the Tekton Drive Socket Set – one of the best-selling socket sets in the world.
Depending on your purpose, you can choose between the ¼-inch, 51-piece version or the ⅜-inch, 45-piece version.
*This post may have affiliate links, which means I may receive commissions if you choose to purchase through links I provide (at no extra cost to you). As an Amazon Associate I earn from qualifying purchases. Please read my disclaimer for additional details.
Tekton Tools Review: Highlighted features
At a low-price range, some customers might compare this home kit with one from a more premium brand like Craftsman or Gearwrench. Every tool of Tekton is designed with quality and customer satisfaction in mind. With around $1 per piece, you will have a set of 45-51 pieces of tools and they work very well for a long time.
Affordable yet durable, this Tekton set is made from heat-treated chrome vanadium steel & covered with a corrosion-resistant black phosphate finish. Thus, they can withstand harsh weather conditions and last for a long time. For example, the 6-point ratchets come with quick-release options, radiused corners to prevent stripping nuts and bolts, steps shoulders allowing for better overall reach.
Second, this Tekton socket set is multifunctional. It has every size from 5/16 to 3/4 inches and 8 to 19 mm. Thus, you can use them for nearly all life purposes, from home repairs, vehicle maintenance, equipment assembly, etc. This set includes both metrics and fractional sockets, in shallow and deep lengths. Additionally, there are also six-point sockets, a breaker bar, and a few extensions.
Third, this superb socket set can fit every small house and apartment. As you know, miscellaneous things can be messy if they are not organized well. This toolset is space-saving with a storage case and a built-in parts tray. You can store it in your home garage, under cabins, or on your road trip around America.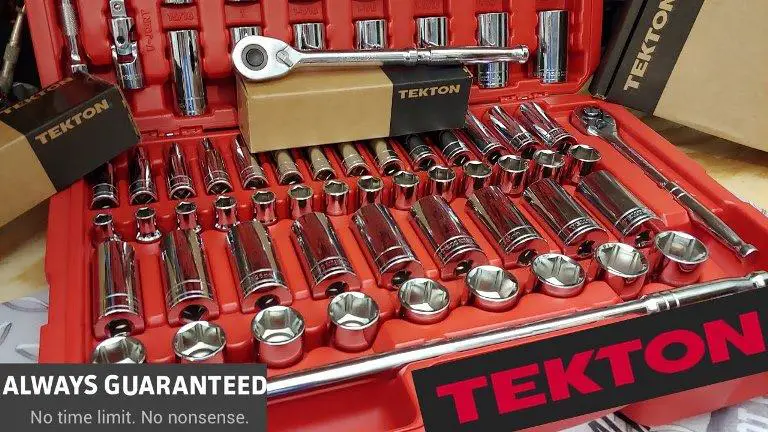 Read More Reviews on Amazon.com
Tekton Tools Reviews with Pros & Cons
Pros
All the tools are made of chrome vanadium steel & corrosion-resistant black phosphate finish
High torque, 6-point sockets grip flat sides of fasteners with no corners to prevent round offs
Has every size from 5/16" through ¾", and 8mm through 19mm in both the shallow and deep lengths
Include a universal joint and a 6-inch extra-long extension, and tools that are not found in other toolsets
Travel-friendly, space-saving
Affordable price
Cons
Not made in the USA
The ratchet easily slips in and out of gear
Read More Reviews on Amazon.com
Are Tekton Tools any good?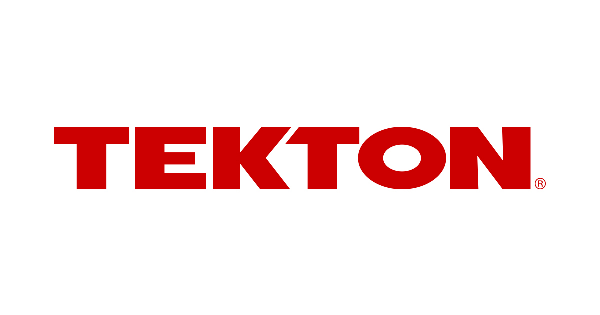 To the quality of Tekton products, I have taken a look at some Tekton tools review in online communities and forums. Below are some of the popular topic on this home kit:
Good mid-grade brand, its quality is as good as one from Harbor Freight or Craftsman, but below tool truck brands
Made in Taiwan, great for home usage
Got impressed by the quality
Rigid quality, worth buying
In general, Tekton is often rated positively by customers and recommended by home pros who are using both premium and cheap sets. Some people try Tekton with one or two single tools. Then they decide to buy more and more. Others purchased a mini Tekton set, then got a full set to experience the whole Tekton collection.
Read More Reviews on Amazon.com
Frequently Asked Questions
1. Where are Tekton tools made?
Depending on the model, Tekton tools can be made in different countries. As claimed by the company, Tekton tools are manufactured in Taiwan (75%), United States (15%), and China (10%). In short, there is a 90% chance that you will buy items from either the United States or Taiwan.
2. Is Tekton better than Craftsman?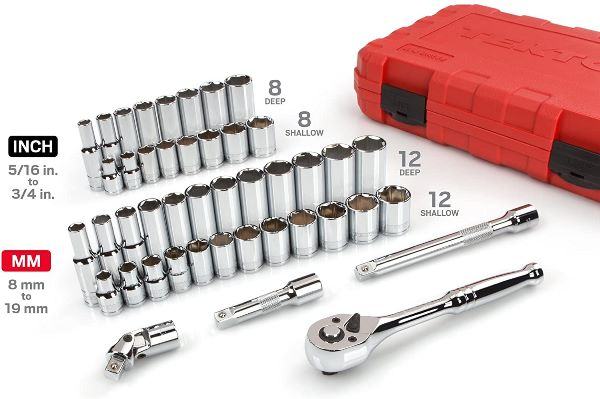 From my personal experience in this field, I believe Tekton is a superior option to go. I have many tools made by both Tekton and Craftsman, mostly wrenches, sockets, drivers. Tekton is better than the old schooled Craftsman.
First, each item of Tekton tools is sold separately. In case I lose one, I can buy the next couple of sizes above the end of a set.
Second, some people worry if it is manufactured in Taiwan or China. Still follows the Tekton standard. Moreover, toolsets made in third countries go with a more reasonable price.
Third, some of my friends said Craftsman outstands Tektok in warranty, so they choose Craftsman for years. But from my experience, I think that warranty is only worth it for the expense of tools. So I put warranty at the bottom of my priority checklist.
Furthermore, Tekton's support system is pretty good. In case you have any issues with the Tekton tool, just snap a photo with a description and send it to the customer support team via a form on its website. They will send a replacement tool to you in a few days.
3. Are Tekton Tools lifetime warranty?
There is no clear time limit on Tekton tools. If you have issues with your tools, or your toolset does not meet your expectations during its usable life, you can contact Tekton's customer support team for help at [email protected] or call 1-888-648-8655. They can provide a new replacement for your broken tool. I think it means that there is no limit.
4. Is Tekton better than Gearwrench?
Both Tekton and Gearwrench are well-known for their incredible quality and performance. They are designed to withstand heavy applications. Thus, it's impossible to decide whether Tekton is better than Gearwrench. In other words, it will depend on your need. Tekton has more ratchet and socket sets while Gearwrench has more wrenches. Gearwrench 12 point sockets while Tekton only includes 6 point sockets.
5. Is Tekton a good brand?
Tekton is not only a good but a fast-growing brand. It delivers high-quality products at a reasonable price. Compared to other low-priced brands on the market, its products have higher durability under normal usage. They don't break after just a few times of usage.
Besides, as I have said above in this Tekton tools review, customer service is exceptional. They are always ready to serve whenever you need support. If one of your tools is broken, you can get a new replacement after a few days with little effort. This is also the reason why more and more customers are confident purchasing tools from Tekton.
Read More Reviews on Amazon.com
Read More: Best Machetes for Clearing Brush. We tested and ranked the top-performing machetes in this ultimate review and guide!
In a nutshell
If you have read my Tekton tools review, you know that I am a big Tekton fan. Every time I'm looking for an affordable, versatile home kit solution, Tekton is always my first choice. Besides its excellent build quality, mobility, durability, and its top-notch customer service. I believe that Tekton is a special deal for those who are looking for a toolset for all purposes of life.