Weighing animals is never easy, and there are many situations where we lose control of our pets when we place them on the scale. Suffering the same situation? Then our Amston scales review might help with an excellent solution: Amston 400lb Digital Scale.
Its value for money makes it one of the best scale to have. What is this Amston scale specifically worth buying? Let's explore it with our Amston scales review.
Check Latest Price
*This post may have affiliate links, which means I may receive commissions if you choose to purchase through links I provide (at no extra cost to you). As an Amazon Associate I earn from qualifying purchases. Please read my disclaimer for additional details.
Specifications
Capacity: 400 pounds
Product weight: 31 pounds
Product dimensions: 38" x 20"
Resolution: 4,000 division internal resolution (0.1 lb)
Animal type: suitable for vets, dogs and livestock
About the Amston Scales brand 
Started as a local business based in Amston (United States), Amston Scale Co LLC is part of the Professional Services Sector Industry. This brand came to the market with a full line of personal, commercial, industrial scales and load cells.
Eventually, Amston grows from a local business to a global brand. Not only astounding scales that gain the fame for Amston but also their customer service does. At Amston Scales, they deliver an excellent customer-centric value. If you can't find any products or have problems with anything, the manufacture will answer your every call and email until you are completely satisfied.
Amston Scales Review: Impressive features 
As a scale that can be used for both commercial and industrial purposes, Amston 400lb digital scale offers great value for money with innovative features that will make your life easier.
Multi-purpose usage and durability
First to mention, its capacity of up to 400-pound allows you to weigh various types of animals: from vet, dog to livestock on your farm. Together with multipurpose usage, Amston guarantees the scale will last with you by making it of heavy-duty ABS plastic and steel framing for extra longevity.
Read more: Top 7 Best Livestock Scales on the Market
Flexibility and portability
As well as being durable, Amston 400lb scales impress any customer with flexibility. With Anycal software installed, you can easily calibrate your scale to weigh in pounds or kilograms. Especially, no test weight needed.
This scale's portability is another highlight point to consider. The scale is made with 4 adjustable feet for easy leveling. Steel handles and built-in wheels will help farmers a lot with their portability when moving the scale around.
And you can choose to charge this Amston 400lb with an AC adapter or 6 dry cell AA batteries. I do think battery usage is ideal for you transporting the scale from place to place.
There's a list of impressive features in this Amston scales review. However, all these outstanding technical features will make no sense if you can't control your animals. How to weigh your animals precisely if they keep moving around? What to do if the animals need someone to hold them when weighing?
That's why our Amston Scales review will help you explore the 2 most impressive features of this Amston scale: its resolution and zero function.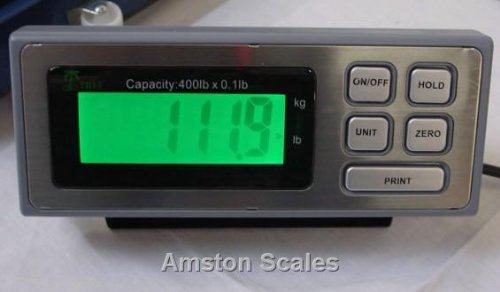 High-resolution weighing platform
The scale is made of a 4,000 division internal resolution. This, together with a no-slip 38 x 20-inch weighing platform and a removable rubber mat, can weigh your pets even when they jumping around the scale.
When your animals when they move on the scale, a high-resolution platform will record any touchpoint. Then, the internal computer will average those weights and results in an accurate weight beyond your expectations.
Zero function
What exactly is the Zero function and what will it do?
Sometimes, weighing an animal will require you to hold it, especially when the pet is injured or can't stand on its own. The Zero function will help you separate the weight of the pet and yours to get the precise information.
How to do so? First, you step on the Amston 400lb digital scale and press the zero button. This action will set your weight as 0 – back to balance. Then you have someone hand you the animal and the smart scale will count the difference to give you the exact weight of your pet.
All in all, the idea of getting a scale under $300 with these many impressive features is thrilled. In the Amston scales review, many users rate it 5 out of 5 since the product is perfect for their livings. With cheap costs, suitable for various types of animals, and innovative features, this scale from the Amston brand deserves to be one of the best-sellers on the market.
Read More Reviews on Amazon.com
What I like
Durable and well-constructed with stiff materials
Lightweight, portable and flexible product
Multi-charging options with both AC Adapter and 6 Dry AA Cells
Automatic on/off and backlight feature.
Hold feature to keep the results even when your pet is no longer on the scale
High-resolution and large weighing platform allows users to weigh moving animals accurately
Zero function helps to weigh an animal when someone holds it
2-year manufacturer's warranty
What to improve
The scale is made in China, which doesn't sound good for its reputation
Need to turn off and on after about 10 continuous weights
Sometimes the platform may get too sensitive when animals move around
Read More Reviews on Amazon.com
Our Amston scales review walks you through most of its technical infrastructure to provide you a bigger picture of this amazing product. Is it worth buying? Our answer is a big yes. Just purchase, plugin, and weigh!
Enjoying our Amston Scales Review and gain some valuable information before making your decision? Leave us some words to let us know.