To all farmers, the best livestock scale is truly a companion in raising the animals. Indeed, regular livestock weighing can reveal whether they are underfed or overfed, from which adjustments to their diet can be done in a timely manner.
Moreover, with the weight data collected, farmers can keep track of their animals' growth, identify the optimal slaughtering time, and even monitor their health, i.e a sudden weight loss may imply a serious disease or health condition for the animals.
Below are 7 best livestock scales on the market. Hope this can help you make well-informed purchase decisions.
*This post may have affiliate links, which means I may receive commissions if you choose to purchase through links I provide (at no extra cost to you). As an Amazon Associate I earn from qualifying purchases. Please read my disclaimer for additional details.
Top 7 Best Livestock Scales on the Market of 2022
7 Top-rated Cattle & Livestock Scales Reviews
#1 A and A Livestock Scale Kit FSK-BASIC
See Latest Price on Amazon.com
This livestock scale is very convenient to use. There are four buttons on the front panel keys of the weight indicator: ON/OFF, UNITS (lbs/kg), ZERO and HOLD. It displays large and easy to read digital readout in either pounds (lbs) or kilograms (kgs).
The exclusive lock-on feature enables the scale to measure the animal's weight without allowing animal movements during the process to affect the results. The ZERO button increases the level of accuracy as it makes up for dung, sand, or mud spread over the scale surface.
If you are a do-it-yourself person, you should give it a go. However, installed scales are also available if you are not good at assembling and want something plug and play.
Pros: 
Cons: 

Easy to assemble
Accurate results
Clear instructions
Great value for money
The capacity load is up to 5000 lbs

A lot of wires to tape down
#2 Brecknell PS1000 Floor Scale
See Latest Price on Amazon.com
This scale can weigh many different objects, such as livestock, pets, feed carts, bulk containers, shipping, and receiving, up to 500 kg/1000 lb. Given that, it is capable of standing up to 150% capacity of weight. It is equipped with animal weighing software; hence, the scale provides fast digital readout and the results are consistently accurate. Due to its light-weight feature (only 27 kg/ 60 lbs), it can be carried elsewhere. The battery can last up to 20 hours.
Pros:
Cons:

Well-built
Good size, hence portable
Can weight many different big size animals and objects

The diamond plated steel is slippery.
It does not give accurate results when it measures grams.
#3 Prime Anti-Slip 700lb Veterinary Scale
See Latest Price on Amazon.com
It is suitable for small to medium-sized animals (weighing up to 700 lbs), especially pets (even from a Chihuahua to a Great Dane), and can be used to weight feed or hay. The scale can display kg, lbs., or oz. It is designed to store and be carried vertically. To start using it, you can simply attach the feet, connect the scale to the controller, plug in the controller to the outlet and here we go.
Pros: 
Cons: 

Very easy to set up, use and move
The scale platform is heavy, well-built, and well-designed
Have an anti-slip mat on the surface

The results fluctuate if the animals keep moving during the weighing process
Not sure about its durability
#4 Optima Portable Weigh Bars Chute Scale
See Latest Price on Amazon.com
The scale does both lbs. and kg. They can weigh the capacity up to 5000 lbs with 1 lb. accuracy. It can weigh not only livestock but freight or unique shaped pallets.
The scale includes the OP-919 weigh bars, which is an ideal scale system to set up a cage for livestock weighing. There are 4 mounting plates in each weight bar, which helps fix the top firmly.
In case you want to carry it elsewhere, this scale set is a great choice as it has two handles designed for portability. As the load bars are made of heavy-duty steel, it can withstand rugged weather. It is a perfect option for remote locations, farms, and livestock.
Pros: 
Cons:

Very accurate
Easily to be moved and stored
Ideal to build a cage for livestock weighing

Some components might be broken during shipping.
#5 Amston ASLVS-XL Extra Large Digital Scale NEW
See Latest Price on Amazon.com
If you are looking for a simple scale that can weigh items or pets from 1 lb. to 700 lbs., this is the best livestock weigh scale to give a go. It has a heavy-duty stainless-steel platform, plus a removable rubber mat. However, you can replace this one with your own mat if the size fits (a yoga mat for instance).
With 3,500 division internal resolution, the movement of your animals will not affect the weighing results. If your animals keep jumping in or outside of the scale, you can have someone hold it by letting them stand on the scale first, then press "Zero" button and hand them the animal. The scale will compensate for the weight of that person and show you an accurate number.
This scale weighs only 39 lbs, has one steel handle with wheels, hence it is perfect for portability. The "hold" function allows the scale to keep the results until you finish recording.
The RS232C connection can even send the results to a computer, so it is very convenient. It can be set to turn on and off automatically in case you would like to use it through all day long.
Pros:
Cons:

High quality
Accurate
Durable
Easy to clean
Handle movement well

Instructions might be a bit difficult to understand.
The displays could be clearer with a brighter color.
#6 A and A Stainless Steel VS-660 Electronic Animal Scale
See Latest Price on Amazon.com
If your farm includes hogs, sheep or goats and you require a high level of weighing accuracy, you should purchase this one. 660 lbs. capacity with a sensitivity of 0.2 lbs. The digital readout is displayed in either lbs. or kg and easy to read.
The scales are calibrated and balanced at the factory, hence ready to use. This scale model can also compensate for manure, mud, or snow that are build-up on its surface. Other features are stainless steel cover with non-slip rubber mat, ac adapter and wall mounting bracket.
Pros:
Cons:

Sturdy
Easy to set up, use and clean
Accurate
Can run on batteries

Should not leave it outside in the weather
No wheels
Hard to know which side of the mat is on top or bottom, and seem to slide off
#7 Amston ASWB-10 Livestock Scale Chute Platform 10,000lbs
See Latest Price on Amazon.com
It can weigh items or animals from 2lbs to 10,000 lbs or from 0.45 kg to 4,539 kg. It is such a super heavy-duty steel construction.
The indicator cable is 5 meter (16 foot) long and 6 mm (0.23 inch) thick steel. The cable is made of steel to avoid damage. The beam length is about 40 inches and beam width is 4 inches. It is equipped with footing for easy leveling.
With the animal weighing mode, you can have a stable and readable weight even if the animals just keep moving. The hold function allows the scale to keep the number for some time after the weighing process.
The wheels and welded steel handles will help with easy portability. RS232 computer/printer port on indicator is provided. The digital readout is clear and easy to see.
Pros:
Cons:

Sturdy
Adapter and rechargeable battery are included
Very large capacity of 10,000 lbs
Great value
Internal wiring
7 Different Types of Livestock Scale
There are many types of livestock scale which come in various sizes, capacity, technologies, and specifications for different needs of farmers. Normally, there are 7 types as follows.
1. Beam platform scales
This type of scale is not commonly sold as installing and repairing might cost the buyer a lot. However, some farmers still like to use it.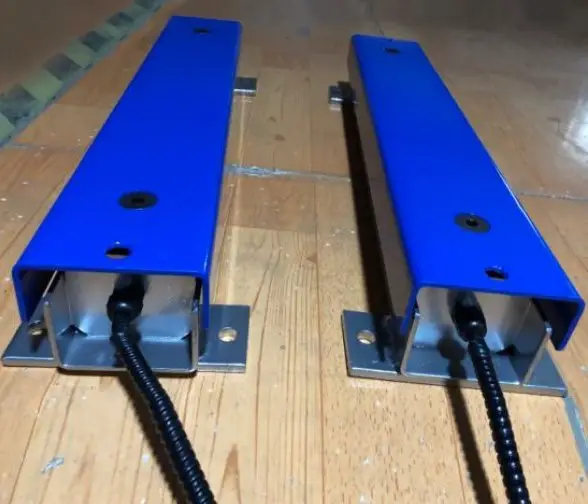 2. Flat livestock scales
Flat scales are specially designed for large animals, so they are really good for weighing cattle. Some models may include a battery system for easy moving.
3. Single animal scales
For this type, only one animal can be weighed each time. However, the measurements are extremely accurate. Single animal scales come in abundant sizes and load capacities for farmers to choose from.
4. Portable and mobile livestock scales
If selling cattle is "lots" and frequent, this portable model is extremely suitable. Yes, it can weigh many animals at one time, which does save time and energy for farmers.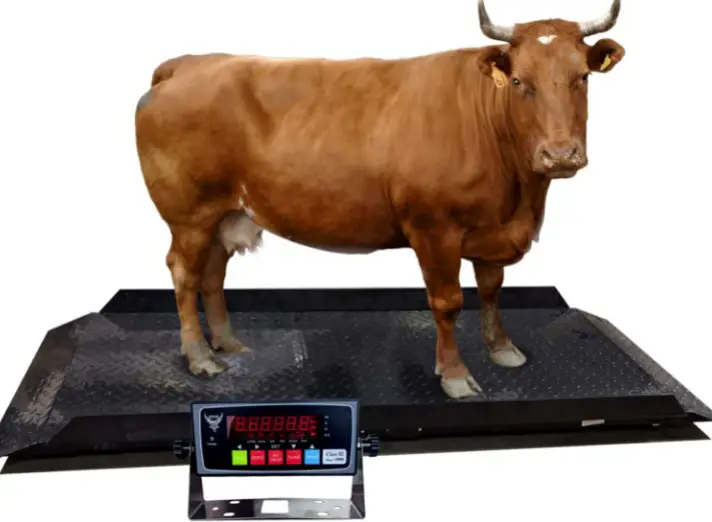 5. Stationary livestock scales
A huge advantage of stationary scales is that the system is still accurate and durable in whatever the working condition is. They also have different sizes and load capacities.
6. Livestock truck scales
Like other types, the truck scale also has many sizes and capacities. For farmers who raise cattle, this type is low maintenance.
7. Livestock ring scales
Unlike the others, a livestock ring scale is custom-designed to be comprehensive. You can install it in your existing barns for weighing livestock.
Considerations before buying a livestock scale
1. A permanent installation or Portable scale?
You have to decide which one will be better: a portable scale or a stationary one.
A stationary scale allows you to weigh a group of animals at the same time. To do this, the scale may have a customized platform with gates to keep the animal in one area. Then, you can pound them and take records for daily weight gain.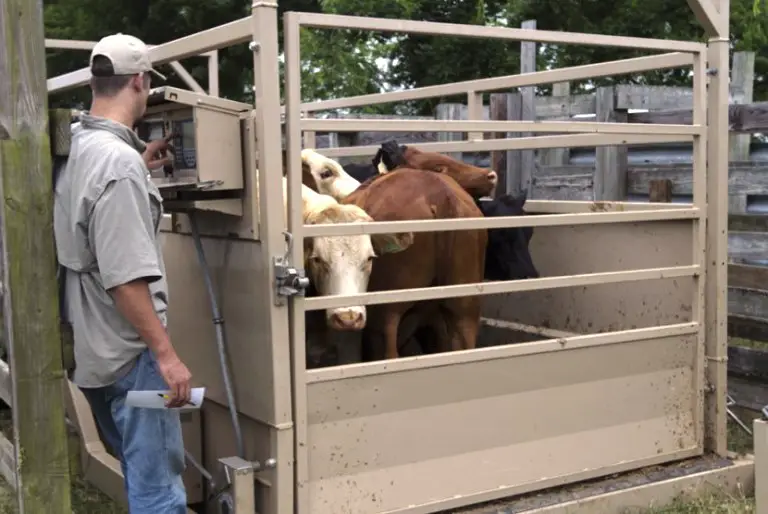 A portable scale brings you the flexibility in setting up a weighing site quickly near the animal location as it can be transported by flat bed-truck or other similar vehicles. The scale has deck and pen sides. It is suspended on load cells at the 4 points of a base frame.
Comparing to the previous one, this type can be used anywhere, such as for alleyways, squeeze chutes, or on uneven surfaces like gravel, so this is an advantage.
2. How is data storage capability?
Data storage capacities are another important feature to consider. A good scale should not only be able to store basic information such as animal weight, body condition score, and pregnancy status but also other additional data.
If using a computer takes you much time and you prefer accessing the "animal management solution" primarily via the scale indicator, then this feature appears really useful.
3. How durable and the condition of usage?
The condition of usage will affect the durability of your livestock scale. That's why you have to consider carefully how you would use it before buying.
Normally, a stationary scale will be more durable and work well in most extreme environments. Meanwhile, a portable one can bring more benefits of mobility to your farm but seems to be less durable than the permanently mounted one.
So, if you don't mind bring your animal to the place where the scale is fixed, you can take the stationery scale. Otherwise, a portable one is fine.
4. Any technological features?
Although this is not a must-have when buying a livestock scale, a scale with several technological features does bring you more benefits and enjoyment with your work.
So, choose a model that has time and data entry saving options in order to record, keep track of, and state information of animals for production monitoring.
Some models are compatible with the herd management software, hence the records are kept up-to-date automatically.
Some models are featured by the integration of EID (Electronic ID reader interface). After being connected to the scale indicator, whenever your animals are weighed, the EID reader will easily record all the electronic IDs, which means you don't need to manually enter visual tags or electronic ID tags.
Another feature is being able to work with records on the computer. After the scale indicator has taken records of your animal weights, it will be connected to a computer that allows you to download the data. This will be useful if you want to collect the weight records into a spreadsheet.
One more interesting feature is the Wireless Bluetooth interface. Indeed, connecting wirelessly without any cable is much more convenient. But remember, this wireless connection is only between the scale indicator and the computer, not for the load bars.
5. How is weight evaluation?
A good livestock scale should be able to weigh the animal not only exactly but also quickly.
Also, you should opt for the scale which can connect with your farm management software so that you don't need to enter the data manually. It will be better if the data of the scale can be integrated from many software programs.
If there is a display on the scale, you can easily transfer it to your software system whenever getting verification of the animal weight plus.
You should read: Top 7 Best Cattle Prods on the Market
Other important considerations
1. Shrink loss
Shrink loss, a term referred to the amount of weight that an animal loses when traveling to an off-site scale, can affect your ranch's profit. So, if you intend to sell your animals, you have to minimize this loss as much as you can.
Researchers have shown that if the animal is weighed at the site, shrink can be reduced by 6% on average. If you bring your mobile scale to the animal location, the shrink factor can be reduced to about 2% and your profit, as a result, can potentially increase 5-6%.
So, along with the advantages and disadvantages of stationary and portable scales that have been mentioned so far, shrink loss is another deciding factor to choose one of these two types.
2. Wash-down capability
All livestock scales are able to withstand any harsh conditions including holding animals and their manure. However, there are some products coming with a superior surface that is able to wash down frequently and sustain in extreme conditions.
Any special feature included means a bit of money added. So, if you prefer this capability, check it with the seller when buying.
3. Gate options
Many options for gates and latches have been developed for livestock scales. You can easily search for a scale that has the best gate and latch system for your animal needs.
Normally, a single animal scale has a single swinging gate with a latch, and group animal scales have variations of a two gate closure.
4. Flooring surface
There are also many choices for flooring surfaces.
Some models have patented ridged concrete deck surfaces to create superior footing properties for livestock.
Some have the surfaces developed from discarded plastic and rubber which is rot, abrasion-resistant, and do not house moisture and bacteria. This kind of surface is environmentally friendly and can boost the traction for animals whenever it is wet and sloppy.
Some livestock scales surfaces are made of wood and steel which are also economical.
So, when choosing a scale surface, think about the conditions you are going to work with: can it work well in wet, sloppy conditions? And can it resist corrosion and bacteria?
FAQs about Livestock Scales
1. Can I use human scales to weigh livestock?
You should use a livestock scale to weigh the animal as they are not easy to weigh like a human. They nearly don't cooperate as they have no awareness of what they are doing. Moreover, livestock like cattle or pigs is much heavier than a human standard capacity scale.
Many models are equipped with handy features, like Hold function or Zero button to capture animals' weigh if they are moving and compensate their manure, mud, or a person holding them.
2. How much does a livestock scale cost?
Livestock scales can cost between $500 and $3,000. They are not inexpensive pieces of equipment.
There are several alternatives to consider. However, you should not hesitate to spend such large amounts of money on a livestock scale. Consider them as an essential investment for your cattle business.
3. How to calibrate a livestock scale?
Here are steps to calibrate a platform livestock scale.
Put the platform on a flat surface, make sure to leave enough space around it for safe operation.
Remove everything on the platform.
Attach an indicator to the base with an RS-232 cable.
Turn the indicator on and wait for it to finish configuring.
When the countdown appears on the display before setup is complete, press Tare.
Use the two directional buttons "⭣" and "⭡" to scroll through the 1-9 digits. Use the "⭢" button to go to the next number.
Insert the correct password then press Tare.
After step 7, the word "noload" should pop up on the screen.
Use the "⭡" button to turn to "load1".
Set the test object's required weight limit with the "⭣" and "⭡" buttons. Use the "⭢" button to advance to the next number. To confirm the required weight limit, press Tare.
Once the required weight limit has been selected, press Tare to confirm.
The screen then will show "load". Place the desired weight on the platform.
Once the weight has been placed on the platform, hit the Tare button to confirm.
The indication will begin the setup procedure once confirmation is received. When the procedure is finished, the indicator will display the current required weight on the platform.
You can also check the video here:
4. How to clean a floor livestock scale?
You can clean your floor livestock scale by carefully lifting it and sweeping the dirt away using a brush. For more thorough cleaning for those that are not washdown safe, use a towel to wipe the scale with water and soap or another kind of mild cleaner.
For floor scales that are washdown safe, you may scrub them with soap and then pouring water over them to remove any oil, dirt, or debris.
Conclusion
When I was considering buying a scale, I realized there were numerous options available in the market. Frankly speaking, it is difficult to say which ones are the best livestock scales as the criteria vary.  You need to really understand your requirements before making a decision and to avoid buying items though considered the best cattle scales but too under or beyond your expectations.
Personally, I prefer the first option, A and A Livestock Scale Kit FSK-BASIC as it provides me with all the functions I need. Furthermore, I am not a skillful person and it does come in with the plug and play version.