If you are still feeding your pigs by pouring the feed on the ground, it is a great way to waste your money and resources indeed. Hence, buying the best pig feeder is definitely what you really need to do right away.
Using a pig feeder will help you not only maintain good hygiene in your pigs' living area and prevent food contamination for your pigs but also control the feed cost by avoiding spillage.
Below are the 7 best pig feeders and their pros and cons for your consideration. Hope you can find the best one that suits your needs and budget.
*This post may have affiliate links, which means I may receive commissions if you choose to purchase through links I provide (at no extra cost to you). As an Amazon Associate I earn from qualifying purchases. Please read my disclaimer for additional details.
Top 7 Best Pig Feeder on the Market 2022
Top-rated 7 Best Pig Feeders Reviews
Check Latest Price on Amazon.com
The model is 12-Inch wide x 20-Inch long x 19 1/2-Inch high. It is made of 20 gauge galvanized steel, a feed gage at the trough, and a 1-Inch (2-1/24 cm) wide feed saver lip.
It can hold up to about 50 lbs. of feed (about 1-1/2 bushels) and feed up to 4 pigs, including 4 week-old pigs or sows. The top covers are designed at the back to facilitate the filling without interrupting the pigs. The trough lids are weathertight; hence you can keep the feed stay away from moisture, water, and pests.
It can also work for dogs, however, instructions should be given when they first use it. The tip is to fill all the feed while keeping the screws loose until the very end before tightening everything.
Pros:
Cons: 

Durable
Goat-resistant
Feed stays dry
Easy to refill behind a fence

Easily bent panel
Pigs have to fight over to get fed at first as there is only one door.
A challenge when mounting it
Tricky assembly
Check Latest Price on Amazon.com
This is a perfect choice for those who own about 20 pigs.
This model can still work well under harsh weather conditions and severe abuse from the largest pigs. They feed capacity can be up to 7 bushels of feed. These 16-gauge doors are designed large and free-acting, which is very convenient for large hogs.
There is a feed slide on each side of the feeder which can be adjusted from the outside. The cover is allowed to drop down flush with the side of the feeder by swing type hinges.
Pros:
Cons:

Sturdily built
Sustain under harsh weather conditions
Fit large hogs
Large feed capacity (up to 20 pigs)
Large feeder door can be closed automatically

The tricky assembly as instructions are not clear and better to have two people put it together
Leaks in the feed troughs
Check Latest Price on Amazon.com
If you are looking for the best baby pig feeder, this is the one. Why is that?
There are no trough covers so your starting baby pigs do not have to learn how to lift the lid. Also, this design helps easy removal of soiled or stale feed. It can hold about 7lbs of the feed. There are 2 holes in total.
If you couldn't find a place to mount it, you can simply put it on the ground – it can freely stand sturdily.
Pros:
Cons: 

It is a gravity feeder and the food drops down as it is eaten.
It can be easily wall-mounted.
It can be used for rabbits or other poultry, i.e. chickens or ducks.

No lid from the top so the food can be wet and the pigs can stick their noses into it.
The feeder has to be empty or low to adjust the sliding door.
Screws might be not firm.
Check Latest Price on Amazon.com
This another product from Brower is also worth buying – the best feeder for small animals.
There are 2 models to choose: 6 lbs (1 door) and 25 pounds capacity (4 doors). The former can feed up to 12 pigs and also be available for kittens, puppies, piglets, and other small animals. While the latter can feed up to 24 pigs, small animals, or 6 chickens every 5 days for your information.
These models are ideal for starter and pre-starter pellets.  As it is made of durable galvanized steel, there is no challenge in filling and cleaning the troughs. Moreover, it can withstand rugged weather.
The metal piece that goes inside and is attached with a screw near the bottom of the front panel is equipped to regulate the feed flow.
Pros:
Cons:

Sturdy
Suitable for piglets or small animals
Easy to install
Big capacity

Short-term use if your pigs outgrow fast
Need to be installed in a dry location
Check Latest Price on Amazon.com
This pig feeder is made of 14-gauge steel and MIG welded to assure leak-proof construction. It is a 4-feet painted steel feed trough and weighs about 27 lbs, hence it does not get knocked over easily by severe abuse from the animals. It can be bolted to a wood frame.
You can use this with different livestock, i.e. dears, goats, or chickens. It can feed about 4 pigs at a time.
Pros:
Cons:

Sturdily built
Hold a good amount of feed
Have holes on the legs to anchor to the ground if need be

Difficult to clean as it is quite heavy
Cannot be left outside as there is no lid or cover.
Paint can fade or wear out due to weather exposure.
Check Latest Price on Amazon.com
If you would like to choose something lighter, this round pig feeder made of rubber is a good option.
The ad says the product dimensions are 17.5 x 4.5 x 17.5 inches and 1 pound. In fact, the top diameter, which means the top lip from rim to rim, is 17.5 inches but the bottom diameter, which means the bottom from inside edge to inside edge is 14 inches. This makes the side angle out 3.5 inches.
It can serve many different purposes. For example, it can be both a food and a water feeder. If you want, you can even use it to clean your feet as well. As the design is simple and easy to use, it can be applied to any animals, i.e. dogs, horses, only if you are raising a limited number of pets or livestock.
There is no need for installation compared to the previous feeders. Just put it solely on the ground anywhere you want or in an old wheel to increase sturdiness.
Pros:
Cons:

Easy to wash and stack
Well-built
Suitable for water and wet feed
Lightweight

It might smell rubber or chemical odor.
Quite shallow
Check Latest Price on Amazon.com
This is another light-weight container – the best plastic pig feeder ever. Try this heavy-duty 40-gallon oval tank if you are bored with those traditional feeder shapes.
Though it is made from flexible plastic, it is 100 percent recycled LDPE, not PVC plastic at all. PVC pig feeders are cheaper, but not so durable as they might be easily damaged because of a crash or fall. This LDPE material gives the rubber-like feeling to its users. If sustainability is your goal, this product is for you.
This item can serve many different purposes as acting as a pig feeder is just one of them. You can use it to bath your dog or make a frog pond. It seems to be an all-in-one product. Just kidding, the information is given just to confirm how big it is and you can use it for your big pigs.
Pros: 
Cons:

Thick and firm
Sun-resistant
Easy to clean

Quite heavy when it's full
What to look for when buying a pig feeder?
1. How much feed can it hold?
Feeder capacity is the first factor to be considered when buying a pig feed container. How many pigs you have will depend on how much feed a feeder should hold. A hog feeder can normally hold feed enough for 2 – 4 pigs, while higher quality ones can hold more ( 8 or 12 pigs for instance).
2. How can it be mounted?
Would you like a feeder that is mounted to the wall, a feeder post, or the side of the pen? Mounting to something heavy will make the feeder safer. You can do this with the mounting holes found at the back of a traditional feeder.
Remember to keep it stable and upright to prevent it from tipping over or being severely damaged.
3. How are the feed gate and lip?
With any hog feeder, the feed gate is the most important feature. An adjustable feed gate allows you to control how much feed is released at once – not to over or under. Hence, choosing a pig feeder whose feed gate can be manually adjusted is preferred.
Besides, to prevent feed from spilling all over the ground, there should be a lip covering the feed gate. It not only saves the feed but also helps to keep moisture, rodents, and bugs out of your pig feeder. But, always remember to close it tightly to prevent those problems.
4. How is the wall height of the feeder?
Though not really important, the wall height of your feeder can somehow reduce wasting feed. Indeed, if a wall is too low, there is more likely to spillage and waste. In contrast, if a wall is too high, your pigs might get a bit hard to access to their feed, and as a result, reduce feed consumption.
If you are raising piglets, this factor should not be ignored. It's better to choose feeders whose walls reach to the top of your pigs' forelegs.
5. Is the material durable?
Pigs feeders are mainly manufactured from either steel or polycarbonate. Steel is apparent, sturdy, and durable. For better quality, most steel feeders are galvanized to have rust protection.
Meanwhile, polycarbonate and other plastic materials pig feeders tend to be less durable than those made of steel. They are much lighter and cheaper but can be easily damaged by the pigs while eating.
6. And, does it fit your budget?
Of course, a high-quality feeder comes at a higher price. You are not going to raise pigs only in one year or two. Buying an expensive but last-for-years feeder, you will see eventually it is not costly at all.
However, it doesn't mean taking the most expensive feeder is recommended. Research thoroughly in quality-orientation and take the one that is at your affordable price.
Read More: How to Attract Canada Geese to Your Pond. Geese can give your pond a lively, natural look. Here's how to attract them!
Daily feed requirements of pigs
At different stages in life, a pig's nutrient needs are surely different. Below is the amount of daily feed for from a piglet to a gilt. This might help you somehow in choosing the capacity for your hog feeder.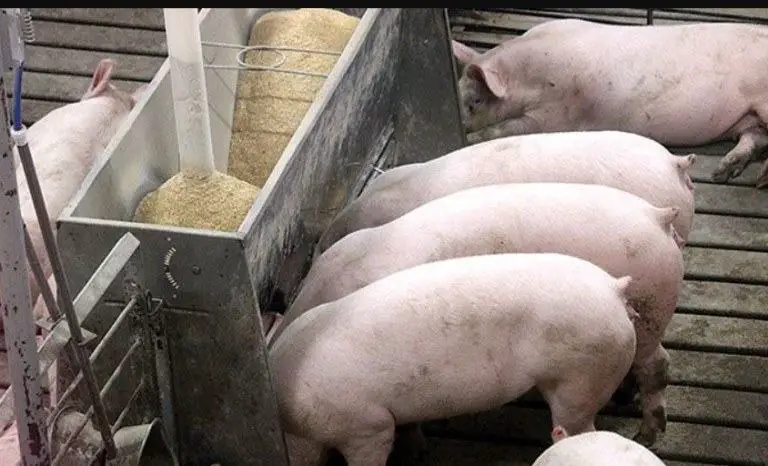 1. Piglets
A piglet needs creep pellets of 1.1 – 2.2 lbs (0.5 – 1.0 kg) per day from day 7 to his weaning time (3 weeks). Piglets' feed should be mixed with sows' and weaners' meal in the last one week before weaning.
2. Growing and finishing pigs
At 3 – 5 weeks or 24 – 28 lbs, pigs are weaned. They should be fed with the starter diet until they reach 40 lbs. If they are weaned at 7 weeks or older, they may be switched to sows' and weaners' diet.
For more details, please take a look at the table below.
| | | | |
| --- | --- | --- | --- |
| Age (weeks) | Bodyweight (lbs) | Feed (lbs/day) | Feed type |
| 8-10 | 26-33 | 1.5 | Sow and weaner/Starter |
| 10-12 | 33-44 | 2.2 | Sow and weaner/Starter |
| 12-16 | 44-88 | 4.4 | Sow and weaner/Starter |
| 16-18 | 88-110 | 5.5 | Finisher |
| 18-24 | 110-185 | 6.6 | Finisher |
| 24-28 | 185-231 | 7.7 | Finisher |
3. Boars
A boar needs 4.4 lbs (2.0 kg) per day. Increase to 5.5 lbs (2.5 kg) if this boar is regularly used.
4. Pregnant sows and gilts
A dry sow and gilt need about 5.5 lbs (2.5 kg) of sow and weaner meal a day. Before gilts and sows are served, they should be given an extra of 2.2 lbs (1.0 kg) a day until 1 week later.
For lactating sows, also provide 5.5 lbs (2.5 kg) of sow and weaner meal each day for maintenance. Give them an extra of 0.55 lbs (0.25 kg) per day for each piglet that is being suckled.
Should you give full-feeding or limit-feeding?
Either full-feeding or limit-feeding has its own advantages and disadvantages for both farmers and their pigs.
Full-feeding means your animals are allowed to freely access grain anytime. Yes, this type is more convenient: you neither need to calculate anything nor make frequent intervals to the pig feeders. So, you will have more time for yourself. What is more, your pigs will reach slaughter weight faster as they often tend to eat more with the unlimited feed source.
On the contrary, limit-feeding means your pigs are offered a measured quantity of grain at certain times a day. Normally, this amount is 5-10% lower than a standard full-fed meal of a pig. By controlling the nutrient given, your pigs can have better lean yields, and higher feed efficiency. Feed waste may also be limited.
Though you will need to work more such as weighing the feed and regularly putting intervals, this turns out to be a chance to monitor your animals' status: their feed consumption, their health, or even their behavior.
Tips on reducing pigs' feed cost
1. Fix leaky hoppers of the feeders
Leaky hoppers lead to higher feed wastage. Several solutions are:
Examine pig feeders between batches: fix or replace if there is a hole.
Check downpipes and feed systems as there might be hidden holes.
If it is too old or inefficient, replace it with a new one.
2. Feeders should have lids
As mentioned in the previous part, lids can reduce feed waste as it prevents birds, rodents, and others from consuming your pigs' feed. What you should do are:
Have covers for all the feeders.
Ensure the feeder has a see-through area in case you need to know the feed level.
3. Do not over-run the feeders
Over-running the feeder may reduce the feed to powder which will not attract the pigs. Also, this creates a higher risk of dust contamination and respiratory issues. So, what can be done?
Place less feed in the feeder.
You have to understand how to adjust the feed availability.
Shouldn't completely cover trough bottoms with feed. 50% of trough bottoms should be visible.
4. Provide the right feed ration
Feed cost will increase if you maintain an expensive diet for longer than needed. Moreover, if you choose a wrong feed ration, your pigs might not get their highest potential growth. What to do:
Regularly check feed budgets to ensure feed is suitable for your pigs' growth stage.
Try to formulate diets based on pigs' intake requirements.
5. Prepare feed correctly
If the feed is not prepared correctly, pigs might not digest and, as a result, ignore the whole. So, you should correctly grind or roll the feed in accordance with the pigs' digestive system.
6. Pens shouldn't be overcrowded
If pigs are too overcrowded in a pen, they likely compete for feeders. This decreases the growth rates and affects the feed conversion ratio.
Hence, you have to ensure there is adequate space at the feeders for all your animals.
FAQs
1. How much do pigs eat a day?
On average, a pig can consume 6 to 8 pounds of feed per day. After 4 to 6 weeks of taking milk from its mother, a pig can consume about 700 to 900 pounds of food until it reaches its finish weight.
2. How many times a day should a pig be fed?
A pig should be fed at least twice a day, once in the morning and the other in the evening. This means a gap of 12 hours. But if you choose full-feeding, this is no longer your concern.
3. Can you over-feed a pig?
Pigs will hardly overeat as they know when are satisfied enough for a stop. If the feed is still available, they will go away to do "pigs stuff" if they are full. You might find that some of your pigs stop only a few bites, but some still eat for a bit longer. That's totally normal.
Conclusion
By explaining the features, plus the pros and cons of the 7 best pig feeders above, we hope you are more aware of what is currently available in the market. As a predecessor, I would suggest you focus more on how many and what type of pigs you are raising, whether your farm is indoor or outdoor as they are two significant criteria to help you make the best purchase.
For me, after years of using different pig feeders, I would still go for Brower SF74 Silver Hog Feeder, because it is well-constructed, can stand up to rugged weather, and have a large capacity.